If you're thinking about spending Thanksgiving around a campfire this year, we have some tips to make your outdoor turkey day a success!

While most Americans celebrate Thanksgiving by cramming as many extended relatives as they can into a single room, many campers prefer to enjoy Thanksgiving in the expansive space of the great outdoors. We'll let you judge which scenario sounds crazier.
We have cooked for large groups while camping before, and it has always been a blast. We even celebrated Canadian Thanksgiving one year while camping with friends in Banff National Park in Alberta.
But, Thanksgiving is no ordinary meal, and there are definitely some logistical challenges that come along with preparing a large group meal… at a campground…in late November.

While we'd love to say we developed this list of tips through careful foresight and deliberation, the reality is: most of it comes from mistakes we made first hand.
So, if you're thinking about bucking tradition (or starting a new tradition) and going camping for Thanksgiving this year, we hope that these tips help your meal go off without a hitch.
We've also included a bunch of great camp-friendly Thanksgiving recipes at the end of this post to help you start planning your menu!
Tips for cooking Thanksgiving while camping
1. Check the weather
First and foremost, check the forecast. If there's even the slightest chance it might rain, you're going to want to bring a pop canopy or rain tarp. You may even want to bring along a Weber grill to cook on, as rain and campfires don't make for a good mix. If it's going to be cold, make sure you have enough firewood to keep the campfire going all day long. Physical discomfort can ruin even the most well-prepared meal. But all that being said, don't let the weather push you around! Just prepared and you'll have a great time.
2. Keep your ambitions in check
Everyone wants to swing for the fences on Thanksgiving, as shown by the still-popular trend of stuffing birds of ascending size inside of other birds. But even simple tasks can be more difficult when camping, so it's best to temper your expectations.
We believe a simple, well-prepared meal is far more impressive than any high-stakes, high-production meal (like trying to deep fry an 18 lb turkey in a jury-rigged cauldron of scalding hot oil—an actual scene we witnessed at a neighboring campsite one year).
3. Prep what you can at home
While this might feel like cheating, the more you can do in the comfort of a modern kitchen, the better your overall experience will be at the campsite. Pre-measure and chop ingredients and put them in individual containers. These space-saving collapsible tupperware containers are perfect for packing pre-chopped vegetables or even pre-cooked side dishes.
If you're marinating anything, get it started the night before. Baking a pumpkin pie? Do it in the oven at home and reheat at the campsite. Essentially, anything that can be done in advance, should be done in advance.
Read up on how to pack a cooler so you can safely transport all your prepped and pre-made dishes to your campsite.
4. Don't try to "host" Thanksgiving
This was our biggest mistake during our first Thanksgiving camping trip. While you might want to play the role of host, it's much better to get people involved!
Organizing a potluck-style Thanksgiving is a great way to distribute the responsibilities and is well worth a few group texts to sort out who is bringing what.
When you're at the campsite, be sure to delegate tasks like cutting vegetables, splitting wood, and making cocktails (see tip #6).
Wherever you can, encourage crowd participation. People naturally want to help out while camping, so let them be a part of the process!
5. Start cooking early
When you're outside, everything takes longer than expected. It's an unfamiliar setting, the equipment is less than ideal, and everything is liable to be misplaced. Plus, now that the clocks have been rolled back, it starts getting darker (and colder) a whole lot faster than you'd expect.
So get the fire started early and give yourself plenty of daylight to start cooking. Use your weather app to determine the time of sunset in your location, and then plan out your meal accordingly.

6. Warm cocktails are the best appetizers
This works for both indoor and outdoor Thanksgivings. Whether it's mulled wine, hot apple cider, a hot toddy, or spiked pumpkin chai, sipping on a warm drink is a great way to get into the holiday spirit. We'd suggest preparing a big pot like a party punch bowl and just let it simmer over the fire.
7. Have a plan for dishwashing
Cooking for a group can be stressful enough, never mind worrying about the pile of dishes you need to wash in the dark after it's all said and done.
Make a plan for how you will handle dishwashing. Our favorite approach is to clean as we go, and then make sure everyone has joined the Clean Plate Club to make the final dish wash simpler. You can read more about how to wash dishes while camping here.
Alternatively, especially if you're going to have a lot of people, you can pick up compostable plates and skip the cleanup. These plates are a great tree-free and compostable option.
8. Forget the turkey and go for the sides
This suggestion isn't for everyone—for some people, the turkey is an absolute requisite. However, for those with an open mind, we would like to put forth this argument: the turkey takes 80% of the time and energy of cooking, but at best takes up just 20% of your plate.
So, may we suggest ditching the bird entirely and double downing on the sides? You'll get more variety, with less effort.
Or you can check out our all in one Thanksgiving Bowl, that features turkey sausage instead of a whole bird. Get that full Thanksgiving flavor with only a fraction of the work.
9. Easy to assemble dessert
After cooking an entire meal outside, attempting to prepare an elaborate dessert requires an absolutely herculean effort. The best option is to make your dessert ahead of time and just reheat it at the campsite.
But if your set of making something on location, we have a few easy to assemble desserts you can try. A no-bake crisp is great if you're using a camp stove, or if you have a Dutch oven and already have a campfire going, you can try this pretty easy, mostly hands-off Dutch Oven Apple Cobbler.
---
If hosting Thanksgiving at a campground is totally out of the question for your family (which, honestly, is totally understandable) you could also consider hosting an outdoors Friendsgiving. While you can't choose your family, you can choose your friends – and hopefully, those friends like to camp as much as you do.
Thanksgiving camping menu ideas
Roasted Stuffed Squash
An entire Thanksgiving meal in one edible "bowl"! This meal combines sausage, stuffing, and vegetables served in a campfire-roasted acorn squash. The recipe is easily scalable to serve any sized group that you're camping with.
GET THE RECIPE
Sweet and Savory Grilled Tempeh
This grilled tempeh is perfect for vegetarian & vegan campers. The tempeh is marinated in maple syrup and soy sauce, giving it a wonderful sweet and savory flavor that perfectly complements any Thanksgiving feast.
GET THE RECIPE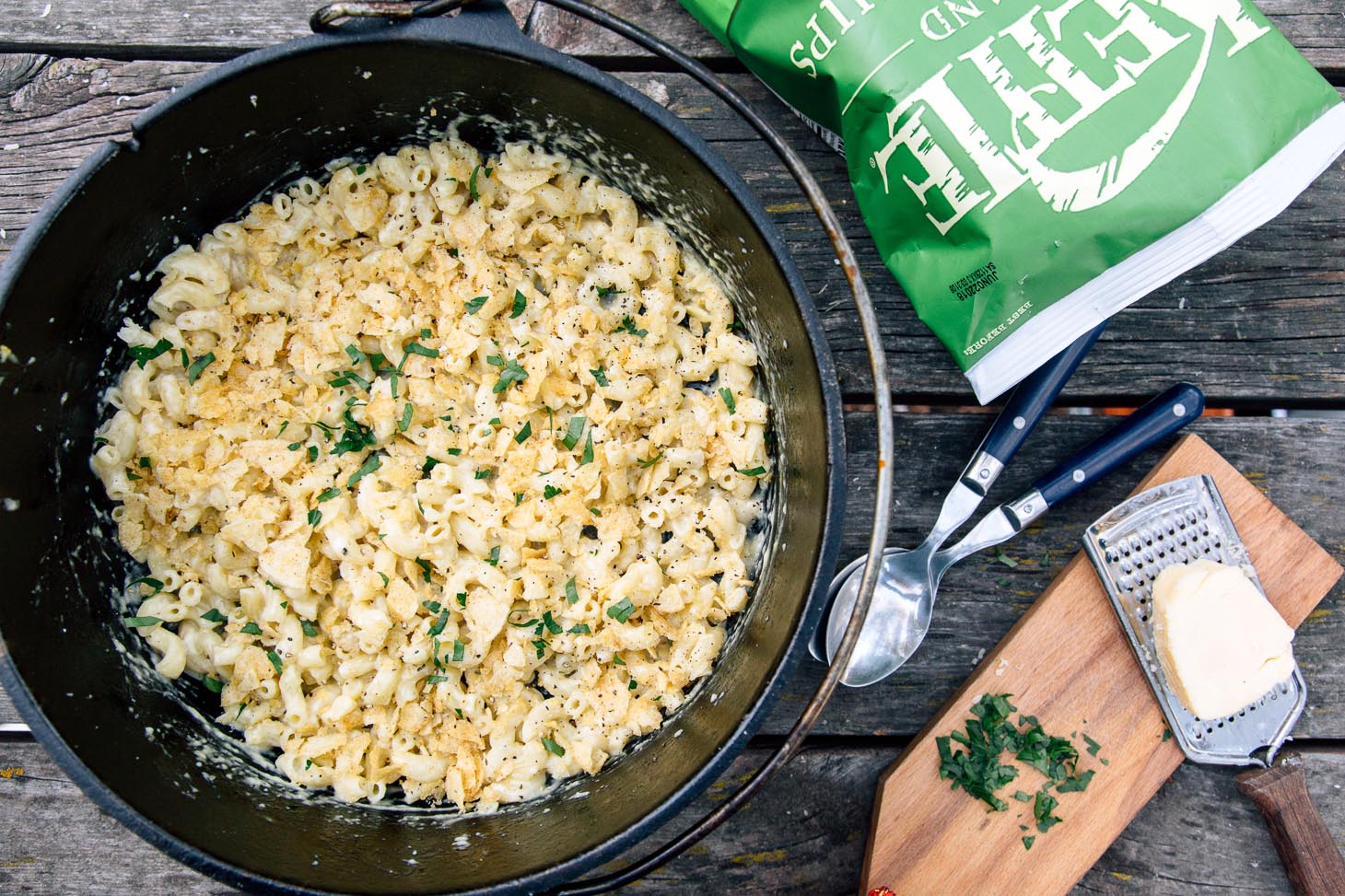 Dutch Oven Mac and Cheese
This Dutch Oven Mac and Cheese could be served as a side or as a vegetarian main. Cooking in a Dutch oven means this dish is pretty hands-off, so you can focus on making the rest of your Campsgiving meal.
GET THE RECIPE
Cast Iron Butternut Squash
This is one of our favorite ways to make butternut squash: cubed, coated in coconut oil, and cooked in cast iron over the campfire. It's easy to make and has an almost buttery flavor while being completely dairy-free!
GET THE RECIPE
Apple Fennel Stuffing
It's so easy to make your own stuffing! This recipe uses apple and fennel, giving it a sweet and savory twist.
GET THE RECIPE
Dutch Oven Apple Cobbler
No Thanksgiving is complete without dessert, and until we work out how to make from-scratch pumpkin pie at the campsite, this Dutch Oven Apple Cobbler is one of our go-to autumn camping desserts.
GET THE RECIPE
Quick and Easy Apple Crisp
If you're cooking for a larger group or just have a ton of dishes you want to cook for Thanksgiving, it can be nice to have a super easy dessert up your sleeve. This apple crisp takes so little effort to make us wonder if it even counts as a recipe! Nonetheless, it's a super delicious way to end a Campsgiving meal.
GET THE RECIPE
Campfire Mulled Wine
Put a big pot of this Mulled Wine over the campfire and let it simmer away. People can serve themselves throughout the evening, so you don't get stuck playing bartender while you're busy cooking!
GET THE RECIPE
Bourbon Apple Cider
A fall camping classic, this Bourbon Apple Cider is an easy cocktail to serve with your Thanksgiving meal. Just add a few spices to your favorite apple cider, and then add a splash of bourbon. Or, leave it out and you have a great warm drink for the kids to enjoy!
GET THE RECIPE
This post was first published on 11/12/2015 and was updated in 2019 to include additional recipes.