Baking an apple cobbler on a camping trip definitely sounds impressive, right? But despite the high production value, this Dutch Oven Apple Cobbler recipe is actually really simple to pull off.
We've stripped down the ingredient list, consolidated steps, and developed a few tricks to speed the process along.
So now you can wow your friends and family with this incredible dessert, without breaking a sweat.
Why We Love It:
↠ Big production value for not a whole lot of work.
↠ Can mix the dry ingredients at home. Add the milk and butter on-site.
↠ Using a parchment paper liner makes clean up a breeze.
If you're just getting into using a Dutch oven to bake at a campsite, this is a perfect recipe to try out. It's "baking" in the loosest sense of the word and very forgiving at that.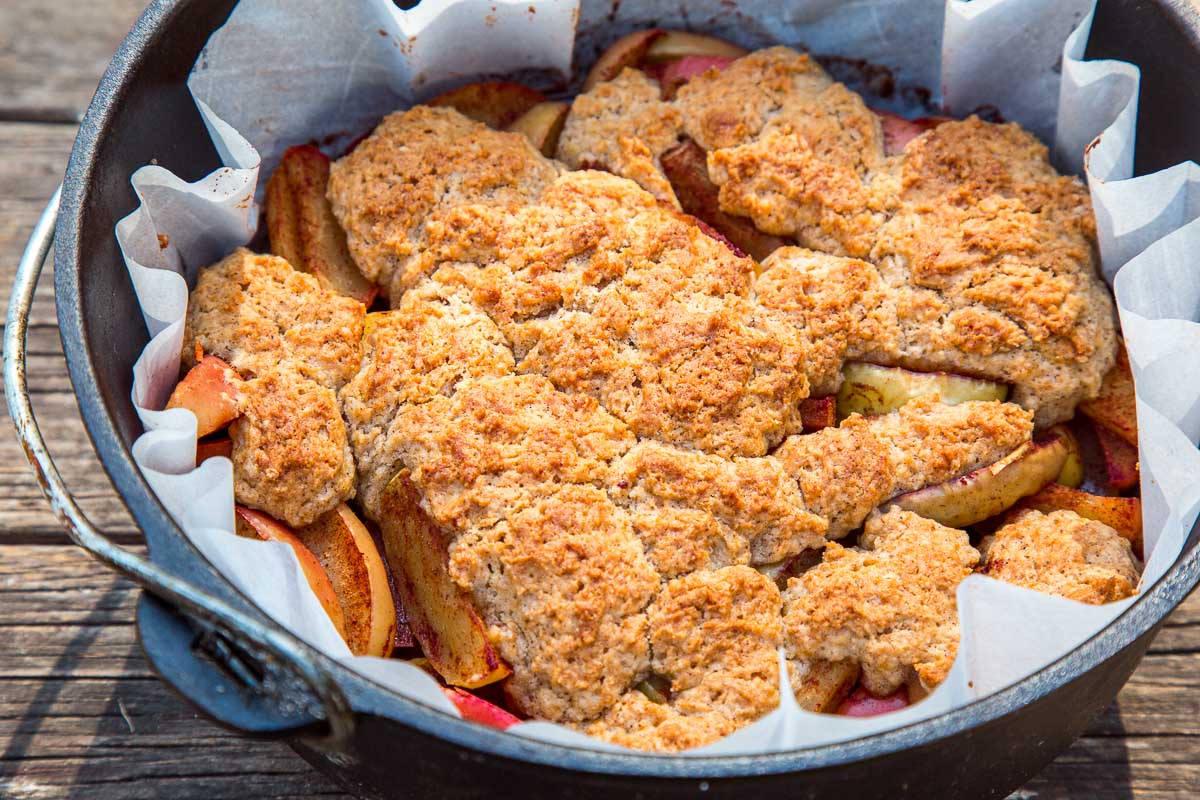 How to Make Dutch oven Apple Cobbler
This recipe was developed using a 10" Dutch oven.
At home
Unless you need the flour and baking powder for other recipes, it's easiest to mix the dry ingredients at home. Mix the flour, sugar, cinnamon, baking powder, and salt in a resealable container. Shake to thoroughly combine. Now you can leave the bag of flour and baking powder at home.
We recommend freezing a stick of butter before putting it in your cooler. You want the butter to be really cold for this recipe and pre-freezing beforehand goes a long way.
At camp
If you're using charcoal, we suggest you get them started before you begin. For a 10" Dutch oven, you'll need at least 21 coals – but it's nice to have some extras on hand.
Line the bottom of your Dutch oven with parchment paper.
Slice your apples into wedges (1). We did this using a knife, but one of those circular apple corer / slicers things would be WAY faster! Place the apple slices on top of the parchment paper inside the Dutch oven. Add in the sugar and cinnamon and mix until the apple slices are evenly dusted. Try to flatten out the apple slices so they are more or less level (2).
Retrieve your cold butter from the cooler, slice into cubes, and then work into the dry ingredients with your finger. Crumbling and smearing the dry ingredients into the flour, to create a coarse, crumbly meal.
Add in the milk a little bit at a time and work with your fingers until a dough forms (3). Tear off bits of dough and place on top of apples. You want little pockets of dough spread evenly around, not one large blob of dough in the middle (4).
Once the dough has been distributed, wash your hands, cover the oven, and start arranging your top and bottom charcoals: 7 on the bottom and 14 on the top, for about 350F.
Our apple cobbler usually takes 30-40 minutes to fully cook. Once it starts to get close to being done, it will become really fragrant. So once you smell it, give it a quick visual check to see how it's doing.
Essential Equipment
↠ Dutch oven: This recipe was developed for a 10″ Dutch oven. You could use a larger, 12″ dutch oven but we would suggest increasing the recipe by 1.5X or 2X.
↠ Chimney starter: A chimney starter will make preparing your charcoals easier. We like this collapsible version which is easy to store in our camp box.
↠ Lid lifter: This lid lifter makes checking on the cobbler safe and easy, and it doubles as a pot stand when you're ready to serve.
↠ Apple Slicer: This isn't totally essential, but using a apple corer/slicer tool would definitely make preparing the apples go way faster.