Our Complete Backpacking Checklist
This post may contain affiliate links.
What gear should you pack for a backpacking trip? We share our complete backpacking checklist with all of our lightweight backpacking essentials!
In the summer of 2007, I decided to go on my first backpacking trip. I bought a backpack in the wrong size for $20 on Craigslist, loaded it up with my camping gear (like, my car camping gear), and hiked up into the San Gabriel mountains near my home. It was a rough hike, to say the least, but I loved it. And, hey, everyone has to start somewhere, right?
Since then, I've made some big changes to my backpacking gear list. I hiked the John Muir Trail in 2012 and that really required me to think through what I was carrying and make some investments in quality items – many of which I'm still using today!
Michael and I have been backpacking together for nearly a decade, and even hiked the John Muir Trail for our honeymoon(!!) in 2019, so we've had a lot of time to work out the kinks in our backpacking checklist.
Our Backpacking Checklist
Use this backpacking packing list to help you get organized for your next trip. If you want a printable backpacking checklist, sign up for our email list using the form above and we will send you one for free!
Backpacking Packing List
The Basics
Backpacking pack
Tent (+ stakes & ground sheet)
Sleeping bag
Sleeping pad
Cooking System
Stove
Stove fuel
Cookset / pot
Lighter
Eating utensil
Mug / cup (optional)
Biodegradable soap + small sponge (optional)
Water filter
Water bottles / reservoir
Bear canister / food bag
Plenty of food

Clothing
Hiking top non-cotton
Hiking pants or shorts
Underwear / sports bra
Hiking socks
Hiking boots or shoes
Gaiters optional
Warm base layer top
Warm base layer pants
Insulating jacket
Rain jacket + pants
Windbreaker optional
Beanie
Gloves
Sun hat
Sunglasses
Bandana or buff optional
Camp clothes / shoes optional
Extra hair ties optional
Mosquito heat net optional

Safety & Navigation
Headlamp w/ extra batteries
First aid kit
Knife / multitool
Gear repair kit
Signal mirror
Whistle
Emergency fire starter
Backup water treatment
Compass / GPS device
Printed maps
Itinerary left w/ friend or family member

Toiletries
Toothbrush + toothpaste
Lip balm
Hand sanitizer
Trowel
TP + waste bag
Wet wipes
Quick dry towel optional
Medications

Misc. / Extras
Permit if required
Photo ID, cash, credit card
Hiking poles
Cell phone
Camera, battery, memory card
Battery bank & charger cords
Solar panel optional
Backpacking pillow optional
Ear plugs / eye mask optional
Journal + pen / pencil optional
Lightweight chair / sit pad optional
Extra trash bag & ziptop baggies

In this post, you'll find our complete backpacking gear list. This list stays relatively the same whether we're going on a weekend or multi-week trip, so it can be applicable for most backpacking trips.
Additionally, we offer suggestions for a mix of gear including budget items, lightweight and ultralight options, as well as the tried and true gear that makes it into our own packs.
Backpacking Gear Basics
This section covers the essential backpacking gear systems: hiking, shelter, and sleeping. These tend to be the heaviest pieces of gear you'll carry, so it's worth it to consider their weight in addition to other features.
Backpacking Backpack
Every successful backpacking trip starts with finding the right backpack. If possible, go to a gear store like REI, have your torso sized properly, and spend time trying on a bunch of different packs to find the right one.
When I first started backpacking, I hiked too many miles with packs that were just wrong for me. Finding the right pack made a huge difference!
Most backpackers find that a pack in the 40-65L capacity range to be versatile for nearly all trips.
There are hundreds of backpacking packs out there and finding the right pack is such an individualized experience, but here are our top picks based on our experiences (click the + to read more):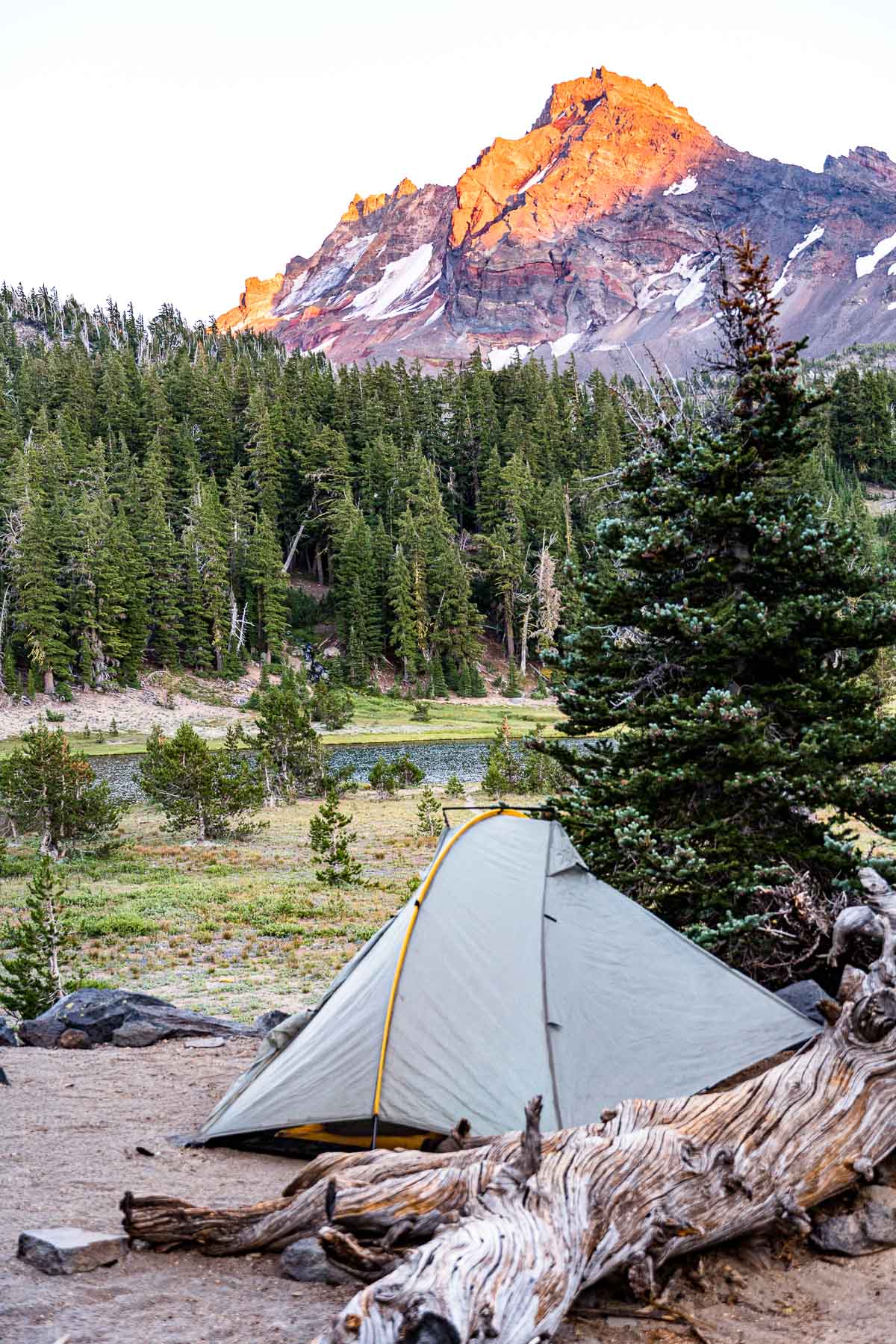 Backpacking Tent
Your tent is your home away from home and there are a number of important things to keep in mind when selecting the right tent. Besides the obvious factors like floor size, weight, and price, consider ease of setup, and "liveability" (I did not fully appreciate the livability of our tent until we spent an entire week backpacking in rainy conditions on our honeymoon!)—this includes things like peak height, interior pockets, ventilation, and room for your gear.
Here are some options to consider (click the + to read more):
Sleeping Bag
The final of the "Big 3" backpacking gear items is a sleeping bag (or quilt!). At the end of a long hiking day, nothing beats cozying up in a nice, warm, fluffy sleeping bag! When buying a sleeping bag, you'll be confronted with a lot of different temperature ratings.
The rule of thumb when it comes to temperature ratings is that the listed rating is what you can survive in, but to be comfortable you'll want to add ~15F, particularly if you're a colder sleeper.
A good, lightweight sleeping bag is definitely an investment, but it will last a pretty long time if treated well—we've had bags that have lasted for 10 years or more.
Another option for those looking to cut weight is a sleeping quilt, or hybrid quilt/bag. This design eliminates the down on the bottom of the bag, which gets compressed under your body weight and loses a lot of its insulating property anyway.
Backpacking sleeping bags and quilts to consider (click the + to read more):
Sleeping Pad
Your sleeping pad serves two purposes: it provides cushioning, and it insulates you from the ground. The insulating power of sleeping pads is measured in "R-Value". Here is a rough estimate of what R-value to look for based on nightly lows:
Down to 50F: R-2 or less
Down to 32F: R 2-4
Down to 20F: R 4-5.4
Below 20F: R 5.5+
Backpacking sleeping pads to consider (click the + to read more):
Camp Pillow [optional]
A pillow is totally optional and is entirely a personal preference. We use this lightweight Cocoon Pillow and the Sea to Summit Aeros Ultralight pillow. Or, you can just put your extra clothes in a stuff sack and call it a night!
Hiking Poles
We consider hiking poles to be part of our essential backpacking gear, but really they are optional. Poles will help you on the uphills and take the pressure off your knees on the downhills, so we think they are well worth the weight!
Backpacking Kitchen
In addition to the cooking gear below, you're obviously going to want to pack enough food! Check out some of our best backpacking meal ideas here.
Backpacking Stove
Your cooking system is going to be very dependent on your food strategy, the number of nights you're out for, and the number of people you're cooking for. You can read all about the best backpacking stoves here.
Living in the West where there is a near-constant threat of wildfire and many restrictions that follow, we are usually limited to self-contained canister stoves, which are reflected in our picks below (click the + to read more):
Cooking pot
If you opt for a stove instead of an integrated system, you'll need to pack a cook pot! For solo hikers, 650-750mL tends to be a good size, and for couples aim for a pot in the 1.2L+ range.
Fuel
Lighter
Even if your backpacking stove has an auto-ignite switch, don't rely on it 100%. Pack a lighter in the event it craps out.
Eating Utensil
We like to use a utensil that has a true spoon shape (not a spork) because it allows us to scrape down the last bits of food from our pot, making it much easier to wash it out. These Humangear GoBites utensils have served us well over the years, and they also have a fork end. This MSR folding spoon is also a good option and is a bit longer for reaching into freeze dried meal bags.
Mug [optional]
If you're morning coffee (or tea) drinkers like us, you'll probably want to pack along a dedicated mug.
This GSI mug is lightweight at 3.5 oz – making it even lighter than our old titanium insulated mugs and they are a fraction of the price! Sure, this mug won't keep your coffee hot for hours, but we find it's perfect for backpacking mornings. Bonus, the cup has measures on the side, so you can use it for measuring out water for your breakfasts and dinners.
Knife
It's always good to carry a small knife or multi-tool. I found that the only part of the multi-tool I ever used was the knife, so we ditched it in favor of our lighter Opinel knife.
Bear Canister
If you're backpacking in bear country, it's smart to use a bear canister (and in many places it's required!). We use the BV500 (there's also a smaller version). I have been able to pack 6-8 days of food for myself or 3-4 days for the two of us into it.
BearVaults are super durable and approved by nearly all agencies in the US, but they are on the heavy side. If you backpack in areas that allow it, an Ursack might be a better choice (while the Interagency Grizzly Bear Committee approved the Ursack in 2014, many places still do not allow them).
You can read more about how and when to use a bear canister here.
Water Treatment
You never know what is in the water sources you come across in the backcountry, so make sure you have a reliable way to filter water.
Here are our favorite water filters (click the + to read more):
Water Bottles
These soft-sided bottles are great because they collapse when you don't need them and they are super lightweight. We always bring at least one hard-sided water bottle (like a Smartwater bottle) in case the soft-sided bottles get holes in them. You could also opt for one of those water bladders with the drinking hose for easy sipping.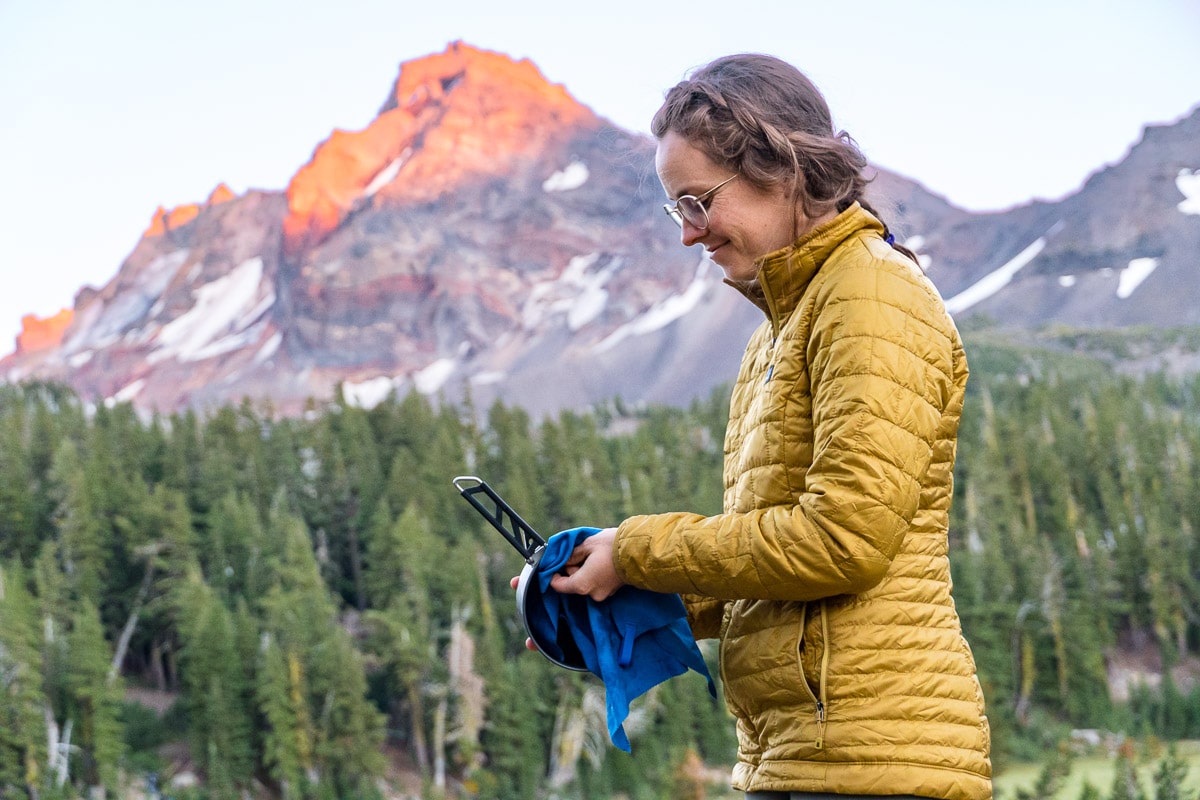 Dishwashing kit [optional]
If you cook in your pot, you may want to pack a small dishwashing kit. Here is what's in ours:
✔︎ Biodegradable Soap
We like the unscented Dr. Bronner's biodegradable soap for washing dishes. Please read up on the proper way to use soap in the backcountry, and for the love of god don't use it IN any water sources.
✔︎ Small Piece of Sponge
✔︎ Quick-Drying Dish Towel
The REI Multi Towel Mini is super light (optional, dishes can always air dry!)
Toiletries
Toothbrush & Toothpaste
We use folding travel toothbrushes. They take up less space and guard the bristles from touching anything else in your toiletry bag.
Travel-size toothpaste tubes are perfect for backpacking trips (no point in dragging a full tube out on the trail!). Personally, we have switched to these toothpaste tablets when backpacking—they weigh next to nothing and take up almost zero space.
An absolute must for faces, necks, and hands. We try to reduce the amount of sunscreen we need by covering up (long sleeves and pants), but a small travel container of sunscreen is critical.
Between the sun and the wind, it's so easy for lips to get chapped on the trail. So we always make sure to pack some lip balm with SPF.
Let's be honest, cleanliness becomes a relative term on a backpacking trip. But before we prepare our food and after we go to the bathroom, a quick spritz of hand sanitizer goes a long way to cover our bases.
Wet Wipes
We budget 2-3 of these wipes per day to clean off all the sweat and grime. The ingredients of these wipes are literally just water and grapefruit seed extract, so we find they don't leave a weird residue feeling behind.
Bathroom Kit
✔︎ Trowel
This trowel is cheap, durable, light (3.1 oz), and is faster at digging a cathole than using a stick. If you want to spend an extra $15 to save weight and some space, check out The Tent Lab's trowels.
✔︎ Toilet Paper + Trash Bag
If you're following Leave No Trace principles (and we hope you are!), you'll know that packing out all your trash is important–and that goes for your used toilet paper, too. I use a ziplock bag that I "black out" with painter's tape.
If you're looking for TP alternatives, you're in luck! There are a number of products designed with backpackers in mind that will help you cut down on the trash you have to pack out.
Kula Cloth: This is an antimicrobial pee cloth that can be used in place of toilet paper for #1. If the idea of a pee cloth is new to you, here are the answers to your first few questions: Yes, it's sanitary when used properly, and no, it doesn't stink. You can read allll about it on the Kula Cloth website.
Bidet: A great TP alternative that gained attention last year is the bidet–and this TUSHY travel version is a great option for backpackers. We met a gal on the JMT who used this one and couldn't say enough good things about the experience. It's essentially a soft bottle that can be filled with water, then squeezed to create a gently pressurized spray to clean up after you use your cathole.
Trash Bag for Food & Misc Waste
Technically, you could have one trash bag for everything, but I like to keep opening and closing my TP bag to a minimum, so I bring a separate one for storing my used food packaging.
Health and Safety
Headlamp
BioLite's 200 headlamp has a minimalist headband design, which distributes the weight in a way that's super comfortable. The light tilts, dims, and has a red light setting. Additionally, it's USB charged so there's no battery pack which helps make it one of the lightest headlamps we've found – it's only 50 grams!
You can get up to 40 hours of use (on low) out of a charge, so you will need a solar panel or battery bank with a micro-USB port to charge it on longer trips.
First Aid Kit
You can make a DIY first aid kit, or buy a pre-packaged one like this.
Our current kit is a bit Frankensteined, but generally speaking, our basic kit includes things like band-aids of various sizes, 2nd skin/blister bandaids/moleskin, butterfly bandages/wound closure strips, gauze, tape, elastic bandage, antibiotic ointment, antiseptic towelettes, tweezers, safety pins, ibuprofen, Imodium, and antihistamine.
Backup Water Treatment
In the event something happens to our water filter, we keep these Micropur tablets in our first aid kit.
Gear Repair Kit
Usually sleeping pad patches, spare stove O-ring, duct tape, a sewing needle, and nylon thread.
Firestarter/Matches
Small Mirror
Whistle
Navigation
Paper Maps
While we usually use a GPS app on our phones (see below) for navigation while hiking, we still bring paper maps. If your phone runs out of juice, gets water damaged, or drops and the screen cracks, you don't want to be stuck without a way to navigate. Maps are stored in a ziplock bag along with any required permits.
Compass
This Suunto A-10 Compass is a solid, lightweight option. Your map and compass will only help you if you know how to use them, so you might want to check out a navigation class at your local REI.
GPS
While there are plenty of expensive hand-held GPS devices out there, we have been happy over the years just using our iPhones and Gaia GPS! The premium version will set you back a few bucks (save 20% by using our link) but allows you to download maps before your backpacking trip so you can use them offline, and you can create and print paper maps for your route as well.
SOS/Satellite Device
We carry a Garmin In-Reach Mini which works outside of cell service, meaning we can text with our family or friends via satellite (for weather updates, wildfire info, or just to say "we're having a blast!"), call for SOS help if needed, and acts as a GPS with tracking. It's only 3.5oz, but it a pricey item and it requires a subscription to use all the satellite functions. However, it's been worth it for peace of mind for us and our families.
Backpacking Clothing
Insulated Jacket
For cool mornings and cold nights, a warm insulated jacket is essential. We look for jackets that can be compressed and packed down small so they don't take up a ton of room in our packs.
Base Layer Tops & Bottoms
Base layers can help you regulate your body temperature in camp and on the trail as the temperature fluctuates throughout the day. We opt for Patagonia Capilene base layers on warmer trips or Smartwool base layers if it's going to be colder.
Quick Dry Shirt
Look for something that's moisture-wicking and breathable. Avoid cotton as it holds onto moisture—opt for quick drying material instead. Patagonia's Capilene Cool Lightweight Shirt is a great place to start!
Long Sleeve Sun Shirt [optional]
When hiking at higher elevations and on exposed trails, we like to pack a lightweight UPF rated long sleeve shirt for additional sun protection.
Rain Jacket / Windbreaker
A lightweight rain jacket will be worth its weight in gold if you encounter rain on your backpacking trip! We'll pack these regardless of the forecast since the weather in the mountains can be unpredictable, and it doubles as a wind-resistant layer.
Hiking Pants / Shorts
Look for breathable, quick drying materials. UPF sun protection is always a big plus! Here are a few of our favorites:
Quick Dry Underwear
We each pack 2-3 pairs of breathable, quick-drying, moisture-wicking hiking underwear. These get rotated daily and on longer trips, we'll rinse them with water and some biodegradable soap.
Sports Bra
Hiking Socks
Investing in some quality wool hiking socks will help keep your feet happy on multi-day hikes. FITS, Darn Tough, or SmartWool are all solid choices. If you're prone to getting blisters on or between your toes, I'd highly recommend trying Injinji socks.
Hiking Boots
Footwear might be one of the most important pieces of backpacking gear! It doesn't matter how lightweight the rest of your gear is if your feet are in pain or covered in blisters.
Spend some time really feeling things out when you're selecting hiking boots or trail shoes. We recommend REI for this purchase because of their return policy. You can actually put your shoes to the test and if after a trip, it turns out they weren't the right fit, you can return them for a refund within a year.
Hat/Beanie
A brimmed hat is nice for keeping sun off your face during the day, and a warm beanie is a must for when the sun goes down!
Warm Gloves
A pair of warm gloves always finds their way into my pack–I personally like the REI Polartec Gloves. Michael finds that for most summer trips, a pair of merino wool glove liners are sufficient.
Sunglasses
Camp Clothes [optional]
One of the luxuries that we bring along when backpacking is a different set of clothes to wear at camp and while sleeping.
At the end of the day, we strip off all our dirty, sweaty hiking clothes, wipe down with wet wipes, and change into our clean(ish) camp clothes. We feel fresher going to bed, and since these clothes don't carry any residual hiking sweat, we sleep warmer, too.
We each pack a shirt, bottoms, underwear, Teva camp shoes, and cushy socks.
Camera Gear and Electronics
These are optional items, but ones that always make it into our packs!
Camera
We bring a Sony a6600 mirrorless camera on our backpacking trips, which weighs just over a pound (plus lens(es)). Or, on fast and light trips we might just use our iPhones. A smaller camera like the smaller camera like the Canon G7X or the Sony RX100 are also nice, lightweight options for casual picture taking.
Peak Design Camera Clip
This handy clip attaches your camera to your backpack strap so you can have your camera easily accessible on the trail.
Battery Bank
A battery bank is optional, but if you have devices that need to stay charged, it might be worth the weight. They come in a number of mAh capacities. This 10,000mAh pack will charge your phone 2+ times.
We hope that this backpacking checklist will be helpful as you plan your next backpacking trip! If you're looking to buy or upgrade gear, be sure to check out this post about where to buy discounted outdoor gear to save a bit of cash.
If you want to dig deeper, we have articles about choosing a backpacking stove, details on our backpacking kitchen, and articles about dehydrating food for backpacking and buying and packing backpacking food for your trip.
Tis' the season!
If you're looking for the perfect gift for a camper, hiker, or outdoors-loving person on your list, you've hit the jackpot! We have a gift guide for everyone, so take a look and find the perfect gift.