This post contains affiliate links.
One of our favorite parts of camping is hanging out around the campfire after dinner. This is a great time to relax and connect with one another. It's also a great time for dessert. There is just something so satisfying about capping off the evening with something sweet. And why not? Camping is supposed to be a vacation!
While s'mores have become the de facto campfire dessert of choice, there are so many more fun dessert ideas to try as well. From Banana Boats to Dutch Oven Apple Pies, there's a whole world of easy camping desserts waiting for you.
Below, we've rounded up some of our favorites that we think you should try out. Looking for more camping recipes? Check out these easy camping meals and camping food ideas!
Banana Boats are a quintessential camping experience, and kids and adults alike love them! This recipe will show you how to make them, along with a bunch of creative topping ideas.
If you really want to wow your campmates, give this Dutch oven apple pie a try! Make the pie dough at home or bring along some store-bought crust, then assemble and bake while you're enjoying dinner. There's no better treat than freshly baked pie in the woods!
This is a simple, no-fuss dessert that really lets the flavor of in-season summer peaches shine. Simply grill the peach halves to caramelize the sugars, then fill the middles with honey Greek yogurt. Perfection!
If you don't want to fuss over dessert too much, this Apple Crisp is for you. It comes together super fast and the only prep required is to chop up some apples.
This beautiful plum tart takes advantage of juicy, seasonal plums. You could easily substitute with any of your favorite fruits.
If you don't want to commit to making an apple pie, this Apple Cobbler is the next best thing. Cinnamon and brown sugar apples topped with a biscuit dough, this dessert is a perfect end to any meal.
Make use of your campfire grill by whipping up these fruit and shortcake skewers from Betsy Life. Don't forget to pack along some whipped cream to add on top!
Making Pineapple Upside Down Cake might seem ambitious at a campsite, but it's SO easy with this foil packet version from Belly Full! Assemble, wrap, grill, eat! And, there's no sticky mess to clean up afterward.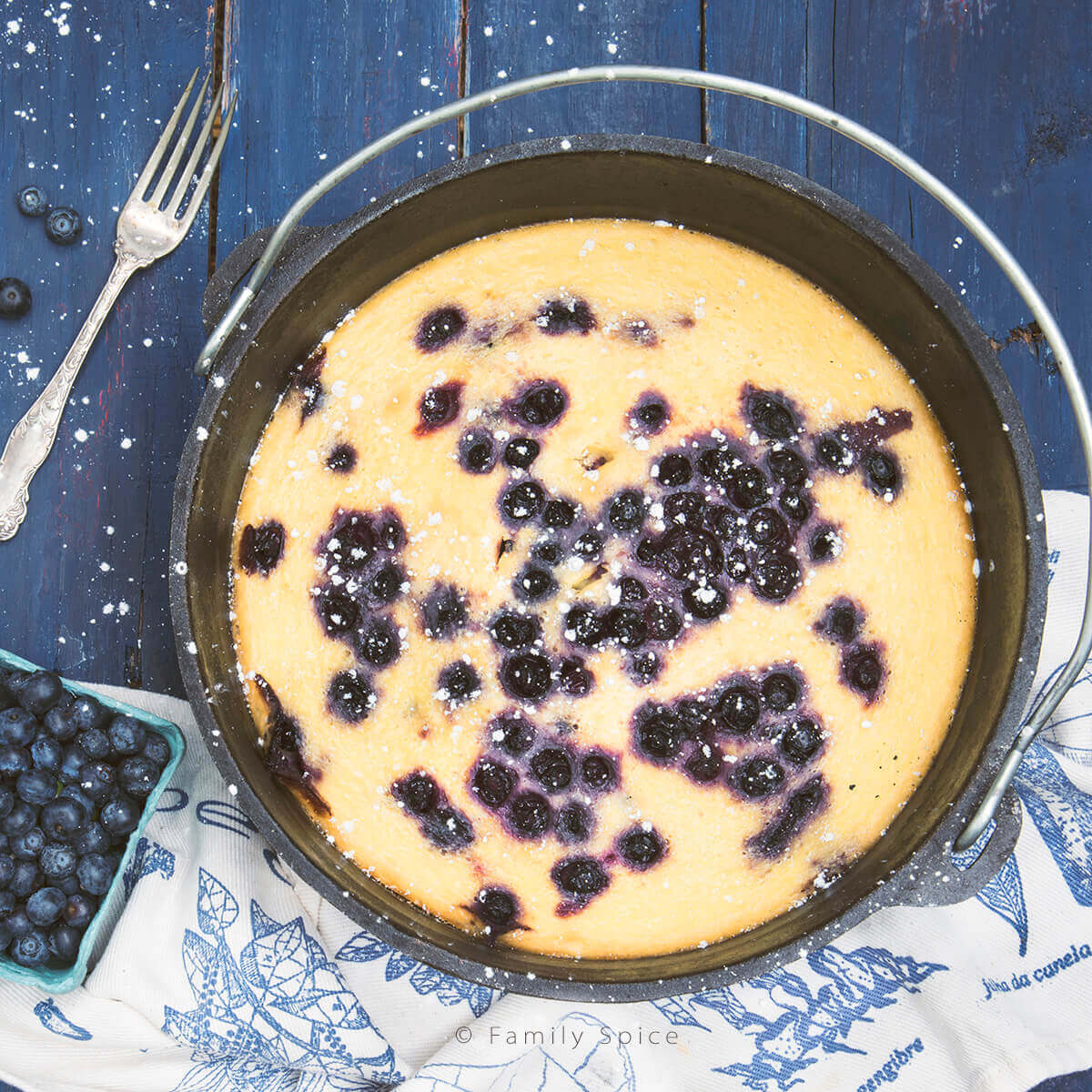 This beautiful dessert from Family Spice might sound fancy, but it's pretty straightforward to make! Simply make the batter, pour into a Dutch oven, top with berries, and bake. It doesn't get easier than that!
Fresh fruit, pound cake, and chocolate join forces for this seriously easy campfire dessert by Taste and Tell.
This easy campfire dessert from Food Network is as simple as wrapping peaches in foil, grilling them, and then topping them off with granola and whipped cream. Delish!
If you have a favorite camping dessert you think we should know about, let us know in the comment section below!