Camping Kitchen Equipment Guide
This post may contain affiliate links.
Great camping food starts with having the right equipment in your camp kitchen. In this guide, we share what we consider to be essential camp cooking gear for front country car camping.
What camping cooking gear do you recommend? What equipment do I need to cook your recipes? Ever since we started Fresh Off The Grid, people have asked us what camp cooking equipment they need to get started.
There are so many fancy camp cooking gadgets and gizmos out there, it's hard to know what's worth it and what's not. So we have put together this stripped-down list of must-have essential camp cooking gear.
With this gear, not only will you be able to cook all of the car camping recipes we share on Fresh Off The Grid, but your overall enjoyment of the outdoors will be drastically increased. So if you're new to camping or looking to build your camp kitchen from scratch, you've come to the right place. Let's get started!
Our must have camp cooking essentials
1.) Camp stove
It doesn't get any more fundamental than a camp stove. But with dozens of models out there, finding the perfect stove can be a challenge!
If you are just starting out, we recommend you steer clear of the funky alternative options and go with a classic 2- burner propane stove. They're versatile, allowed everywhere (even during most fire bans), they use widely available fuel (1 lb green propane canisters) and operate just like your home range.
2.) Cooler or fridge
We camped for a very long time without any form of refrigeration, but once we invested in a cooler for car camping and a refrigerator for our van, the quality and freshness of our meals improved tremendously. No other piece of camp cooking equipment has had a greater impact. Also, cold beer. Who can argue with that? Yes, a cooler or fridge is a lot of money upfront, but in our opinion, it has been absolutely worth it.
The main advantage of a fridge over a cooler is obvious: no ice to deal with. No ice taking up half the space of the interior, no ice melting away in the hot sun. With a fridge, so long as it's hooked up to power, it's always cold.

3.) Water jug
Being able to store a decent amount of water close to your campsite is a must. If you want to be able to get any serious cooking done, don't want to be making multiple runs to the water spigot. So picking up a water jug makes sense. But here's the catch: every single camp water jug, jerry can, or aqua cube we've ever used has leaked. So what's to be done?
4.) Cast iron skillet with lid
This is the MVP of our camp kitchen. With a good cast iron skillet, you can cook nearly all of the car camping recipes we have on this website.
Cast iron can be used on a camp stove, over a campfire, or nestled in a bed of charcoal. It has a naturally non-stick surface, superior heat retention, and is virtually indestructible.
We highly recommend picking up a lid for your cast iron skillet. It lets you trap heat inside, so you can wilt leafy greens, steam rice, or finish cooking the whites of a sunny-side-up egg. You can also place charcoals on top of your lid, so you can cook from the top down.
5. Non-stick skillet
Whether or not this is an "essential" piece of camp cooking equipment is debatable. You can get by without it. But if you are cooking scrambled eggs, pancakes, salmon, or anything else delicate, then there is no substitute for a good non-stick skillet. If paired with an appropriate silicone or wooden spatula, this skillet will last for years.
6.) Dutch oven
A Dutch oven is one of the most versatile pieces of camp cooking equipment you can own.
Sauté, steam, boil, fry, and bake – if you can imagine it, you can probably make it in a Dutch oven. A flat lid with rim allows you to stack charcoals on top, while support legs on the bottom allow you nestle coals underneath.
If you are new to camping, you can probably get by without one, but it's definitely the gateway into making the really fun stuff.
7.) Heat resistant gloves
If you plan on doing any amount of cooking over a campfire, we highly recommend picking up some heat resistant gloves. Pick up cast iron skillets, adjust campfire grill grates, and even rearrange smoldering logs in the fire by hands.
8.) Decent knife + cutting board
Whether you're slicing steaks, chopping vegetables, or whittling the perfect s'more stick, having a good knife is essential when you're preparing a meal in the outdoors.
Just like in your home kitchen, the quality of your equipment is important, both for function and for your safety. So invest in a good set of knives for your next camping adventure.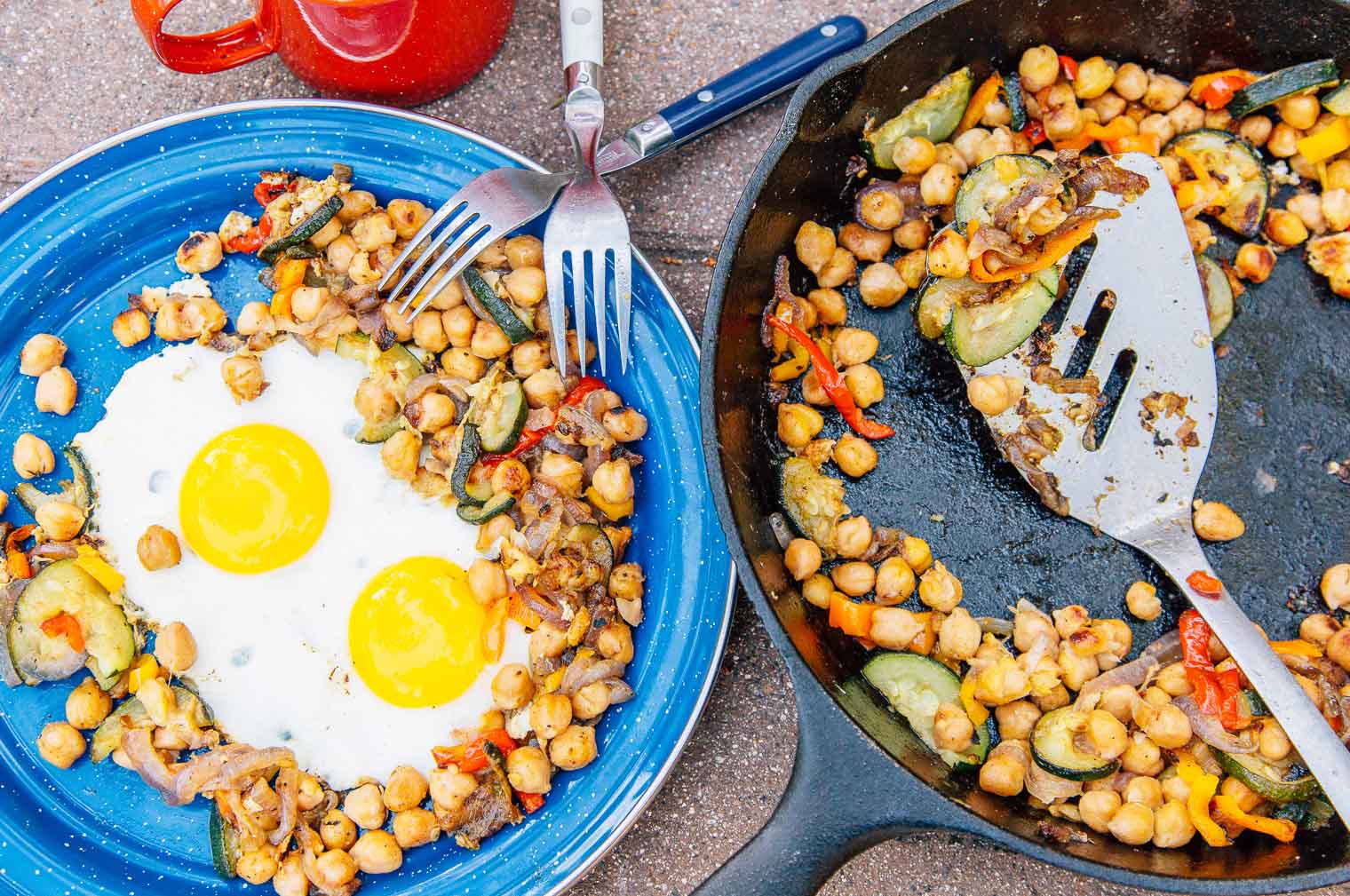 9.) Tableware and silverware
Ceramic plates are too fragile and plastic forks & knives seem too wasteful. If you're serious about camping, it's worth investing in some dedicated outdoor tableware.
10.) Coffee setup
There are lots of different ways to make coffee while camping, what's important is that you have a way that works for you.
If you're interested in hearing about all the options available, we have the Ultimate Guide to Camp Coffee. However, but here we will recommend our personal favorite method:
11.) Insulated mugs
While this isn't a true "essential", we can't imagine camping without them. An insulated camping mug makes a world of difference. Now we can leisurely sip our coffee all morning long without accidentally burning our hands or rushing to consume it before it gets cold. It has definitely brought us much joy.
Nice-to-have equipment
While we wouldn't consider any of these pieces of gear to be absolutely essential, they are very nice to have nonetheless. Depending on the type of camp cooking you're doing, they can be quite useful.
Dedicated camp cooking utensils
Buying a new set of "camp kitchen" utensils is one of the smartest things we've done. It's so much easier to have our dedicated gear stored all in one place rather than hunting around the kitchen and trying to multipurpose items right before we head out the door. It really reduces the risk of arriving at the campsite and realizing you're missing a critical piece of gear.
↠ Tongs
↠ Spatula
↠ Ladle
↠ Wooden Spoons
↠ Can Opener
↠ Bottle/Wine Opener
↠ Flat Metal Skewers
↠ Box Grater
↠ Cutting Board