Camping Kitchen Equipment Guide
This post may contain affiliate links.
Great camping food starts with having the right equipment in your camp kitchen. In this article, we share what we consider to be essential camp cooking gear for front country car camping.
What camping cooking gear do you recommend? What equipment do I need to cook your recipes? Ever since we started Fresh Off The Grid, people have asked us what camp cooking equipment they should get to get started.
There are so many camp cooking gadgets and gizmos out there, it's hard to know what's worth it and what's not. So we put together our list of must-have essential camp cooking gear (as well as a couple of nice-to-haves!)
With this gear, not only will you be able to cook all of the car camping recipes we share on Fresh Off The Grid, but your overall enjoyment of the outdoors will be increased significantly.
So if you're new to camping or looking to update your existing camp kitchen, you've come to the right place. Let's get started!
Our must-have camp cooking essentials
Camp stove
It doesn't get any more fundamental than a camp stove. But with dozens of different models, finding the perfect stove can be a challenge!
Over the years we've seen plenty of super "innovative" stove designs come and go, but we prefer to stick with the classic 2-burner propane stove. They're versatile, allowed everywhere (even during most fire bans), use widely available fuel, and operate just like your home range.
Other than the cook space, the two versions are more or less the same. Same 10,000 BTU burner, slim design, Piezo self-ignitor, adjustable legs, and Jetlink technology (to daisy chain stoves together). This is a great 2-burner stove for nearly all front-country car campers.
The Eureka SPRK+ is a great option to look into. It runs off butane, rather than propane, so it won't work great below 32F degrees. But for summer camping trips, it's great (and super compact).
Camp cooler
Since investing in a cooler for car camping, the quality and freshness of our meals has improved tremendously. Also, cold beer! Who can argue with that? While the cooler market has come a long way in recent years, the truth is: you don't need to spend hundreds of dollars to get a great quality product.
For most weekend camping trips, this cooler will be MORE than sufficient. Plus it comes with a 3-year warranty and it's made in the USA.
They're tough, won't leak, insulated, come in various sizes, and most of all they've very affordable. If you have the space, this is a great option.
It features a wide mouth cap for easy filling, integrated straps so can be be hung up, and gravity powered water pressure can be released via a flow-controlled spigot or shower heat attachment. We own this product and would highly recommend it.
It features a 10,000 gallon water purification system (better than a filtration system), a hand pump for manual pressurization, and can hold up to 15 liters. In the world of water purification, this is a robust solution for a very reasonable price.
Camp cookware
We highly recommend picking up a few pieces of dedicated camp cookware. Not only will this prevent you from accidently dinging up your nice home cookware, but it will make cooking at the campsite so much enjoyable. The good news is you don't need to break the bank here. All you need is a few essential pots and pans to get started.
We are big fans of Lodge cast iron skillets because they are well-made and very reasonably priced. (Cast iron is ancient technology after all) The 10-inch skillet is ideal for two people, while the 12-inch skillet is better suited for 4 people.
Additionally, consider picking up a cast iron lid to fit your skillet. This lets you trap heat inside, allowing you to wilt leafy greens, steam rice, or finish cooking the whites of a sunny-side-up egg! You can also place charcoals on top, to turn your skillet into a rudimentary Dutch oven.
We have burned through (in some cases, literally) a few nonstick pans over the years, but we have been very impressed with the durability of the GSI Bugaboo Frypans. When using non-stick, be sure to only use silicone or wood utensils to preserve the finish.
There are some very expensive camping Dutch ovens out there, but if you're just getting started then we recommend you pick up a Lodge Camping Dutch Oven. The 10" (4 quarts) is great for 2-3 people. The 12" (6 quarts) is great for 4-6 people. They are reasonably priced and do a fantastic job.
Interested in Dutch oven cooking? We have an entire Dutch Oven 101 article that will teach you everything you need to know to get started!
With just a click of the stove, you're ready to bake! The ability to quickly and easily bake cinnamon rolls, fresh bread, or a tray of nachos has significantly expanded our camp cooking abilities.
If you're interested in learning more about the Omnia Stove Top Oven (how it works and how to use it) we have a complete tutorial on it here.
We recently purchased a Rome Pie Iron (they are not expensive) and just had so much fun with it. It felt like being a kid again. We don't know why it makes us so happy, but it just does.
Cooking utensils, knives, and accessories
There are many camp kitchen accessories that only reveal themselves to be essential after you've had the misfortune of forgetting them. That is why we are huge advocates of buying dedicated camping kitchen utensils that are stored separately. Rifling through your kitchen drawers right before a trip is exactly how you forget the all-critical can opener or spatula!
We recommend this Vremi Knife set for a couple of reasons: 1.) They are super affordable, so picking up a set specifically for camping isn't such a big financial hit. 2.) They're stainless steel, so they can be easily sharpened. 3.) Each knife comes with its own fully enclosed sheath. Not only does this protect the blade from dulling when you toss it into the camp storage box, but it keeps your fingers safe when unpacking everything.
Assorted Utensils
We've used gardening gloves, welders mitts, and oven hot hands in the past, but none compare to these Grill Armour Heat Resistant Gloves. The heat protection they offer is unbelievable. But just be sure not to get them wet – which can produce scalding hot steam inside the glove.
This instant read thermometer is a great way to take the guesswork out of whether that steak is finished cooking or not. It's fairly affordable, comes with two heatproof probes, and has a built in alarm. This is the instant read thermometer we own and use regularly.
Campfire cooking accessories
Campfire cooking has a lot of crossover with backyard grilling. So if you do a lot of home BBQ-ing, then some of this might be familiar to you. Still, there are a few accessories we find to be particularly useful to have at a campsite.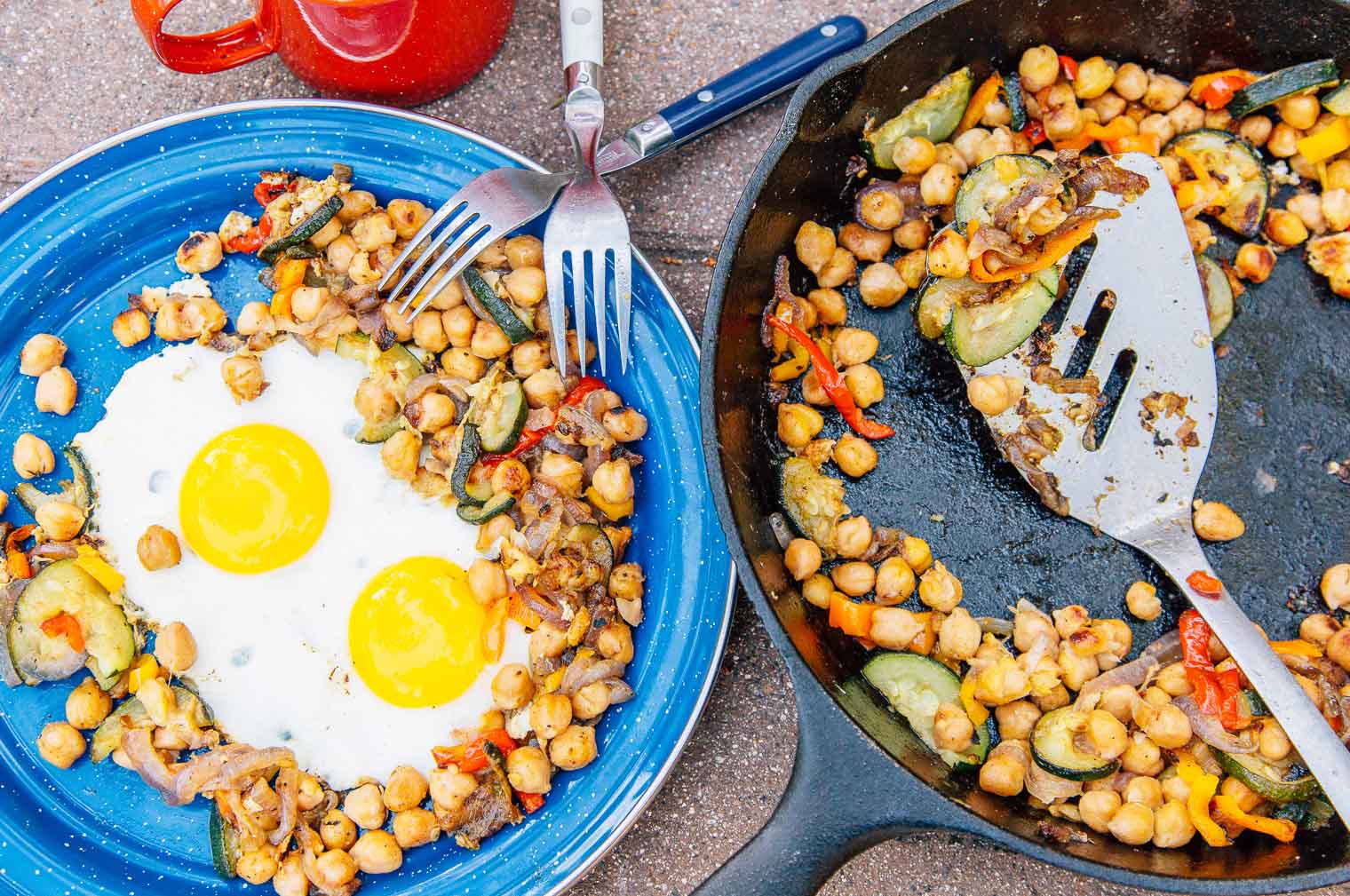 Camp coffee maker
It compresses the grounds into a small puck, making cleanup a cinch. We've been using the Aeropress to make our coffee every morning (at camp and at home!) for the past few years. Since this method produces one cup of coffee at a time, it's best for two people.
For a large capacity stove top percolator, we recommend the EuroLux 12-Cup Percolator. Nearly every percolator on the market has some little quirk that people seem not to like, but we think this one minimizes them the best it can. We also really like the wood handle which won't melt or burn your hand if placed over a campfire.
Not too big and not too small, Hydro Flask makes a great vacuum-sealed camping mug. They come in a bunch of cool colors so you can really brighten up your morning routine. We own these mugs and highly recommend them.
Camp kitchens and cook stations
While nearly every established campground comes with a picnic table, it's just nice to have a separate dedicated cook station. Something that's at counter level height and can be placed somewhere convenient. It's also really nice to be able to sit down at the table to eat once the meal is ready, instead of having to hastily break down the kitchen setup just to have a place to sit.
Clean-up and dishwashing
Cleaning up is probably everyone's least favorite part of camp cooking. It is what it is. But with the right setup, dishwashing can be a much better and much faster experience for everyone involved.
We recently switched to this Coghlan pop up trash can (which we place a trash bag liner inside) and it has made a world of difference. Now we can place the trash somewhere convenient, we can easily dump scraps into it, and when we're not using it, we put the lid down and keep the bugs out. When we get back home, we can collapse it down and put in our camp storage bin.
Organization and storage
Keeping your various cookware, dishware, and pantry food stuffs organized has got to be one of the biggest challenges of any camp kitchen. Taking a moment to get set up with a good system can really elevate your entire camping experience.
They make 8, 24, 35, 48 gallon versions. The best part is they are very affordable! Especially when compared to other premium storage bins.
Here are just a few of the many ways these containers can improve your camp cooking experience:
At home, you can use them to store chop veggies, marinate meats, homemade sauces & dips, and pre-portion out bulk supplies (like rice or flour) so you don't have to bring the whole bag with you. This is also a great way to discard excess food "packaging" at home, instead of having to deal with it at the campsite.
Use them to pack your cooler! Everything in the cooler is eventually going to get wet, so sealing your hot dogs in a waterproof container is a must!
No more food waste! Leftovers are no problem if you have a few resealable containers with you. Just seal it up, put it back into the cooler, and next day heat it up in a skillet for lunch!