18 Easy Camping Breakfast Ideas
This post may contain affiliate links.
These quick and easy camping breakfasts will have you jumping out of your sleeping bag in the morning and ready to start your day!
From comforting Banana Bread Pancakes to exotic-feeling Shakshuka, these recipes will take your breakfast game to the next level.
So, volunteer to make breakfast on your next camping trip and give one of these recipes a try. Your campmates will be glad you did!
1. Campfire Frittata
A slice of hearty eggs, fresh vegetables, topped with a drizzle of olive oil and a sprinkling of cheese is a wonderful way to start your morning. If you need to feed a group on your next camping trip, look no further than this classic Italian breakfast!
2. Perfect French Toast
This is the one and only recipe you'll need to make exceptional French toast on your next camping trip.
3. Banana Bread Pancakes
Delicious and perfectly sweet, these banana bread pancakes are an excellent upgrade from the classic pancake recipe.
4. Camp Stove Chilaquiles
Chilaquiles is an easy camping breakfast – crispy tortillas simmered in a spicy tomato sauce and topped with a few eggs. It takes less than 30 minutes to make, and it is vegetarian, too!
5. Bacon, Egg, and Avocado Sandwich
This camping breakfast sandwich has it all: avocado, bacon, toast, and a fried egg. Plus, it can all be made with just a single skillet over a camp stove or campfire.
6. Sausage Breakfast Sandwich with Honey Sriracha Sauce
These sweet & spicy breakfast sandwiches are the perfect in-hand meal to get your morning started off right.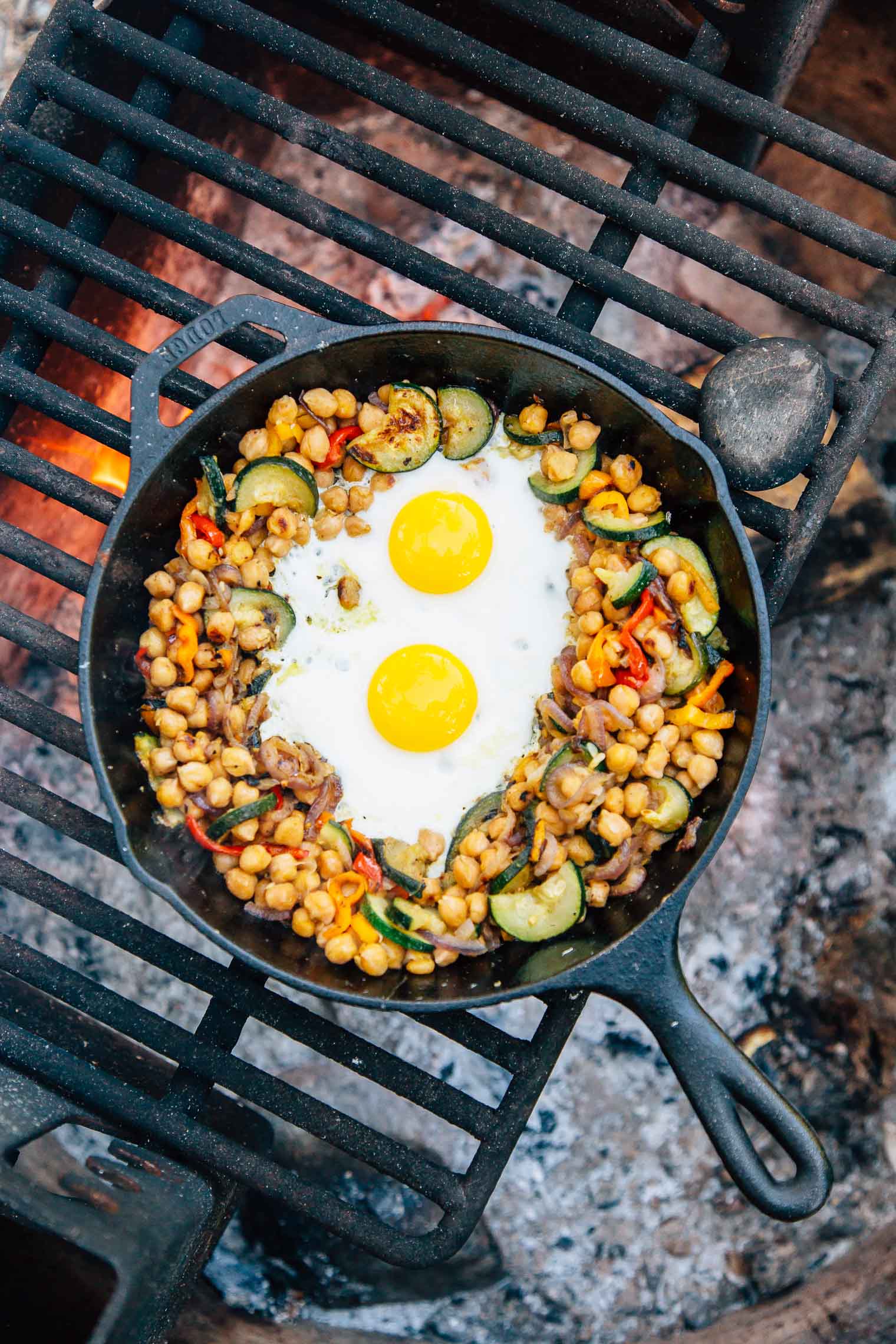 7. Chickpea Hash with Summer Veggies
A protein-packed update to breakfast hash, this chickpea and vegetable breakfast skillet is a healthy way to jumpstart your morning.
8. Vegan Coconut French Toast
This vegan recipe uses coconut milk and bananas to make super-flavorful French toast that just might be better than the traditional method.
9. Huevos Rancheros
Toasty corn tortillas, pan-fried eggs, and fresh pico de gallo, huevos rancheros are a quick and easy camping breakfast.
10. Turmeric Tofu Scramble
Combining seasoned tofu, hearty potato & mushrooms, and ample leafy greens, this well-balanced tofu scramble is one of our favorite go-to camping breakfasts.
11. Coconut Chocolate Granola
Sweetened with maple syrup and dried raspberries, this chocolate and coconut granola is a decadent camping breakfast that can be made ahead of time at home.
12. Blueberry Banana Pancakes
Combining two classic pancake recipes into one, these blueberry banana pancakes are a warm and fluffy way to start your morning.
13. Johnny Appleseed Oatmeal
Leaning into the flavor of autumn, this apple spiced oatmeal goes big on the cinnamon, nutmeg, and cloves. It also gives a bump of protein with a mix of flax, chia, and hemp seeds.
14. Shakshuka
This easy shakshuka recipe is loaded with flavor. Eggs poached in a slightly spicy pepper & tomato sauce, then topped with feta cheese – perfect for enjoying with a slice of crusty bread.
15. Apple Sweet Potato Hash
Bring a touch of fall to your morning with this sweet potato and apple breakfast hash. Combining sweet and savory, it's a great autumn twist to a classic one-skillet breakfast.
16. Halloumi Breakfast Sandwich
Grilled halloumi cheese, sweet Hawaiian rolls, a fried egg, and spicy mayo come together to make a fantastic quick and easy camping breakfast.
17. Asparagus Pancetta Skillet Hash
Colorful asparagus, hearty potatoes, and savory pancetta form this delicious spring-inspired breakfast skillet hash that will have you saying, "I'd put an egg on that!"
18. Sweet Potato Chorizo Hash
This quick and easy sweet potato and chorizo breakfast hash is a delicious way to start the day.
Bonus: A Great Cup of Camp Coffee!
Okay, now that you've got breakfast straightened out, let's talk about something really important: coffee! Our ultimate guide to camp coffee guide is a great place to start. Find the perfect brew method for you!