Grilled Halloumi Breakfast Sandwich
This post may contain affiliate links.
Grilled halloumi cheese, sweet Hawaiian rolls, a fried egg and spicy mayo come together to make a fantastic quick and easy camping breakfast.
At the Grand Central Market in downtown Los Angeles there is a line. No matter what day of the week or what time of day, this formidable queue of people snakes up one aisle and down the next as if it were a permanent fixture of the room. If you follow this line to its end, you will arrive at Eggslut – the breakfast sandwich Mecca of LA.
We never had the willpower to wait the 2 hours in line, so sadly we've never tasted the divine grace of one of these sandwiches. However, we did come across a video of Eggslut co-owner Alvin Cailan where he explains how to make one of their now-discontinued sandwiches. We were on board with his whole approach until he got to the fried SPAM part. But here, we had an idea…
What if, instead of sodium nitrate ladened SPAM we used Halloumi cheese? This semi-soft cheese comes from Cyprus but has become fairly popular all over. It's unique from other cheeses in that it has a very high melting point, which allows it to be grilled. When fried in a well-oiled pan, Halloumi cheese can take on a wonderfully crispy, crunchy texture that perfectly complements the rich, gooey texture of an egg.
An egg sandwich like this is great for camping because it only uses one cast iron pan and a small mixing bowl. No serving plates required. And when you're trying to enjoy the great outdoors, the fewer dishes the better – especially in the morning. Give this sandwich to somebody on your next camping trip and we bet they won't even need a napkin to wipe up the extra sauce.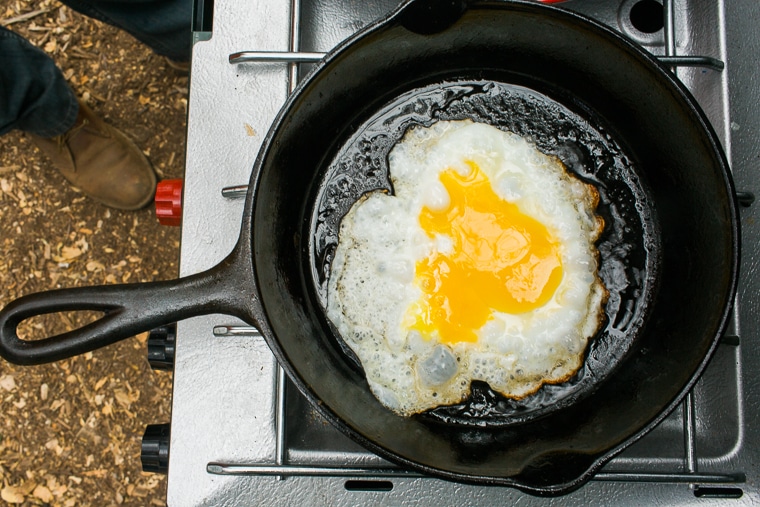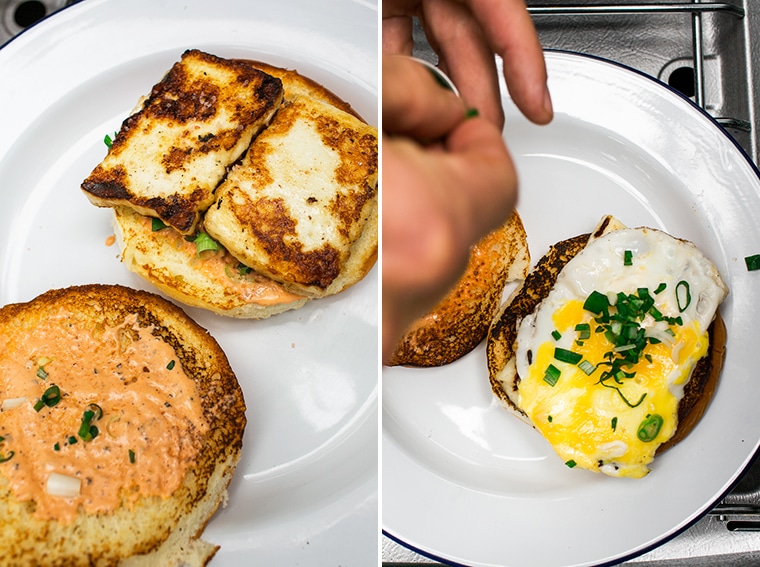 Grilled Halloumi Breakfast Sandwich
This sweet & spicy breakfast has it all: fried cheese and egg, sandwiched between a sweet Hawaiian roll bun. This is a camping breakfast that will have you excited to roll out of your sleeping bag in the morning!
Print
Pin
Rate
Save
Saved!
Ingredients
1

large Hawaiian sweet roll

,

(use the sandwich buns if you can find them)

1

tablespoon

butter or oil

,

divided

2

oz

halloumi cheese

,

sliced

1

egg

3

tablespoons

 mayo

1

tablespoon

Sriracha

,

(more or less depending on your heat preference)

1

scallion

,

sliced or julienned

salt + pepper

,

to taste
Instructions
Toast the sandwich buns either in your skillet or over a grill. Set aside.

Heat half the butter or oil in your skillet over medium high heat. Once melted, add the cheese. Fry on each side until golden brown in spots, about 3-4 minutes per side. Set aside. This step could also be done on a grill if you have one going. In that case, skip the butter/oil, and place the cheese directly on the grill.

Heat the remaining butter or oil over medium heat. Once melted, crack the egg into the skillet. Totally optional step: Once the whites begin to set, you can use a fork to mix up the yolk a bit so that it gets distributed throughout the egg a bit, so there will be yolk in every bite. Cook the egg for about 4 minutes, or until they are cooked to your preferred doneness.

While the egg is cooking, prep the spicy mayo. In a small bowl (or in a measuring cup), mix together the mayo and the Sriracha.

To assemble, spread the spicy mayo on each cut surface of the buns. Layer on the grilled halloumi, egg, scallions, and salt & pepper to taste.
Nutrition (Per Serving)
*Nutrition is an estimate based on information provided by a third-party nutrition calculator
Equipment
Coleman Classic Propane Stove
Cast-Iron Skillet
Sharp knife
Cutting board
Spatula
Measuring cups & spoons
Dishes & utensils for serving
If you make this meal next time you're camping, let us know! Leave us a comment below or follow us on Instagram @freshoffthegrid and tag your camp cooking photos #sporkandknife so we can check them out!