Camp Stove Chilaquiles
This post may contain affiliate links.
Chilaquiles is an easy camping breakfast – crispy tortillas simmered in a spicy tomato sauce and topped with a few eggs. It takes less than 30 minutes to make, and it's vegetarian, too!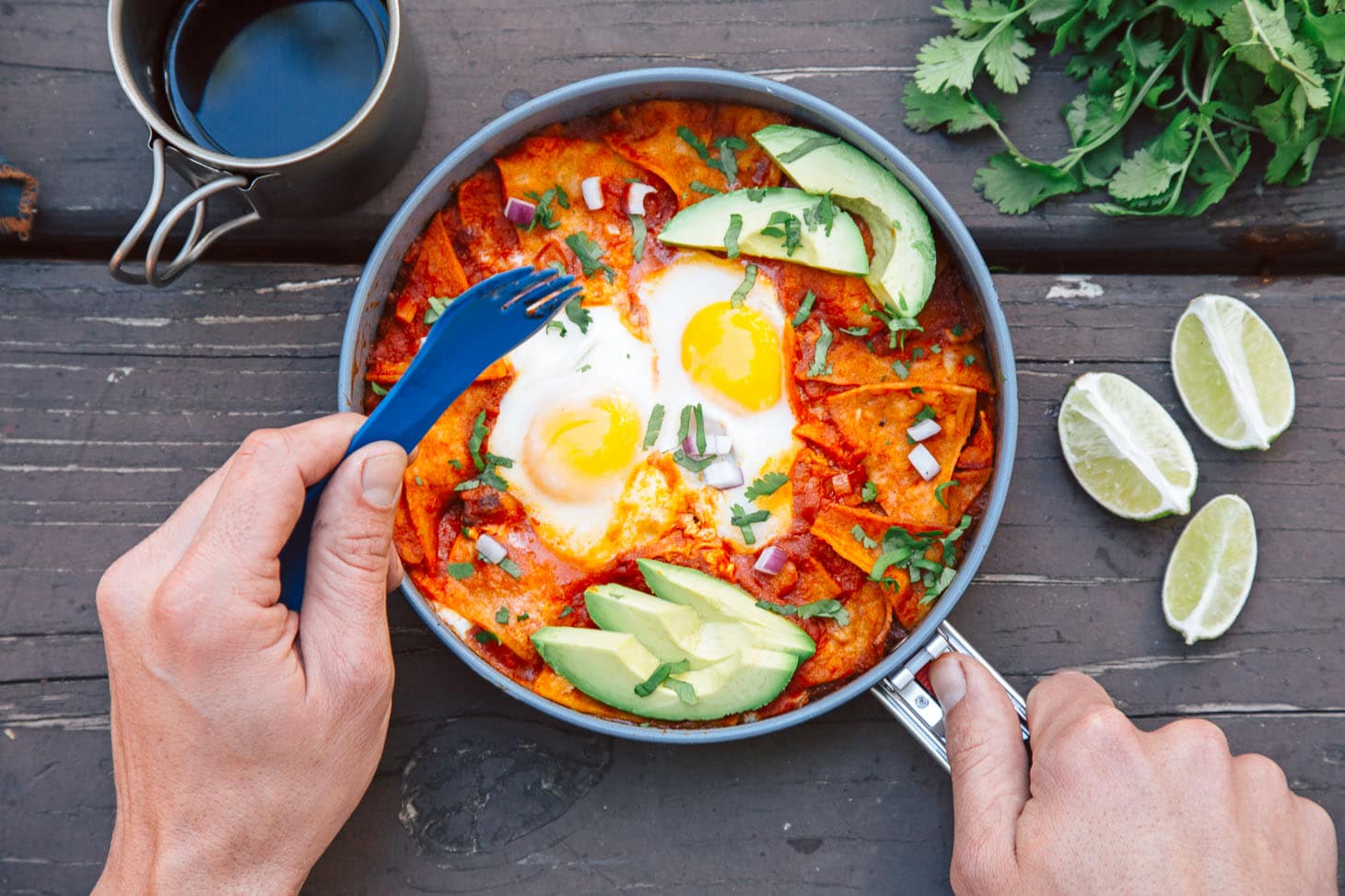 When you're out camping, morning isn't just a time of day: It's an event. The darkness fades from the night's sky, the inside of your tent starts to glow, and an "un-snoozable" alarm clock of songbirds join together at dawn to greet the new day. Whether you rise up to meet it or roll over to ignore it, when you spend a night outside, morning always makes its presence known.
For many, this morning experience is what draws them to go camping. In our modern world filled with artificial light and on-demand everything, being outside offers a chance to reset our circadian rhythm and get back in sync with the natural world. Rise with the sun and follow it to back to bed. It's not a routine most of us follow on a daily basis, but when we go camping, it can feel like a return to a long-forgotten normal.
Breakfast is another daily routine that camping allows us to see in a different light. When we're at home, breakfast is often a requisite meal that stands between us and getting out the door on time. But during a camping trip, it becomes less of a routine and more of an occasion for reflection. Out here, breakfast can be slowly and consciously enjoyed, instead of hastily rushed through.
That's why it's important to plan a breakfast that's worth looking forward to, but not so elaborate that you dread making it. Granola is great, but is it really enough to inspire you to leave the comfort of your warm sleeping bag?
For something like this, chilaquiles fits the bill perfectly. Fried tortillas, cheese, and poached eggs all cooked together in a skillet of spicy salsa — this breakfast is simple to make, yet promises to engage your every sense. It's not a meal that most of us have time to enjoy during the working week, which why it's a perfect fit for the more relaxed itinerary of a day outdoors.
So for your next camping trip, introduce a new recipe in your morning ritual and give these chilaquiles a try.
Equipment Notes
‣ Any non-stick skillet with high sides will work for this recipe. We've used our 10″ cast iron skillet and even our Dutch oven in the past. This time around we used the MSR Flex Skillet, which is super non-stick.
Ingredient Notes
‣ We like to use el Pato hot sauce for our chilaquiles because it comes with the right amount of spice and the 7oz container is just enough sauce for one skillet, so there are no leftovers to deal with. We've never had a hard time tracking it down, but if you can't find it or prefer to use non-canned sauce, you could make your own by blending a cup of tomato sauce, some chopped jalapeno, and a pinch of oregano and packing that along with you.
‣ If you're not into the idea of frying tortillas on your camp stove, you can do this step ahead of time, OR use store bought tortilla chips – no judgment from us! (Though frying your own isn't too big of a deal, and the texture is superior in this dish.)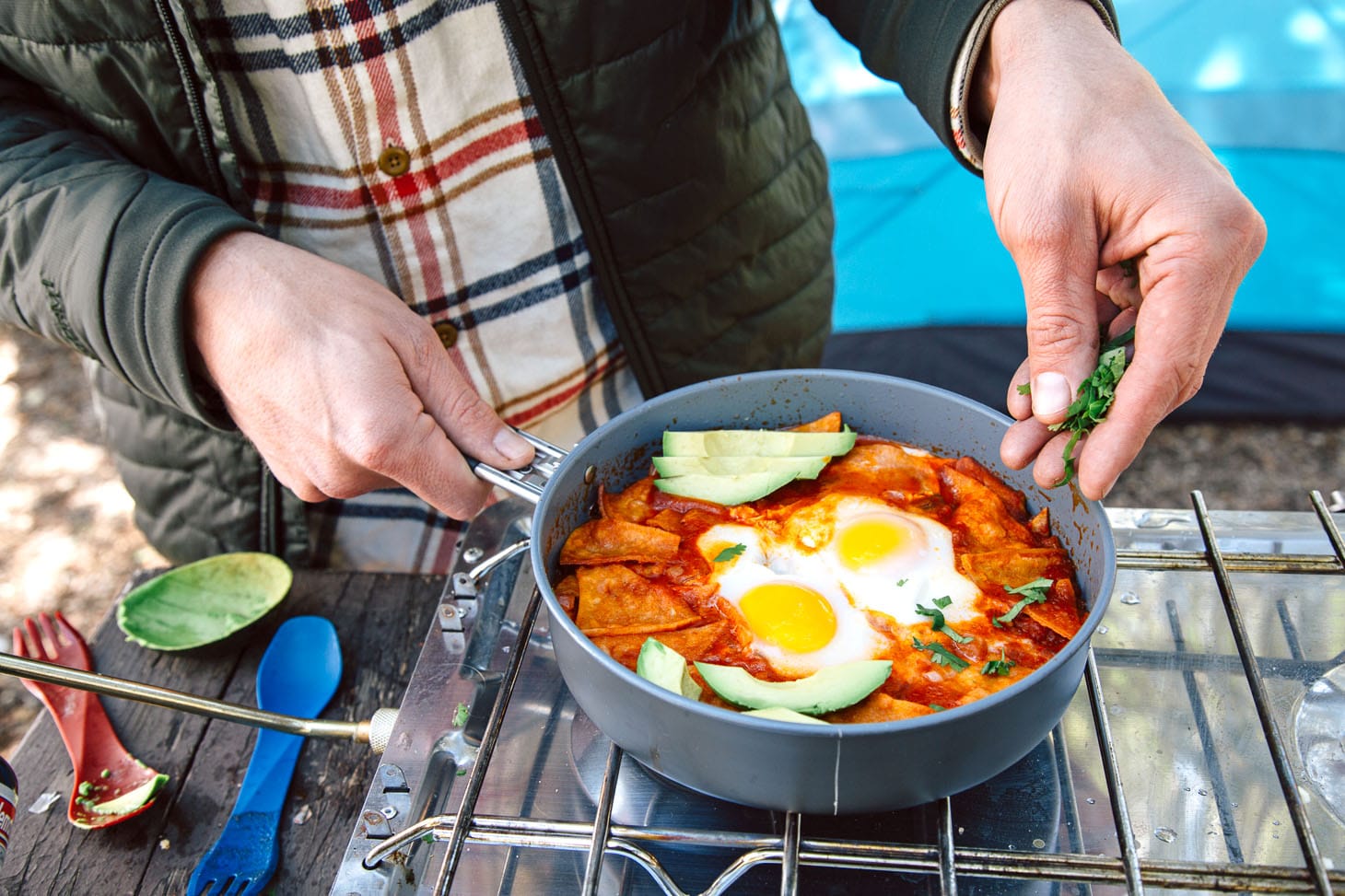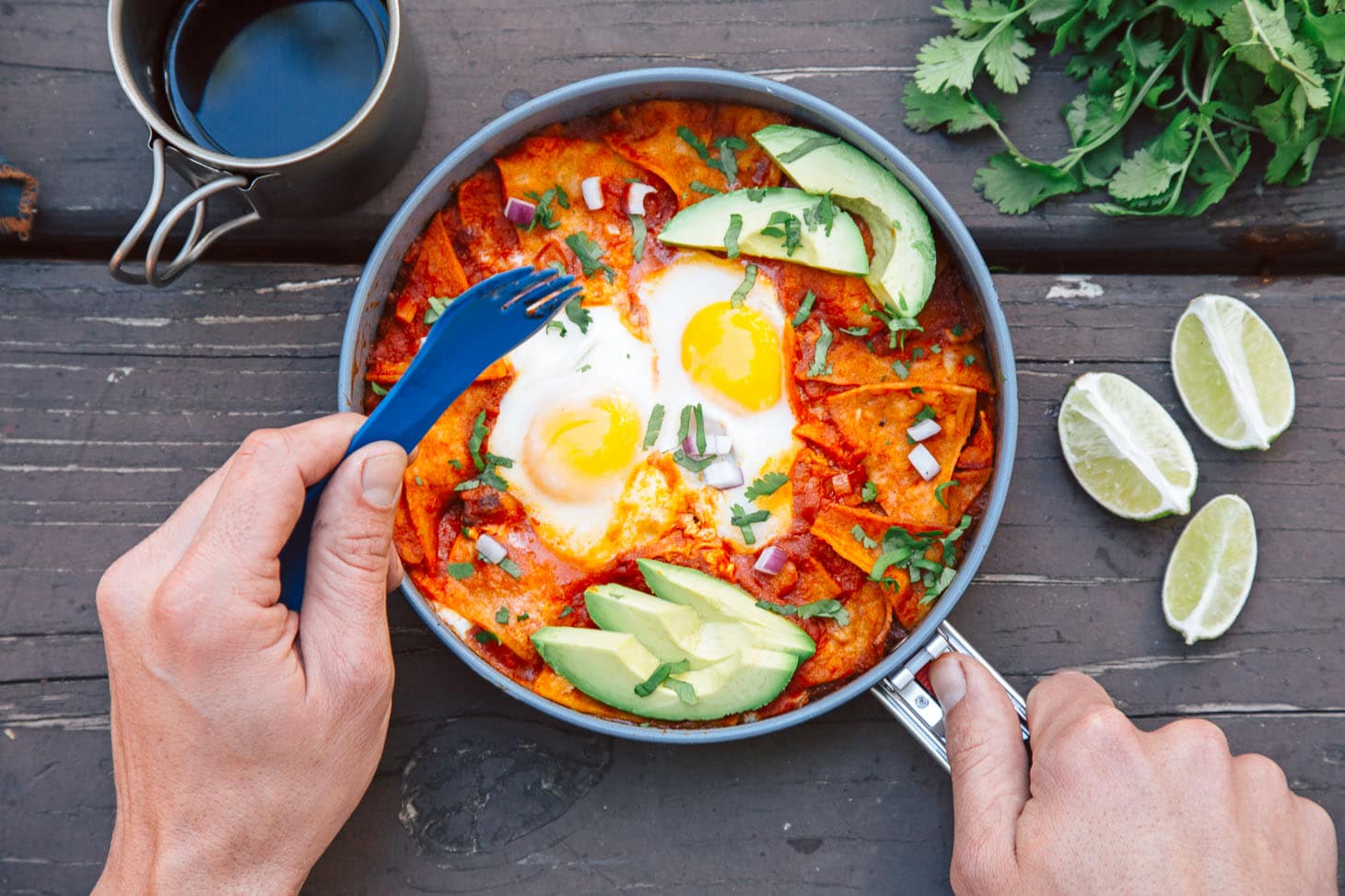 Ingredients
⅓

cup

vegetable oil

6

corn tortillas

,

, cut into wedges

½

red onion

,

, diced

2

cloves

garlic

,

, minced

1

(7oz)

can el Pato sauce

,

(or 1 cup tomato sauce and a chopped jalapeño)

½

teaspoon

salt

2

– 4 eggs
Optional toppings
cilantro, avocado, diced red onion, grated cheese, fresh lime slices
Instructions
Heat the oil in a skillet over high heat. Once the oil is hot, add the tortilla triangles in a single layer and fry for a few minutes until golden brown, flipping once. Remove and set aside on a paper towel to drain. Repeat with the rest of the tortillas.

Lower the heat to medium. Add the red onions to the remaining oil and saute for a few minutes until they begin to soften. Add the garlic and saute for about 30 seconds and then add the tomato sauce, salt, and a splash of water to the skillet. Bring to a simmer, then add the fried tortillas. Stir to coat.

To cook the eggs, move the tortillas to the outside edges of the skillet to create a well in the center. Drop the eggs into the sauce and cook to your liking–you can scramble them, or cover the skillet and allow them to simply poach in the sauce.

Serve with the toppings of your choice. Enjoy!
Notes
SHORTCUTS
If you don't want to deal with frying the tortillas in camp, you can do this step at home and pack them with you, OR you can use store bought tortilla chips - no judgment from us!
EQUIPMENT NEEDED
10-12" nonstick or cast iron skillet
Sharp knife + cutting board
Can opener
Tongs
Spoon
Plates + utensils for serving
Nutrition (Per Serving)
*Nutrition is an estimate based on information provided by a third-party nutrition calculator