This post contains affiliate links.
Easy-to-cook and easy-to-clean, these one pot camping meals are perfect for your next camping trip.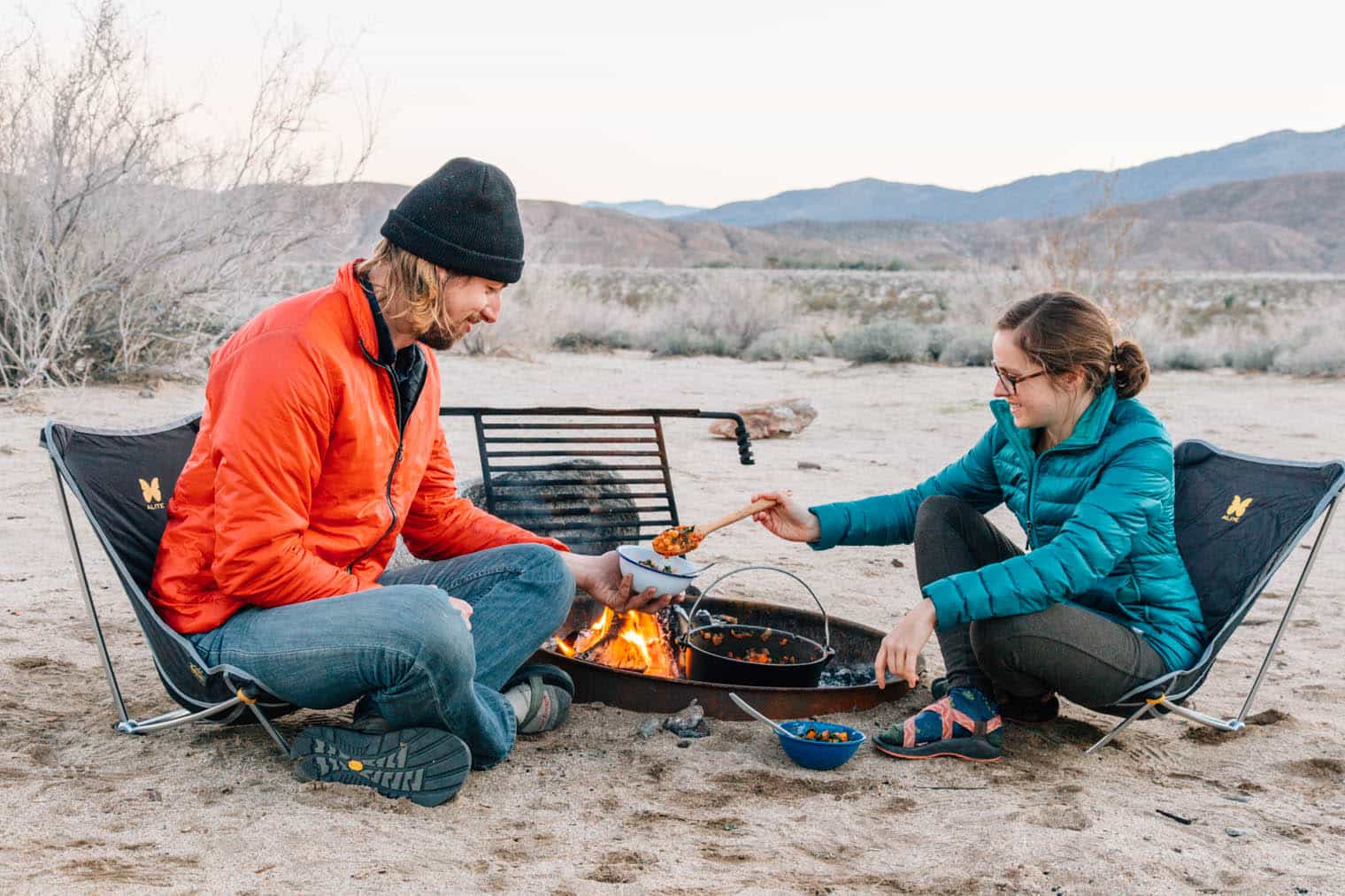 We love cooking outside, but unfortunately, many home recipes don't lend themselves well to being cooked at a campground. For most car campers, the relatively limited kitchen setup (two burner stove, no oven, no microwave, no electronic appliances) means you need to be a little more creative with the way you cook. Thankfully, there's a simple solution: one pot meals.
One pot camping meals (or one skillet meals) can be made with just a single piece of cookware. Instead of using separate pans, for example to: boil water for pasta, simmer a sauce, and saute vegetables, a one pot meal would find a way to cook all the ingredients together. It's all about finding the sequence.
We love making one pot meals when we're camping and here are just a few of the reasons why:
Less Mess – One of the biggest advantages of one pot cooking is having fewer dishes to clean up at the end of the meal. At home, this is nice. But when you're cooking at a campsite, without a dishwasher (or even a sink!), not having to scrub multiple pots and pans at the end of the night means you get to spend less time cleaning and more time hanging out in front of your campfire.
Synchronized Timing – Every home cook knows how difficult it can be to get each part of a recipe ready at exactly the right time. This problem can be even worse at a campsite where you can't just pop something in the oven to keep it warm. By cooking a meal in one pot, everything is ready at once. 
Scalability – Whether you're cooking for two or an entire trail crew, one pot meals can be easily scaled depending on the size of your group. Although you might find you need a bigger pot!

We've collected a variety of one pot recipes for you to try out on your next camping trip. Spend more time enjoying your time outdoors and less time doing dishes! Enjoy!
Looking for something specific?
Jump right to the category you're looking for:
Breakfast // Dinner // Desserts
Combining two classic pancake recipes into one, these blueberry banana pancakes are a warm and fluffy way to start your morning.

A protein packed update to breakfast hash, this chickpea and vegetable breakfast skillet is a healthy way to jumpstart your morning.

Colorful asparagus, hearty potatoes, and savory pancetta form this delicious spring inspired breakfast skillet hash.

Crispy tortillas simmered in a spicy tomato sauce and topped with a few eggs. Camp stove chilaquiles takes less than 30 minutes to make, and it's vegetarian, too!
A beloved happy hour classic, now being served at a campground near you. What better way to end the day outside than with a cold beer, warm campfire, and a big pot full of cheesy nachos?

Sweet, savory, crispy and saucy, this Dutch oven recipe for Chicken Marbella delivers a "gourmet" campfire experience but without any of the work.

A plant-based twist on a summer classic, these red lentil sloppy joes pack in just as much flavor (and protein) as the original – but without all the funky extras.

Combining red lentil pasta with garlicky sauteed kale, this super easy one pot camping meal delivers a ton of protein while still being completely vegetarian.

This one one beef stroganoff will warm your heart and fill your stomach.

If you're looking for something hearty, comforting, AND healthy the next time you're out camping, you need to try this vegan sweet potato peanut stew.

Quick cooking orzo and lots of vegetables, this is a quick and easy meal that never fails to please.

Cornbread is one of our favorite comfort foods and one of our favorite camp foods. A perfect combination.

While it might seem fancy, paella is one of the most versatile rice dishes you can learn to make over an open fire.

Layers of baked pasta, crunchy edges of melted cheese, flavorful tomato sauce, and fragrant Italian seasonings. Can anything come close to the mouthwatering perfection that is lasagna?
This No Bake Apple Bourbon Crisp is designed to be an afterthought of a dessert. Something so simple that you'll be hard pressed to come up with a reason not to make it.
Soft cinnamon spiced apples, crumbly topping, and a sweet syrupy sauce, all baked to golden brown perfection inside a Dutch oven, this apple cobbler is a great dessert to enjoy around the campfire.
---
PIN FOR LATER ⟶