Chili mac holds a special place in our hearts. For us, it's a nostalgic meal from our childhood that combines the easy-to-approach comfort of mac and cheese with the more challenging and assertive flavor profile of chili.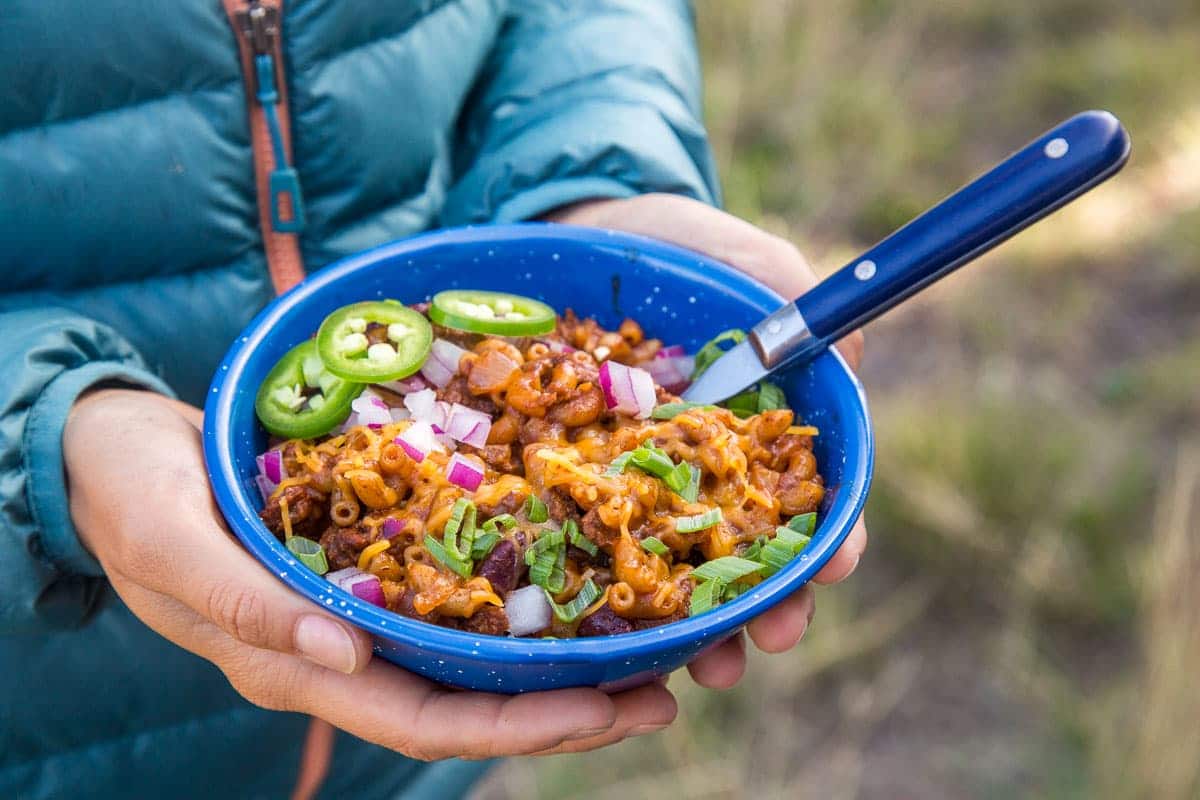 And this wide appeal of chili mac is part of what makes it such a home-run for camping. Young and old can find everything they've ever wanted in a warm bowl of chili mac and cheese. It's popular, filling, and easy to make. What else could anyone ask for?
But we went a step further to develop this recipe to be a one-pot meal. Not only does this save you from having to drain the pasta water from a separate pot, but it also builds layer upon layer of flavor that really comes through in the finished product. All you need is a large pot with a lid.
While chili mac on its own is a wonder to behold, the creative use of toppings can really take each serving in a unique direction. Lean into the spice with sliced jalapenos or tame it with a dollop of sour cream. Add in some bit with diced red onions, scallions, or chives. Or layer on some extra cheese. It's totally up to the individual.
Why we love this One Pot Chili Mac:
↠ Lots of complex flavors and textures that come together really quickly.
↠ Cooking the pasta in with the chili saves you an extra pot, plus the hassle of trying to strain off the boiling water at a campsite.
↠ It's hard to express just how stick-to-your-ribs hearty this meal feels. As satisfying as a Hamburger Helper, but without all the processed ingredients.
↠ Toppings allow you to customize each bowl. A few sliced jalapenos for the adults, some extra cheese for the kids.
So if you're looking for a sure bet camping meal to cap off the evening, put this chili mac and cheese on the menu!
How to make chili mac & step by step video
Start by dicing an onion and adding it to a pot with some oil over medium heat. Saute for a few minutes until the onions are soft and translucent. Add the ground beef, tomato paste, and spices. Use your spatula to break up the beef (1). Cook until the beef has browned, stirring frequently.
Now, add the elbow noodles and a can of drained kidney beans (2). Add the broth and stir to combine (3). Bring to a simmer and cover. The cooking time will depend on the specific noodles you use, so check the package for the cooking time. Ours usually takes 5-6 minutes. While the noodles cook, you can prep all your toppings.
Once the noodles are cooked through, remove the lid and stir in the cheese (4). Serve the chili mac in bowls and let everyone customize with their toppings of choice.
Pre-trip prep
While there isn't a ton of prep work to be done ahead of time with this recipe, you could premix the spices at home so you don't have to bring the chili powder, cumin, and smoked paprika with you. But definitely bring along the salt!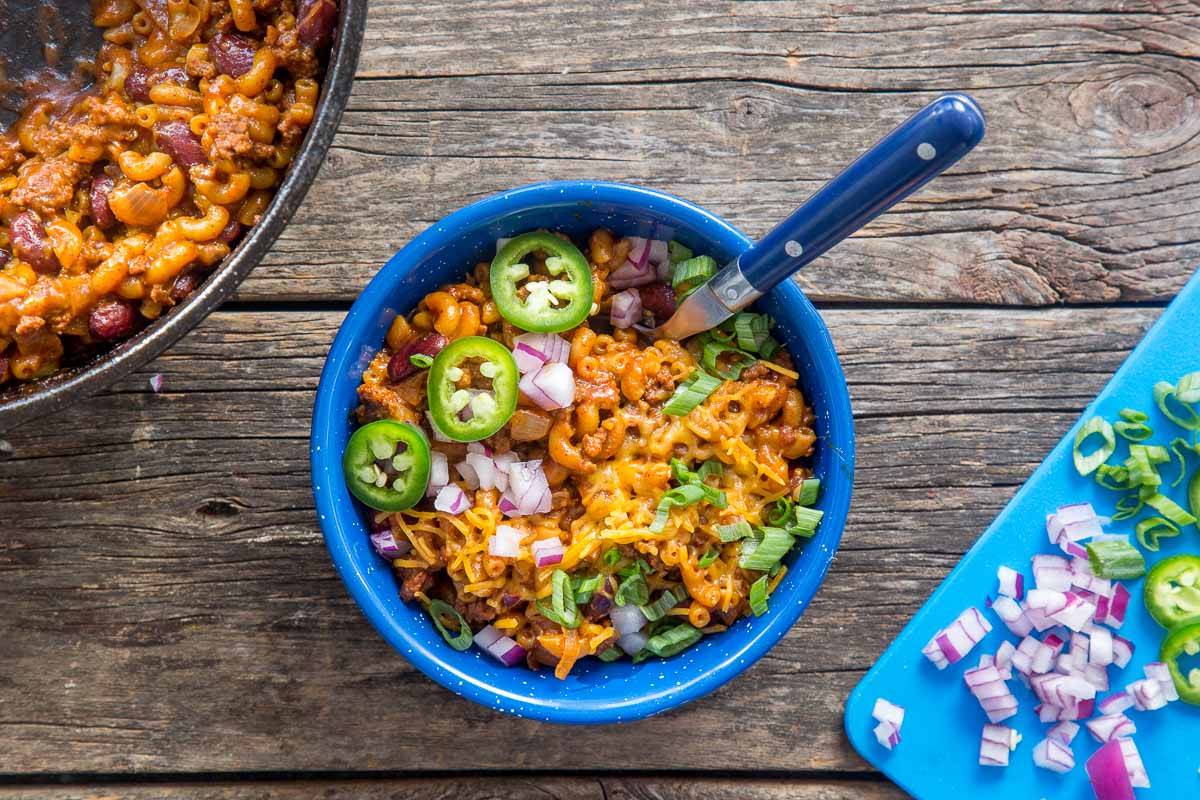 Equipment needed
↠ Cookpot or Dutch Oven: A large cookpot (this is the one we use) or a 10" Dutch oven will work for this recipe.
↠ Camp Stove: This is the best camp stove we've used so far. It offers great simmer control and does a good job blocking wind. Alternatively, this meal can be made over the campfire!
↠ Dutch Oven Enchiladas
↠ One Pot Red Lentil Sloppy Joes
↠ Campfire Nachos
↠ One Pot Beef Stroganoff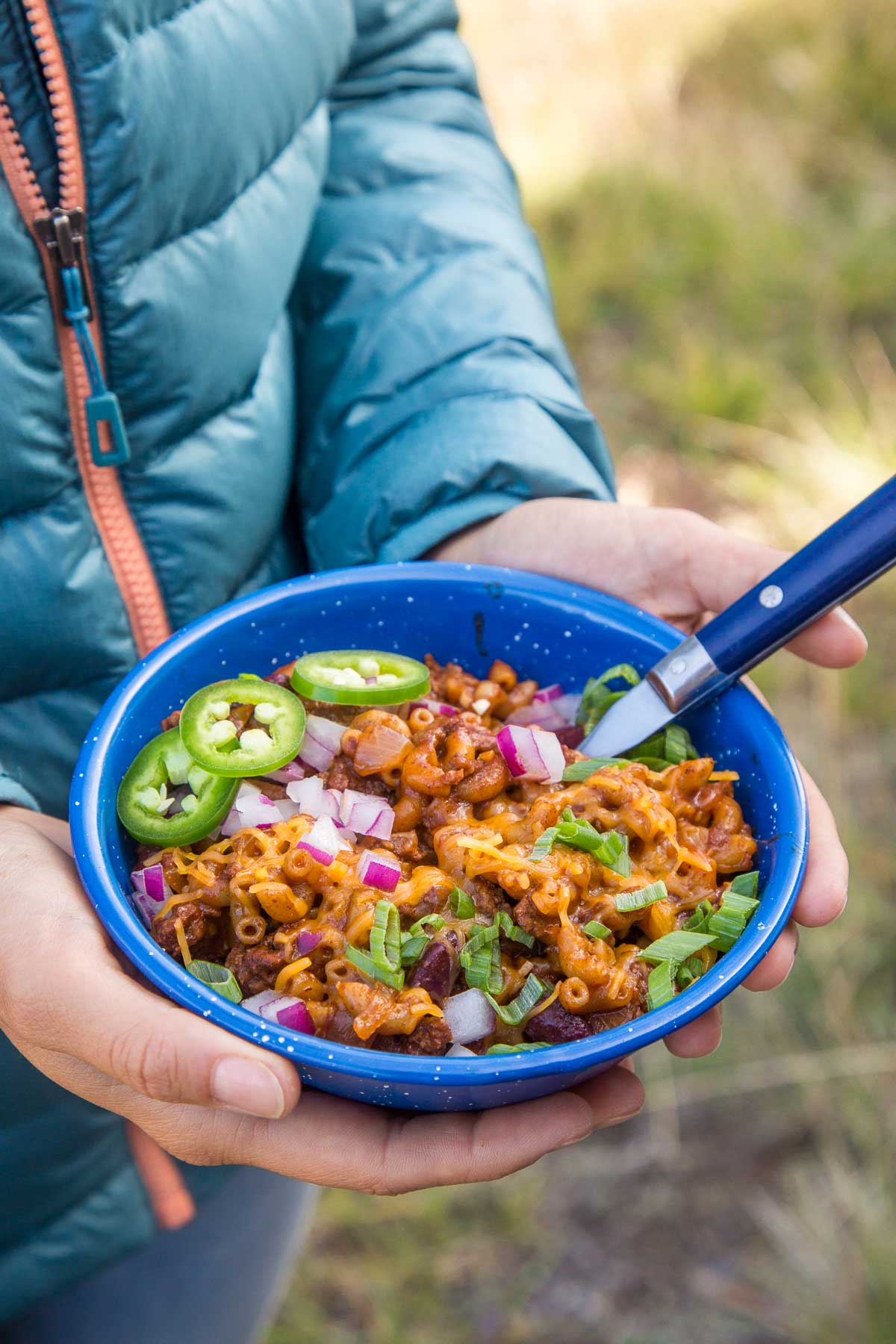 One Pot Chili Mac
Blending the best of both worlds, chili mac combines the smoky and spicy flavor of chilli with the rich and creamy texture of mac & cheese. It's an all-American camping classic and using this recipe, you can make it using just a single pot!
Print
Pin
Rate
4 servings
Ingredients
1 tablespoon oil
1 onion, diced
½ pound ground beef
2 tablespoons tomato paste
2 tablespoons chili powder
1 tablespoon cumin
1 teaspoon smoked paprika
1 teaspoon sea salt
2 cloves garlic, minced
8 oz elbow noodles
1 (14.5oz) can kidney beans, drained
1 ½ cup beef broth
½ cup shredded cheddar cheese
To serve: minced red onion, jalapeno, scallions
Instructions
In a Dutch oven or other large pot with a lid, heat the oil over medium heat. Add the onion and saute until translucent, 3-5 minutes.

Add the ground beef, tomato paste, chili powder, cumin, smoked paprika, and salt. Using your spoon or spatula, break apart the meat and stir to coat with the tomato paste and spices. Once browned, add the garlic and saute for 30-60 seconds.

Add the noodles, kidney beans, and broth and stir. Cover with the lid and cook for 5-6 minutes (unless the noodle packaging denotes a different cooking time).

Remove the lid and stir in the cheese. Serve with your favorite chili toppings.
Nutrition (Per Serving)
Calories: 509kcal | Carbohydrates: 66g | Protein: 28g | Fat: 16g | Fiber: 10g | Sugar: 5g
*Nutrition is an estimate based on information provided by a third-party nutrition calculator
Share your meal with us!
When you make this recipe, let us know by tagging @FreshOffTheGrid in your post or stories. We love seeing what our readers cook up!