Dutch Oven Mac & Cheese
This post may contain affiliate links.
Quick, easy, and super cheesy, this Dutch Oven Mac & Cheese is a great way to make this comfort food classic when camping.
This recipe is sponsored by Kettle Brand
Loaded with creamy, buttery, cheesy goodness, mac & cheese can really hit the spot when we're out camping. Especially when the evening air begins to cool, there's nothing more satisfying than tucking into a bowl of heart-warming, stomach-filling Mac & Cheese. It's our happy place.
Chances are you've made mac & cheese at home before. It's a pretty straightforward procedure: boil water, add pasta, impatiently hover over it, strain, etc etc.
So why make mac & cheese in a Dutch oven? We're so very glad you asked…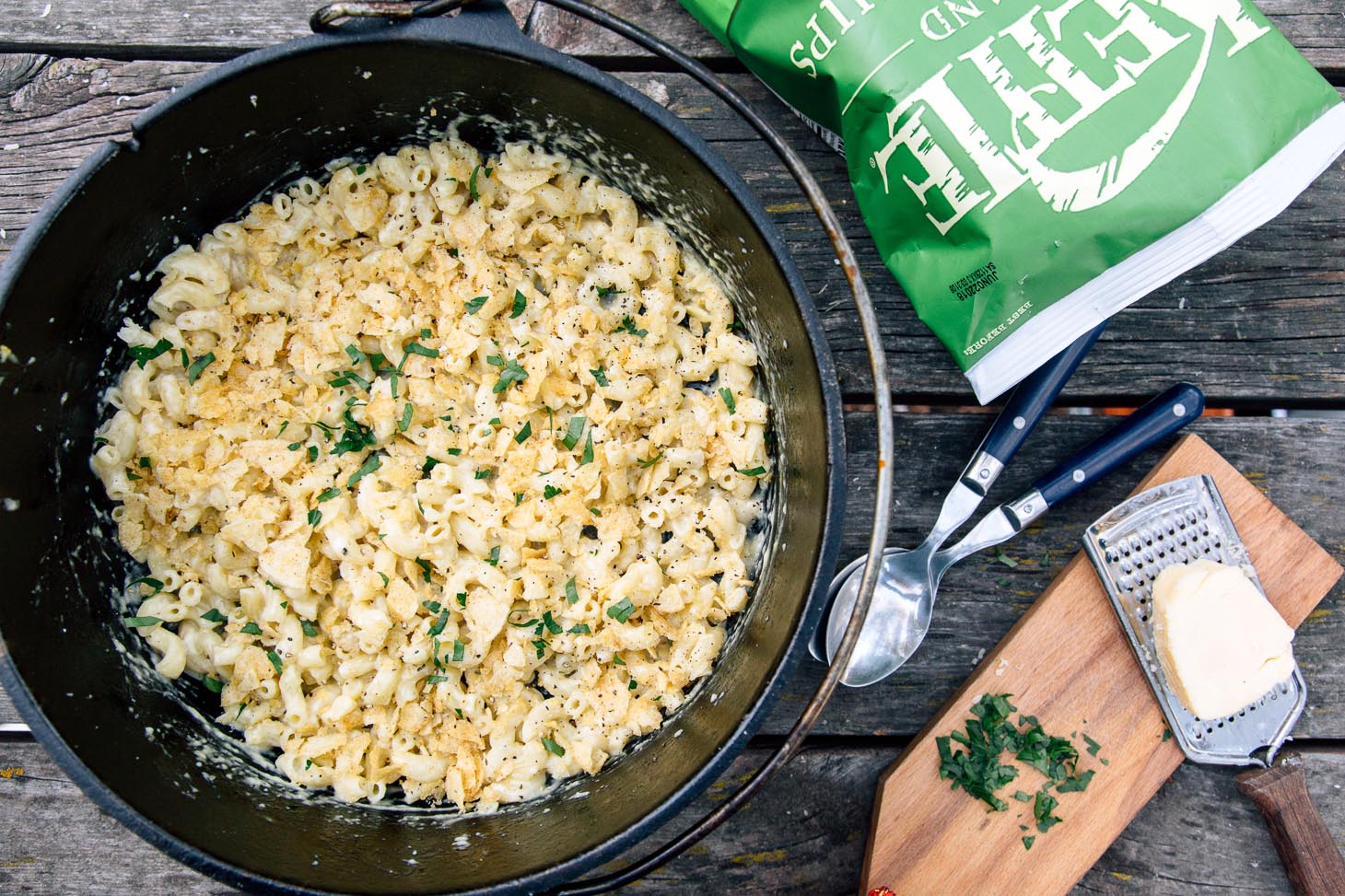 The key benefit of using a Dutch oven is being able to apply heat from the bottom and the top.
This radiant heat allows you to steam the pasta instead of boiling it, thus cutting down on the amount of water you need to use. Steaming the pasta also eliminates the need to strain it at the end.
The little water that remains just becomes the sauce. Because who brings a colander with them camping? (Not us!)
And finally, using a Dutch oven allows you to make A LOT of mac & cheese at once without a lot of hassle, making it a great option if you're cooking for a family or a group of friends. Just set it up, place some coals on it, and let it do its thing.
Learn everything you need to know about cooking with a camping Dutch oven!
We have the full ingredient list in the recipe below, but here are a few notes about what we used:
While you can use any cheese you like (we used an aged white cheddar), we do recommend grating it yourself if possible. Pre-shredded cheeses are covered in an anti-caking coating, which we'd prefer to avoid altogether (and it will impede the cheese's ability to melt into a creamy sauce). And our golden rule is you want a 2:1 cheese to pasta ratio. If you're putting 1 cup of pasta in, then it needs 2 cups of freshly grated cheese.
A few other key additions: garlic powder and a little bit of mustard. There is something about this flavor combination that really amplifies the flavor of the mac & cheese and gives it an appealing golden color.
But what really takes this Mac & Cheese to the next level is the crumbled potato chip topping! Not only does it add a little textured crunch, they also allow you to introduce a new set of flavors to the party.
We developed this recipe in partnership with Kettle Brand, which is a great, because we've been obsessed with their chips for years now.
For this Dutch oven mac & cheese, we opted for their spicy jalapeño flavor, which gave the whole meal a great kick. But they've got a ton of flavors to choose from, so you can customize your own!
So if you're in the mood for something cheesy and delicious on your next camping trip, give this Dutch Oven Mac & Cheese a try. And if you want some crunch while you munch, pick up a bag of Kettle Brand Chips.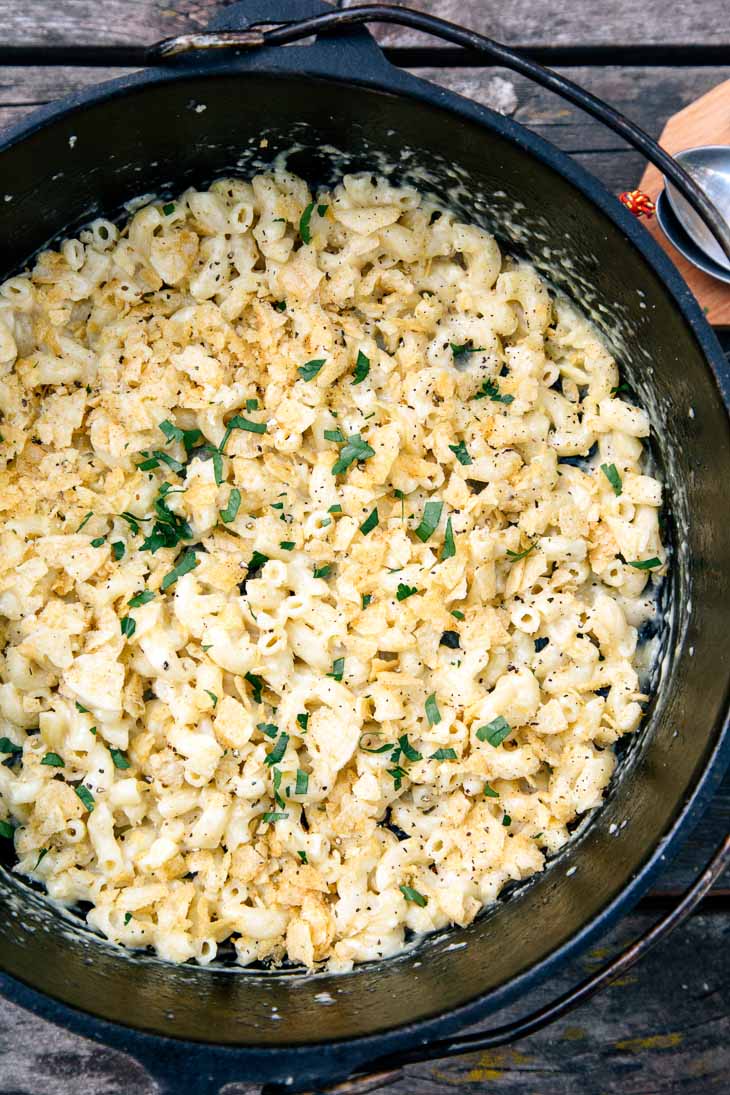 More Dutch oven meals
↠ Chili Mac
↠ Dutch Oven Enchiladas
↠ Campfire Nachos
↠ other great Dutch oven recipes
Dutch Oven Mac & Cheese
Quick, easy, and super cheesy, this Dutch Oven Mac & Cheese is a great way to make this comfort food classic when camping.

Print
Pin
Rate
Save
Saved!
Ingredients
2

cups

elbow macaroni

2

cups

water

2

tablespoons

butter

¼

teaspoon

salt

4

cups

cheddar cheese

,

shredded

1-2

tablespoons

mustard

¼

teaspoon

garlic powder

5

oz

bag Kettle Brand Jalapeño chips
Instructions
Prepare your coals or campfire.

Add the elbow macaroni, water, butter, and salt to a 4-qt Dutch oven. Cover and place on top of a small bed of coals or embers. Place 10-15 coals on top of the Dutch oven. Cook for about 10 minutes, until the pasta is tender and most (but not all) of the liquid has been absorbed.

Carefully remove the Dutch oven from the campfire and set aside the lid.

Stir in the shredded cheese, mustard, and garlic powder and add more salt if needed.

Serve in bowls or on a plate, and top with crushed jalapeño Kettle Brand chips. Enjoy!
Notes
MAKE IT FOR A GROUP
This recipe can easily be scaled up to feed a crowd! Simply double (or triple!) the ingredients - the method will remain the same. If tripling or beyond, you may want to upgrade to a 12" Dutch oven. Likewise, this recipe can be halved to serve two.
Nutrition (Per Serving)
*Nutrition is an estimate based on information provided by a third-party nutrition calculator