Shrimp Boil Foil Packets
This post may contain affiliate links.
Shrimp, smoky sausage, buttery corn, and zesty lemon, this Shrimp Boil Foil Packet is one of our all-time summertime favorites. This is the perfect campfire meal for your next camping trip or backyard BBQ.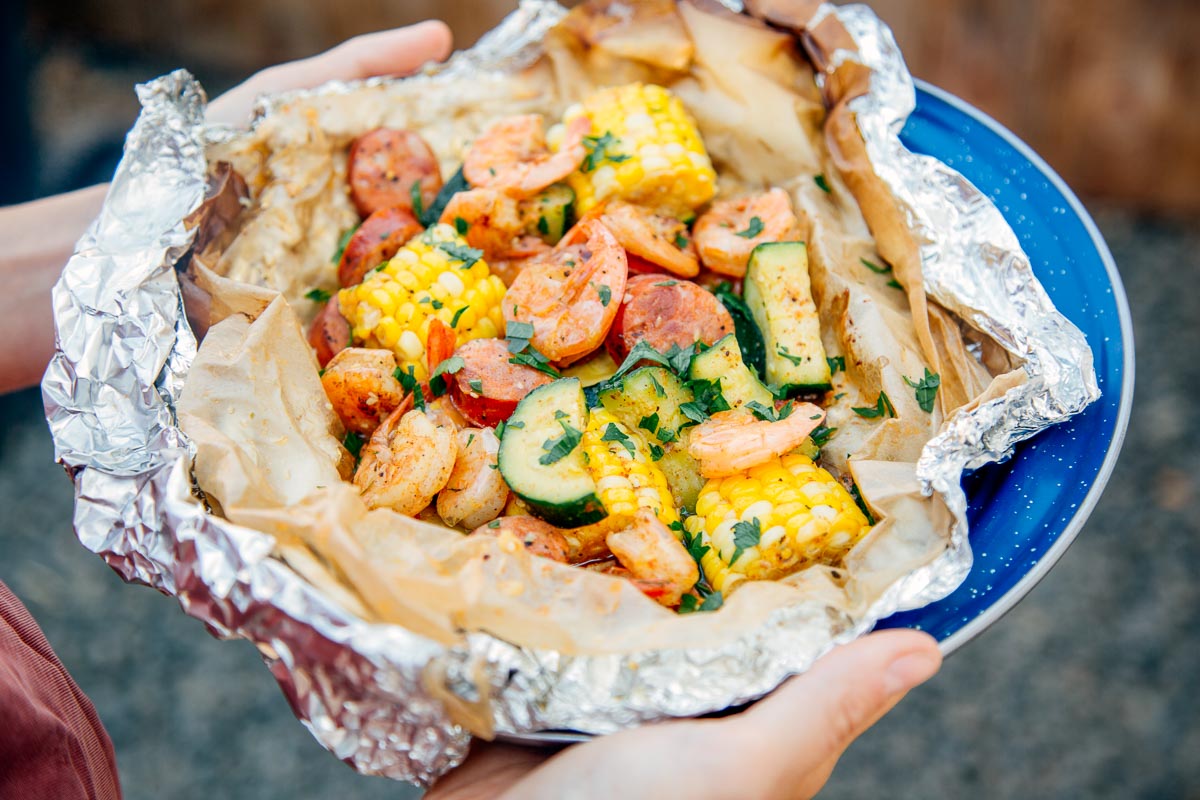 Who doesn't love a campfire foil packet? Foil packet meals are quick to prepare, easy to clean up, and can be cooked directly over a campfire or BBQ.
Just assemble your ingredients, seal them inside using aluminum foil and parchment paper, and place them over your heat source. Campfire, charcoal, propane grill, whatever!
There are hundreds of different foil packet recipes out there, but a good old-fashioned Shrimp Boil is one of our all-time summertime favorites. So let's get into it.
Ingredients for shrimp boil foil packets
The key to this recipe is to use ingredients that finish cooking at the same time. We decided to include shrimp, pre-cooked andouille sausage, zucchini, and corn on the cob. We've seen other recipes call for potatoes, but they never finish cooking in time unless you pre-boil them (which defeats the purpose of this easy, no-mess meal!).

Shrimp: We used medium, tail-on, deveined shrimp. The fresher the better. We recommend stopping by your local seafood purveyor and buying by the pound rather than picking up whatever size is available in a frozen pack. You'll have less waste.
Precooked Andouille Sausage: This recipe is for precooked sausage. Trader Joe's carries a really nice smoky and spicy one that we used for this recipe. If all you can find are uncooked andouille sausage, no worries! Just cook it yourself ahead of time.
Zucchini: ¾ inch thick half moons are a perfect size. You can use summer squash here too or a blend of zucchini and summer squash.
Corn on the cob: We cut our corn into 2" long sections and then cut it in half down the middle. You want it big enough to pick up and nibble on, but small enough that it will cook along with everything else.
Garlic + Butter: Is there any better flavor combination in the world? The answer is no.
Old Bay Seasoning & Cajun Spice Blend: We used a mix of Old Bay Seasoning and Cajun Spice Blend. The Old Bay is non-negotiable, it's the quintessential flavor of summer seafood and an absolute must for this recipe. The Cajun blend adds depth and some spicy heat.
Parsley: A taste of freshness, flat-leafed parsley really compliments all the complex flavors going in this recipe. It also brings some much needed green visuals to the meal!
Lemon: Summer seafood? Yeah, you've got to have a wedge of lemon on the side, right?
Essential equipment for foil packets
↠ Aluminum Foil: We use Heavy Duty aluminum foil for our foil packet recipes. It's easy to work with, holds up to the heat of the fire, and doesn't shred when handled with gloves or tongs
↠ Parchment Paper: If you want to avoid cooking in aluminum over high heat, line the inside of the foil packet with parchment paper. Everything cooks the same, just without direct contact with the aluminum. It also keeps the foil clean, so it can be more easily recycled.
↠ Heat Resistant Gloves: These heat resistant gloves make working around a campfire or backyard grill so much easier. Pick up a pair of these and never get burned again.
How to make shrimp boil foil packets
The first step is to make sure you have a fire and/or coals going (or set up your propane grill). The point is this meal comes together super quick, so you don't want to be waiting around for your heat source to be coming up to temp.
Roll out 18" inches of aluminum foil. Then roll out 16" inches of parchment. You want the parchment paper to be a little smaller than the foil.
Assemble your ingredients in the center of the parchment paper (fig 1). Start by layering the ingredients that will take the longest to cook on the bottom like the corn and zucchini. The bottom will receive the most heat, which will speed up the corn and zucchini cook time. Then add the sausage and shrimp. Finally, add the garlic, butter, and spices on top (fig 2-3). It's okay if it's sort of a messy pile.
To seal the packets, bring the two short edges of the aluminum foil together and fold together to form a seam. Then roll the ends in towards the middle, so you have two seams on the edges with a long one running down the side.
Place this packet over your fire pit grate or grill. We find that placing the packets on a grate over the coals allows us more control of the heat and keeps everything clean. If your fire has died down a lot, you can also try placing the packets directly on to the embers.
You'll hear it once the liquid starts to steam and the packet will puff up. During testing, we flipped ours once or twice to cook both sides, but in hindsight, I don't really think it was necessary. Anyways, flip if you want. Or don't.
After about 8-10 minutes, take it off the heat and let the packets cool down for a minute.
If you're delicate about how you open the foil, you can easily shape it into a bowl to eat out of.
Add a handful of chopped parsley, a squeeze of lemon, and you're done!
Tips and tricks
While there are a lot of options for ingredient substitutions in the recipe, the key is to have everything finish cooking at the same time. So be aware of the types of ingredients and the size you are cutting them.
Line your packets with parchment paper if you don't want to cook directly in the aluminum.
Rolling out too much aluminum foil is better than realizing you didn't roll out enough. We are the worst at this!
Be aware if you're using Cajun seasoning that already contains salt or if your butter is salted before adding any more salt to this recipe.
Other foil pack recipes you'll enjoy
↠ Campfire Banana Boats
↠ Foil Wrapped Baked Sweet Potatoes & Chili
Shrimp Boil Foil Packets
This foil packet shrimp boil is a quick and easy way to make a flavorful dinner over the fire. Give this one a try before summer gets away! 
Print
Pin
Rate
Save
Saved!
Ingredients
1

ear of corn

,

cut into 8 pieces

1

medium zucchini

,

sliced thick

4

cloves

garlic

,

minced

½

lb

uncooked shrimp

2

andouille sausage

1

teaspoon

Old Bay Seasoning

1

teaspoon

Cajun seasoning

4

tablespoons

butter

Fresh parsley

,

chopped
Instructions
Tear an 18" piece of heavy-duty foil for each packet, along with a 16" sheet of parchment paper for each. Layer the parchment paper on top of the foil.

Divide the corn, zucchini, minced garlic, shrimp, spices, and butter between the two sheets of foil.

To form the packets, bring one of the short edges of the foil to meet the other, then crimp around all edges to seal.

Cook the packets on a grill (or the grill grate over your campfire) for 8 minutes, flipping occasionally.

Remove from the grill and let cool slightly. Open the packets carefully – they will be full of hot steam. Top with fresh parsley and enjoy.
Nutrition (Per Serving)
Calories:
520
kcal
|
Carbohydrates:
23
g
|
Protein:
31
g
|
Fat:
34
g
|
Fiber:
4
g
|
Sugar:
7
g
*Nutrition is an estimate based on information provided by a third-party nutrition calculator