Foil Wrapped Baked Sweet Potatoes and Chili
This post may contain affiliate links.
Combining a campfire baked sweet potato with a simple vegetarian chili, this hearty recipe is a quick and easy meal to warm yourself up on chilly nights.
It might be nice to have a campfire during the summer, but as the nights grow longer and the air gets colder, having a fire becomes a necessity. Keeping warm in the evenings can be a struggle, especially when the sun sets around 4:30 pm, which is why building a campfire becomes imperative.
On colder days, it can be nearly impossible to pull us away from the fire. While we love cooking on our camp stove, it's usually way over there on the picnic table – way too far away from the warmth. So, it's better for us to cook something over the flames.
That's where this chili stuffed baked sweet potato recipe comes into play. We were able to make it entirely from our seat next to the fire!
We started by wrapping sweet potatoes in aluminum foil and tossing them into the embers. Sweet potatoes can take a long time to bake in an oven, but when tossed right into the hot embers of a fire, they only take 30 minutes or so.
While the sweet potatoes were cooking, we chopped up an onion and sauteed it in a small pot. We then added some beans, tomato paste, beer, chili powder, and cumin and let that simmer away while the potatoes finished cooking. When the potatoes were soft to the touch, we retrieved them from the fire and assembled our meal.
On a cold day, it's always heartening to enjoy a warm meal (especially spicy chili), but enjoying a warm meal next to a warm fire really takes things to another level. So if you're going to be doing some late-season camping this year, don't give up your seat next to the fire and make this right from where you are.
More campfire recipes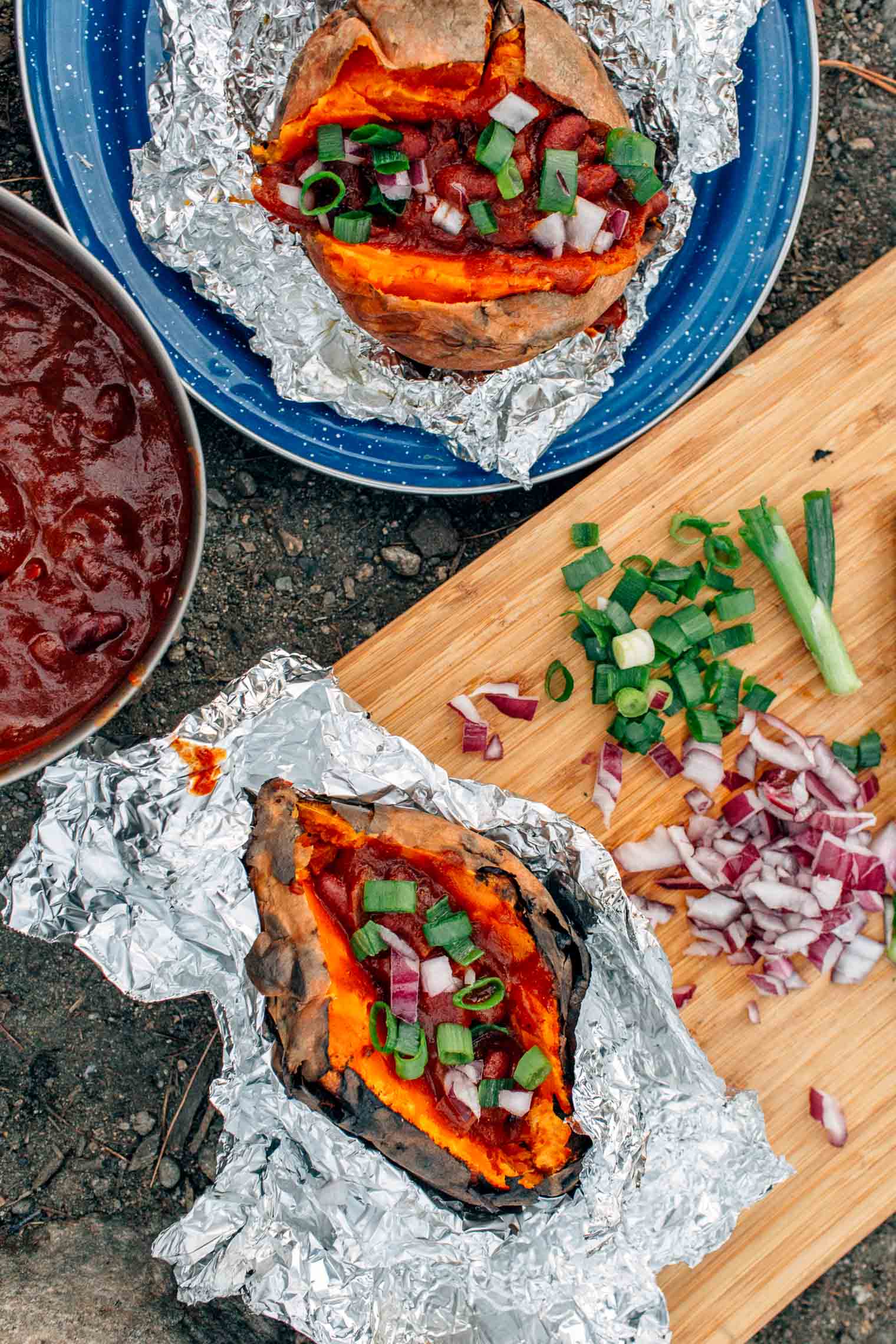 Campfire Baked Sweet Potatoes + Chili
A hearty meal perfect for fall camping trips, this chili stuffed baked sweet potato recipe is easy to make around the campfire.
Print
Pin
Rate
Save
Saved!
Ingredients
4

medium sweet potatoes

1

onion

,

diced

1

tablespoon

olive oil

15

oz

can kidney beans

,

drained

6

oz

can tomato paste

½

can

beer

1

tablespoon

chili powder

½

tablespoon

cumin

½

teaspoon

salt

Other optional toppings:

,

Green onions, cheese, avocado, etc.
Instructions
Wrap each of the sweet potatoes in heavy duty foil and nestle them into the embers of your campfire. Turn them every so often to ensure they cook evenly.

While the potatoes are cooking, make the chili. Over medium heat, warm the oil in a pot. Once hot, add ¾ of the diced onions (reserve the rest for topping) and sauté for a few minutes until they start to soften. Add the beans, tomato paste, beer (or other liquid, like broth), and spices. Stir well to combine. Simmer for 15-20 minutes.

Once the potatoes are soft and cooked through (about 30 minutes total, give or take a bit depending on their size), retrieve from the fire. Carefully unwrap the foil. Use a knife to cut a slit in the potato, then top with the chili, onions, and anything else you have on hand. Enjoy!
Nutrition (Per Serving)
*Nutrition is an estimate based on information provided by a third-party nutrition calculator