15 Grilled Kabob Recipes to Make Over Your Campfire
This post may contain affiliate links.
Grilled kabobs are a great make ahead camping meal that can easily be customized and scaled up to feed a crowd. They are fun to make and cook right on the campfire for easy cleanup!
Whether you call them kabobs, kebabs, or just plain skewers, these grillable meals-on-a-stick are perfect for camp cooking. Just get the campfire going, prepare your skewers, and then toss them on the fire. Minimal prep work, no dishes to clean up and loads fire-roasted of flavor. And with this roundup of grilled kabob recipes, planning the menu for your next camping trip will be a piece of cake!
Below we've compiled a list of amazing grilled kabob recipes for you to try out the next time you go camping or what to fire up the backyard grill. But first, a few reasons why kebabs are the best and some gear to get you equipped.
Why kabobs are great for camping
Easy to Make Ahead: Pre-cut vegetables and marinate meat at home, so when you arrive at the campsite all you need to do is assemble and cook.
Minimal Cookware Needed: Kabobs just go straight on the fire, so you don't need to deal with scrubbing pots and pans after you're done cooking your meal.
Customizable: If you're camping with picky eaters or people with dietary restrictions, kabobs offer a unique ability to be customized on a person-by-person basis.
Great for a Crowd: Cooking at a campsite for a large group can be challenging, but thankfully grilled kabobs are a great option! Since these cook on a grill, you don't have to worry about having multiple stoves and skillets on hand. Just marinate enough meat and chop enough veggies for your group, and you'll be all set.
Campfire skewer pro tips
↠ While a bright assortment of ingredients on a single stick looks great in photographs, it's actually better to group like ingredients together onto their own skewers. The reason? Not all ingredients cook at the same rate. So if you want everything to be cooked evenly, you'll need to have them on separate sticks.
↠ If you're planning on making A LOT of kabobs all at once, wood might be the most economical option. If that's the case, be sure to soak the skewers an hour ahead of time to make sure the wood doesn't catch fire. Otherwise, we suggest getting reusable flat metal skewers. Flat skewers prevent your food from rolling around, so you can actually control what side gets heat.
↠ Prep at home and assemble skewers on site. We've tried marinating ingredients on the skewers – both in a pyrex tray and in zip lock bags – and it just doesn't work well. The former requires an excessive amount of marinade to properly coat everything and takes up lots of valuable cooler real estate, while the latter results in holes being poked in the bag.
Essential equipment
↠ Flat Skewers: As mentioned above, these are a must if you want any sort of control over your kebabs. Your food will just spin in place with the round skewers when you try to flip them.
↠ Heat Resistant Gloves: If you're doing any cooking over a campfire, we recommend a pair of these. Sometimes the easiest way to flip your kebabs is just by grabbing the end by hand.
↠ Metal Tongs: These are also great for picking up and repositioning skewers over an open flame.
↠ Instant Read Thermometer : Having a small, inexpensive instant read thermometer can put your mind at ease that yes, the chicken is fully cooked.
↠ Folding Grill: If the campfire at your site doesn't come with a grate, this collapsible grill might just save the day.
Grilled kabob recipes perfect for camping
Delivering bright Mediterranean flavor on a stick, these Greek-style grilled gyro kebabs are a quick and easy meal to enjoy while camping. Combine them with some tangy yogurt sauce and toasted flatbread and you've got the makings of a delicious campfire meal.
A vegan kebab with a French twist, this campfire grilled Ratatouille is a great way to incorporate some vegetables into your camping diet.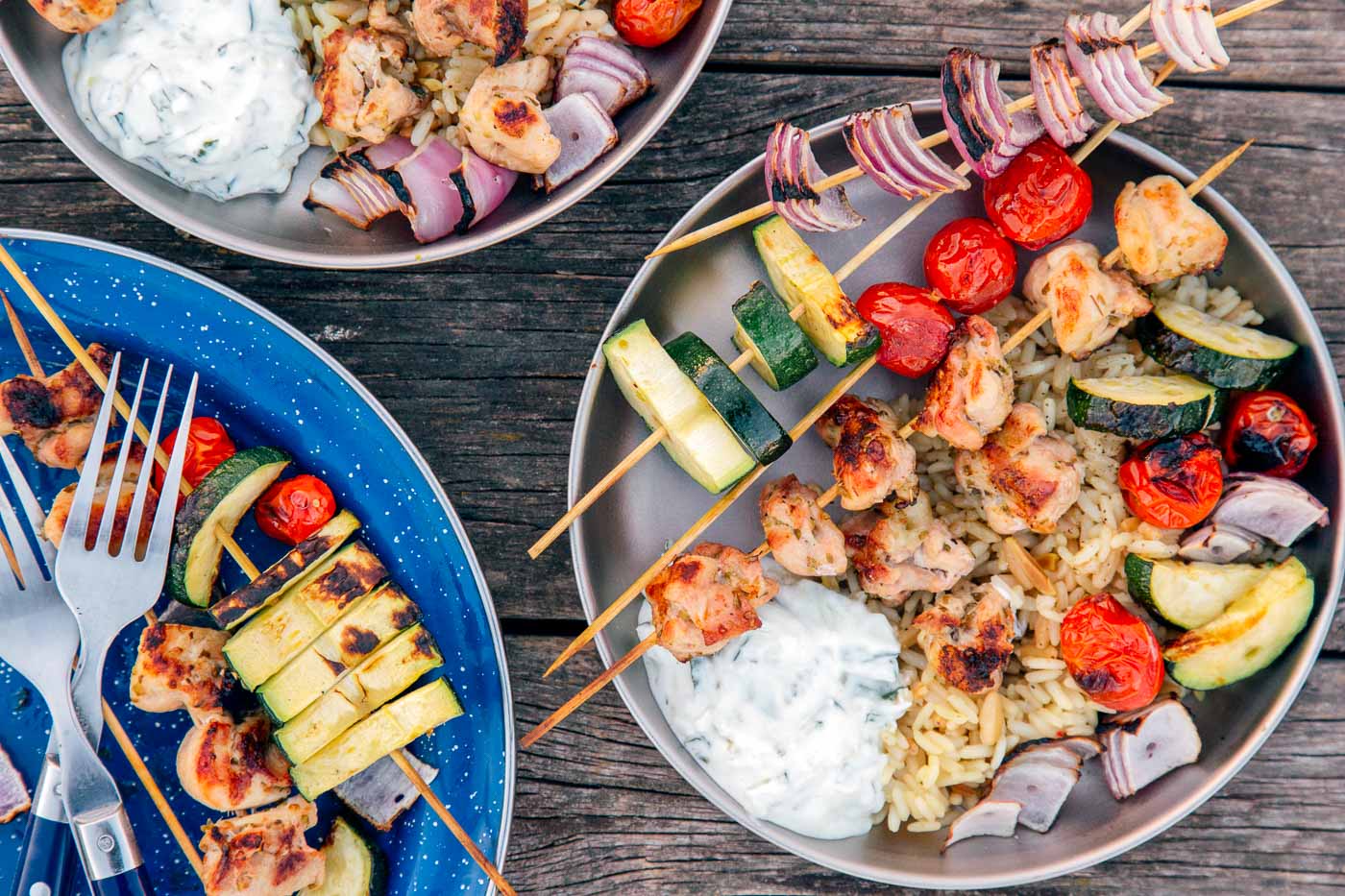 Tangy and bright tzatziki sauce pairs perfectly with lemon and olive oil marinated grilled chicken and vegetables for this Greek-inspired grilled skewer recipe.
Inspired by the flavors of the Argentinian Pampas, this grilled chorizo kebab is a quick and easy camping dinner that's best enjoyed over an open fire.
A mainstay of Southeast Asian street food, these satay-inspired Grilled Thai Chicken Skewers can also make great campfire fare. Grill them over an open fire or on your barbecue for a quick and easy camping meal.
Like a bright and cheerful summer afternoon, these grilled veggie and chicken skewers are a quick and easy dinner idea for the next time you go camping.
A simple way to add a bit of tropical flair to your campfire kabobs, these pineapple chicken kabobs are pure summer.
Bringing together a medley of Oktoberfest-inspired flavors, these bratwurst kebabs are the perfect way to enjoy some fall camping.
A beautiful and flavorful masala-spiced tofu kebab featuring grilled vegetables and a herby, vegan yogurt sauce.
These are the most tender and flavorful chicken kebabs you will ever make! Smokey, fire-roasted char is just an added bonus.
These grilled honey mustard chicken skewers are sure to become a family BBQ favorite this summer! The 3-ingredient marinade is super easy and tastes amazing.
These colorful salmon skewers are easy, healthy, and so fun to make over a campfire.
These kebabs are so full of flavor, are loaded with veggies, are super easy to make, and have just the right amount of spicy kick.
These smokey grilled apricot lamb kebabs are a great twist on traditional kebabs. These unexpected flavors will up your camping dinner game!
These orange ginger pork kebabs are great for a summer dinner on the grill. An easy, fresh and tasty low carb summer dinner!