Chicken Pineapple Kabobs
This post may contain affiliate links.
These Chicken Pineapple Kabobs are one of the easiest meals to cook over a campfire. Just chop ingredients into pieces, skewer with a stick, and place over the fire! So simple, it's practically foolproof! With bright, tropical flavors, these Pineapple Chicken Kabobs are an easy, fuss-free camping meal perfect for summertime grilling.
While kabobs are always a good option when camping, they have a lot of advantages when it comes to larger groups or families with picky eaters. Each kabob can be customized individually, so personal tastes and dietary restrictions can be easily accommodated.
Kabobs also solve the conundrum of dirty dishes! When your meal is prepared on a stick, there's no cookware to scrub out at the end of the night.
Next time you're planning a camping trip, don't stress about cooking an elaborate meal and using every pot and pan in your kit—build some kabobs around the campfire instead.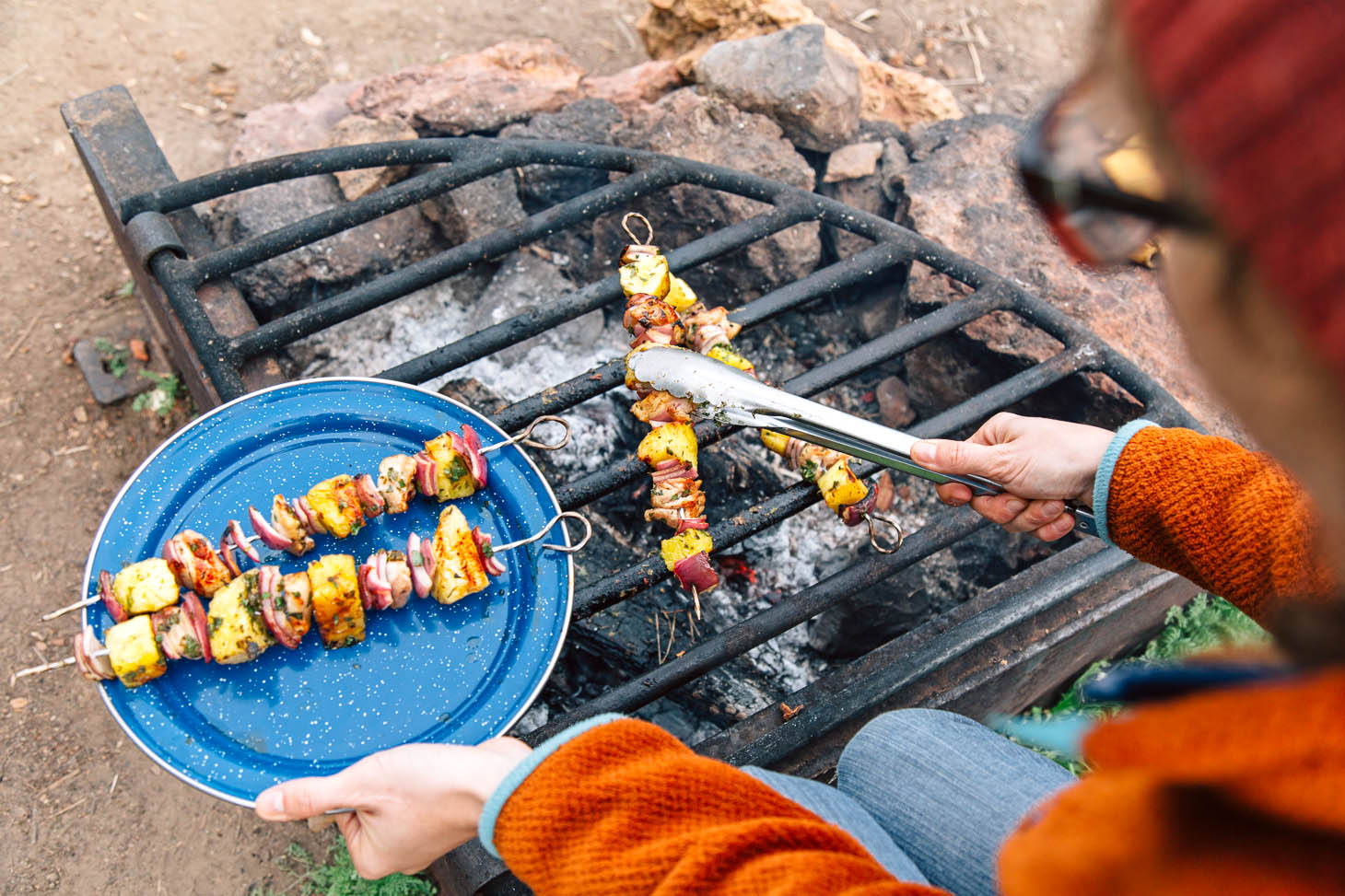 How to make chicken pineapple kabobs
But the secret behind every great kabob is a great marinade. In this recipe, we made a sweet and tangy marinade using olive oil, honey, fresh lime juice, and cilantro. For the kabob itself, we used chicken thighs, pineapple, and red onions. Feel free to add some red bell peppers if you'd like!
At home preparation
You can save yourself some time at the campsite by doing some or all of the following at home before your trip:
↠ Chop the ingredients. Cut excess fat off the chicken thighs and cut into bite-sized pieces. Slice the red onion (and bell pepper if using) into 1″ chunks. If you're using fresh pineapple, this is a great time to process it and cut it into bite-sized pieces.
↠ Make the marinade. Add all the marinade ingredients into a sealable jar.
↠ Marinate the ingredients. If this is a meal you're going to prepare on the first night, you can combine the chicken and the marinade in one container for up to 24 hours (any longer and the lime juice will affect the chicken's texture).
Store all the pre-prepped components in sealed containers (tupperware or sealed baggies) in a properly packed cooler. Learn everything you need to know about how to pack a cooler for camping if you need a refresher!
At camp
At camp, prep any components that weren't done ahead of time (see above). If you need to marinate the chicken, give yourself at least an hour to do so for better flavor development.
Thread the ingredients onto skewers. The best way to do this is to put each specific ingredient onto skewers with just that ingredient–that way, you can remove each skewer from the fire as soon as it's done and you don't have to worry about whether or not the chicken cooks at the same rate as the onions. But, the prettiest way to arrange the kabobs is to alternate ingredients on the skewers. This also makes it easier for everyone to build their own. It's your call which path you take!
Brush everything with a bit of oil before placing onto your grill or campfire grate. Cook until the chicken reaches an internal temperature of 165F (an instant-read thermometer is super handy for that), turning every so often so that everything cooks evenly.
Remove from the grill and serve!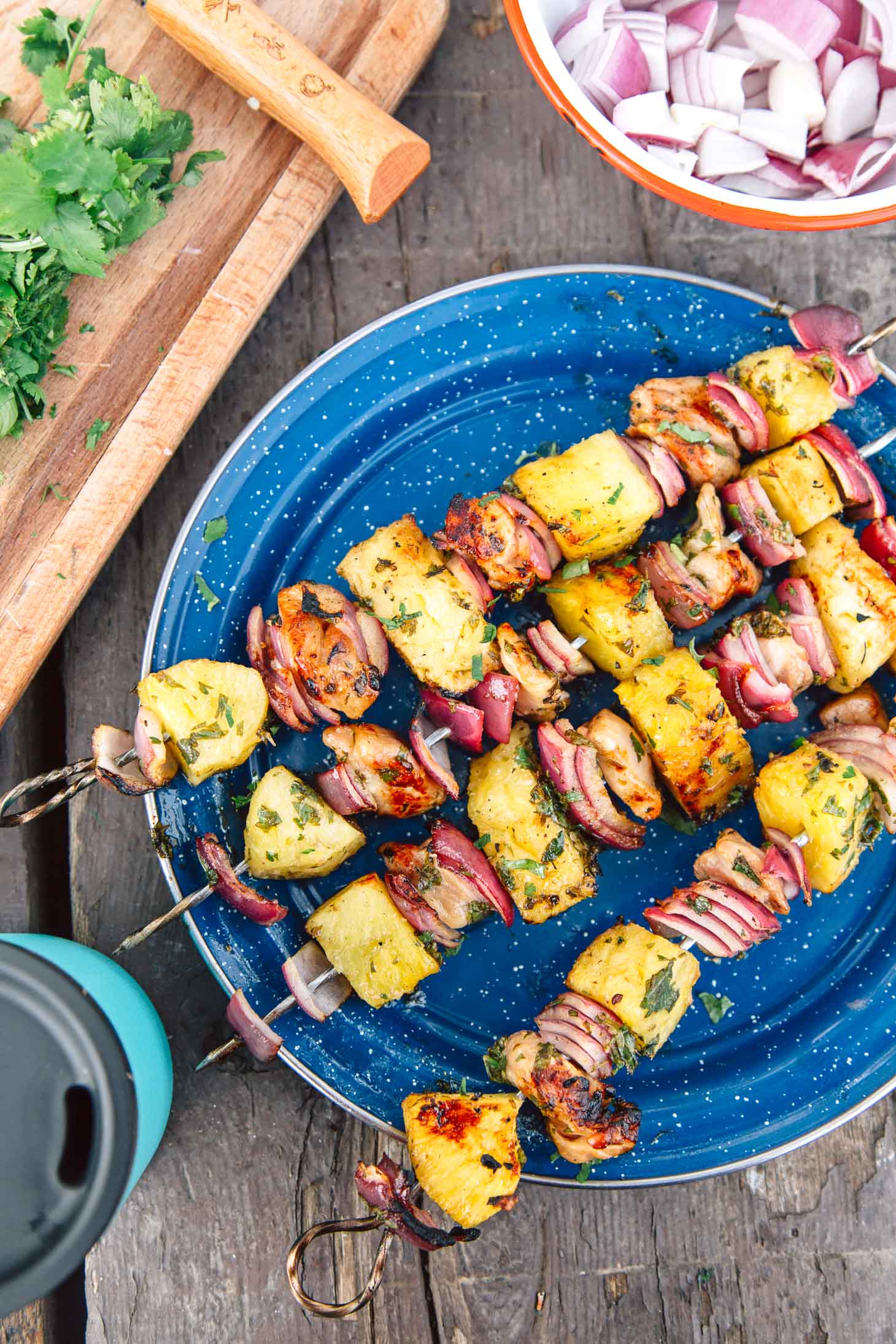 Make it a meal
To round out the meal, serve these pineapple chicken kabobs with rice or rice pilaf (make it at home and reheat on a camp stove), macaroni salad, or a green side salad.
Equipment needed
↠ Skewers: Flat, metal skewers are ideal because they prevent the ingredients from spinning around, they require no prep work, and they are reusable. You can also use wooden skewers, which you will need to soak for at least 30 minutes ahead of time.
↠ Heat Proof Gloves: Any time you're working over the campfire, consider using a pair of heat-resistant gloves. We use these all the time for grabbing hot skewers, cast iron, or positioning grill grates.
↠ Instant Read Thermometer: Take the guesswork out of cooking meat by using an instant-read thermometer.
↠ Tzatziki Chicken Skewers
↠ Grilled Chicken Skewers with Veggies
↠ Campfire Grilled Ratatouille Kebabs
↠ Grilled Chorizo Kebabs with Chimichurri
↠ Grilled Gyro Kebabs
Pineapple Chicken Kabobs
With bright, tropical flavors, these Pineapple Chicken Kabobs are an easy, fuss-free camping meal perfect for summertime grilling!
Print
Pin
Rate
Save
Saved!
Ingredients
For the marinade:
¼

cup

olive oil

½

cup

chopped cilantro

1

tablespoon

honey

2

teaspoons

minced ginger

,

note: Trader Joe's carries ginger paste that's perfect for this

1

lime

,

juiced

1

teaspoon

salt
To build the skewers:
½

lb

chicken

,

boneless, skinless thighs work best, cut into 1-inch pieces

1

medium red onion

,

sliced into 1-inch pieces

Pineapple wedges

,

cut into 1 inch cubes (see notes)
Instructions
Combine the ingredients for the marinade in a large bowl or ziplock bag.

Add the chicken to the marindae and stir to coat. Cover or seal the container, and let marinate for at least an hour, or up to 24 hours. If you're going to marinate for longer than and hour, place it back into your cooler.

In the meantime, fire up your grill or get your campfire going.

Build the kabobs by threading the chicken and vegetables onto your skewers. Brush with a bit of oil.

Grill the kabobs over medium-high to high heat, turning occasionally so they cook evenly until the chicken is cooked through – about 10 minutes total.

Remove from the grill and enjoy!
Notes
At home steps (optional)
Chicken and vegetables can be pre-chopped. The marinade ingredients can be combined in a small, sealable jar. If you will make this on your first evening in camp, the chicken and marinade can be combined for up to 24 hours (longer than that affects the chicken's texture).
Ingredient notes
Fresh pineapple can be used - either from a whole pineapple (prep this at home!) or if you can find fresh pineapple spears (check the refrigerated section of the produce department) those are super easy. Alternatively, you can use canned pineapple (drain before using).
Nutrition (Per Serving)
Calories:
275
kcal
|
Carbohydrates:
8
g
|
Protein:
11
g
|
Fat:
22
g
|
Saturated Fat:
4
g
|
Cholesterol:
42
mg
|
Sodium:
624
mg
|
Potassium:
174
mg
|
Sugar:
5
g
|
Vitamin A:
215
IU
|
Vitamin C:
8.3
mg
|
Calcium:
18
mg
|
Iron:
0.7
mg
*Nutrition is an estimate based on information provided by a third-party nutrition calculator
This post was first published on 3/29/2018 and was lasted updated 7/26/2020.