Tzatziki Chicken Skewers
This post may contain affiliate links.
These Greek-inspired grilled chicken skewers with tzatziki sauce can either be a quick grab-and-go appetizer or the centerpiece of a full dinner spread.
Bite-sized pieces of chicken and vegetables, grilled and blackened to perfection over a fire, and prepared using just a stick,
what's not to love about skewers?
They're a perfect no-fuss meal that pairs great with warm summer nights, cold beverages, and an uncontrollable desire to fiddle around with the fire.
Whether you are cooking over a campfire or just grilling in the backyard, these Chicken Tzatziki Skewers are a great recipe to try out. The bright and tangy tzatziki sauce can be made ahead of time, the quick marinade for the chicken really makes the flavor pop, and the skewers can get assembled in virtually no time.
How to make grilled chicken skewers with tzatziki sauce + step by step video
Making this Tzatziki Chicken Skewers recipe is super easy! Watch this (60 second) step-by-step video to see how to do it.
Get the fire ready. Especially at a campsite, you will want to get your campfire going an hour before starting so it has a chance to burn down to embers. You don't want to cook over open flames.
Making the Tzatziki Sauce
To make the tzatziki sauce, combine Greek yogurt, minced mint, garlic, and cucumber. Add in some lemon juice and salt and it's done. You can either do this well in advance or you can do it while the chicken is marinating.
Building the Marinade
Mix the olive oil, lemon juice, oregano, garlic powder, and 1/2 teaspoon salt together in a bowl or resealable baggie. Cut your chicken into bite-sizes, add to the marinade, and toss to coat. Set aside for 30 minutes (minimum) and up to 2 hours (maximum)
Assemble the Skewers
Chop up your assorted vegetables into small grilled size bites. We really recommend grouping like ingredients together on the same stick. It might look prettier to alternate, but each ingredient might have different cooking times. So put all the zucchini together and all the tomatoes together. That way as each fully cooks, you can take them off one by one.
For the vegetables, we like to brush them lightly with olive oil. The marinated chicken is already covered in oil, they can just go right on the stick.
Grill!
From here, it's all about grilling the skewers over direct/indirect heat. Once you place the skewers, try to leave them in position until they form a light char and naturally "release" from the grill. If you get flare-ups, move the pieces around to avoid coming in direct contact with a flame.
Tips & tricks
↠ When we are cooking over a fire our preferred cut of chicken is always thighs. They are rich, flavorful, and very forgiving if you happen to cook it a little too long. For a recipe like this, we opt for and skinless, boneless thighs to make prep work easier. However, you can absolutely do this recipe with breast meat. Just be aware the margin of error between perfectly cooked and overcooked will be narrower.
↠ While you can grill any type of vegetables you like, we opt for those that have a little structure to them like zucchini, tomatoes, and red onion.
↠ Buy flat metal skewers. They're so worth it! If you have to use wooden skewers (like we did!), be sure to soak them in water for 20 minutes to keep them from burning.
↠ Make-ahead whatever you can: tzatziki sauce, mix the marinade ingredients together and store in a small jar, pre-cut the chicken.
↠ Don't let the chicken sit too long in the marinade (more than 2 hours). The acid from the lemon juice will start to toughen the meat if it stays on too long.
↠ Group like ingredients together on the skewers to account for different cooking times.
↠ Serve these skewers with rice, pilaf, couscous, or grilled pita bread.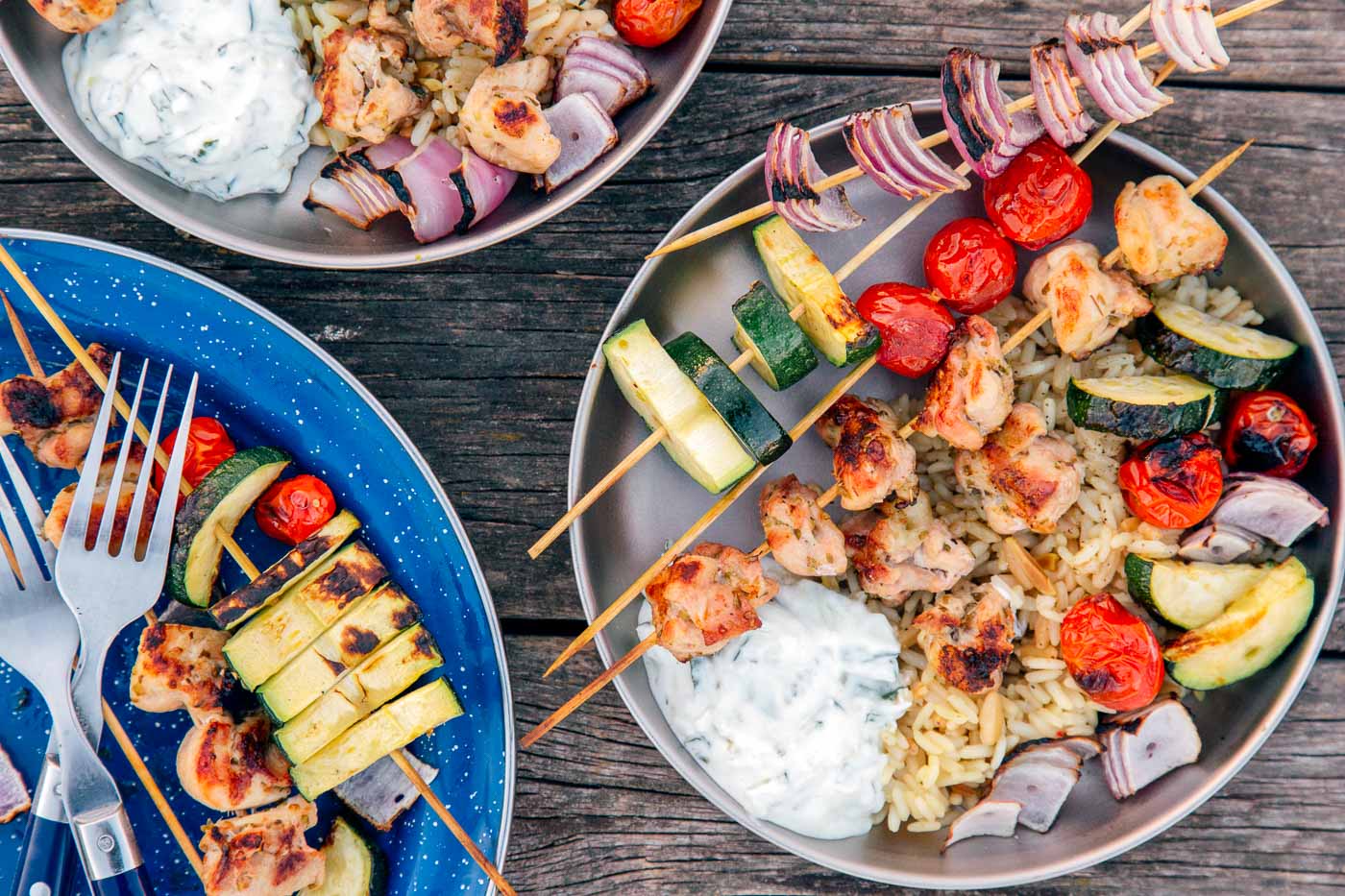 Why skewers are great for campfire cooking
Mix & Match ingredients: Endless customizable, skewers allow you to easily mix and match ingredients to accommodate any dietary restrictions. You get a stick! And you get a stick!
Quick, intuitive cooking: Since everything is cut into bite-size bits already, cooking with skewers over a fire is super quick and intuitive. If they look done on the outside, then they're probably done. Not a ton of guesswork here.
Easy to Scale: Whether you're cooking for two or ten people, all you need is a few more flat metal skewers. They are cheap to pick up and don't take up much space at all. Plus, super easy to clean.
They're Interactive: Our favorite reason! Cooking using skewers is just fun. It gives our desire to mess with the fire a purpose.
Equipment for skewers
↠ Flat metal skewers: Do what we say, not what we show in the photos! Flat metal skewers prevent your food from spinning when you rotate the skewer. This way you can cook each side evenly.
↠ Heat Resistant Gloves: The only downside to the metal skewers is they do get hot. So if you need to reposition or rotate them you will want to use a pair of heat resistant gloves or tongs
↠ Silicone Brush: It can be nice to brush a little oil onto your skewers to ensure they stay moist and cook evenly. We always carry a little silicone brush with us just for this occasion.
↠ Foldable Grill Grate: A foldable grill grate ensures you always have a clean and usable grill to cook over no matter where you camp.
Other grilled skewer recipes
↠ Grilled Thai Chicken Skewers
↠ Pineapple Chicken Kabobs
↠ Campfire Grilled Ratatouille Kabobs
↠ Grilled Chorizo Kebabs with Chimmichurri
↠ Grilled Gyro Kebabs
Tzatziki Chicken Skewers
These Grilled Chicken Skewers with Tzatziki Sauce are an easy camping meal to grill over the campfire! Many of the components can be prepped ahead of time so that the meal comes together without any fuss.
Print
Pin
Rate
Save
Saved!
2 servings (3-4 if served with a side)
Ingredients
2 tablespoons olive oil
1 lemon, juiced
1 tablespoon dried oregano
½ teaspoon garlic powder
½ teaspoon salt
4 boneless skinless chicken thighs, cut into 1" pieces
1 small zucchini, sliced into 1/4" moons
1 red onion, chopped
14 cherry tomatoes
½ cup prepared tzatziki, store-bought or recipe as follows
Tzatziki Sauce
½ cup Greek yogurt
¼ cucumber, seeds removed & chopped fine
1 tablespoon chopped fresh mint
2 cloves garlic, finely minced
¼ teaspoon salt
Instructions
Mix the olive oil, lemon juice, oregano, garlic powder, and 1/2 teaspoon salt together in a bowl. Add the chicken and toss to coat. Set aside for 30 minutes (up to 2 hours) to marinate, tossing occasionally.

To make the tzatziki (can be made ahead):

Remove excess moisture from the chopped cucumber by blotting with a towel. Place the cucumber, Greek yogurt, mint, garlic, and salt in a small bowl and mix to combine.

Cover & store in your cooler if making ahead of time.

Prepare a grill or campfire for grilling.

Thread the chicken and vegetables onto skewers.

Once the grill is ready, place the skewers on the grill grate and grill, turning every few minutes so all sides cook evenly. The chicken will need to cook 3-5 minutes per side, and the veggies will need roughly 10-12 minutes.

Remove skewers. Serve with tzatziki for dipping. Enjoy!
Notes
*Nutrition is based off 2 servings, without any side dishes
Nutrition (Per Serving)
Calories: 527kcal | Carbohydrates: 13g | Protein: 52g | Fat: 30g | Fiber: 2g
*Nutrition is an estimate based on information provided by a third-party nutrition calculator