Put the soydog down! With this list of delicious vegan camping meals, you'll be able to whip up tasty, plant-based meals that you and your campmates will love.
Camping is about being one with nature. So what better place to embrace a plant-based diet, right? While being out in the wild should be a perfect fit for vegans, unfortunately, traditional camping meals tend to rely heavily on animal products. But, it doesn't need to be that way! There are a lot of delicious vegan meals you can try on your next camping trip.
We've put together a list of our favorite vegan camping recipes that are perfect for enjoying around the campfire. Whether you are cooking for fellow-vegans or for a mixed group, these quick and easy meals are guaranteed to impress.
So the next time you head out camping, give one of these recipes a try and bring a little more plant-based adventure into the world.
---
Breakfasts
Coconut French Toast
Loaded with tropical flavor, this vegan coconut French toast is WAY better than the traditional milk & egg version. Get the recipe here.
Scrambled Tofu Breakfast Burrito
The perfect grab-and-go breakfast when you're trying to get a jump on the day. Get the recipe here.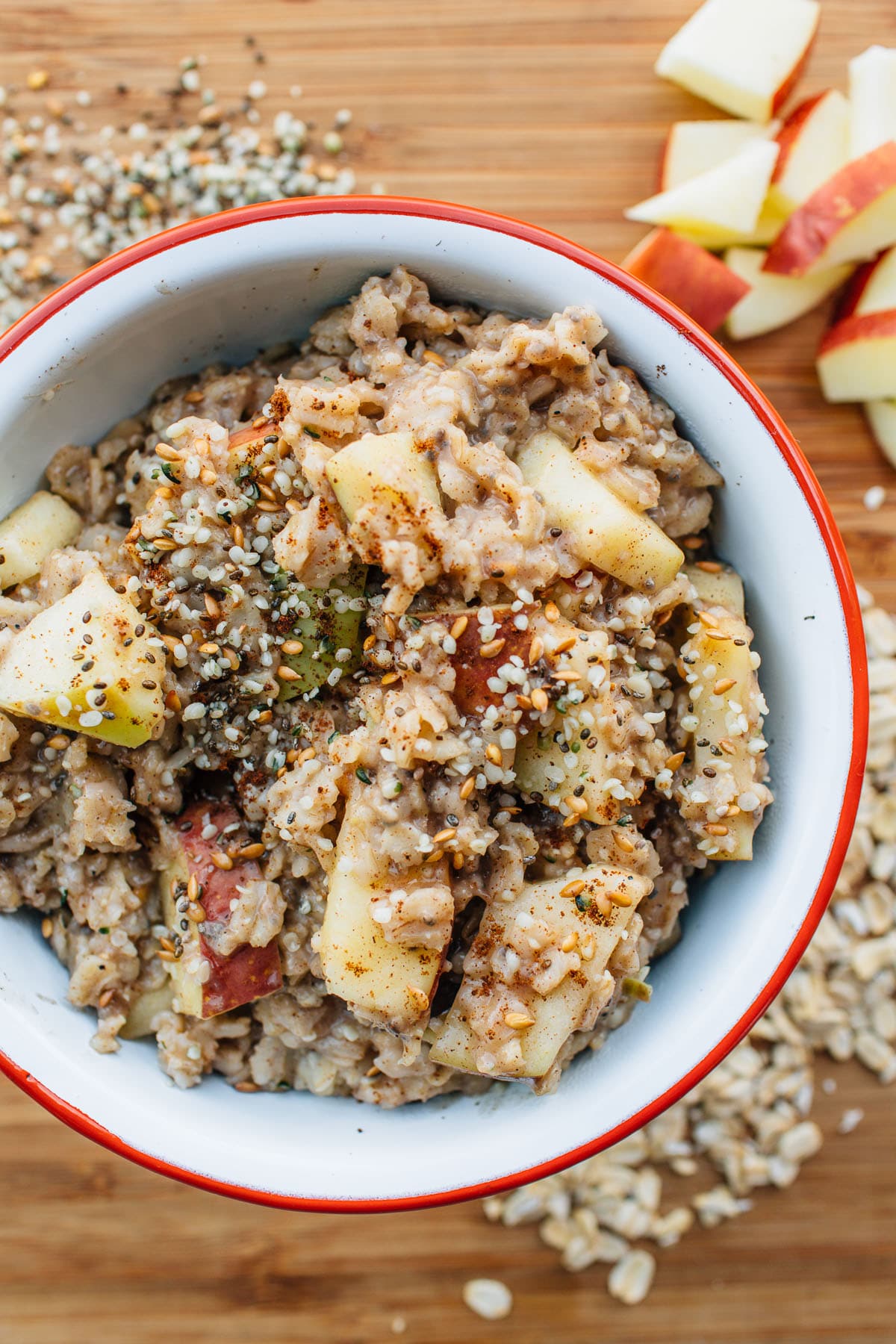 Johnny Apple Seed Oatmeal
Take your morning oats to the next level with this apple powered super seed oatmeal. Get the recipe here.
Chickpea Flour Breakfast Scramble
Need a break from tofu? Give this chickpea flour breakfast scramble a try! Get the recipe here.
Coconut Chia Oatmeal
Give your oatmeal a makeover by infusing it with the sweet tropical flavor of coconut! Get the recipe here.
Apple Pie Quinoa Porridge
Feeling burnt out on oatmeal? This apple pie quinoa porridge is a great way to start your morning. Get the recipe here.
---
Snacks
Peanut Butter & Jelly Granola Bars
Transforming a school lunch classic into a portable hiking snack, these peanut butter and jelly granola bars are the perfect way to refuel out on the trail. Get the recipe here.
DIY Fruit Leathers
Once you know how to make your own fruit leathers, the flavor combinations are endless! Learn how here.
Vegan S'mores Granola Bar
If you're looking for the perfect portable camping snack this summer, look no further than these vegan S'mores Bars! Get the recipe here.
Smoky Spiced Campfire Popcorn
A perfect pre-dinner snack, this smoky spiced campfire popcorn is a great campfire appetizer. Get the recipe here.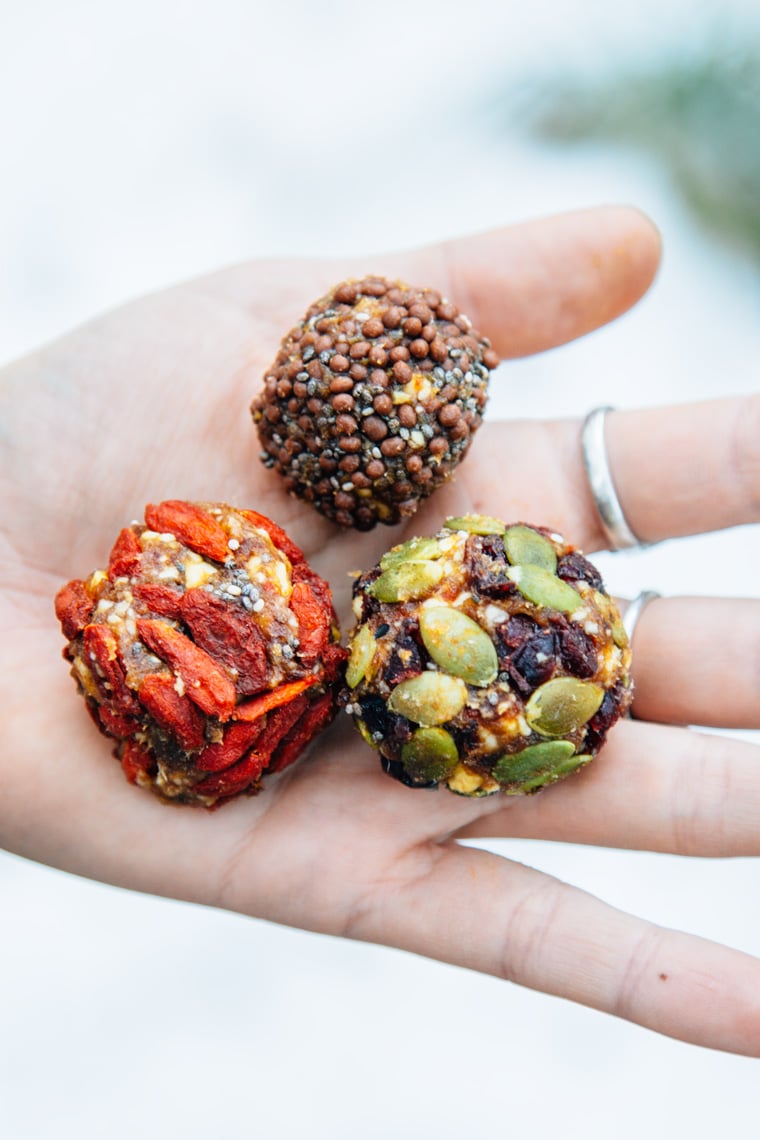 Trail Mix Bliss Balls
These bliss balls are a great whole-foods and vegan alternative to pre-made trail snacks. Get the recipe here.
Chewy Chocolate Goji Granola Bars
Chocolatey and chewy, these goji chocolate granola bars are the perfect trail food to bring on your next hike. Get the recipe here.
---
Dinners
One Pot Red Lentil Sloppy Joes
A plant-based twist on a summer classic, these red lentil sloppy joes pack in just as much flavor (and protein) as the original – but without all the funky extras. Get the recipe here.
Grilled Sweet Potato Fajitas
Grilled sweet potato "steaks", roasted peppers and onions, and a New Mexican chile marinade, these vegan campfire fajitas are a new take on an old classic. Get the recipe here.
Mexican Tortilla Soup
Quick, easy, and super versatile, this Mexican tortilla soup is a great low fuss dinner idea. Get the recipe here.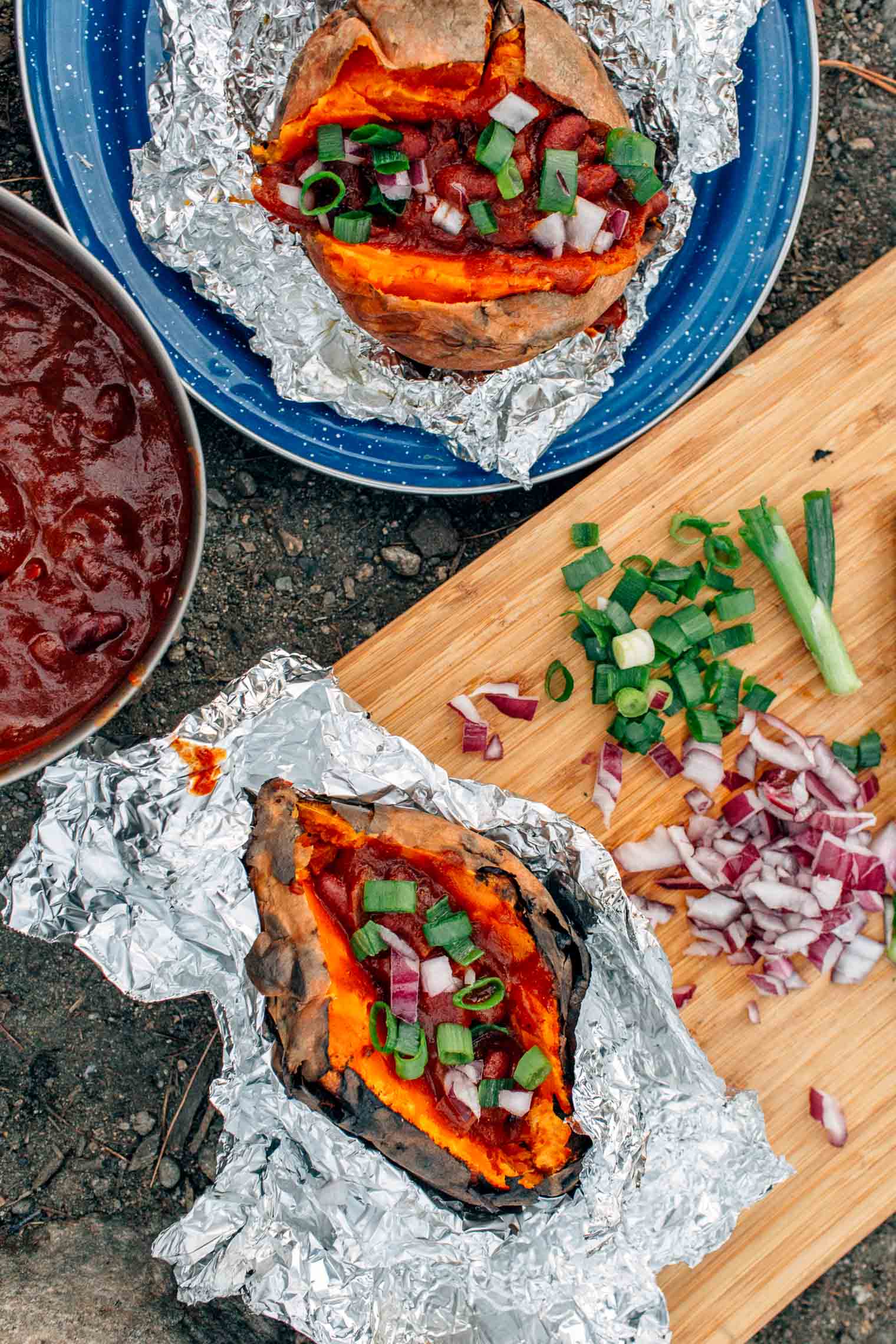 Foil Wrapped Sweet Potatoes with Chili
Combining a campfire baked sweet potato with a simple vegan chili, this hearty recipe is a quick and easy meal to warm yourself up. Get the recipe here.
Udon Noodle Salad
This flavorful udon noodle dish is loaded with pan-seared vegetables, marinated tofu, and topped with a spicy sesame dressing. Get the recipe here.
One Pot Lemon Broccoli Pasta
Light and bright, this one-pot lemon broccoli pasta is super simple and super delicious. Get the recipe here.
Quinoa Chili
Lightweight and protein-packed, this homemade vegan dehydrated chili is perfect for your next camping or backpacking trip. Get the recipe here.
Grilled Ratatouille Kebabs
A vegan kebab with a French twist, this campfire grilled Ratatouille is a great way to incorporate some vegetables into your camping diet. Get the recipe here.
5 Ingredient Vegan Tacos
Quick, easy, and totally delicious, these vegan tacos were a mainstay on our year long road trip. Get the recipe here.
Southwest Sweet Potato + Bean Burger
Combining healthy sweet potato and bean patties with smokey southwestern spices, these burgers are the perfect excuse to fire up the grill! Get the recipe here.
Drunken Cauliflower Tacos with Quick Pickled Onions
Beer-simmered vegan cauliflower tacos topped with zingy quick pickled red onions are the perfect camping food for hanging out with friends! Get the recipe here.
Sweet Potato and Peanut Stew
If you're looking for something hearty, comforting, AND healthy the next time you're out camping, you need to try this vegan sweet potato peanut stew. Get the recipe here.
Sweet Potato, Black Bean, and Poblano Tacos
Toothsome sweet potatoes, assertive poblano peppers, and flavorful black beans wrapped up in a crispy corn tortilla. These tacos deliver a smoky southwestern sensation with each and every bite. Get the recipe here.
Maple Soy Grilled Tempeh
This sweet & savory maple soy tempeh is a wonderful vegan grilling option for your next BBQ or camping trip! Get the recipe here.
Vegan Dan Dan Noodles
This super saucy, spicy peanut noodle dish is one of our all-time favorites. Get the recipe here.
Coconut Red Lentil Stew with Kale
Just because it's healthy doesn't mean it can't be delicious too. This red lentil stew is loaded with all the right kind of nutrition and flavor. Get the recipe here.
5 Can Chili
There's nothing like gathering around a fire at night with a heaping bowl of chili in hand. Get the recipe here
Summer Rolls with Almond Butter Satay
No matter what the weather is doing outside, these summer rolls can bring you back to the carefree days of summer. Get the recipe here.
Campfire Paella with Artichokes and Poblanos
This campfire paella is packed with tasty vegetables and spices, and can be made vegetarian, vegan, or gluten-free – a camping meal that everyone can enjoy! Get the recipe here.
---
Drinks
Spiked Pumpkin Chai
Our 21+ and over twist on the Pumpkin Spiced Latte craze. Bottoms up! Get the recipe here.
Plum Prosecco Spritz
Bright and refreshing, this plum and rosemary prosecco spritz is a wonderful way to relax at the end of the day. If Audrey Hepburn went camping, this is what she would be drinking. Get the recipe here.
Campfire Mulled Wine
The wintery version of sangria, a camping mug full of mulled red wine is all we need to keep warm. Get the recipe here.
Ginger Apple Cider
When it's cold outside and you're in need of some relief, this hot ginger apple cider is a wonderful companion to spend some time with. Get the recipe here.
Blackberry Citrus Old Fashioned
Looking for the perfect summer camping cocktail? This Blackberry Citrus Old Fashioned is the warm weather whiskey drink you've been waiting for. Get the recipe here.
---
Desserts
No Bake Apple Crisp
A quick and easy fall-inspired camping dessert, this vegan campfire apple crisp is guaranteed to leave you feeling warm and cozy at the end of the night. Get the recipe here.
Vegan S'mores
S'mores! The one and only campfire classic, now sourced with vegan ingredients. Get the recpe here.
---