Coconut Chia Oatmeal
This post may contain affiliate links.
A quick and easy oatmeal recipe with a coconut and chia seed twist, this is a perfect grab and go breakfast.
We developed this recipe during a recent ski trip to Mammoth Mountain. We wanted a quick breakfast we could put into our insulated food jars and eat on the first chairlift up the mountain. Oatmeal seemed like the obvious solution to our breakfast needs, but there was just one problem…
Oatmeal fatigue. We've all been there. Most of us just need some time off before we can eat a bowl of oats again. But some of us never fully recover, habitually keeping our distance from the Quakerman for the rest of our lives. That's how Megan was feeling before we added this recipe to our breakfast rotation. In her words, she was "pretty much done with oatmeal." But a flavor switch-up helped bring her back.
When cooked in water and served on its own, oatmeal is painfully bland. (That's the point of all the fun toppings!) But toppings don't change the flavor of the oats themselves, they just give you pockets of eventful excitement. If you want to change the flavor of the oats, you've got to do something different in the cooking process.
So we decided that instead of water, we would cook the oatmeal in a can of coconut milk – thereby infusing the oatmeals with creamy, coconutty goodness. The chia seeds added some protein to the mix, while a drizzle of maple syrup gave it the appropriate alpine flavored sweetness.
But the real beauty of this recipe is that you don't have to wait around the kitchen for it to cook. Just put the uncooked rolled oats and chia seeds into the insulated food jar. Then simmer the coconut milk and maple syrup in a saucepan. When nearly boiling, pour the coconut milk into the insulated food jar, seal, and off you go. The trapped heat inside the insulated container cook the oats in about 30 minutes (about the time we needed to get from the lodge to the chairlift).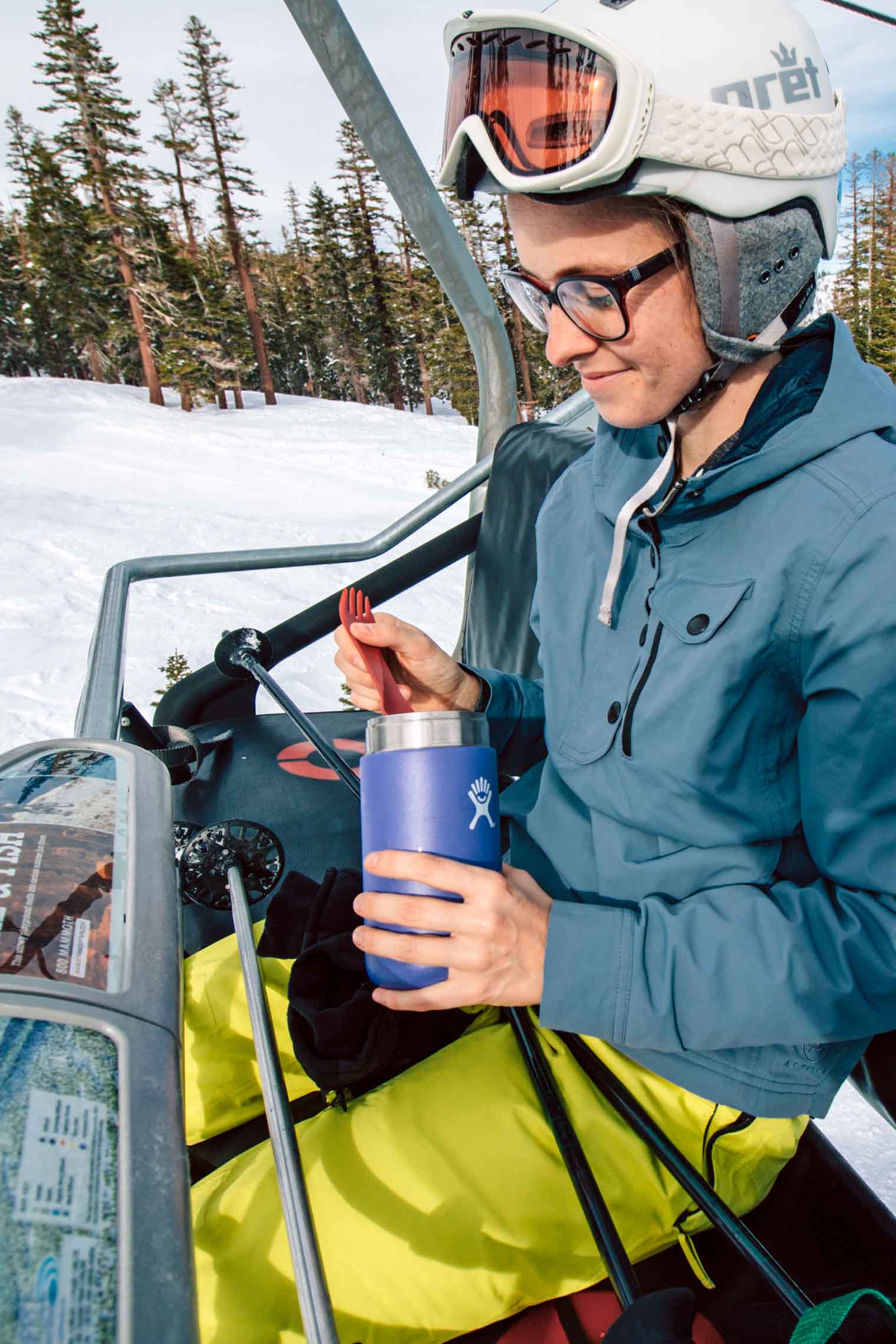 So if you're looking for a quick and easy meal to make right before you head out the door, pick up an insulated food jar for yourself and give this recipe a try.
Why It Works
‣  It's fast because you don't waste any idle time waiting around for the oats to cook. They cook inside the insulated jar while you get on with your day.
‣  It's easy because the only "exotic" ingredient is coconut milk, which is shelf stable and can be found at nearly every major grocery store.
‣  It's delicious because the oats are infused with the coconut milk, so each bit is loaded with flavor.
Mastering the Technique
‣  If you want to keep your oatmeal hotter for longer, preheat your food jar by filling it with boiling water for about 15 minutes. Dump the water right before you add the oats, chia seeds, syrup, and simmering coconut milk.
Equipment Notes
‣  While we used HydroFlask Food Flasks, there are many great insulated food flasks on the market. So long as it is vacuum sealed, this recipe should work just fine in any insulated food jar you pick up.
Ingredients
1

(15 oz) can

coconut milk

2

tablespoons

maple syrup

1

cup

rolled oats

2

tablespoons

chia seeds

¼

teaspoon

salt

Mix ins: berries, sliced bananas, nuts, coconut flakes, etc.
Instructions
Heat the coconut milk and maple syrup in a saucepan until simmering. Pour into a preheated insulated food container with the oats, seeds, salt and any other mix-ins. Seal and let cook in the container for about 30 minutes.
Notes
ALTERNATIVE METHODS
If you want to cook this on a stovetop instead of inside a thermos, simply add the oats to the simmering coconut milk and cook until the oats are tender, about 10 minutes.
EQUIPMENT NEEDED
Small pot or saucepan
Insulated food container
Utensil for eating
Nutrition (Per Serving)
*Nutrition is an estimate based on information provided by a third-party nutrition calculator