11 One Pot Backpacking Meals to Make Trailside Cooking Easy
This post may contain affiliate links.
Food is an important aspect of most backpacking trips—a lot of time is spent planning it, dreaming about it, craving it… but you don't want to spend a lot of time making it! In this post we're sharing our favorite one pot backpacking meals that will fill you up after a long day of hiking.
As much as we love a good Mountain House meal—and the ease of "clean up" afterwards—commercial backpacking food can get pricey. So, whenever possible, we like to prepare our own backcountry meals using a combination of dehydrated food and ingredients from our local grocery store.
In this post, we're going to show you how to create your own EASY and delicious meals for your next backpacking trip! In addition to being easy to prep (no dehydrator required for these meals!), these are all one-pot meals so clean up is a cinch, too.
If you're interested in taking your trail cooking to the next level, consider making your own dehydrated meals using a food dehydrator! We have a ton of ideas to help you get started, so check out this resource with our best backpacking recipes (most of these are one-pot meals, too!).
How much food to bring on a backpacking trip
Aim for a calorie count of 25-30 calories per pound of body weight, per day. To keep down the weight, consider the caloric density of your food and add olive oil to your meals on trail for extra calories whenever it makes sense (store it in a sealed container inside a plastic bag, or buy single serve packets).
In addition to meals, be sure to pack plenty of snacks to avoid "bonking." Eating 30-60 grams of carbohydrates per hour (source) will help keep your energy high throughout the day.
Equipment to pack
Stove: You'll want a backpacking stove that gives you the ability to regulate the flame output so you don't scorch your food. The Soto Windmaster is our favorite canister stove for this style of cooking. If you want use an integrated stove system, the MiniMo has good simmer control as well.
Pot: Aim for a pot size of at least 600mL-700mL per person. Of all the backpacking pots we've used, this one is the easiest to clean because its ceramic coating prevents food from sticking, and the size is perfect for two people.
Utensil: I find that a regular spoon-shaped utensil (vs a spork) works better for the one pot method of cooking, and here's why—a flat spoon shape lets you scrape all the food bits out of your pot without damaging it, making washing your pot way easier. I like these humangear UNO spoons a lot (and if you need a fork, it's still there on the other end!).
Pot Cozy (optional): A pot cozy can help you save fuel and helps keep your food warmer, longer. It's also a super simple DIY project. You can read more about using and making a backpacking pot cozy here.
Where to find freeze dried and dehydrated ingredients
Grocery stores: Dried mushrooms, instant rice, ramen noodles, rice and pasta sides, sauce mixes, nuts, dried fruit
Harmony House: Carries a large assortment of dehydrated vegetables and beans
Nuts.com: Offers a wide variety of freeze dried fruit and vegetables
Shelf stable protein options: TVP (bulk bin or online), instant beans (bulk bin or online), chicken or tuna packets (most grocery stores)
Easy one-pot meals for backpacking
These are our favorite simple trail meals that use store-bought ingredients and cook in one pot.
Hash Browns and Scrambled Eggs
We've heard stories of people bringing fresh eggs on their hikes, but we're not those people. Instead, if we want to cook up a scramble on a lazy morning in camp, we bring along OvaEasy egg crystals. We really have a hard time telling the difference between these and scrambled eggs from whole eggs!
To make a scramble for two, pack ½ cup OvaEasy and 2 tablespoons of bacon bits (optional) in a bag. In a separate bag, bring a 3oz package of instant hash browns, and a small container or packet of oil.
In camp, rehydrate the hash browns according to package directions. Add ¾ cup (6 oz.) water to the bag of eggs, seal, and mix well.
Heat the oil in your pot over medium heat and add the re-hydrated hash browns. Fry those for a couple of minutes. Then reduce the heat and move the hash browns to one side of the pot. Add the egg and scramble, stirring frequently, until they set up and are cooked through.
May we also point out that this makes an excellent filling for a breakfast burrito—just bring a few tortillas and packets of hot sauce!
Granola with Milk and Fruit
This is just about the easiest backpacking breakfast there is! Measure out a portion of your favorite granola, add a tablespoon or two of powdered whole milk, and add dried fruit. Place it all in a ziploc bag. Once you're in camp, just add hot or cold water directly to the bag (or transfer it all to a bowl first).
Our favorite fruits for this recipe are dehydrated strawberries, dried blueberries, or freeze dried raspberries (you can usually find these at Trader Joe's, too). (nuts.com)
Are you a chocolate lover? Check out our DIY Chocolate Granola recipe! This is a decadent-tasting breakfast, but hey—you're backpacking! You earned it!
Zhuzhed Up Instant Oatmeal
This idea might actually be easier than the above! Pack a portion of instant oatmeal along with your favorite dried fruit and chopped nuts in a bag (a sprinkle of ground spices—think cinnamon or ground ginger—can add even more flavor!).
If you want to increase the calories, you can add powdered whole milk/coconut milk, or vanilla flavored protein shake.
In camp, empty the bag into a bowl or mug and add boiling water. Stir to combine and you're done!
If instant oatmeal isn't your jam, you can also do this with rolled oats—you'll just have to simmer it all in your pot. Here's a recipe with our favorite flavor combination—Apricot & Ginger Oatmeal.
Revamped Ramen
Ramen noodle packets are simple enough, but we like to give them a bit of an upgrade by adding dried mushrooms and vegetables along with packing a homemade spicy soy & sesame oil sauce to create the broth.
For one serving, mix 1 tablespoon soy sauce and 1 teaspoon each sesame oil and sriracha (tinker with this depending on your spice tolerance) and store it in a sealed container. Place ½ cup freeze dried vegetables (like these) and ¼ cup dried shiitake mushrooms in a baggie along with a ramen packet—throw out the seasoning packet. If you want to skip the instant ramen, substitute with 3 oz of soba noodles or other noodles of your choosing.
In camp, place the dry ingredients in your pot and cover with water. Bring to a simmer and cook until the noodles are done and the veggies are soft, then pour in the sauce.
Couscous with Apricots & Moroccan Spices
Couscous is such an easy starting point for a bunch of different trail meals. One of our favorite versions is this Moroccan-inspired recipe.
For two servings, pack ½ cup couscous, 1 cup dried chopped apricots, ¼ cup sliced almonds, 1 teaspoon sea salt, 4 teaspoons ras el hanout, and one packet of True Lemon in a bag. Then, bring along 2 tablespoons of olive oil in a sealed container or 2 olive oil packets. For protein, bring a packet of chicken (find this at the grocery store) or freeze dried chicken.
On trail, boil 5 oz of water (a little more than ½ cup) and then add everything to the pot. Cover and remove from the heat—the cous cous will take about 5 minutes to fluff up. If you used freeze dried chicken, you'll need a little more water and it would be a good idea to simmer everything for a few minutes before taking it off the heat.
For a more detailed write up, check out this recipe post.
Loaded Mac & Cheese
Is there anything better than a bowl of creamy mac and cheese? Well… maybe—what if you loaded it up with some veggies and some chili powder, taco seasoning, or Cajun spice blend?
Grab a box of store-bought mac & cheese, then pack a ¼ cup or so of dehydrated vegetables and your favorite seasoning blend. Add in bacon bits, dried beef bits, instant beans, or even a chopped up Epic bar or tuna packet to add some protein. If you want to add extra calories and creaminess, you can pack some powdered whole milk or butter powder in the bag with the veggies & spices.
In camp, place all the ingredients into the pot and add water to just barely cover it. Bring it to a boil and then simmer, stirring frequently, until everything is cooked through (you can add more water if needed). Or, bring to a boil for 60 seconds and then take it off the head and place it in your pot cozy if you use one for 10 minutes.
If you have a food dehydrator and want to make a next-level version of this with beans and ground beef, check out our Dehydrated Chili Mac recipe!
Backpacking Fried Rice
This is probably the most "complicated" of the recipes on this list. Using OvaEasy Eggs, instant rice, and freeze dried veggies, this Fried Rice is such a treat—and a reader favorite! This was created as a vegetarian meal, but you could add meat if you'd like—the Sriracha Chicken Epic bar is our favorite with this recipe.
Pack three separate bags:
Bag 1: ¼ cup Ova Easy
Bag 2: 1 cup instant rice (not regular rice!)
Bag 3: 1 cup dehydrated or freeze dried veggies + 1 vegetable bouillon cube + ½ tsp. brown sugar + ½ tsp. ground ginger + ¼ tsp garlic powder + 2 soy sauce packets
At camp:
Mix the OvaEasy with 3 oz. water in your cookpot and stir to blend. Place the pot on your stove over low heat and scramble, stirring frequently so the egg doesn't stick to the bottom. Once cooked, transfer the egg to a bowl, mug, or just back into the bag you packed them in.
Then add 1 ¼ cups of water and the contents of the veggies + spices bag to the pot. Bring to a boil, then reduce the heat and simmer until the veggies are soft (about 5 minutes). Add the instant rice, stir, and remove the pot from the heat and cover. Let sit for 5 minutes until the rice is soft.
Return the egg to the pot and stir to combine and re-warm the eggs.
You can find the measurements and detailed instructions here.
Creamy Pesto Pasta
This is an easy, cheesy pesto pasta dish with a few little extras.
For one serving, pack 3oz of angel hair pasta in one bag. In a separate bag, measure out 2 tablespoons of Knorr Pesto sauce mix, a parmesan cheese packet (or 1 tbsp grated parm), a handful of sun dried tomatoes, and a tablespoon of pine nuts. For extra calories and flavor, bring some olive oil in a sealed container or a single serve olive oil packet.
In camp, add the pasta to your pot and just barely cover with water. Bring to a boil and simmer until the pasta is tender (or boil for 1 minute and then place it in your pot cozy if using). If there is a lot of water left, drink it or discard following Leave No Trace (see below) so there's only ~¼ cup remaining. Stir in the remaining ingredients to create the sauce and finish with the olive oil.
Chicken Marbella
If you're not familiar with Chicken Marbella yet, you're in for a treat! This is a sweet and savory dish made popular by the Silver Palate in the '80s. We first made this while backpacking a few years back and it has made its way back onto our backcountry menus a few times.
Using couscous as a base (instant rice would work well, too) this dish brings together olives, dried prunes (trust us on this!), chicken, brown sugar, oregano, and a few other seasonings for a totally mouthwatering and hearty meal.
To get the exact measurements and preparation, check out our Backpacking Chicken Marbella recipe post here.
Chili Lime Peanut Noodles
This zippy, slightly spicy noodle dish is reminiscent of Pad Thai. Don't skip the True Lime or the chopped peanuts on top which add really great texture to the meal!
For one serving, pack 3 oz of rice noodles or a packet of ramen noodles (toss the seasoning pouch). In a separate bag, measure out a tablespoon of brown sugar, ¼ tsp ground ginger, ¼ tsp crushed chili pepper flakes (adjust for spice tolerance), and 1 tablespoon chopped peanuts. Bring a packet of peanut butter and a packet of True Lime. A single serving packet of soy sauce (or a tablespoon in a sealed container) will help add some flavor but isn't 100% necessary.
If you prefer, you can swap the chili flakes with a single serve packet of sriracha. For an extra nutrition boost, you can add some freeze dried or dehydrated veggies.
In camp, place the noodles into your pot along with the veggies if you're adding them, and just barely cover with water. Bring to a boil and simmer until the noodles are tender. If a lot of water remains, drink it or discard following Leave No Trace (see below) so there's only ~¼ cup remaining.Set aside the True Lime packet and then stir in the remaining ingredients to create the sauce. Add the True Lime at the end (a little goes a long way so you may not need the whole thing).
Cheesy Rice and Beans
This is, hands down, one of the best backpacking meals we had on the JMT. Our buddy Treeline (who got the recipe from Andrew Skurka) had an extra serving of this in his pack that he gave to us and we devoured it.
Pack ½ cup instant refried beans (or black beans), ½ cup instant rice, and 2 tsp taco seasoning in a bag. Bring along a 1oz of cheddar cheese and a 1 oz snack size bag of Fritos. In camp, bring 1¼ cup (300mL) water to a boil and add the beans, rice, and seasoning. Simmer for a few minutes until the rice is tender (or take it off the heat and put it in your pot cozy after you stir in all the ingredients). Use your knife to cut up the cheese and then stir that in, and top with the Fritos.
For short trips (like a weekend), individually packaged cheddar cheese has a decent enough shelf life and are a good option for their melt-ability. If you're going on a longer trek, hard cheese are a better choice so choose an aged cheddar instead. We have not seen any individually wrapped hard cheddar, so bring a small block of cheese and use some for this recipe and the rest for snacking!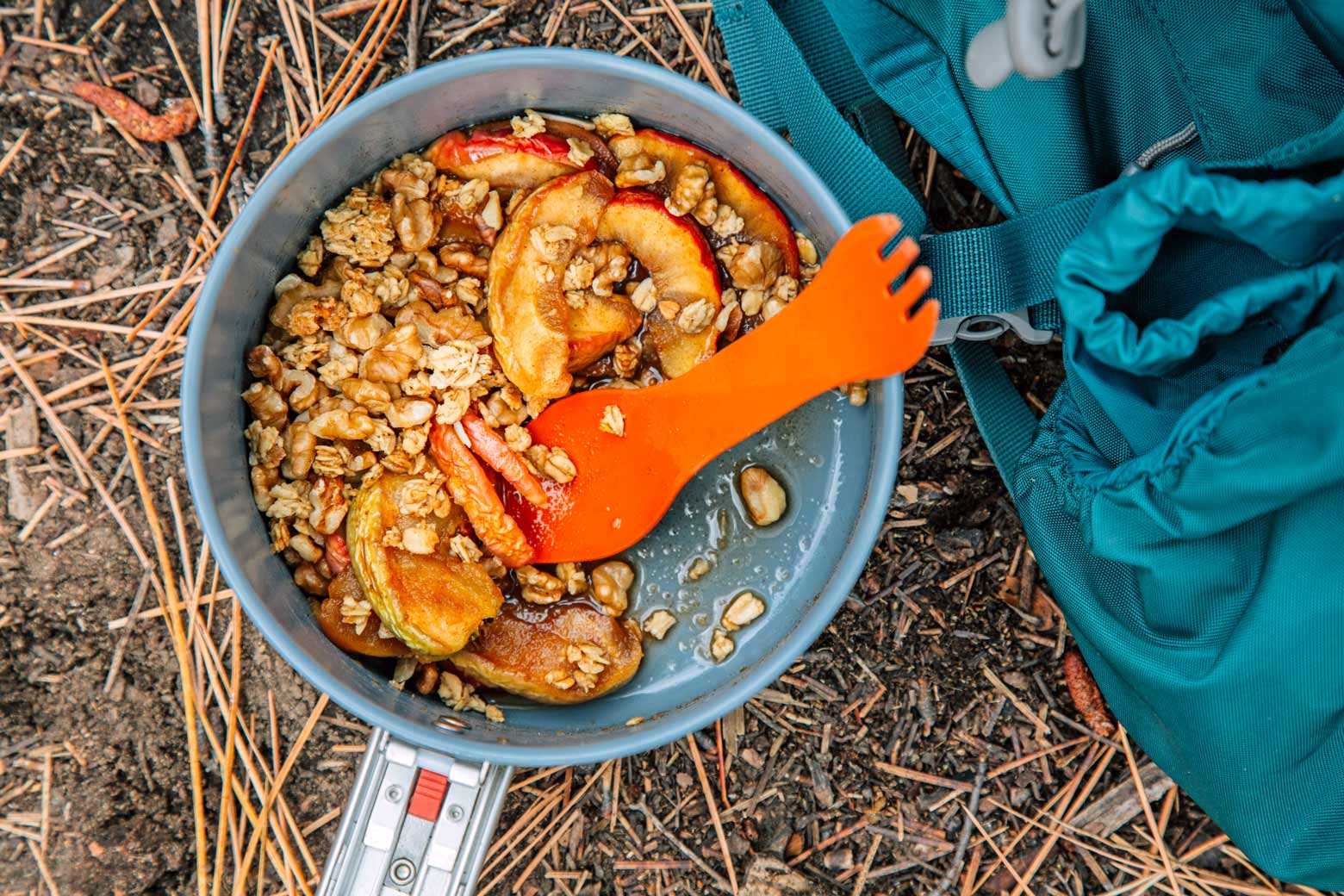 Don't forget dessert!
Why not end your day with the easiest one pot backpacking dessert?! Fruit crisp is our favorite sweet treat and it's dead simple to prep and make. The basic recipe is 1-1.5 oz of freeze dried fruit (apples, berries, peaches, or a combination), 3 sugar packets, and a half cup of granola. In camp, add the fruit and sugar to your pot with about ½ cup water and bring to a simmer. Simmer (stir frequently) until the fruit is soft—add more water as needed. Top with the granola and enjoy!
There are so many ways to customize this basic recipe—add warming spices, nuts, or switch up the fruit. This Apple Crisp is one of our favorite variations!
What about lunch?
The last thing we want to do in the middle of the day is dig our stove out of our packs and cook (and clean up) a hot meal. So, we tend to graze on snack-type foods throughout the day, and if we want a proper "lunch" we'll stop for a long break and enjoy one of these options (or a combo):
Dried fruit
Salami
Hard cheeses
Nut butter packets
Tuna packets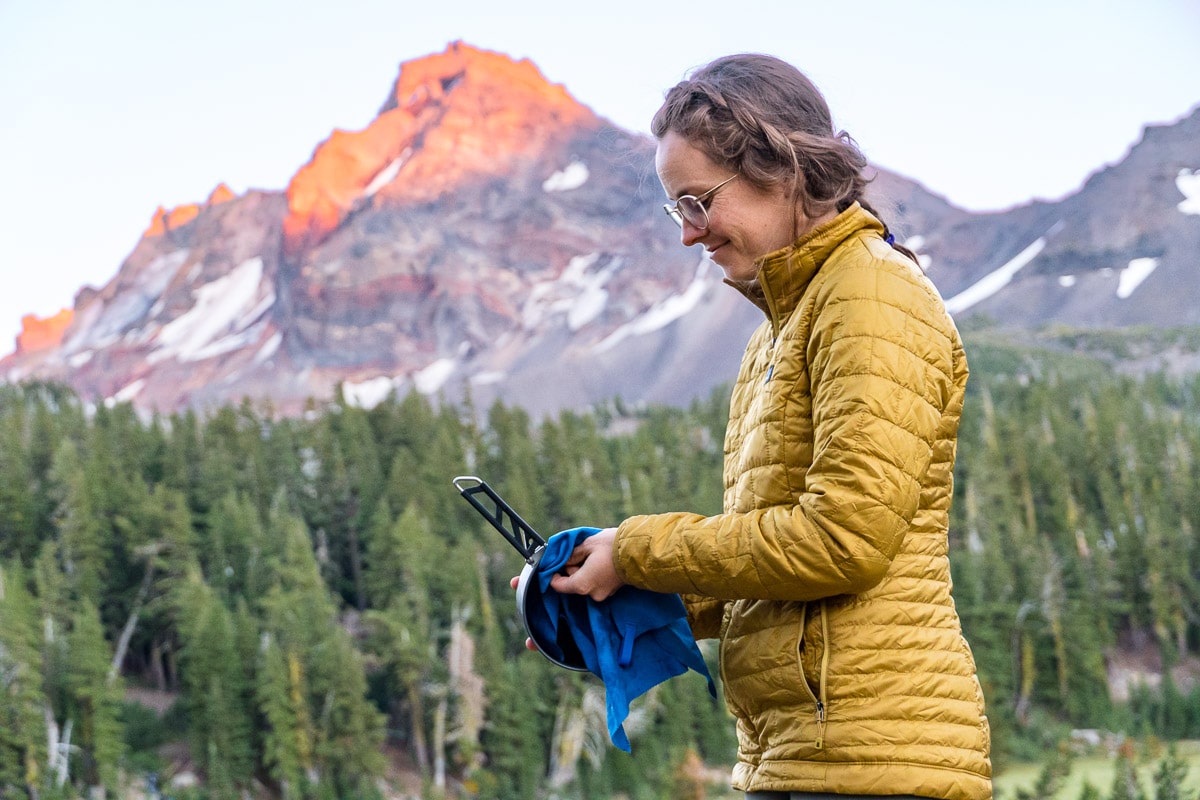 How to wash dishes on the trail
Cleaning up after a meal is everyone's least favorite chore on the trail, but learning the proper way to wash your dishes can make an unpleasant task easier, and ensures you're minimizing your environmental impact in the backcountry.
Biodegradable soap needs the microorganisms found in soils in order to break down. It won't break down in lakes or streams, so don't use it in any water source.
Find a spot 200 feet away from water sources.
Scrape your cookpot clean of any remaining food using your spoon.
Use a minimal amount of biodegradable soap and warm water to scrub your pot clean.
If food scraps remain, strain them out as you dispose of the dishwater.
Leave No Trace recommends digging a cathole 6" deep to dispose of dishwater, and then burying it. If that's not an option, you can broadcast (aka fling broadly) the water across a wide area.
We hope that this post has given you some tips and inspiration to make your own meals for your next backpacking trip. Be sure to check out more of our one pot backpacking meal recipes using a dehydrator if you want to expand your trail recipe repertoire!