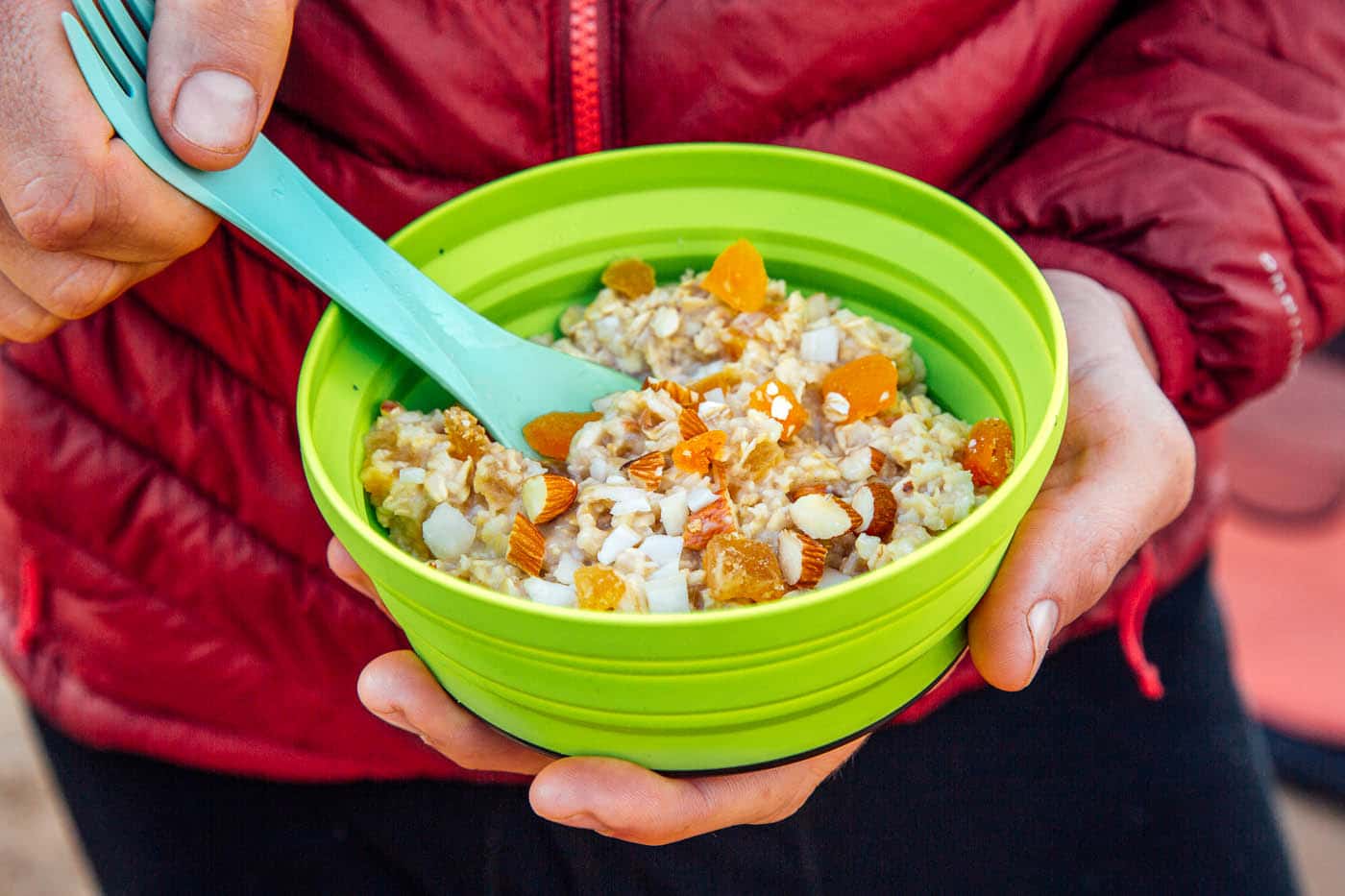 There's no way around it: quick cooking oats are an ideal backpacking breakfast. But it's just so easy to get burnt out on the standard flavors. (We'd be happy never to eat cinnamon-apple or brown sugar ever again!)
That's why when we're camping, we're always experimenting with new flavor combinations in an attempt to re-invent them. And our new favorite is this Apricot + Ginger combination.
Dried apricots and candied ginger are available at any supermarket (but you can get them for a steal at Trader Joe's). The apricots offer a subtly exotic sweetness to mix, while the candied ginger provides intermittent pops of spice. Chopped almonds add some nutty crunch. Blend that all together with the tropical flavor from powdered coconut milk and you get a really nice dynamic range of flavors.
We had this Apricot Ginger Oatmeal while hiking the Trans Catalina Trail in California. If you're interested in reading more about the Trans Cat hike or seeing what else we ate while we were on the trail, you can check out the full article about it here.
So if you're burnt out on the standard oatmeal flavors and want to try something new, this is an easy DIY alternative that really hits the spot! Happy trails!
Other Backpacking Breakfast Recipes:
Raspberry Coconut Quinoa Porridge
Pecan & Maple Granola
Johnny Appleseed Oatmeal
Apple Pie Quinoa Porridge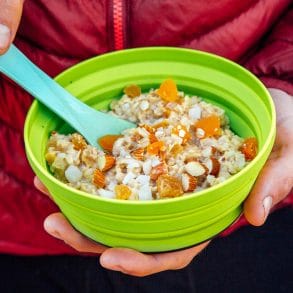 Apricot Ginger Oatmeal
With an exotic sweet and spice combo, this Apricot Ginger Oatmeal is a great way to shake up your morning oats on your next backpacking trip.
Print
Pin
Rate
2 servings
Instructions
AT HOME: Place all ingredients in a resealable bag.

AT CAMP: Dump the contents of the bag into a pot with 2 cups water. Bring to a boil, then reduce heat to a simmer. Simmer for about 10 minutes, or until the oats are tender.
Notes
Optionally, you can add coconut oil while cooking for more calories. We'll add a 15mL packet from Trader Joe's which adds 120 calories and 14g of fat to this recipe.
Nutrition (Per Serving)
Calories: 419kcal | Carbohydrates: 55g | Protein: 8g | Fat: 22g
*Nutrition is an estimate based on information provided by a third-party nutrition calculator
Share your meal with us!
When you make this recipe, let us know by tagging @FreshOffTheGrid in your post or stories. We love seeing what our readers cook up!
---