Backpacking the Trans Catalina Trail
This post may contain affiliate links.
With mountainous terrain, stunning ocean vistas, and a captivating island mystique, the Trans Catalina Trail is a completely unique backpacking experience – unlike anything else in the United States. In this post, we're sharing all the details you need in order to plan your own Trans Catalina Trail backpacking trip.
The Trans Catalina Trail (TCT) has been on our backpacking bucket list for a really long time. Growing up in southern California, Megan has been going to Catalina Island with her family for the past 20 years. I've joined them the past few summers and gained a new appreciation of the size and scale of the island. (Spoiler alert: it's massive) While we've done plenty of day hikes around the west end of the island, we would always fantasize about hiking the full island along the TCT.
Of course, we usually visited over Labor Day weekend, when the island is baking hot, tinder-dry, and covered in 50 shades of brown. The trail is relentlessly steep and exposed nearly the whole way. It would be absolutely brutal to attempt during summer. So we knew if we wanted to hike it, we would have to do it in early spring. And this year, a mix of good timing, luck, and last-minute hustle had us in position to hike the trail in March.
While the Trans Catalina Trail is more "supported" than a typical wilderness thru-hike, being located on an island means there are a lot of interesting logistics to plan out. We had to do A LOT of research in preparation for this hike and we wanted to share what we found out with all of you.
So if you're interested in hiking the TCT yourself (something we highly recommend), we've got all the information you need below to get started. But, if you just wanted to read about our experience that's fine too. We've got a full day by day trail notes at the bottom.
Trans-Catalina Trail Video
Pre-Trip Planning: Itinerary, Campsite Reservations and Transportation
Itinerary Planning
The Trans-Catalina Trail is roughly 40 miles, or 46 miles if you include the loop to Starlight Beach. You can download a map of the trail here. Starlight Beach is no longer part of the "official" Trans-Catalina Trail, though it was originally included and many hikers add it on to their trip, as did we.
Your itinerary will be governed by a few things: your hiking speed & ability, the ferry schedule, and campground availability. There are a number of ways to string the trail together. Here we have outlined the distances between various sections of the trail so you can start piecing together your route and get a sense of what kind of daily mileage you'll be looking at.
Avalon to Blackjack: 10.7 miles
Blackjack to Little Harbor: 9.5 miles
Little Harbor to Two Harbors: 5.2 miles
Two Harbors to Parsons Landing (choose your own adventure)
Two Harbors to Starlight Beach via Silver Peak Trail: 8.2 miles & Starlight Beach to Parson's via Old West End Road: 4.3 miles (12.9 miles total)
OR Two Harbors to Parsons Landing via Fenceline Rd: 7 miles & Parsons to Starlight Beach via Old West End Road & back to Parson's: 8.6 miles (15.6 miles total)
OR Two Harbors to Parsons via Fenceline Rd: 7 miles (skip Starlight Beach)
Parson's to Two Harbors (road): 7.5 miles (& relatively flat)
Here is an elevation map of the Trans-Catalina Trail created based on our actual hike. This should help give a sense of the type of elevation changes you will see along the trail.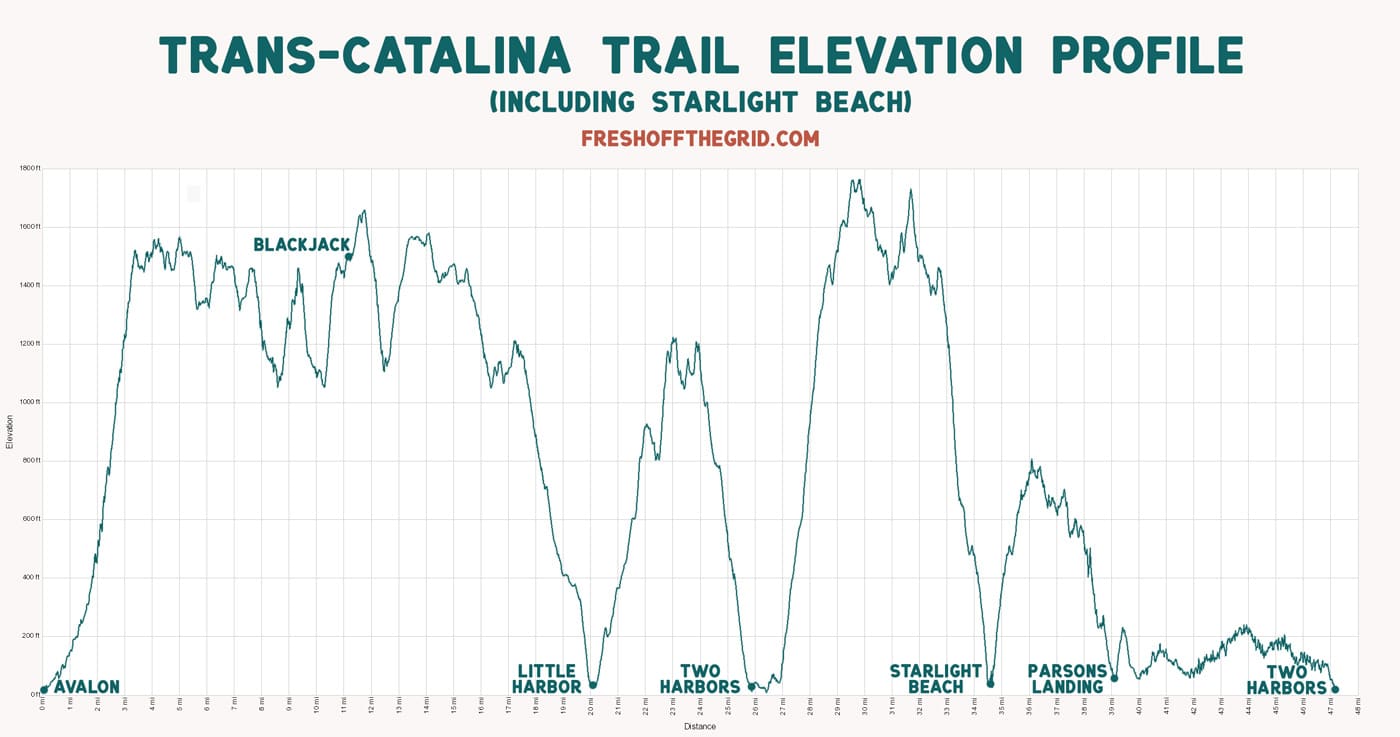 While the trail can be hiked in 3 days/2 nights, planning a 4 day/3 night or even 4 day/5 night trip will allow plenty of time to enjoy the trail at a more manageable pace. Below are some sample itineraries with daily mileages for each. The trail can be hiked east to west (as laid out in the itineraries below) or can be hiked in reverse (what we did – see our notes at the end of this section).
Trans-Catalina Trail Itineraries
3 Days/2 Nights
Day 1: Avalon to Blackjack 10.7
Day 2: Blackjack to Two Harbors 14.7
Day 3: Two Harbors out to Parson's & back to Two Harbors 14.5 (skipping Starlight Beach)
4 Days/3 Nights
Day 1: Avalon to Blackjack 10.7
Day 2: Blackjack to Little Harbor or Two Harbors (9.5 or 14.7, respectively)
Day 3: Little Harbor or Two Harbors to Parsons (12.2 or 7, respectively)
Day 4: Back to Two Harbors (7.5mi on the road)
*if you want to do Starlight beach, there are two ways to add this on:
If you're camping in Little Harbor, you could hike from Little Harbor to Parsons via the road on Day 3, for a 12.7 mile day, then hike to Starlight Beach and back to Two Harbors via Silver Peak Trail on Day 4 for a 12.9 mile day)
If you're camping in Two Harbors, hike to Parsons Landing on Day 3 via Silver Peak Trail to hit Starlight beach for a 12.9 mile day, then on Day 4 hike from Parsons Landing to Two Harbors on the road for a 7.5 mile day)
5 Days/4 Nights
Day 1: Avalon to Blackjack 10.7
Day 2: Blackjack to Little Harbor 9.5
Day 3: Little Harbor to Two Harbors 5.2
Day 4: Two Harbors to Parsons Landing (via Silver Peak to include Starlight Beach) 12.9
Day 5: Parsons Landing to Two Harbors 7.5
We hiked the 5 Day/4 Night itinerary above, but due to the ferry schedule and the campsite availability at Parsons Landing, we hiked it in reverse – arriving by ferry in Two Harbors, hiking out to Parsons Landing, and then hiking east to end in Avalon. We found this to be an enjoyable pace for our first backpacking trip of the season. We never had to rush in the morning, could take plenty of breaks during the day, and finished early enough to relax at camp before it got dark. You can read our day-by-day trip report below.
While hiking the TCT from Avalon to Parsons Landing is the "classic" direction that most people hike in, we found a few advantages to hiking the reverse route. Most notably, the first day – Two Harbors out to Parsons Landing – has minimal elevation change, so you have a chance to "warm-up" for the hike, versus starting your hike with a 1,500 foot climb out of Avalon.
A potential downside to hiking in reverse is that you go from the most remote portion of the trail to the most populated. We didn't mind this but could see where it might be less than ideal for some. Parsons Landing would be a pretty epic final night on the trail, whereas after sleeping on the beach for three nights, Blackjack felt like it was missing something special for the final night (it's not a bad campground though!).
Best Time to Hike the Trans-Catalina Trail
The Trans-Catalina Trail is open and hikeable year-round. However, we'd suggest you hike the TCT in late winter or spring for a number of reasons:
Most of the trail is exposed with no shade or tree coverage. In the summer months with daytime highs in the 80's & 90's, this can make for some pretty brutal hiking conditions – we've hiked sections of the trail in July & August, so we're speaking from experience here! Even in the spring, the exposed nature of the trail can be challenging (I got a sunburn while hiking in March, despite lathering up with sunscreen), but the cooler temperatures will provide some relief.
Spring brings rolling green hills and wildflowers. While this is dependent on the rainfall in any given year, you're in for a treat if the island is in bloom. We saw everything from purple arroyo & silver bush lupine to red paintbrush, yellow bush sunflowers, and yellow, white, and orange poppies. Summer months are dry, so the flowers disappear and the hills turn from green to gold.
It's cheaper to do the trail in the winter & spring (depending on your exact dates) as the campgrounds have lower non-peak season rates from the end of October to the beginning of March.
The towns (and campgrounds) are quieter in the offseason. We've heard that the Two Harbors campground in particular can be a bit rowdy in the summer, but we shared it with only a handful of other backpackers in March.
Of course, spring season hiking isn't without its own challenges. You're more likely to run into rain (as we did), the evening temperatures are lower, the ferry schedule is more limited, and the bar in Two Harbors is closed during the week so you might have to miss out on their world-famous Buffalo Milk 😉
Camping Reservations and Hiking Permits
Camping reservations are required. There is no dispersed or backcountry camping allowed on the island outside of established campsites. You can see a list of all the campgrounds on the Trans-Catalina Trail below.
Camping reservations can be made starting on January 1st for the current year. You can reserve campgrounds via Book Your Site.
The best way to book your sites is to click the green "Trail Booking" button in the Campsite Booking section to the left of the page. Then, select the date range for your whole trip and click "Book Trail." You'll then be able to select your campsite for each "Stopover" aka each night.
However, between Memorial Day through October 31, many sites require a two day minimum stay when you book online. If your hike is in this window, you can use the reservation site to gauge campsite availability, and then call the Two Harbors Visitor Center at 310.510.4205 to make your reservations–say you're hiking the TCT, and they will waive the minimum stay.
You can check into your campsites at the Conservancy House in Avalon (8:30am-4:30pm), or at the Two Harbors Visitors Center (8am-5pm).
Trans-Catalina Trail Campground Options
Hermit Gulch: This campground is near the beginning of the trail in Avalon. If you arrive on a late ferry and plan on starting the trail the following morning, this campground would be an option.
Blackjack: This is the highest elevation campground on the TCT. It has pit toilets, potable water, a cold outdoor shower, and critter boxes.
Little Harbor: This campground is like it's own little island paradise, with tons of palms and crystal blue water. It has pit toilets, potable water, cold outdoor showers, and critter boxes. Basically, every trip report we read said "We wish we stayed at Little Harbor" so we took note – and we're so glad we did.
Two Harbors: This campground is a ¼ mile walk from the little town of Two Harbors. The campground has port-a-potties and potable water. There are no critter boxes available here.
Parson's Landing: With only 8 sites at this campground, all right on the sand, Parsons is a unique camping experience that we won't soon forget! Given its remote nature, there is no potable water available here unless you arrange for a water cache (an additional $25, see the Two Harbors Visitors Center). The campground does have pit toilets, port-a-potties, and critter boxes.
Trans Catalina Trail Hiking Permits
Hiking permits are required, but free. Apply here & print at home, or pick one up before you start at either the Conservancy House in Avalon (8:30am-4:30pm), or at the Two Harbors Visitors Center (8am-5pm)
Transportation Logistics: How to Get To Catalina Island & Back
While the Catalina Express is essentially the only way for most people to get to and from the island, there are a few options for routing your ferry. Catalina Express runs ferries from San Pedro, Long Beach, and Dana Point. However, San Pedro is the only port that runs between both Avalon and Two Harbors. Long Beach and Dana Point only run to Avalon.
What does this mean? If you don't want to set up a shuttle between ports (on the island or on the mainland), you'll want to leave from San Pedro. The downside is that their days and times are limited. You can find the schedules here.
If you want to travel out of Long Beach or Dana Point, you will need to arrange transportation either between Avalon and Two Harbors or between mainland ports. There are two options on the island:
Reserve the Interior Shuttle provided by Catalina Transportation Services. At the time of writing (12/2022), the cost one way starts at $225 per shuttle (you can fit up to 7 people).
Take the Cyclone Power Boat tour, which runs from late May through October 2. Online, the tour costs $36 for a round trip fare. However, if you call them you may be able to book a one way ticket: 877.778.8322
Your other option would be to take an Uber or Lyft between mainland ports.
The ferry will set you back about $84 per person, round trip. Additionally, parking at the San Pedro terminal was $18 per day.
What to Eat on the Trans-Catalina Trail
We packed an assortment of homemade backpacking meals as well as a few pre-made meals. Our favorites included:
↠ Dehydrated Vegetarian Chili (DIY)
↠ Dehydrated Risotto (DIY)
↠ Raspberry Coconut Quinoa Porridge (DIY)
↠ Apricot Ginger Oats (DIY)
↠ Mountain House Breakfast Scramble
We have a number of in-depth backpacking food posts where you can get additional ideas:
↠ 80+ Backpacking Food Ideas
↠ 33 Lightweight Backpacking Recipes
↠ Guide to Vegan Backpacking Food
↠ Guide to Gluten-Free Backpacking Food
Additionally, there are a number of food options once you're on the Island:
Avalon: There is a well-stocked Vons where you can pick up food or last-minute items if you begin your hike in Avalon. We ended our hike in Avalon, so we stopped off at The Sand Pit (it's on the walk back into town) for their daily happy hour: $1 Tacos & $2 beer. The perfect way to end a hike!
Airport in the Sky: 2 miles west of Blackjack Campground, the restaurant at Airport in the Sky was the talk of the trail. Everyone we passed (since we were hiking in reverse, we encountered many of the hikers that we on the trail heading West) told us to stop there for bison burgers. Not one to pass up "bonus food" on a backpacking trip, we timed our arrival for lunch and were pleasantly surprised by the quality and freshness of the "airport food" in a relatively remote location! If you're there around lunchtime, we can recommend the bison burger and the bison brisket tacos. Or, if you camp at Blackjack and are hiking west, we hear their breakfast menu is great as well.
Two Harbors: There is a grill and a small general store at Two Harbors that are open daily (the store carries fuel and Mountain House meals. It's also very pricey). On the weekends in the off-season, or daily in the summer, the Harbor Reef also serves food and has a full bar.
Water on the TCT
There are a number of spots along the trail to fill up on potable water. We brought our water filter out of habit but didn't need it. You can see all the water sources on this map, but to summarize, here are the points on the trail where you can find water:
↠ In the town of Avalon, mile 0
↠ Haypress Reservoir, mile ~5.5
↠ Blackjack Campground, mile 10.7
↠ Airport in the Sky, mile ~13
↠ Little Harbor, mile ~19
↠ Two Harbors, mile ~24.5 (at the campground, or in town at the bar & grill)
The one notable section of trail that does not have potable water is between Parson's Landing and Two Harbors. You will either need to carry enough water to last you through the whole section or pay to have water cached at Parsons Landing Campground (if you are staying there). The cost is $25 and includes 2.5 gallons of water as well as a bundle of wood and a fire starter. This is in addition to your campsite reservation. You'll need to buy the key to the locker at the Two Harbors Visitor Center when you check in to pick up your camping permit.
TCT Safety
Animals: The two animals you'll want to watch out for on the TCT are buffalo and rattlesnakes. You can read up on rattlesnake safety here. The Catalina Island Conservancy has a great buffalo safety sheet that can be found here.
Use hiking poles! I usually have a take 'em or leave 'em attitude towards trekking poles, but I really believe they are a must for the TCT. There are lots of steep uphill and downhill sections and having poles to help with stability prevented us from multiple falls and slips down the hillside (not to mention they will help make the hills easier to hike as they help take the load off your knees).
Food storage: Bear canister not required. All campsites EXCEPT Two Harbors have critter boxes so you will still want to have a plan to store your food if camping at Two Harbors. We brought our bear canisters because we always do, but a lighter weight alternative would be a critter bag.
Sun protection: The TCT is an exposed trail with little shade from the sun. You'll want to make sure you pack a hat, sun-protective clothing, and sunscreen.
Stay Hydrated: Again, this is a hot, dry trail most of the year and it's incredibly easy to become dehydrated. Make sure you have a large enough water vessel capacity to carry adequate water to get you through to the next water source. Additionally, consider bringing electrolytes to add to your water. We really wish we had brought Nuun tablets with us (we learned our lesson and now they are always in our hiking packs!)
Trail Notes—Day by Day Report
Day 1: San Pedro >> Two Harbors >> Parsons
The Vincent Thomas Bridge arced overhead like a highway in the sky. Rows of cranes unloading massive container ships. It was a strange feeling starting a backpacking trip in the Blade Runner-equse industrial sprawl of the Port of Los Angeles. Our hiking attire and trekking poles seemed out of place with the rest of the longshoremen and port workers. But as we boarded the ferry out to Catalina we found our people.
Early spring is a prime time to hike the Trans Catalina Trail and judging by people's attire, we'd say at least half of our fellow ferry passengers planned to do some sort of hiking on the island.
The seas out to Catalina were smooth and the ferry ride uneventful. This was quite fortunate for us, as we had forgotten to pack our Dramamine. We are both prone to seasickness, and a queasy stomach is no way to start a day of hiking. Thankfully, we didn't feel the crossing at all. The ferry stopped at Avalon, where nearly all the passengers disembarked, before continuing on to Two Harbors.
Due to the way it worked out with the ferry schedule and campsite reservations, we were going to be hiking the TCT in "reverse". This meant starting in Two Harbors, hiking west to the end of the island, then looping back and hiking east until we hit Avalon. It also meant today was going to be a relatively short and easy day. All the better for us, as we were far from being in peak hiking shape.
In Two Harbors, we stopped at the visitor center – which is one of the first structures you encounter once you get off the boat. There we "checked in" to our camp reservations, got a quick orientation of the wildlife on the island, and a few updates about trail conditions. We also found out where the money from our campsite fees was going: laser-printed color maps and photographs of campgrounds. They were just handing these things out to hikers like candy. Yes, they were very nice, but they must have cost a small fortune to print. So if you're hiking the TCT, don't leave the island until you've gotten some of your money back in the form of the color maps!
Directly across from the visitor center is a gear rental shop with lockers. Since we planned to double back through Two Harbors, we rented a locker for $5 and stashed some of our food there. No point in carrying food for Day 4 all the way out to the west end of the island and back.
After that, we set out on the coast road to Parsons Landing. Most who hike the TCT in the classic east to west direction, walk this road back into Two Harbors at the end. We've walked this stretch of road before in the summer and weren't particularly looking forward to it on this trip, but we ended up really enjoying it. There were tons of wildflowers in bloom and the flat, easy terrain was a great warm-up for our legs.
We couldn't get over how vividly green everything was. We walked by coves we had seen in the summer that look as dry as the Mojave desert but were now covered in lush grass. Between the turquoise water and brilliant green vegetarian, we could have easily mistaken the landscape for Hawaii.
Parson's Landing is a primitive beach campground with only 8 available sites. Since the cove is fairly exposed, previous campers have fashioned wind shelter from rocks on the beach. Our site had a pretty decent wind shelter, but I figured anything worth doing is worth overdoing. So I spent a considerable amount of time reinforcing our position, but after a few structural collapses, it's safe to say stonework is not in my future.
That night we cooked one of our own recipes: Dehydrated Red Lentil and Black Bean Chili. It was a perfect way to cap off day one on the trail. Tomorrow would prove to be far more difficult.
Day 2: Parsons Landing >> Starlight Beach >> Two Harbors
We woke up to a brilliant red sky and the old sea hymn came to mind: Red sky at night, sailors delight. Red skies in the morning, sailors take warning.
We truncated our morning breakfast routine so we could quickly break down our tent. As soon as we finished loading up our packs, the skies opened and started dumping, as if on cue. It was bad luck of course, but we timed our part perfectly. Today was going to be our longest day from Parson to Starlight Beach and then back to Two Harbors over the Silver Ridge Trail. And we were going to have to hike most of it in the rain.
The descent down to Starlight Beach was steep. We probably couldn't have made it without trekking poles. The final part of the trail had eroded away completely, which was fine since it was high tide and there wasn't much beach to speak of anyway. Despite the conditions, we had reached the most western (accessible) part of the island.
We made a quick Mountain House brunch to celebrate: Breakfast Skillet and Biscuits and Gravy. With our stomachs full and our morale boosted, we set ourselves to the hard work ahead of us.
From Starlight Beach, we had to backtrack to pick up the Silver Ridge Trail. Standing at the bottom of it, the trail seemed impossibly steep. The relentless grade disappeared into a fog bank, so we couldn't even see the top. Talk about intimidating! We would soon find out Catalina Island doesn't believe in switchbacks. (They spent all the money on laser printer ink.) Just straight, steep, unrelenting ascents.
It was a grueling hike up to the top, but at least the rain stopped once we got into the fog. We had seen minor areas of trail erosion along the way, but towards the top of Silver Ridge, we came across the effects of a massive hill slide.
A 100-foot section of the trail had completely disappeared down the side of the mountain, leaving a gaping hole at least 50 feet deep. We had to scramble around it and make a wide loop around the area (NB: This was from our 2019 hike and the trail has been restored. It's a good reminder of why it's important to double check with the rangers/visitors center before starting your hike to learn about current trail conditions!).
As we continued along, the clouds started to break apart around us. We saw glimpses of the Pacific Ocean to our right, the Los Angeles bay to our left, and occasionally, the sun. At the intersection of Silver Ridge Trail and Fence Line Rd we found a small picnic table where we stopped for lunch. We like to keep our trail lunches simple, so we had some trail mix, hard salami, Babybel cheese, and a Trader Joe's Trail Nugget Pro bar.
The descent down into Two Harbors was just as steep as it was getting up to the ridgeline. Again, having trekking poles saved us here. While the sun had come out, our clothes and gear were still wet. Despite having quick-drying wool socks, we could tell all this slopping around in the rain was not going well for our feet. So we made quick time into town with the hope of drying everything out.
While it can be quite the happening spot during the summer, Two Harbors is really quiet during the off-season. The ferry doesn't run on Tuesday and Thursday in the winter, so if you're there on one of those days – like we were – it's just you and the residents of the town.
The Two Harbors campground is a ¼ mile out of town and overlooks the cove. We set up our tent to the sound of seals barking and workers setting up moorings. We put everything out to dry, switched our socks, and walked back into town.
Two Harbors recently put in a resort-style beachfront destination called The Harbor Sands. Think a roped off white sand beach, private cabanas with bottle service, and DJ and live music sets. This place is mobbed in the summertime, but it was deserted when we were there.
So we went into the general store, bought tallboys of our favorite macro-brews, and took them out to one of the empty cabanas, and kicked up our feet. Opportunities to treat ourselves like this really sets the Trans Catalina Trail apart from other wilderness hikes.
Day 3: Two Harbors >> Little Harbor
We had a lazy start to the next day. It was a short hike to Little Harbor, so we took our time getting ready. A "two cup of coffee morning" as we like to call it. By the time we got ourselves together, it was close to 10am. But while the miles were short, the elevation was anything but. So perhaps an earlier start should have been in order.
It was a real slog out of Two Harbors, especially in the midday sun. But once we got back up onto the ridgeline we were treated to some of the best views of the entire trip. Beautiful, sweeping vistas of the Pacific ocean. We could see lush valleys below dotted with patches of wildflowers. And below that, coves filled with aqua blue water. We came across another picnic table in an absolutely stunning location for lunch. The paper map we got from the visitor center actually denotes it with an Instagram logo. #fellowkids
From there it was a somewhat sketchy descent down – what felt like a repurposed deer trail – into Little Harbor. We didn't take a laser-colored printout of the Little Harbor campground, but we definitely should have. It's more spread out than you think and there's a bit of elevation to negotiate if you go to the wrong area. At the end of the day, we weren't interested in any "bonus" hiking.
We actually snagged a campsite reservation at Shark Harbor, a more secluded side-section of Little Harbor. For the third night in a row, we got to camp right on the beach in an unbelievably picturesque location. This was the first and only campground we stayed at on the Pacific side of the island, so we got to watch the sunset right over the ocean.
That night we made our Dehydrated Mushroom Risotto for dinner. It was another hit meal to cap another extraordinary day.
Day 4: Little Harbor >> Blackjack
A group of women were camped next to us at Shark Harbor who were hiking the TCT in the other direction. We got to chatting and they told us they had stayed at Blackjack the night previous (which is where we were heading) and that the terrain was pretty rough. They also told us that if we could make it work, we should definitely stop at the airport cafe for lunch. This on-trail reporting was one of the unexpected perks of hiking the trail in "reverse". We got a lot of recommendations and information from hikers coming from where we were heading.
With our feet still feeling tender and knowing we had rough terrain ahead of us, we started out of Little Harbor fairly early in the morning. Like the past three mornings spent at sea level, we had a tough climb to get back up onto the ridgeline. But we were propelled by thoughts of this mythical airport cafe.
As we started to approach the airport, we noticed some large cow pies on the trail. We had seen these all over the island, but these looked disturbingly fresh.
Catalina Island is famous for having bison – commonly referred to as American buffalos. Bison are definitely NOT native to Catalina Island. They were introduced in 1924 for a movie shoot and – in keeping with the nonchalant attitude towards the environment at the time – the bison were never removed.
With no natural predators and an abundance of grass, the bison population grew over the years – at one point to a total of 600 animals. Today there are roughly 150 bison on the island, with their population being managed via birth control.
They remain a very large tourism draw, which is why the island conservancy has no plans to remove them despite their otherwise aggressive approach to managing non-native species on the island. They are officially considered "pardoned visitors."
Looking at the trail ahead of us, we saw a very large male bison walking towards us. We made noise to let him know we were there, but he seemed unfazed.
We waited to see if he would turn off-trail, but he did not. We had read that bison like to continue in their direction of travel, and that's it's best to just move out of their way and out of sight. But we were on a ridgeline and there weren't a lot of great escape routes, so we had to scramble off-trail and hide behind a patch of cacti.
As the bison passed, he lazily looked over at us with a "you guys are idiots" look and kept walking. We returned to the trail and continued on. Better safe than sorry, when dealing with a 1,600 lb animal with horns.
We arrived at the airport right at lunchtime. Nicknamed the Airport in the Sky, it was constructed in the middle of the island at an elevation of 1,602 feet, presumably the one relatively flat section of land on the island.
While the airport itself was pretty sleepy (there are no scheduled commercial flights), the adjacent restaurant, DC-3, was jumping with people. Shuttle vans had brought tourists up from Avalon. Trans Catalina Trail hikers were making a pitstop. Even the airport crew heard the lunch bell. The menu was impressive and so was the quality of the food. Buffalo brisket tacos, serious-looking salads, Buffalo hot dogs, fresh salsa, and killer chocolate chip cookies. Many people have told us it's the best food on the entire island.
After the airport, it wasn't much further until we reached Blackjack campground. Nestled in a grove of pine trees, this was our first non-beach campsite. At an elevation of 1,600 feet, it was a bit cooler once the sun went down. It felt a lot more like a traditional wilderness backpacking experience.
That night we settled into our tent for our final night on the trail. We got to talking about how easy it was to sleep knowing the island didn't have any bears, mountain lions, coyotes, or any other animals that could freak us out in the night. Literally in the middle of this conversation, we heard a scratchy yowl from the bushes behind us. It sounds like a cross between a catbird and a coyote. We couldn't immediately place the sound, and so of course we were freaked out. The yowls stopped, but a few minutes later I heard the faint pitter-patter of feet scampering around the outside of the tent.
I popped my head out of the tent with a headlamp and I caught a fleeting glimpse of our visitors: a pair of Island Foxes were investigating our campsite. The Island Fox is a sub-species of fox native to the channel islands and only grows to about the size of a house cat. They use audible barks to signal to one another. They hunt lizards, mice, crabs – but these foxes were clearly looking to see if we left them an easy snack at our campsite (thanks to the metal critter boxes at the campsite, we did not). Even after 4 days on the trail, the island wildlife was still surprising us.
Day 5: Blackjack >> Avalon
The fog had rolled in during the night and the outside of our tent was covered in condensation. So instead of waiting for it to air dry, I came up with my own novel drying method by treating it as a cape and running around camp. With everything completely dry, we packed up and started off on our last day of hiking. We had a 5:00pm ferry ride out of Avalon back to the mainland, so we couldn't afford to dawdle too long.
We got our first peek of Avalon around lunchtime, which lead me to believe we had plenty of time to make it down. But the way the trail works, you actually have to circle all the way around the city before you drop down into it. So even though we could see it, we had a way to go before we could get to it.
On our way down, we encountered our first set of switchbacks! We had been hiking straight up and straight down hillsides for the entire trip, so it was nice to end on a section of trail that attempted to lessen the grade. As we went we passed a lot of people just starting the Trans Catalina and heading in the opposite direction. Some of them looked very prepared, some remarkably less so. The most surprising was a couple looking to make it to Little Harbor that night. We hope they made it.
Finally, we arrived in Avalon. Almost everyone enters the city via ferry. We had the unique experience of entering the city from the mountains. This turnout to be very fortunate for us because we stopped at the first restaurant we saw. The restaurant is called the Sand Trap, but the only sign we read was Happy Hour: $1 Tacos and $2 beers. Since this place is so removed from the rest of town it's a real sleeper of a joint: great food, great prices, not a lot of people. We learned later that pretty much anywhere else in Avalon, a beer costs $7.
So after we loaded up with tacos and beer, we made our way down into the actual town. It's nearly impossible to bring a car out to the island, so everyone drives golf carts. This might just seem cute at first, but it's actually a pretty smart solution. A golf cart holds the same number of people as a car (4), but takes up half the space. It was amazing to see how many golf carts they could fit into the Vons parking lot.
As we boarded the ferry to depart, we were both excited and sad to be getting off the island. We know we got to experience Catalina at a really unique time. Few people get to see it as lush and as green as we did. In a few weeks, it will all go back to brown and gold. So we tried to suck it all in one last time and appreciate how lucky we were to be there.
Out in the middle of the bay, with the ferry speeding back to San Pedro, we got the chance to look back at the island. It was crazy to see the whole island come into view from a single vantage point. Now every time we're in Los Angeles and we look out at Catalina Island, we will see more than just a little bumpy silhouette out there on the horizon. We will remember that week we spent hiking over nearly every one of those "bumps" and what an incredible experience that was.
Tis' the season!
If you're looking for the perfect gift for a camper, hiker, or outdoors-loving person on your list, you've hit the jackpot! We have a gift guide for everyone, so take a look and find the perfect gift.