Dehydrated Risotto with Vegetables
This post may contain affiliate links.
Creamy risotto rice, hearty mushrooms, and fresh zucchini, this dehydrated risotto is one of our all-time favorite backpacking recipes. Now you can enjoy a warm, comforting bowl of risotto on your next backpacking trip without all time-consuming work!
We love risotto. For us, it's top of the list in terms of comfort food. On a rainy day or chilly night, nothing brings us joy quite like the smell of a rich and creamy bowl of risotto. It's hearty and filling, but still surprisingly bright – especially when cooked with white wine and spring veggies!
We can definitely think of a few nights in the backcountry where a bowl of risotto would have been heavenly. (I'm thinking specifically of a cold and stormy we night we rode out in the Mt. Jefferson Wilderness. Yeesh!)
But despite its morale-boosting qualities, traditional risotto isn't all that backpacking friendly. Between the active cooking time over low, controlled heat (something backpacking stoves are notoriously bad at), and the weight of the ingredients, it's just not the best candidate for lightweight backpacking.
But, we found the solution… make the risotto at home and dehydrate it! This way you can perform all the time-consuming parts of the recipe in the comfort of your home kitchen. Then, when you're out in the field, all you have to do is rehydrate in some boiling water and it's ready to eat!
And course, if you're already dehydrating your risotto at home, then you might as well dehydrate some vegetables to go with it, right? For this particular recipe, we went with zucchini, mushrooms, and peas which add some nutritional punch.
With a little prep work at home, you too can enjoy the rich creaminess of homemade risotto while backpacking in no time at all!
How to make dehydrated risotto
First things first: make the risotto (at home!) Use as little fat when cooking as possible. Normally, if we were making this recipe to eat at home, we would use a decent amount of butter. However, in order to properly dehydrate the rice and prevent it from going rancid, we cut out all of the butter ???? and reduced the fat to just 1 tablespoon of oil (you need something to cook the onion and toast the rice with!).
Saute the onion in the oil until it's soft and just barely golden. Add the rice to the pot and stir to coat in the oil. When the tips of the rice grains turn translucent, add the wine. Stir continuously until the rice has completely absorbed the wine. Then start adding the broth, a half cup at a time, adding more as the liquid is absorbed. Once the rice is tender, remove from the heat, season with salt to taste, and cool.
Spread the rice in as even of a layer on your dehydrator trays as possible. We prefer to use these screen-style trays in our Nesco dehydrator. Since the sauce is so starchy, it doesn't really drip through the holes, and we find that the rice dehydrates more evenly using these trays. You can use fruit leather trays as well if that's all you have and/or your risotto is particularly runny when you go to dehydrate it. If you use the solid fruit leather trays, you may want to flip the risotto when it's halfway dried to promote even drying.
Slice your veggies and place them on the dehydrator trays without overlapping any pieces.
Dry at 135F for 4-8 hours. The rice is done when it's brittle and breaks easily between your fingers. Veggies are done when they are completely dry and no longer have any bend to them.
To pack for the trail: Pack all of the dehydrated ingredients together along with some parmesan cheese and bring along a small container of olive oil for added calories.
How to rehydrate on the trail
At the campsite, dump all of the ingredients into a pot, add 2 cups of water, and start to simmer and stir. The rice and vegetables will start to plump back up and all that starchy goodness will return. Rehydrating this meal at camp takes only a fraction of the time it would take to make it from scratch on site!
Essential equipment
↠ Dehydrator: The Nesco Snackmaster is a great starter dehydrator that won't break the bank. We have been using this one for a few years now.
↠ Dehydrator Liners: Line your dehydrator trays with either the "mesh" or "fruit leather" liners to prevent the risotto and peas from falling through.
More dehydrated backpacking food
↠ Red Lentil Marinara
↠ Backpacking Pasta Primavera
↠ Tortilla Soup
↠ Red Lentil Chili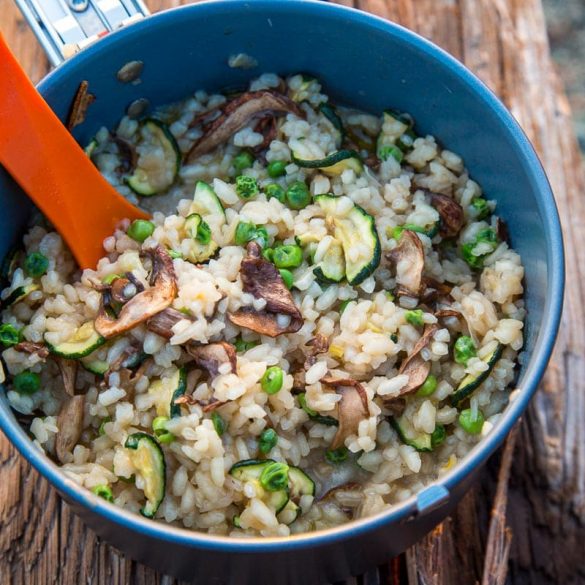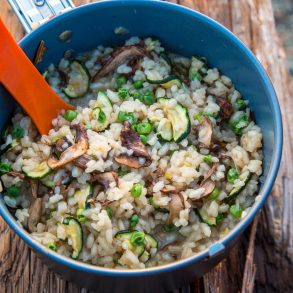 Dehydrated Risotto
This backpacking recipe for dehydrated risotto allows you to make delicious homemade risotto quickly and easily in the backcountry without using a lot of fuel!

Print
Pin
Rate
Save
Saved!
2 servings
Ingredients
1 tablespoon oil
1 small onion, diced
1 cup arborio rice
½ cup white wine
2 cups broth
Salt
1 small zucchini
6-8 mushrooms
¼ cup frozen peas
2 tablespoons parmesan cheese
2 tablespoons olive oil, packed separately
Instructions
Prepare the risotto: Heat oil in a heavy-bottomed pot. Once shimmering, add the onion and salt and saute 6 minutes. Add the rice and saute 1-2 minutes, until the ends turn translucent. Add the wine and cook, stirring continuously, until it has evaporated. Add the broth and cook, stirring frequently and adding water a half cup at a time as needed when the bottom of the pan is dry, until the rice is tender - about 20 minutes. Remove from heat and let the risotto cool for a bit in the pot.

While the risotto is cooling, cut the zucchini and mushrooms into ¼" slices.

Dehydrate: Places the zucchini, mushrooms, and peas onto your dehydrator trays, taking care to make sure the vegetables don't overlap. Line an additional dehydrator tray or two (depending on the size) with a mesh or solid tray liner or piece of parchment paper. Spread the risotto onto the tray in an even layer.

Dehydrate 4-8 hours at 135F, until the vegetables and risotto are totally dry. (You may want to check the risotto half way and flip it to ensure even drying.) Store in a sealed, airtight container until ready to cook at camp.

Pack Your Bear Barrel: Pack the risotto, 2 tablespoons cheese, and a small container of olive oil (optional - will add bonus calories to the meal!)

In camp: Place the dehydrated risotto and veggies in a cookpot along with 2 tablespoons parmesan cheese. Add enough water to just cover - about 2 cups. Optional: Let the food soak for a bit to reduce cooking time & fuel consumption. Bring to a boil and then simmer, stirring frequently, until the risotto and vegetables are tender, adding more water if needed. Enjoy!
Nutrition (Per Serving)
Calories: 684kcal | Carbohydrates: 95g | Protein: 12g | Fat: 23g | Saturated Fat: 3g | Cholesterol: 3mg | Sodium: 1035mg | Potassium: 587mg | Fiber: 5g | Sugar: 8g | Vitamin A: 795IU | Vitamin C: 23.1mg | Calcium: 87mg | Iron: 5.3mg
*Nutrition is an estimate based on information provided by a third-party nutrition calculator