Dehydrated Backpacking Pasta Primavera
This post may contain affiliate links.
Fresh and filling, this dehydrated pasta primavera is not your typical backpacking fare. Loaded with zucchini, summer squash, and tomatoes, this meal offers that burst of vegetables that you've been craving after a few days on the trail.
Finding the "right" nutritional profile for your backpacking food can be a balancing act. On one hand, you want to prioritize caloric density. Fats, oils, and all the rest. But on the other hand, it would be nice to see some vegetables once in a while, right?
We developed this backpacking pasta primavera to check both boxes. Something that is both fresh and filling. While it uses a bunch of dehydrated fresh summer produce, the hearty pasta and rich sauce make it a completely filling meal.
What we love about this Backpacking Pasta Primavera:
↠ Lots and lots of veggies
↠ The capers are little salty, briny flavor bombs
↠ Butter powder! Our new favorite backpacking ingredient
So if you're looking to work some more veggies into your backpacking routine, this dehydrated pasta primavera is a great place to start!
How to make dehydrated pasta primavera & step by step video
To learn how to make this backpacking pasta recipe, watch this 60 second video, or keep reading below!
This recipe begins by dehydrating a bunch of vegetables. We went with zucchini, yellow squash, and cherry tomatoes as they can be dehydrated without being precooked. We also dehydrated some "flavor enhancers": flat-leaf parsley and capers. Load everything up in the dehydrator, set to 135F, and let run for 6-8 hours.
After everything has dehydrated, you can start portioning everything out into a resealable container. You can place a portion of dehydrated veggies, quick-cooking pasta, parsley, capers, butter powder, and dried spices all into the same container (it will all get cooked together).
On Trail Preparation
Out on the trail, empty everything into a pot and add just enough water to cover (you can always add more if needed, but you don't want to start with too much and end up with pasta soup!). Bring to a simmer and stir periodically until the pasta has fully absorbed all of the water. Once it's done cooking add a few tablespoons of olive oil to help pad the calorie count a little bit and add to the overall flavor.
When it's finished, you'll have a big heaping pot of pasta and a beautiful bouquet of colorful vegetables.
Equipment needed
↠ Dehydrator: Our current dehydrator of choice is the Nesco Snackmaster Pro. While it lacks some of the fancy controls of more expensive models, we have found it to be a great, budget-friendly starter dehydrator. There are more expensive models out there, but this one has worked for us so far.
↠ Backpacking Pot: When we're cooking our own meals out on the trail, we use this MSR ceramic coated pot. The aluminum body distributes the heat well while the non-toxic non-stick surface keeps food from scorching and sticking to the bottom (meaning easier cleanup!).
↠ Backpacking Stove: We use an MSR Pocket Rocket 2. Lightweight, compact, and reliable. This has been our go-to stove for most backpacking trips when we're bringing DIY food.
Other backpacking recipes you'll enjoy
↠ Lentil Marinara Pasta
↠ Dehydrated Risotto
↠ Lentil & Bean Chili
↠ Spinach Artichoke Pasta
↠ 35 Backpacking Food Ideas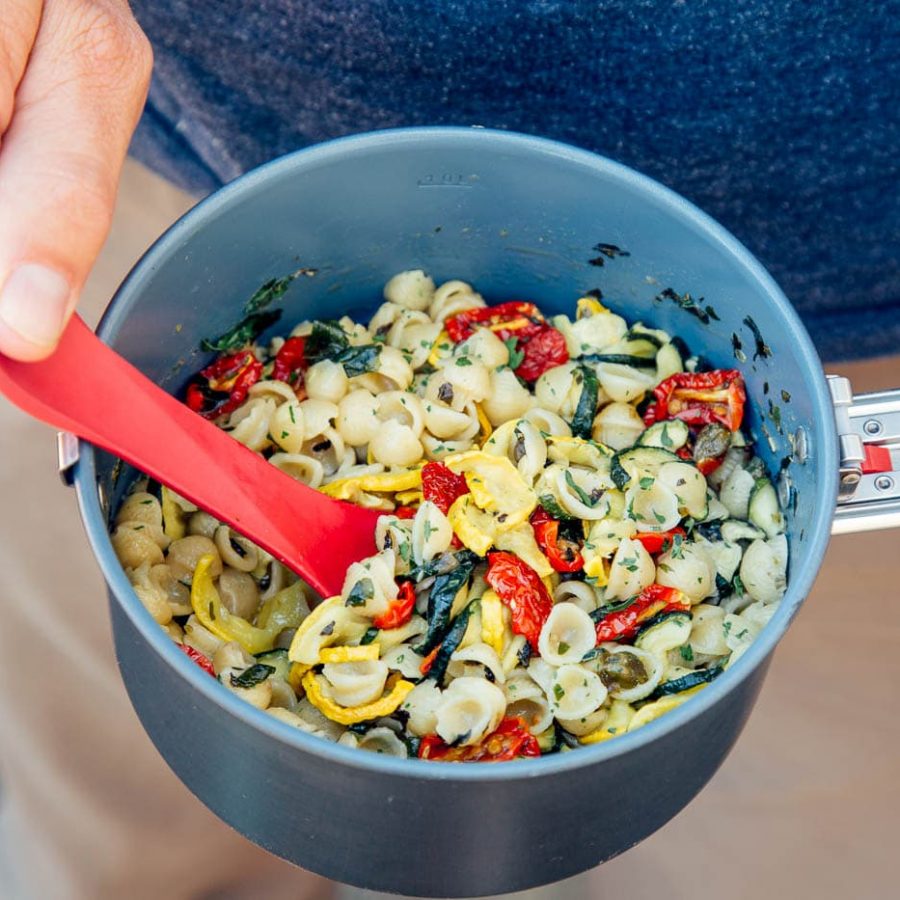 Backpacking Pasta Primavera
Fresh and filling, this dehydrated pasta primavera is not your typical backpacking fare. Loaded with zucchini, summer squash, and tomatoes, this meal offers that burst of vegetables that you've been craving after a few days on the trail.
Print
Pin
Rate
Save
Saved!
2 servings
Ingredients
1 small zucchini, cut into 1/4" thick half-moons
1 small summer squash, cut into 1/4" thick half-moons
14 cherry tomatoes, cut in half
2 tablespoons capers, drained
2 tablespoons flat-leaf parsley, stems removed
1 cup small pasta shells
2 tablespoons butter powder
1 teaspoon dried basil
½ teaspoon dried oregano
½ teaspoon garlic powder
½ teaspoon sea salt
2 olive oil packets, or 2 tablespoons olive oil
2 parmesan cheese packets
Instructions
Place the zucchini, summer squash, tomatoes, capers, and parsley on dehydrator trays and dehydrate at 135 for 8-12 hours until completely dried.
Pack for the Trail
Pack the dried vegetables, pasta, butter powder, spices and salt in a resealable bag along with two parmesan cheese and two olive oil packets, or pack the oil separately in a small container.
On Trail Preparation
At camp, add all ingredients except for the cheese to a cookpot with enough water to barely cover the pasta. Bring to a boil, then reduce heat and simmer for about 10 minutes, until the vegetables are soft and the pasta is cooked through, adding more water if needed.

Top with cheese & enjoy!
Notes
*omit parmesan cheese to make this vegetarian (could subsitute with some nutritional yeast).
Nutrition (Per Serving)
Calories: 330kcal | Carbohydrates: 33g | Protein: 9g | Fat: 19g | Fiber: 3g
*Nutrition is an estimate based on information provided by a third-party nutrition calculator
Tis' the season!
If you're looking for the perfect gift for a camper, hiker, or outdoors-loving person on your list, you've hit the jackpot! We have a gift guide for everyone, so take a look and find the perfect gift.