10 Instant Coffees for Backpacking
This post may contain affiliate links.
If you are like us and can't start your morning without a cup of coffee, backpacking can present a real dilemma. Do you pack a bunch of extra gear just so you can enjoy a well-brewed cup of coffee in the backcountry? Or do you go with instant coffee packets and save yourself a bunch of weight and space? It's the devil's choice. We might be coffee purists at the start of a hike, but after lugging a portable hand grinder and bag of whole beans up the side of a mountain, we become a lot more open to compromise.
The problem is that, despite being lightweight, instant coffee doesn't exactly have the best reputation. (Especially in our current age of coffee 3rd wave enlightenment.)
But, there's been a lot of advancements in "coffee tech" over the past couple years and there are a bunch of new players on the instant coffee scene. So has instant coffee gotten any better? We decided to find out for ourselves.
While there are a lot of people far more qualified to give a coffee review than us, we know what we like: a nice, well-balanced cup of black coffee. And for instant coffee, we think we have pretty reasonable expectations. We don't need our coffee to transport us on a spiritual journey. We just want a solid cup to get us going in the morning without a bunch of hassle.
So we sat down and tried ten different single-serving instant coffee packets to see which one we'd bring along with us on our next backpacking trip. Here's our report on the state of instant coffee.
Method
We tried all ten instant coffees in a single sitting. We mixed each packet with roughly eight ounces of nearly boiling water, stirred, and tasted. Between coffee tastings, we cleansed our palettes with unflavored seltzer water.
Was this the most scientific way to conduct a taste test? Probably not. Could our rating be altered by the order in which we tried them? Absolutely. But this was the best we can offer in terms of first impressions.
Voila
Type: Variety of roasts
Weight: 5 grams
Tasting Notes: "An exceptional cup of coffee. Full stop." This instant coffee completely blows the competition out of the water. It is hands down the best we've ever tried. In fact, it was better than a lot of brewed coffee we've purchased from actual coffee shops. We couldn't believe that such a robust, full-bodied cup of coffee could be produced from a packet. It had a vibrancy and dynamic range to its flavor that puts it on par with a cup of coffee from a local roaster. It's that good.
The Verdict: This is the one you have been searching for.
Where to get it: Voila.coffee
Mount Hagan
Type: Organic Fair Trade
Weight: 2 grams per packet
Specs: USDA certified organic, Fair Trade
Tasting Notes: "Mellow diner-style coffee." For a freeze-dried instant coffee, this one did a pretty good job of replicating the taste of classic diner coffee. Based on the packaging they might have been aiming for something more exotic, but we felt this one hit the mark on producing a mellow, well-balanced cup of coffee with a smooth aftertaste.
The Verdict: If we were out on the trail, we would happily look forward to this coffee in the morning. This was Megan's coffee of choice on our 2019 John Muir Trail thru-hike.
Where to get it: Amazon, Whole Foods, and even some Walmarts
Alpine Start
Type: "Premium Italian"
Weight: 3.1 grams per packet
Tasting Notes: "Well balanced, yet relatively weak." This was a nice, mild cup of coffee that avoided a lot of pitfalls of traditional instant coffee. Its flavor composition holds up for the most part and the aftertaste doesn't devolve into strange weirdness. During our initial testing, we were under the impression this was supposed to be an Italian roast, which is why we were underwhelmed by its intensity. But we now see the box only claims to Premium Italian. We have no idea what that means, but if you're looking for a heavily roasted Italian coffee, this is not it.
The Verdict: A decent cup of instant coffee we would be happy to enjoy out on the trail. This was my choice of coffee on our 2019 John Muir Trail thru-hike.
Where to get it: REI.com
Starbucks Via
Type: Medium Roast (Pike Place)
Weight: 3.1 grams per packet
Specs: Mix of freeze dried coffee and microground coffee
Tasting Notes: "Unequivocally Starbucks." These Starbuck Via packets successfully capture that signature Starbuck's taste we have all come to love/hate. While it's thinner and more muted than an actual cup from Starbucks, it has a lot more depth than most instant coffees. Its aftertaste holds together fairly well and goes out strong, unlike many instant coffees.
The Verdict: If you like Starbuck's coffee, you'll be happy with the relative fidelity of this instant version.
Where to get it: Amazon, Starbucks, and most grocery stores.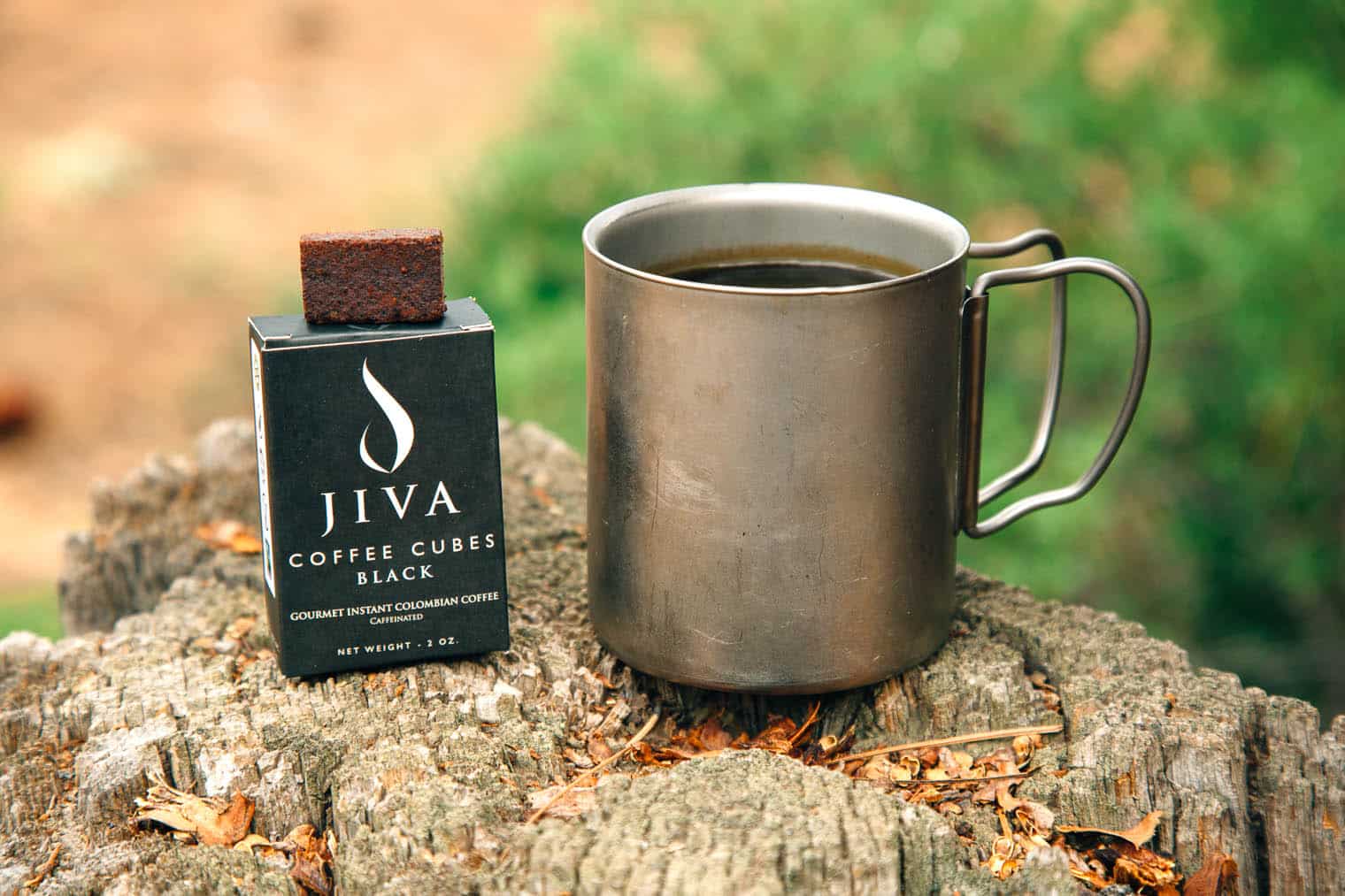 Jiva Cubes
Type: Black
Weight: 8 grams per packet
Specs: Non-GMO, certified Gluten Free, Kosher, certified Vegan, Fair Trade
Tasting Notes: "Sweet." Unlike the other instant coffees, the Jive Cube is a solid cube of granulated instant coffee and sugar. When mixed with hot water it creates a flavor similar to a cup of coffee with a cube of sugar. The coffee flavor is smooth and mild yet somewhat obscured by the much more pronounced sweetness. (We don't typically drink our coffee with sugar.)
The Verdict: If you like sugar in your coffee, this kills two birds with one stone.
Where to get it: Amazon
Stoked Stix
Type: Medium Roast
Weight: 3.2 grams per packet
Specs: 100% Organic Arabica, USDA certified organic
Tasting Notes: "Solid offering" vs "Sour aftertaste." We had split decision on this one. I thought it was a simple yet well-balanced cup of coffee. Not particularly vibrant or showy, but it definitely earned above-average marks in my book. On the other hand, Megan picked up on a sour aftertaste that she found to be pretty detracting.
The Verdict: Hard to say. Who do you believe more? Me or Megan?
Where to get it: Stoked Stix
Maxim
Type: ?
Weight: 3 grams
Tasting Notes: "Weak and ineffective." We don't know much about this instant coffee – but we do know it makes a pretty weak coffee. It tasted like weak coffee-flavored tea water, which just wasn't cutting for us. Even after adding a second packet, it somehow didn't increase the intensity of the flavor either. There was just more assertive thinness.
The Verdict: If you're looking for a pick-me-up in the morning, this coffee may not cut it.
Follow up notes: We have had some fans of Maxim coffee let us know that it is good, but you should use less water or double up on the packets.
Where to get it: Amazon
Trader Joe's
Type: Coffee + Sugar + Creamer
Weight: 12 grams per packet
Tasting Notes: "Sugar and cream with a hint of coffee." We were not quite sure what to make of the swirl of non-coffee related flavors this packet produced. Lots of sugar, lots of creamer, but we couldn't seem to locate the coffee in the mix. Again, we usually drink our coffee black so this was all a little much for us. However, we did start to pick up on an unpleasant dairy aftertaste (burnt milk?) that lingered around long after we finished drinking it. We would definitely need to brush our teeth after drinking this out on the trail.
The Verdict: Definitely not for us. But if you take your coffee with sugar and cream, perhaps all that extra nonsense makes sense to you.
Where to get it: The one and only Trader Joe's.
Cafe Bustelo
Type: Espresso Style
Weight: 2.5 grams per packet
Tasting Notes: "Non-offensive with a slight aftertaste of wet cardboard." This was a very "meh" cup of instant coffee. There's nothing particularly bad about it, but that's about all we can say. Its flavor is pretty muted overall and drifts out with a strange wet cardboard aftertaste.
The Verdict: We would drink it over nothing, but we wouldn't be excited about it.
Where to get it: Amazon
Archer Farms Donut Shop Blend
Type: Medium Roast
Weight: 3.3 grams per packet
Tasting Notes: "Total Horse Sh!t" You don't need to be a coffee connoisseur to appreciate how much this coffee sucks. It had so many undesirable qualities we didn't even know where to start. But our main observation was this ammonia flavor that reminded us either of manure or some astringent cleaning product. We couldn't reach for our palate-cleansing seltzer water fast enough.
The Verdict: Bear Grylls wouldn't even drink this stuff.
Where to get it: Target (But don't. Seriously, it's not good)
Full disclosure: We received samples of Stoked Stix, Alpine Start, and Voila, though received no monetary compensation for including any of these brands in our review. All completely subjective, non-expert opinions are our own.
Tis' the season!
If you're looking for the perfect gift for a camper, hiker, or outdoors-loving person on your list, you've hit the jackpot! We have a gift guide for everyone, so take a look and find the perfect gift.