This post contains affiliate links.
Portable, packable, and loaded with calories, trail mix has been a favorite of hikers and backpackers for generations. It's the perfect on-the-go snack to get you through to the next meal. Whether you like it crunchy, salty, sweet, or spicy, there is a trail mix combination for you.
Now, we'll be straight with you: unless you're making a ton of the stuff, it is probably cheaper to buy premade trail mix from the store than it is to buy separate ingredients and make it yourself. So if cost is your sole motivated, we've done the math, and it doesn't add up.
But if you want to have total control over the type and the quality of the ingredients, than making your own homemade trail is the only way to go! Do you have specific weight/calorie requirements? Do have any dietary restrictions? Are you craving a unique flavor combination you just can't find in stores? Then create your own specialty trail mix that's perfect for you!
If you need some inspiration, we've got three DIY trail mix recipes to get you started.
No Nut-Sense Trail Mix (GF)
½ Pepitas
½ Sunflower seeds
½ yogurt covered raisins
½ Dried tart cherries
½ Dried apricots
½ Coconut chips
Combine all ingredients in a bowl and mix. Portion out into zip-top bags for easy packing.
*If you're in the "it's not trail mix without chocolate" camp, we would highly recommend Dang Chocolate Sea Salt toasted coconut chips for this recipe!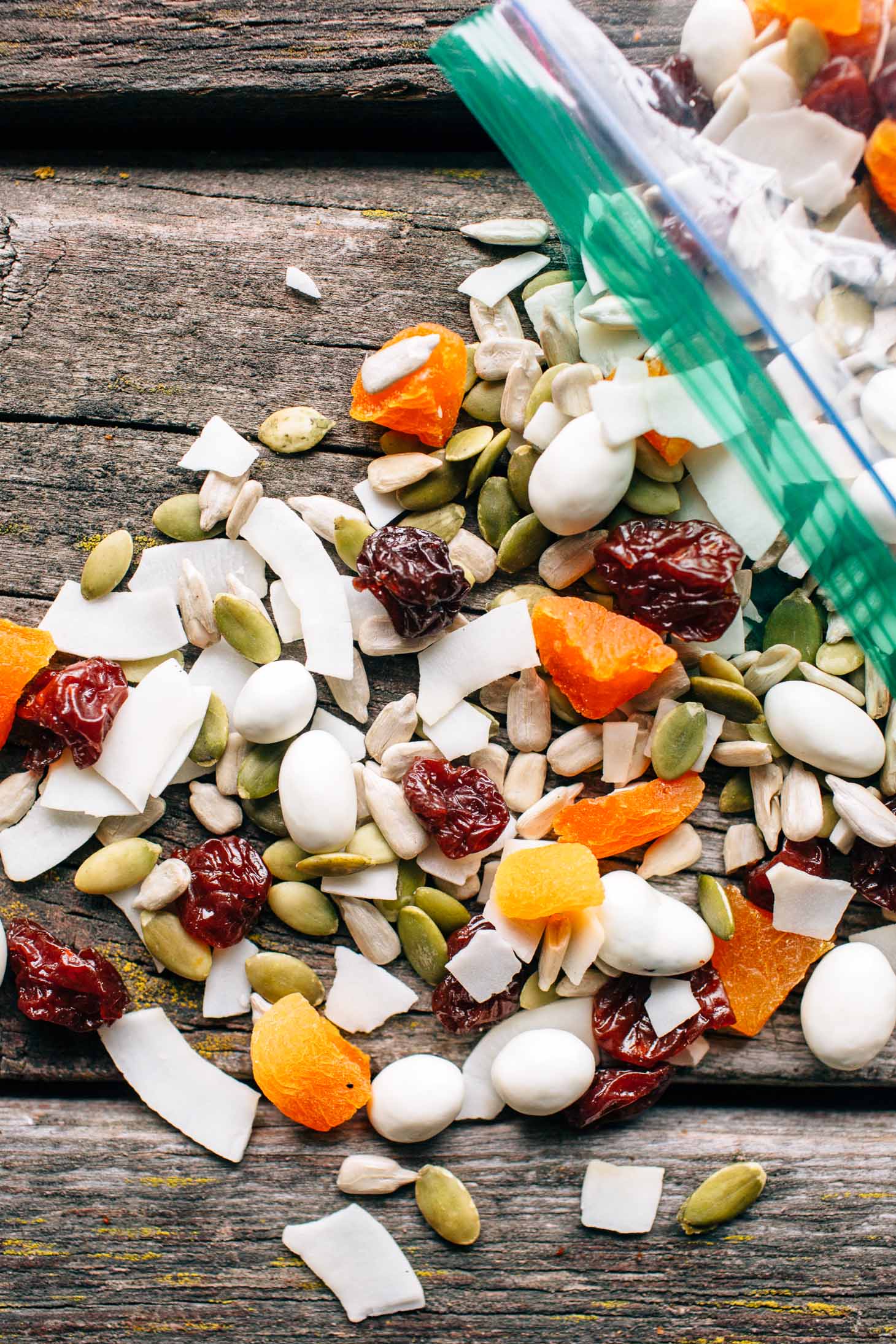 Maple Nut Trail Mix (GF)
½ c Walnuts
½ c Almonds
½ c Pecans
½ c Maple syrup
Pinch of salt
½ c Dark chocolate chips
½ c Dried cranberries
Preheat oven to 300.
Place the almonds, pecans, and walnuts in a bowl and pour in the maple syrup. Mix well with a spoon, then spread onto a parchment paper-lined baking sheet. Sprinkle with a pinch of salt.
Bake for about 20 minutes, then remove from oven.
Once the nuts have cooled completely, break them apart with a spoon or spatula, then place in a bowl with the dark chocolate chips and dried cranberries. Mix to combine, then portion into zip-top bags.
Sweet + Spicy Sriracha Trail Mix (GF option)
½ c Cashews
½ c Peanuts
1 c corn Chex cereal
1 c Pretzels
2 T Honey
2 T Sriracha
1 T Neutral oil
1 tsp liquid aminos or soy sauce
Pinch of salt
Preheat oven to 300.
Add the Sriracha, honey, oil, and liquid aminos/soy sauce to a medium bowl. Whisk to combine. Add the Chex, pretzels, cashews, and peanuts to the bowl, and mix well to completely coat with the Sriracha-honey sauce.
Spread mix onto a parchment paper-lined baking sheet and sprinkle with salt.
Bake for about 18 minutes (check after 15 to make sure the mix isn't burning – ovens may vary), then remove from oven to cool.
Once cool, portion into zip-top bags.
To make this gluten-free: Use gluten-free pretzels and liquid aminos instead of soy sauce.
---