Backpacker's Moroccan Chicken Couscous
This post may contain affiliate links.
Blending North African flavors with lightweight ingredients, this Backpacking Moroccan Chicken Couscous is a quick and easy meal to enjoy out on the trail.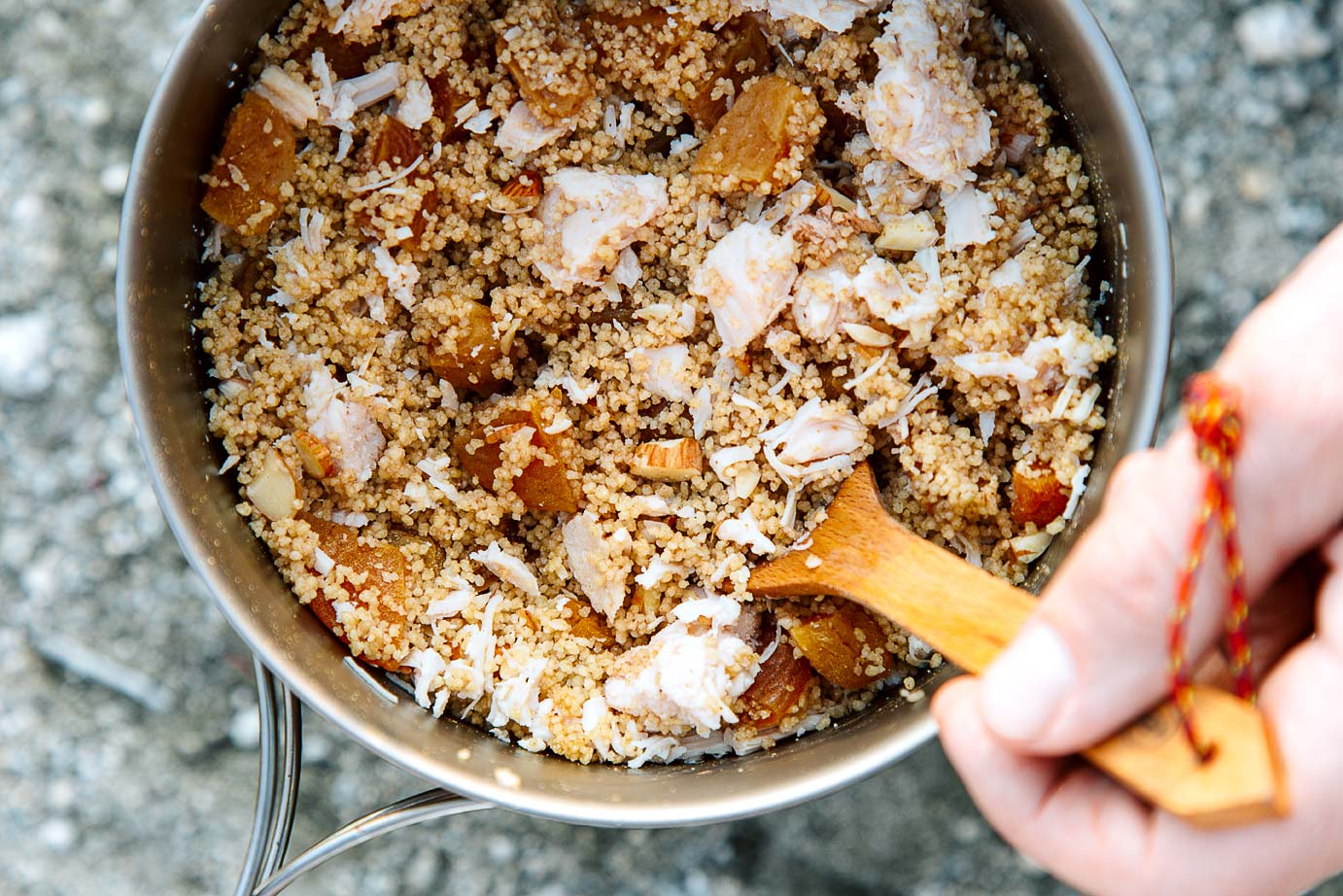 While we've been known to use prepackaged backpacking meals from time to time, we prefer to build our meals from scratch. The goal is to come up with meal ideas that are lightweight, calorie-dense, shelf-stable, and quick-cooking, which, admittedly, might sound daunting at first.
But, you'd be surprised how easy it is to find backpacking friendly ingredients at your local grocery store. And this Moroccan Chicken Couscous is a perfect example.
This one-pot meal captures the flavors of Moroccan cooking, without requiring any special cooking methods. The meal blends the unique flavors of apricots, almonds, ras el hanout, but also delivers hearty basics like chicken and couscous. It's got enough going on flavor-wise to pique your interest without throwing you for a total loop.
Know what else? It's an extremely fast meal to cook. After the water is boiling, couscous only takes about 5 minutes to cook, which is faster than many of the prepackaged boil-in-bag meals. So it's pretty much ready to eat as soon as you are.
Faster cook times = less fuel = less weight = happy hikers!
To save space, we pre-portion all the dry ingredients together in a ziplock bag at home. Then when we're out on the trail we just have to add the olive oil and a packet of chicken.
So if you're looking for some new backpacking meal ideas to help you mix up your routine, give this one-pot Moroccan Chicken Couscous a try the next time you hit the trail.
Other DIY Backpacking Meals You'll Enjoy
↠ Red Lentil Chili
↠ Dehydrated Risotto with Vegetables
↠ Backpacker's Chicken Marbella
↠ Revamped Backpacking Ramen
Instructions
At home: Place the couscous, apricots, almonds, ras el hanout, and salt in a resealable bag. Pack along with the olive oil packets (or small container of oil), chicken pouch, and True Lemon.

At camp: Bring ~5oz water and oil to a boil in your cookpot. Add the couscous, apricots, nuts, spices, and True Lemon to the pot. Give it a big stir to combine, add in the chicken, then cover and remove from heat. Let stand for 5 minutes. Fluff with a fork or spoon and dig in!
Notes
MAKE IT VEGETARIAN/VEGAN
This could easily be made vegetarian or vegan by replacing the chicken with a protein source such as TVP or soy curls.
NOTE ABOUT SERVING SIZE
We estimate that this recipe as written will satisfy 2 hikers. However, everyone's appetite is different on the trail, so you may need to adjust this recipe to suit. We highly recommend trying any backpacking recipe at home before taking it into the backcountry so that you can make any adjustments so it will work best for you.
Nutrition (Per Serving)
Calories:
665
kcal
|
Carbohydrates:
79
g
|
Protein:
40
g
|
Fat:
24
g
|
Fiber:
12
g
*Nutrition is an estimate based on information provided by a third-party nutrition calculator