The Ultimate Guide to Gluten Free Backpacking Food
This post may contain affiliate links.
There are tons of gluten-free backpacking food options out there, but the trick is knowing where to look! In this guide, we've collected options as we could find to build a comprehensive resource for gluten-free backpacking meals!
Whether you have Celiac, are gluten intolerant, or just trying to cut down your gluten consumption, trying to find gluten-free backpacking food often requires an exhaustive amount of "label-reading". This means parsing through every ingredient list with a magnifying glass to ensure some weirdo wheat-derivative wasn't slipped into an otherwise benign-looking product.
Thankfully the backpacking food industry has realized the growing demand for gluten-free products and has not only started producing more options but properly labeling their gluten-free backpacking meals.
So we scoured the internet to find as many gluten-free freeze-dried and dehydrated meals as we could, and we're sharing them all in one place. So if you are a gluten-free backpacker — this is your one-stop-shop!
What Makes For Good Backpacking Food?
There are a few factors to keep in mind when determining whether a food is good for backpacking: shelf-stable, weight, calorie density, and cook speed.
Shelf-Stable: It's important to use ingredients that can be stored at room temperature. You can get away with bringing some things like cheese or salami if you eat them in the first few days, but for the most part, you want to skip anything perishable.
Lightweight: Since you have to carry it every step of the way, backpacking food should be as lightweight as possible. Dehydrated and freeze-dried foods tend to be lightest, though there are plenty of grocery store options we'll review as well.
Calorie Dense: Backpacking takes a lot of energy, so you need food that can properly refuel you. When we plan our backpacking food, we try to average 115-130+ calories per ounce to keep the weight down.
Cooking Time: Consider how much patience you have to cook your food and how much fuel you will be bringing. Quicker cooking foods tend to be preferred by most backpackers for fuel conservation.
How Much Food Should You Pack For Backpacking?
For most backpackers, who plan on hiking all day with a heavier pack, Backpacker.com suggests aiming for 25-30 calories per pound of body weight, per day. For shorter hiking days (less than 2 hours) or if covering less strenuous terrain, you can scale it down to 21-25 calories per pound of body weight, per day.
Instead of eating just three meals per day like you might at home, aim to eat throughout the day and consume 30-60 grams of carbohydrates per hour (source) to keep your energy high and prevent hitting the wall.
Again, these are just rough estimations. Everyone's body burns calories at different rates. So if you are preparing for a longer backpacking trip, you will absolutely want to do a few weekend shakedown trips to get a sense of what your appetite will be like.
Gluten-free backpacking Breakfasts
One of the best things you can do to ensure you have a good day on the trail is to start with a solid breakfast. If you start with an empty tank, you'll be playing caloric catch-up all day long. Thankfully there are lots of great gluten-free breakfasts, even for those who usually aren't crazy about breakfast.
Gluten-Free Breakfast Recipes
Gluten-free lunches, snacks, and bars
When we're backpacking, we like to maintain a steady drip of calories over the course of the day. This keeps our blood sugar up and provides our muscles with a steady source of energy. We accomplish this via constant snacking.
Morning snacks end with a large mid-day snack (aka lunch), which marks the start of our afternoon snacking. The whole hike is just one big movable feast!
Gluten-Free Snack/Lunch Recipes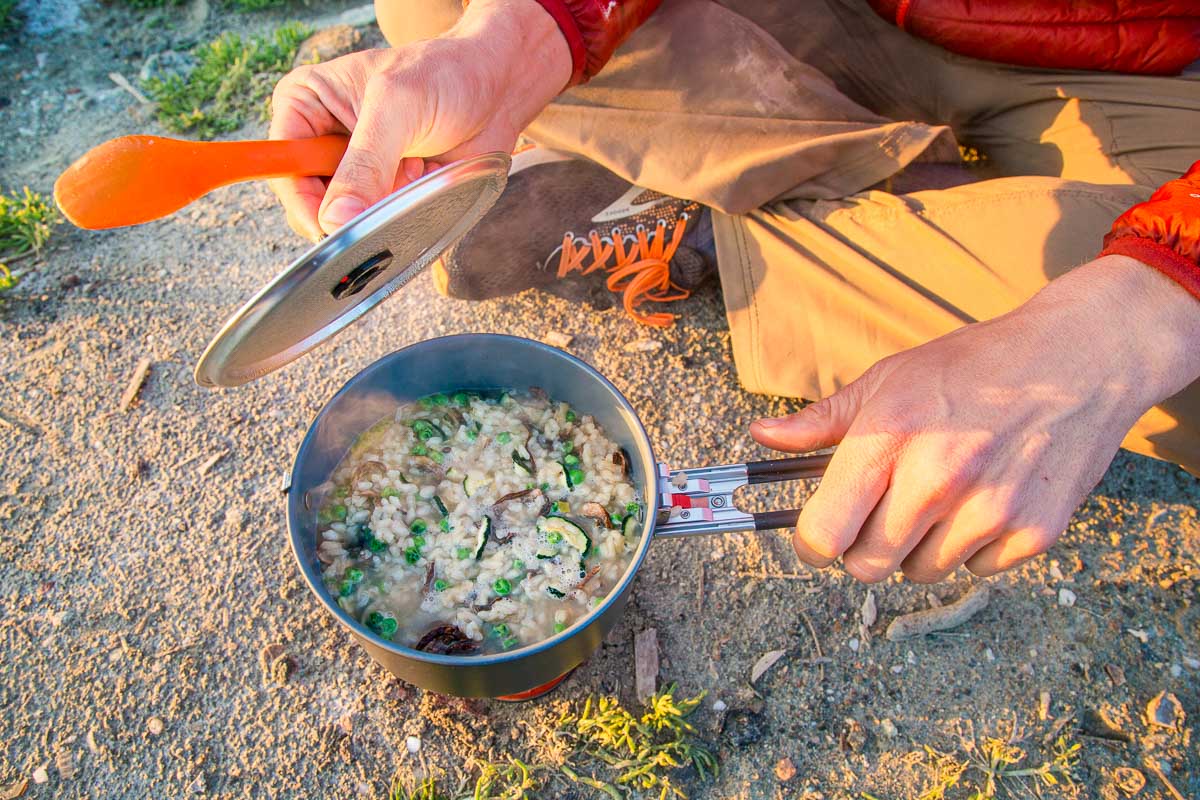 Gluten-free backpacking dinners
Dinner, the main event. We spent an inordinate amount of time daydreaming about dinner throughout the day, so it's really nice when it lives up to expectations! There are a lot more gluten-free options now than ever before. Some from brands you know, but many more from new startups. We hit many of the highlights below.
Bulk Freeze-Dried / Dehydrated Ingredients
If you're building your own backpacking meals from scratch, it can be nice to buy some individual freeze-dried and/or dehydrated ingredients in bulk. Here are some of the resources we personally use when developing our own backpacking recipes.
Condiments and extras
These are some of our favorite extras to add either calories or flavor to our meals.
DIY Backpacking Recipes
The sky's the limit if you're up to making your own meals. While we've developed a lot of different backpacking recipes over there years, we'll give you our personal favorites here (ssh, don't tell the others!)
Backpacking desserts
If you're backpacking then you're technically on vacation and dessert shouldn't be out of the question! Kidding aside, backpacking desserts can be great to have on hand for special occasions, like on your last night out or as a morale booster after a rough day. They can also be a great way to pad out your dinner's calorie count.
Dehydrated / Freeze Dried Desserts
There are a lot of "just add water" desserts on the market. So boil a little extra water for dinner and make yourself a little something sweet for afterward!
Favorite backpacking cooking gear
We have a whole post dedicated to our backpacking cooking gear picks, but here are some of the basics:
Check out our in-depth post about the best backpacking stoves on the market.
Looking for more backpacking food resources? Check out our index of all our gluten-free backpacking recipes and our ultimate guide to dehydrating food for backpacking!
This post was first published March 1, 2018 and last updated on March 12, 2021 with up to date information.