The Best Camping Snacks to Enjoy this Summer (Easy to prep!)
This post may contain affiliate links.
Stay energized for a weekend full of adventure with these great camping snacks! We're sharing a ton of ideas beyond the classics, including healthy snacks, snacks for kids, and next-level ideas for "glamping"!
When meal planning for a camping trip there's a tendency to only focus on the main meals: breakfast, lunch, and dinner. But the thing that will most directly affect the mood and vibe of your trip is what we call "the snack situation".
Snacking is a huge part of camping. Being able to nibble on something throughout the day not only keeps people full of energy but provides a communal activity to jumpstart those laid-back, relaxing feelings. Sitting around the campfire, having good conversations, taking in the serenity of nature — all these things are made better with snacks.
If you are looking for some new camping snacks for your next outdoor adventure, you're in luck! In this post, we're sharing all kinds of snacks that are easy to prep and pack. So, let's dive in and help you find your new favorite snacks to keep you going all weekend long!
40 Camping Snack Ideas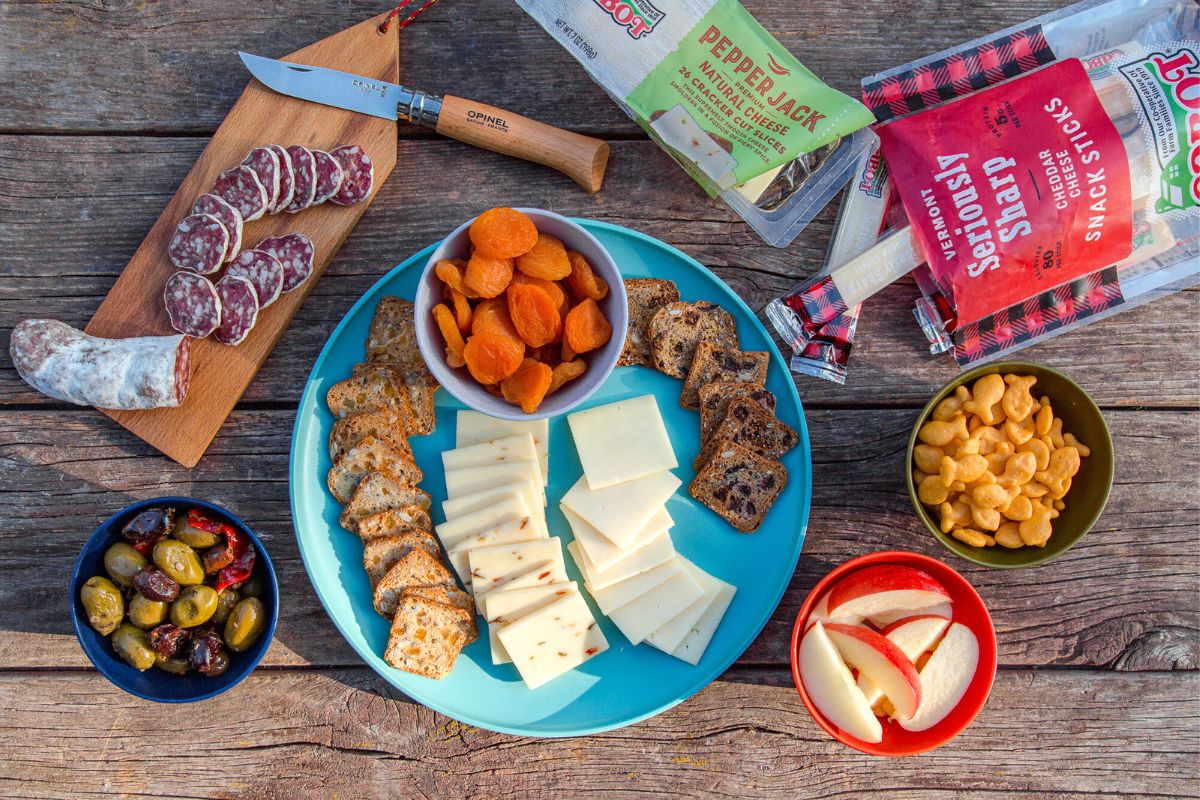 Best Camping Snacks–the Classics
We're sharing a bunch of fun and unique camping snack recipes in this post, but sometimes you need to stick with the easy, tried-and-true classics. Here are some easy camping snacks that everyone will enjoy!
Chips & Dip
Snacking really doesn't get easier than chips & dip! Pick up your favorite potato chips from the store along with a jar or two of dip (jars are great because they seal well to be stored in your cooler). Or, if you're feeling a little more ambitious, you can make your own dip before your trip.
Here are a few recipes to check out:
Chips & fire-roasted salsa
If tortilla chips and salsa are more your thing, put your campfire to use and make this fire-roasted salsa to snack on! It's super simple to make, and way better than what you will find in the store.
Peanut butter-filled pretzels
Peanut butter-filled pretzels are a perfect snack! They're packed with protein and healthy fats and are super easy to bring along. Plus, the crunchy, salty combo is just so tasty, making them a satisfying treat to munch on while you're on a hike or just hanging around the campground.
Beef jerky
Beef jerky is a protein-packed snack that's great to have on hand if you're going to go on a day hike during your camping trip. Pick up a package of your favorite brand from the grocery store, or make your own jerky using a dehydrator if you own one!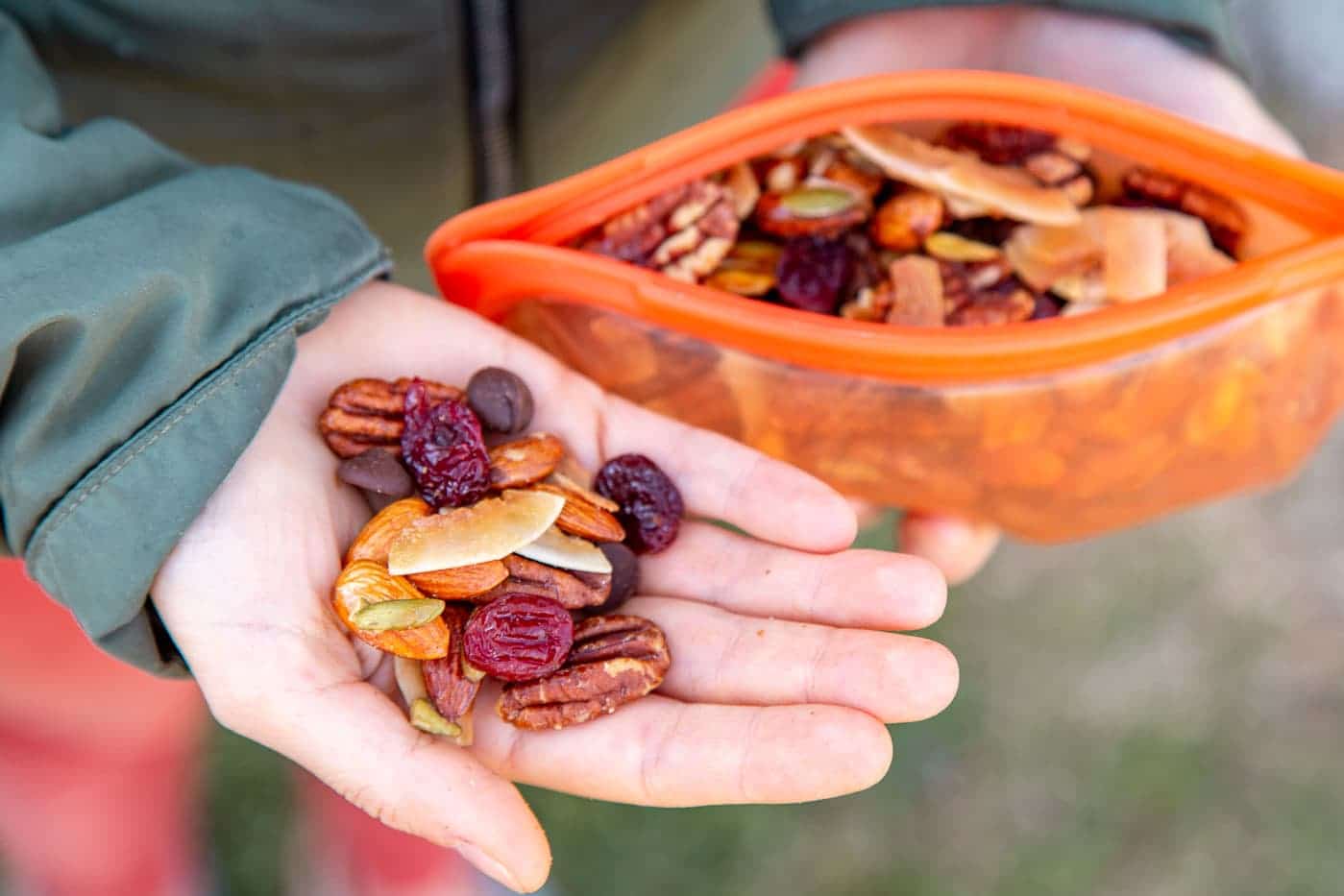 Trail Mix
Trail mix is a camp classic that's easy to customize with your favorite nuts, seeds, and dried fruit. It's super portable and packable, so it's great to have on hand for hikes or excursions from the campsite. Our favorite is this sweet and salty maple trail mix.
Or, if you're feeling creative, here are some mix-and-match ingredient ideas to help you come up with your own recipe:
Nuts: Almonds, cashews, pistachios, peanuts
Seeds: Pumpkin seeds (pepitas), sunflower seeds
Fruit: Raisins, dried cranberries, dried apricots, shredded coconut, banana chips
Fun add-ins: Pretzels, chocolate chips, M&M's, mini marshmallows
Make-Ahead Camping Snacks
One of our best camping food tips has always been to prep as much as you can ahead of time. Here are a few make-ahead ideas so that you have snacks ready to go once hunger hits.
Energy balls
Energy balls are simple to make and are jam-packed with nutrients to keep you energized. Plus, you can customize the ingredients to your liking–whether you prefer something sweet, savory, or a mix of both. And since they're easy to store and transport, you can snack on them anytime and anywhere during your trip.
Here are a few easy recipes to try:
Chocolate Chip Trail Mix Cookies
These trail mix cookies are a delicious twist on classic chocolate chip cookies, loaded with rolled oats, nuts, and dried fruit for that extra crunch and chewiness. What's great is that you can use whatever trail mix ingredients you like, so it's a fun way to experiment with different flavors and textures. And as a bonus, you can store them in an airtight container for up to five days, making them a perfect snack to bring along on your next camping trip or hike.
Fruit leathers
Homemade fruit leathers are such a fun snack! They're super easy to make and are a tasty way to sneak in some extra servings of fruit. Plus, they're a healthier alternative to store-bought fruit snacks, which can be loaded with added sugars and preservatives.
The flavor combinations are endless! Some of our favorites include:
Learn all about how to make fruit leathers here.
Apple chips
Apple chips are a great way to get a satisfying crunch – without the guilt of potato chips! Made using just apples, they're a healthy snack option that's perfect for satisfying your sweet tooth without any added sugar or artificial flavors. They're also Lightweight and easy to pack, apple chips are a great snack to bring on your next trip!
Learn how to make apple chips here.
Tuna or chicken salad
Pre-made tuna or chicken salad can be stored in a small container in the cooler and eaten with crackers or bread for a quick and filling snack. Or, try it in a pita or a wrap with some sliced veggies for a light lunch.
Hard-boiled eggs
Hard-boiled eggs are a convenient and protein-rich snack that can be eaten on their own or paired with veggies. They're easy to make ahead of your trip–here's a quick guide on how to make them. Just remember to store them in a cooler to keep them fresh and safe to eat.
Healthy Camping Snacks
We'll be the first to admit that a lot of classic snacks for camping tend to be a little on the salty, fatty, or sugary side of the spectrum. But eating healthy doesn't mean joylessly eating rice crackers and kale chips either!
If you're looking to lighten up your snack situation, but still keep things fun, here are some healthier snacks to pack along.
Fresh Fruit
Fresh fruits are a great way to enjoy something sweet without having to reach for processed, sugary snacks. We love to bring an assortment of fresh fruits on our camping trips since most fruits don't require refrigeration. While cold grapes make a refreshing snack, other fruits like apples and oranges won't take up room in your cooler.
Fruit can be enjoyed as is or sliced up and added to breakfasts like oatmeal or yogurt. You can also use fruit as a healthy topping for pancakes or waffles or even as a dessert option. The possibilities are endless!
Here are a few of our favorite fruits to bring when we're going camping:
Apples
Pears
Grapes
Oranges or clementines
Kiwi
Melons (cut up at home and store in a hard-sided container in the cooler)
Berries (transfer to a hard-sided container)
Bananas (use them early before they get too ripe and strong smelling)
Mango (slice at home and store in a hard-sided container in the cooler to prevent bruising)
Peaches & other stone fruit (slice at home and store in a hard-sided container in the cooler to prevent bruising)
L.A. Fruit Cart-Style Fruit Salad
When regular old fruit doesn't cut it, try out this fruit salad idea. When we lived in Los Angeles, it was common to see fruit carts at parks and in our neighborhood. You could buy a bag of fresh-cut fruit, with a bit of lime squeezed over it, and then chile seasoning sprinkled on top for just a bit of spice. It was divine on a hot day!
Make your own using a combination of cut cantaloupe, honeydew, watermelon, pineapple, mango, or strawberries, then add a bit of lime juice and top with Tajin.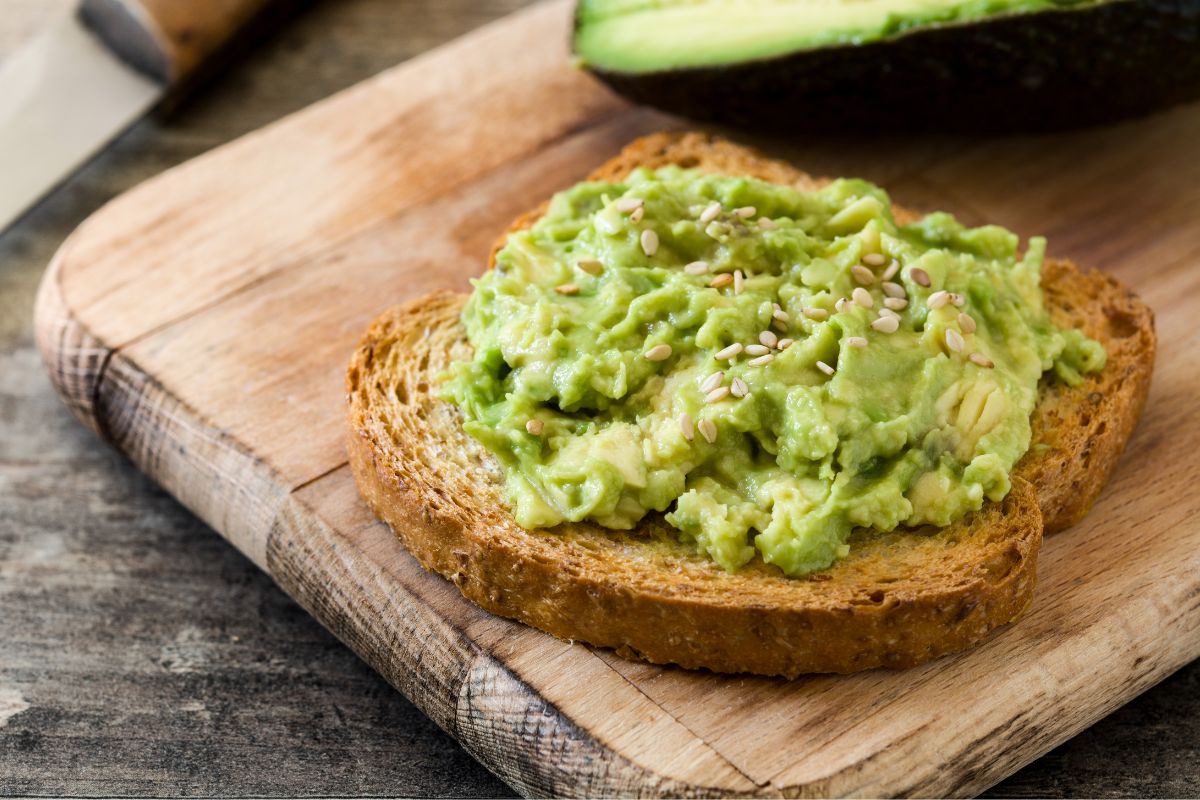 Avocado Toast
Avocado paired with whole-grain bread is a great source of complex carbohydrates and healthy fats that provide sustained energy throughout the day. You can add extra toppings to your avocado toast, such as tomato, spinach, or egg, to boost the nutrient content even further.
Dried fruit
Dried fruit is an easy snack to bring along on a camping trip. They don't require refrigeration and are packed with nutrients to keep you energized all day.
The great thing about dried fruits is that they are so versatile and can be used in so many different ways, whether you're adding it to your favorite trail mix, using it to sweeten up your morning oatmeal, or just snacking on it straight out of the bag.
These are a few of our personal favorites:
Yogurt with fruit and granola
Yogurt with granola is already one of the easiest camping meals, and it makes a great snack, too! It's full of protein, and we love the sweet and crunchy combo of fruit and granola.
Hummus with veggies or pita chips
Pick up a tub of hummus or make your own, and snack on it with a spread of sliced bell peppers, carrots, celery, cucumber, jicama, sugar snap peas, or pita chips. This is a high-protein, fiber-rich snack that will keep you feeling full between meals.
Glamper-approved snacks
Sometimes when you're camping, you want your snacks to have a bit of a "wow" factor. Perhaps it's a special occasion, or just a really nice location. If you're feeling fancy, here are some snack ideas that don't take a ton of extra effort, but will definitely impress your campmates!
Spiced nuts
A mix of spiced nuts is a fantastic way to satisfy your cravings while providing a dose of healthy fats and protein. Prepare a blend of your favorite raw nuts, then toss with a bit of oil and spices like cayenne pepper or paprika. Roast them on a baking sheet in a 350 oven for about 15 minutes and then let them cool before packing them for your trip.
Trader Joe's Dolmas
Dolmas are a popular snack or appetizer made with grape leaves stuffed with a mixture of rice, herbs, onions, and sometimes ground meat, then rolled into small parcels and cooked in a savory broth. They are typically served cold with a drizzle of lemon juice or a dollop of yogurt on top.

While you can certainly make your own ahead of time, for a casual summer camping trip, we prefer to pick up a tin of them from Traders Joe's.
Salami
Sliced salami is great on its own or added to a cheese plate with crackers or bread.
Cheese
Cheese, on its own or as part of a spread, is just about the easiest "fancy" snack there is. Hard and semi-hard cheese will pack best and last the longest. Here are a few of our favorites:
Smoked Gouda
Manchego
Sharp cheddar
Colby
Pepper jack
Olives
Bursting with flavor, loaded with healthy fats, and offering an air of sophistication, an assorted mix of olives is a fantastic camping snack idea.
Bacon-wrapped dates
Bacon-wrapped dates are a perfect mix of sweet and savory. These tasty apps can be prepared at home and then cooked over the campfire. The combination of sweet and chewy dates with crispy bacon makes this one of our favorite campfire snacks.
Campfire spinach artichoke dip
Warm, cheesy, and packed with flavor, spinach artichoke dip is perfect for dipping your favorite chips, crackers, or veggies. Combine cream cheese, spinach, artichoke hearts, and your choice of seasonings in a foil packet or cast iron skillet. Cook it over the campfire until it's warm and bubbly for a comforting and delicious snack.
Antipasto plate
An antipasto plate is perfect for snacking, offering a variety of flavors. Combine marinated artichoke hearts, cherry tomatoes, olives, and cheese for a delicious and easy-to-assemble Mediterranean snack plate. This no-cook option is perfect for sharing!
Proscuitto wrapped melon
For a refreshing and flavorful bite, try prosciutto-wrapped melon. The sweet, juicy melon pairs perfectly with the salty, savory prosciutto. It's an easy and tasty snack that requires minimal prep and no cooking.
Bruschetta
Whip up a quick and flavorful bruschetta by topping slices of crusty bread with a mix of diced tomatoes, basil, garlic, and a drizzle of olive oil and/or balsamic vinegar. This classic Italian appetizer is easy to prepare and makes a great snack or light lunch.
Proscuitto wrapped asparagus
Class up your camping happy hour with prosciutto-wrapped asparagus. Simply wrap each asparagus spear with a thin slice of prosciutto and cook them over the campfire or on a portable grill until tender. The combination of smoky, salty prosciutto and tender asparagus is *chef's kiss*.
Currywurst
Currywurst is a popular street food in Germany, and a simplified version can easily be made at your campsite! Grill some hot dogs over your fire, then slice them into bite-sized rounds. Then, make the curry ketchup by stirring 1 tablespoon of curry powder into 1 cup of ketchup (this is a very simplified recipe–here's a more labor-intensive but authentic version!).
Campfire Popcorn
Nothing beats the fun of making popcorn over a campfire. Just pack some popcorn kernels, a little oil, and a popcorn popper (you can also use a stainless steel pot with a lid). Enjoy the show as the kernels pop, and then add your favorite seasonings. This is such a fun snack to enjoy with family around the campfire.
Nachos
Who doesn't love nachos? Assemble a simple version by layering tortilla chips with shredded cheese, beans, and your favorite toppings. Wrap them in foil, or make them in a Dutch oven, and heat them over the campfire until the cheese is melted and gooey. This mouthwatering campfire snack is sure to be a hit with everyone.
Kid-friendly camping snacks
Whenever we camp with other families, there's usually a pack of kids that rove from campsite to campsite in search of snacks. Here are some easy ideas to keep your kids' energy up and belly happy during your trip.
Granola bars
Have a few granola bars on hand to stash in your daypacks if you go on a long hike. These are portable and provide quick energy for kiddos if they start to drag their feet on the trail.
Apple Slices with Peanut Butter
Crunchy sliced apples paired with creamy peanut butter are an easy snack that kids will love. If you want to prep the apples ahead of time, soak them in a lemon juice & water bath for a few minutes to keep them from browning.
Ants on a Log
Here's another camping-friendly idea that kids love: Ants on a Log! Spread peanut butter on celery sticks to create the "log" and top with raisins for the "ants".
String cheese
Portable and protein-packed, cheese sticks are a classic kid's camping snack. They require no prep and can easily be stored in a cooler. Choose from a variety of flavors like cheddar, Colby, or pepper jack to keep things interesting.
Banana boats
This is one of our favorite camping desserts, but it's a fun snack any time of day! Slice a banana lengthwise, fill it with chocolate chips or chopped chocolate bars, crumbled graham crackers, and mini marshmallows, and wrap it in aluminum foil before grilling it over the fire.
Peanut Butter and Jelly Sliders
We're including these PB&J Sliders in the kid's section, but we bet the grown-ups will want some, too! Spread peanut butter and jelly onto sweet Hawaiian bread slider rolls for a super simple but totally different PB&J. Want to take it up a notch? Add sliced banana and a drizzle of honey.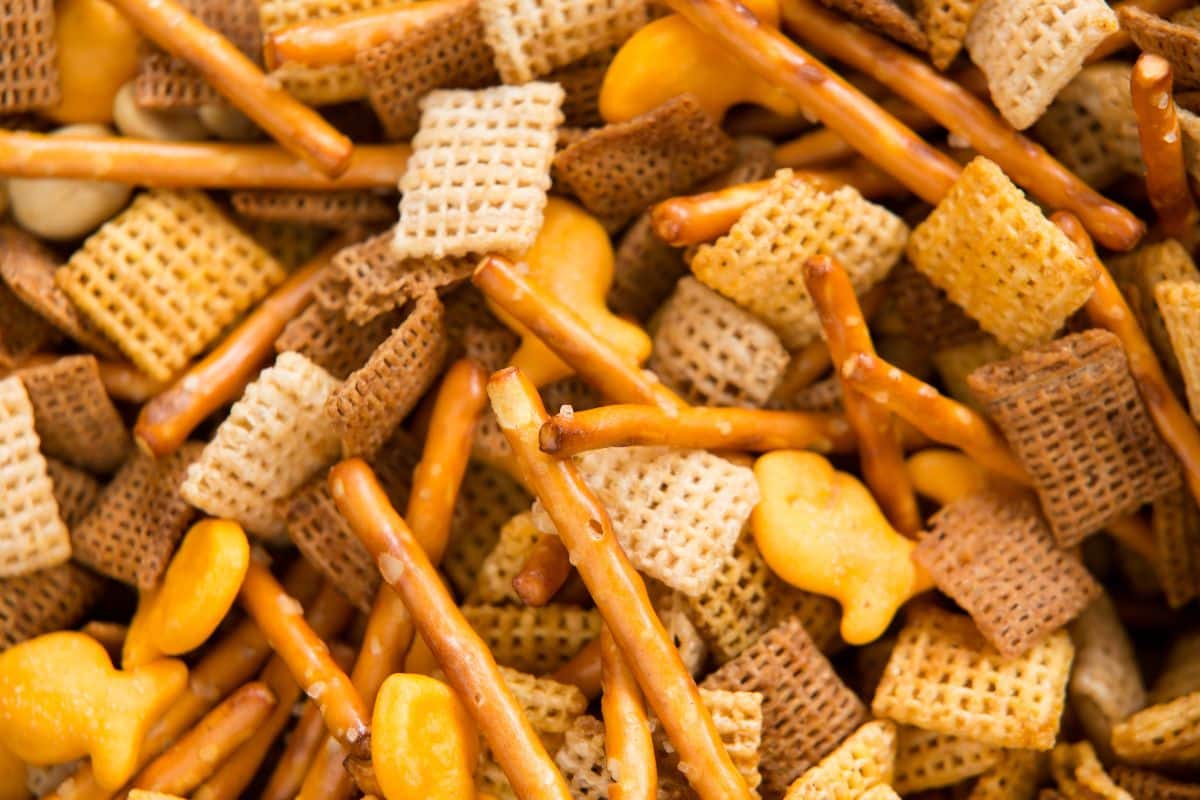 Savory snack mix
Whether it's store-bought Chex Mix or something homemade, a salty and savory snack mix is always nice to have around to munch on between meals.
Quesadillas
Whip up some quick and delicious quesadillas with your kids' favorite fillings, like cheese, beans, or cooked veggies. This versatile snack is easy to make between meals or as a light lunch.
Cereal
Dry cereal is great finger food for smaller campers. Put Cheerios, Chex, or another favorite cereal in a small cup or bowl for a super simple snack.