Trail Mix Bliss Balls
This post may contain affiliate links.
These bliss balls are a whole-foods alternative to pre-made trail snacks!


Social media, Instagram in particular, has been getting a bad wrap lately. We've seen firsthand just how far people will go while trying to get the perfect shot, often putting themselves or the environment at risk (like climbing over safety barriers or trampling on vegetation in National Parks). Between this sort of reckless behavior and the emerging conversation calling Instagram out for being "fake", it's easy for the whole thing to leave a bad taste in your mouth. However, even though social media is repeatedly lambasted as a poor substitute for real human connection,  we've found it to be our greatest tool for finding like-minded people to connect with across the country. Case in point: fellow road tripper @erinoutdoors.
What started as friendly commenting on each other's photos lead to email conversations about road tripping and must see spots across the west coast. We eventually found out that we'd be rolling through her home base in Boulder, CO right when she wrapped up her road trip, and she graciously offered to host us for a few days. We hit it off right away, and what do you know? The Instagram handle @erinoutdoors suddenly transformed into a real human connection with a fellow adventurer named Erin. (TL;DR: social media is just a tool – it's all about how you choose to engage with it.)
Our time in Boulder with Erin was a flurry of hiking, yoga, cooking, Colorado craft beer drinking, and conversations about the next adventure. While we were there, she introduced us to her friend Lee's brilliant concept: the Bliss Ball. Snacks are always a tough one for us because we have no access to a kitchen most days to make our own, and most store-bought snacks are full of sugar, salt, and who knows what else. These bliss balls are a whole-foods alternative to pre-made trail snacks and will be our go-to choice whenever we have access to a full kitchen.
The base is just two ingredients: dates and cashews. They get processed into a dough (in this case, with Erin's Vitamix, which is now my #1 item to add to our kitchen once we give up our nomadic life). As for the toppings, the sky's the limit! Erin chose to roll her bliss balls in goji berries and chia seeds. We went with a festive color combination and rolled ours in green pepitas and ruby red cranberries for a sweet and crunchy combination reminiscent of a classic trail mix.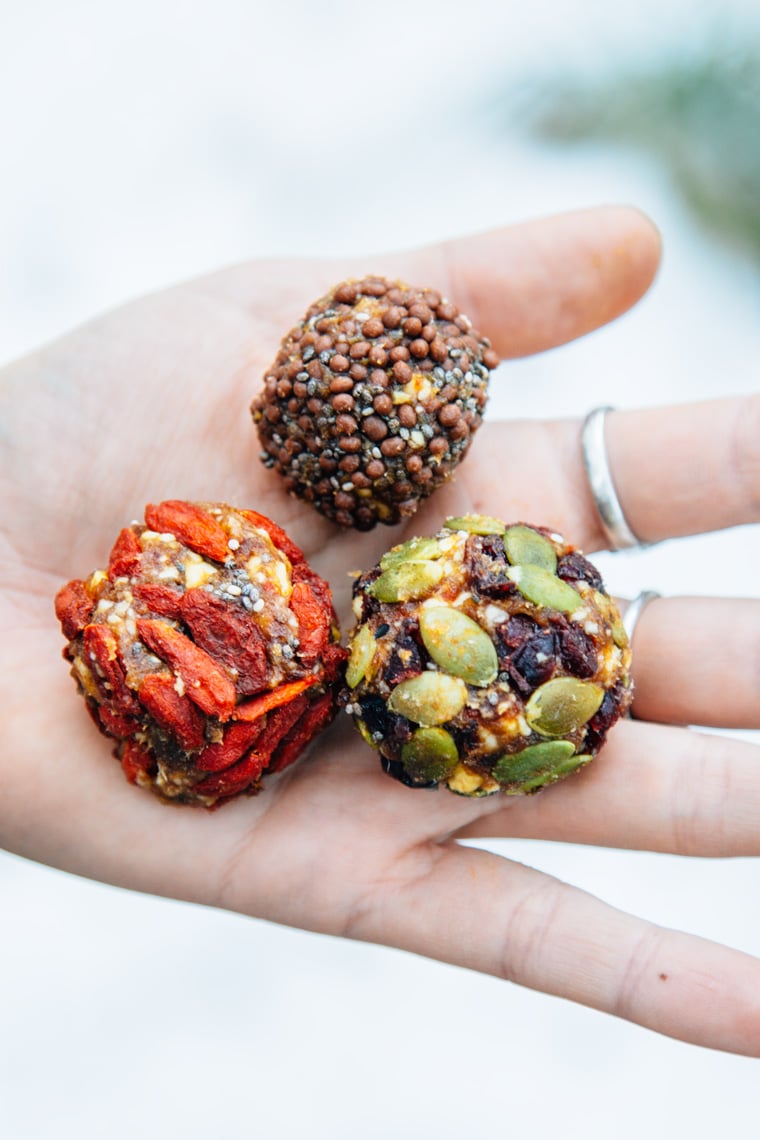 Trail Mix Bliss Balls
Endlessly customizable, this date and cashew bliss balls are a great snack to take on your adventures for when you need a little energy burst.
Print
Pin
Rate
Save
Saved!
Ingredients
10

dates

,

pitted and soaked in water for 10 minutes

¼

cup

cashews*

3

tablespoons

pepitas

3

tablespoons

dried cranberries
Instructions
In a Vitamix or a food processor, process the dates and cashews until a sticky dough forms.

Divide the dough into 8 equal parts and roll between your palms to create a ball.

Spread the pepitas and cranberries on a flat surface (like a cutting board or plate) and roll the balls over them to coat.

Store the bliss balls in an airtight container in the fridge until you're ready to hit the trail!
Notes
*if you're using a high powered blender like a Vitamix, you can skip soaking the cashews, otherwise give those a good soak warm water to soften them.
Equipment Needed
Vitamix or food processor
Recipe based on Lee From America's bliss balls
Nutrition (Per Serving)
*Nutrition is an estimate based on information provided by a third-party nutrition calculator