How to Make Dried Mango
This post may contain affiliate links.
A soft and chewy texture with a burst of tropical flavor, dried mango slices are one of our favorite "healthy" snacks.
We were introduced to the idea of dried mango by Trader Joe's. Their Just Mango Slices has been one of our go-to hiking, backpacking, camping, road trip snack for years! We're such big fans our parents started putting them in our Christmas stockings!
But making your own dehydrated mangoes at home is super easy too! Whether you already own a dehydrator or want to use your oven, you can be enjoying your own homemade dried mango in no time!
Mango is a tropical fruit and therefore can be found fresh year-round more or less. Frozen mangoes are also available in the freezer aisle of nearly every major supermarket in the country. So any time of year is a great time to make your own dried mangoes.
So let's get started. We'll tell you everything you need to know to make your own soft and chewy dried mangoes!
What types of mangoes can be dehydrated?
Ripe, fresh mangoes or frozen mangoes both dehydrate well. There are a couple of trade-offs to consider that are a matter of personal choice.
Frozen Mangos: Widely available in the freezer aisle, frozen mangoes are by far the easiest option. They have been peeled, cubed, and flash-frozen at peak ripeness. You might need to slice the cubes in half to make them a little thinner, but otherwise, all the hard work is already done for you.
The "big" downside of frozen mangoes is they nearly exclusively come in cube form. So if you want to recreate those dried mango leathers you love from Trader Joe's, frozen mangoes aren't going to work.
Fresh Mangos: Locating ripe fresh mangoes, peeling them, and slicing them into ¼ inch thin slices does require a bunch of work. Also, mango pits are notoriously difficult to workaround. But the end result is a pliable, snackable, mango leather that's a dead-ringer for the Trader Joe's version.
Mango Fruit Leather Option: Buy the frozen mangoes, defrost, puree in a food processor or blender, and then pour out onto a silicone mat or parchment paper. This is essentially just making mango fruit leathers. The end result won't have the natural contours of dried fresh mango slices, but you will get a large, pliable, and rollable snack without having to deal with fresh mangoes.
For detailed instructions on how to make fruit leathers (including 100% mango fruit leather), check out our dehydrated fruit leather tutorial.
Prepping and Pre-Treating Mangoes for Dehydration
Before you start prepping your mangoes, make sure your counters, equipment, and hands are clean & sanitized to prevent contamination.
For Frozen Mangoes:
While still frozen, slice any large cubes in half, so they are about ¼ inch thick. Cubes that are ½ inch thick will not dehydrate evenly.
You don't need to defrost the mangoes to start dehydrating, but the dehydration process will take longer.
For Fresh Mangoes:
Ensure your mangoes are ripe, they should have a slight bounce when gently squeezed. Firm, under-ripe mangoes will be fibrous and tart, soft over-ripe mangoes will become mush when sliced.
Remove the skin, either with a potato peeler or sharp knife.
Cut about ¼ off the bottom. Place the flat bottom on the cutting board with the mango standing straight up.
Using a sharp knife, cut ¼ slices along the broad side of the mango.
You can slice ¼ inch strips off the sides to maximize yield.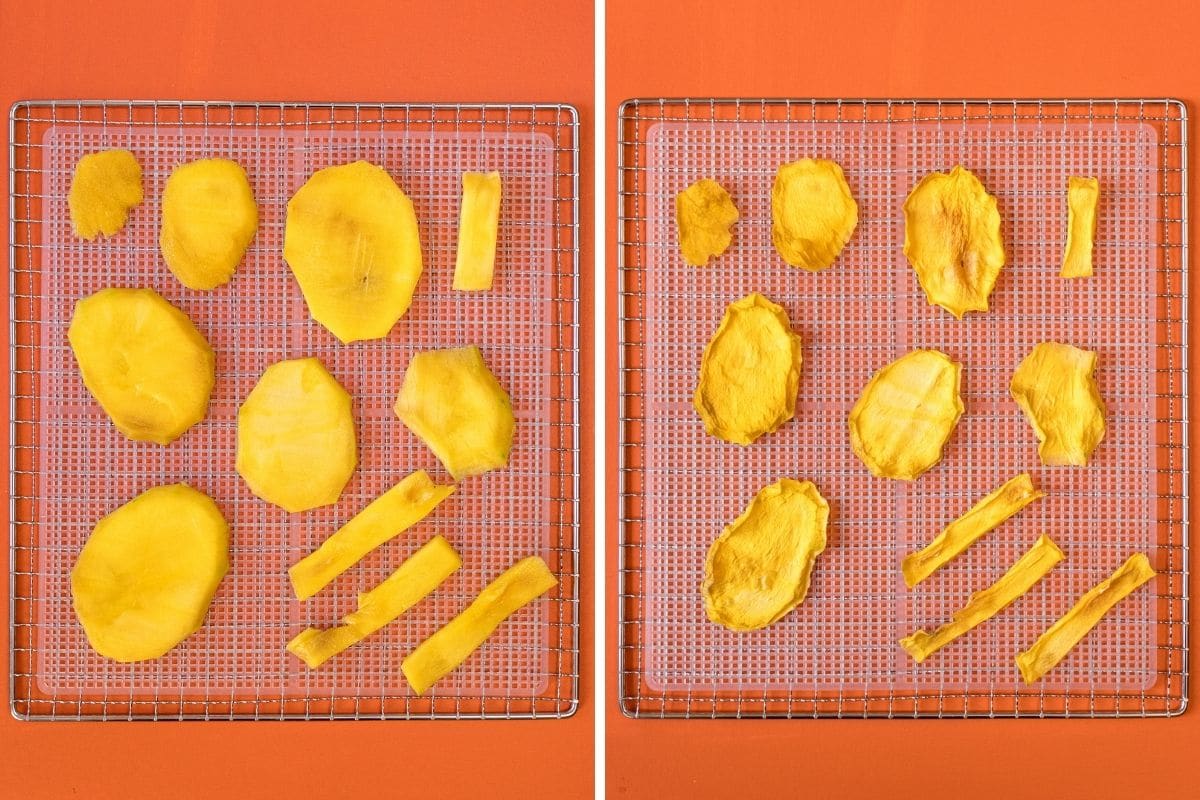 How to Dehydrate Mango
Once your mangoes are prepped, set up your dehydrator and follow these steps:
Arrange the cubes or slices of mango on your dehydrator trays. If you're using a tray that has large holes, line it with parchment paper or, better yet, a mesh liner cut to the size of your tray. Leave space between the pieces to allow air to circulate.
Dehydrate at 135ºF (57ºC) for 6-12 hours until the mangoes are dry and leathery.

Depending on your machine, you may need to rotate the trays every so often to promote even drying.
Dehydrating mangoes in the oven: Place the mangoes in a single-layer baking sheet lined with a silicone mat (this will prevent sticking). Dry in the oven on its lowest temperature setting—if possible, keep the door propped open to allow steam to escape (be careful if you have children or pets!). Flip the pieces over every hour and remove as soon as they are completely dry.
How to Tell When Mangoes are Done
Mangoes should be pliable when they are completely dried but have no obvious remaining moisture (tear one in half and squeeze—if moisture appears, dry them longer).
How to store dried mangoes
When properly dried and stored, dehydrated mangoes can last upwards of a year. Here are our tips for storage:
Let the mangoes cool completely before transferring them.
Store in a clean, airtight container. For longer shelf life, vacuum seal.
Use a moisture absorbing desiccant packet if you anticipate opening the container often, or if you live in an area with high humidity.
Label the container with the date and any other important details
Place the container in a cool, dark, and dry place—inside of a pantry cabinet works well.
How to Use
Dried mangoes are an incredibly delicious snack to have on hand. They are great for hikes, camping trips, picnics, skiing trips, or days at the beach. Dried mango can provide a quick calorie boost as well as a tropical flavor mood boost.
Additionally, while we haven't done a scientific survey, we have yet to meet a kid that didn't love dried mangoes, even picky eaters! So it can be a favorite snack for the kiddos too.