Dehydrated Apple Cinnamon Quinoa Porridge
This post may contain affiliate links.
With warming seasonal flavors like apple, cinnamon, and maple syrup, this dehydrated quinoa porridge is a great backpacking breakfast to try on your next trip into the backcountry.
Waking up to a brisk morning in the mountains, nothing sounds quite as appealing as watching the sunrise with a hot cup of coffee and a warm bowl of porridge. Instant oatmeal is usually the de-facto option for backpackers, but sometimes it's nice to switch things up! That's why we wanted to explore an alternative and started making this dehydrated quinoa porridge. It's quick, easy, delicious – and most importantly, not oatmeal.
In addition to offering a more complex nutritional profile than oatmeal, quinoa porridge has a unique taste and texture to it that can be a nice change of routine. Just like oatmeal, it can be doctored up however you like. For this recipe, we went with the warming flavors of apple, cinnamon, and maple syrup.
What we love about this Apple Cinnamon Quinoa Porridge:
↠ It's not oatmeal! The nutty flavor and distinct texture of quinoa can be a much-welcomed change from the monotony instant oats.
↠ Personalized flavor. By making this porridge at home, you can really dial in the flavor before you put it in the dehydrator. Not too sweet, not too bland, when you can taste-test the end product, you can get it juuuust right!
↠ Quinoa is a great source of complete protein and is a great way to fuel up at the start of the day.
↠ Pecans offer a delightfully crunchy texture
How to make dehydrated quinoa porridge & step by step video
Learn how to make this backpacking meal by watching this video, or keep reading below!
At home, prepare the porridge on the stovetop using a large pot or Dutch oven. Once all the ingredients have been added and the quinoa has fluffed up, taste it. This is the time to make any adjustments. Little more cinnamon? Little more maple syrup? Get it just the way you like it.
When dehydrating, use the solid dehydrator sheets and spread the porridge into even layers using a spatula. Set it to 135 F and run overnight for 8-12 hours. Once the porridge has been completely dehydrated, separate into portions. To give an extra caloric boost, we added 2 tablespoons of coconut milk powder to each serving. You could also use powdered whole milk.
At camp, simply add water and bring to a boil. Simmer for 5 minutes or until water is fully absorbed and porridge is the proper consistency. Enjoy!
Equipment needed
↠ Dehydrator: Our current dehydrator of choice is the Nesco Snackmaster Pro. It's a budget-friendly dehydrator that's good for beginners just getting started. Fancier models like the Excalibur feature auto-on / auto-off features.
↠ Reusable Bag: In our bid to reduce our disposable ziplock bag consumption, we've started exploring packing our dehydrated meals in reusable baggies. They're great if you're only going out for a few nights, but might not be the right solution for longer thru-hikes where weight is more of a concern.
Other backpacking breakfasts you'll enjoy
↠ Raspberry Coconut Quinoa Porridge
↠ Pecan and Maple Granola in a Bag
↠ Apricot Ginger Oatmeal
↠ Coconut Chocolate Granola
↠ 35 Backpacking Food Ideas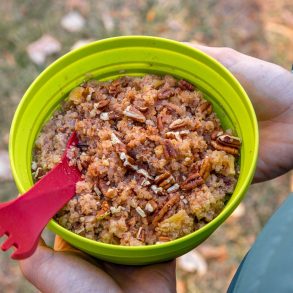 Dehydrated Apple Cinnamon Quinoa Porridge
With warming seasonal flavors like apple, cinnamon, and maple syrup, this dehydrated quinoa porridge is a great backpacking breakfast to try on your next trip into the backcountry.
Print
Pin
Rate
Save
Saved!
2 servings
Ingredients
1 cup quinoa
2 apples chopped into 1/2" cubes
2 cups water
1 teaspoon cinnamon
¼ teaspoon of salt
¼ cup maple syrup
1 teaspoon vanilla extract
¼ cup coconut milk powder
½ cup pecans, chopped
Instructions
Rinse quinoa in a fine-mesh sieve under running water until the water runs clear. Add to a pot along with the apples, water, cinnamon, and salt. Bring to a boil, then cover and reduce to a simmer. Cook 15-20 minutes, until the quinoa is tender. Remove from the heat and stir in the maple syrup and vanilla extract. Taste and adjust seasonings as needed.

Spread the quinoa onto dehydrator trays in a thin, even layer. Dehydrate at 135F for 8-12 hours, or until the quinoa and apples are completely dried.

To pack the meal for backpacking, divide the dehydrated quinoa, coconut milk powder, and chopped pecans between two resealable bags.
On Trail Preparation
To cook in camp, add the quinoa to your cookpot along with 8oz water per serving. Bring to a simmer and cook until the quinoa is tender, adding more water as needed.
Nutrition (Per Serving)
Calories: 750kcal | Carbohydrates: 114g | Protein: 15g | Fat: 29g | Fiber: 12g
*Nutrition is an estimate based on information provided by a third-party nutrition calculator