Campfire Grilled Fish Tacos
This post may contain affiliate links.
Grilling fish over a campfire is great, but turning it into fish tacos is even better.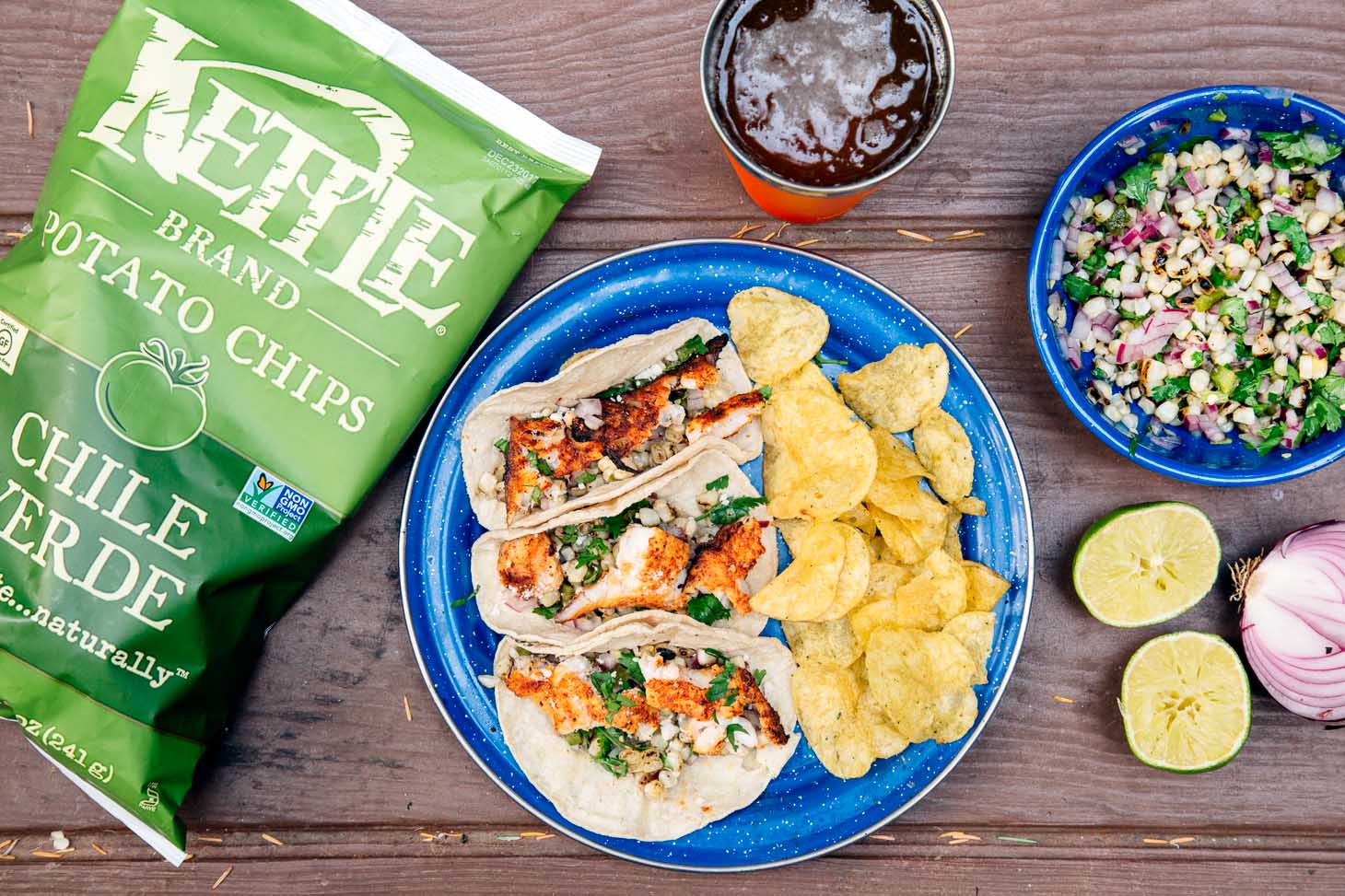 This post is sponsored by Kettle Brand.
As the summer camping season starts to wind down, we make a point to soak up as much of the warm weather before it's gone. So on a clear sunny day, we loaded up the car and made an impromptu trip up to the Mt. Hood area.
This part of Oregon is home to a couple of our all-time favorite campgrounds in the entire country: Trillium Lake and Hoodview. Unfortunately, we weren't the only ones trying to enjoy the last of the summer, so we had to divert to a nearby alternate along the shores of Timothy Lake. Thankfully, in this neck of the woods, there's no such thing as a bad campsite!


For dinner, we were going to make grilled fish tacos over the campfire. If we had to choose a meal that captures the essence of summer, fish tacos would definitely be high on our list. While we have previously tried our hand at making Baja-style fried fish tacos, on this trip we wanted to go with something a little more streamlined.
Fried fish is great, but the flour, egg wash, panko, and a pan full of scalding hot oil does require a level of bullish commitment we just don't possess this late in the season. For maximum flavor with minimum effort, grilled fish is definitely where it's at.
Since we were going to be seasoning the fish, we opted for a light white Pacific Snapper. We also picked up corn on the cob, red onions, cilantro, and jalapeño to make a spicy corn salsa.
At the campsite, we got the fire started and tossed on the corn and jalapeño. While those were working up a nice flame-roasted char, we turned our attention to preparing the fish.
We squeezed a half lime over the fillets, covered them with olive oil, and salted liberally. We then dusted the fillets with chili powder and cumin.
In terms of grilling the fish, we picked up an inexpensive campfire broiler basket. It's essentially a wireframe basket that opens up like a clam shell with a long metal handle on the end. The fish goes inside the basket and the whole thing gets placed over the fire, making it much easier to flip.
While it is technically possible to grill fish directly on a grill grate without it sticking, a very clean and well-oiled grate is needed. We've seen a lot of campfire grates over the years and "clean" is not a word we'd used to describe most of them. "Soot-encrusted" or "carbon-caked" maybe, but definitely not clean. So for a few dollars, we picked up the wire basket and saved ourselves from almost certain disappointment.
When the corn and jalapeño were done cooking over the fire, we took them off and moved our fish basket into position. We were going for medium heat, but with an open fire, figuring out the exact cook temperature can always be a bit of guessing game. So we just kept an eye on it.
While the fish cooked, we shaved off the corn kernels, peeled and minced the blackened jalapeño, diced up the red onion, and chopped the cilantro. We mixed all this together into a bowl with some lime juice, which would serve as our base layer in the tacos.
Back on the fire, we waited for the fish to start to crisp up slightly before we flipped it. The second side of the fish takes half as long to cook as the first, so we took this opportunity to warm up our tortillas over the fire. This way they'd be ready to go as soon as the fish came off.
Once removed from the fire, the fish needs to rest for about 2-3 minutes. (Coincidently, this is exactly how much time it takes to prep your plates with the tortillas and spicy corn salad.) Once our tortillas were ready, we cut up the fish fillets and served them with a side of chips.
So if you're in the mood for quick and easy campfire fish tacos, this recipe is for you!
Other grilling recipes you'll enjoy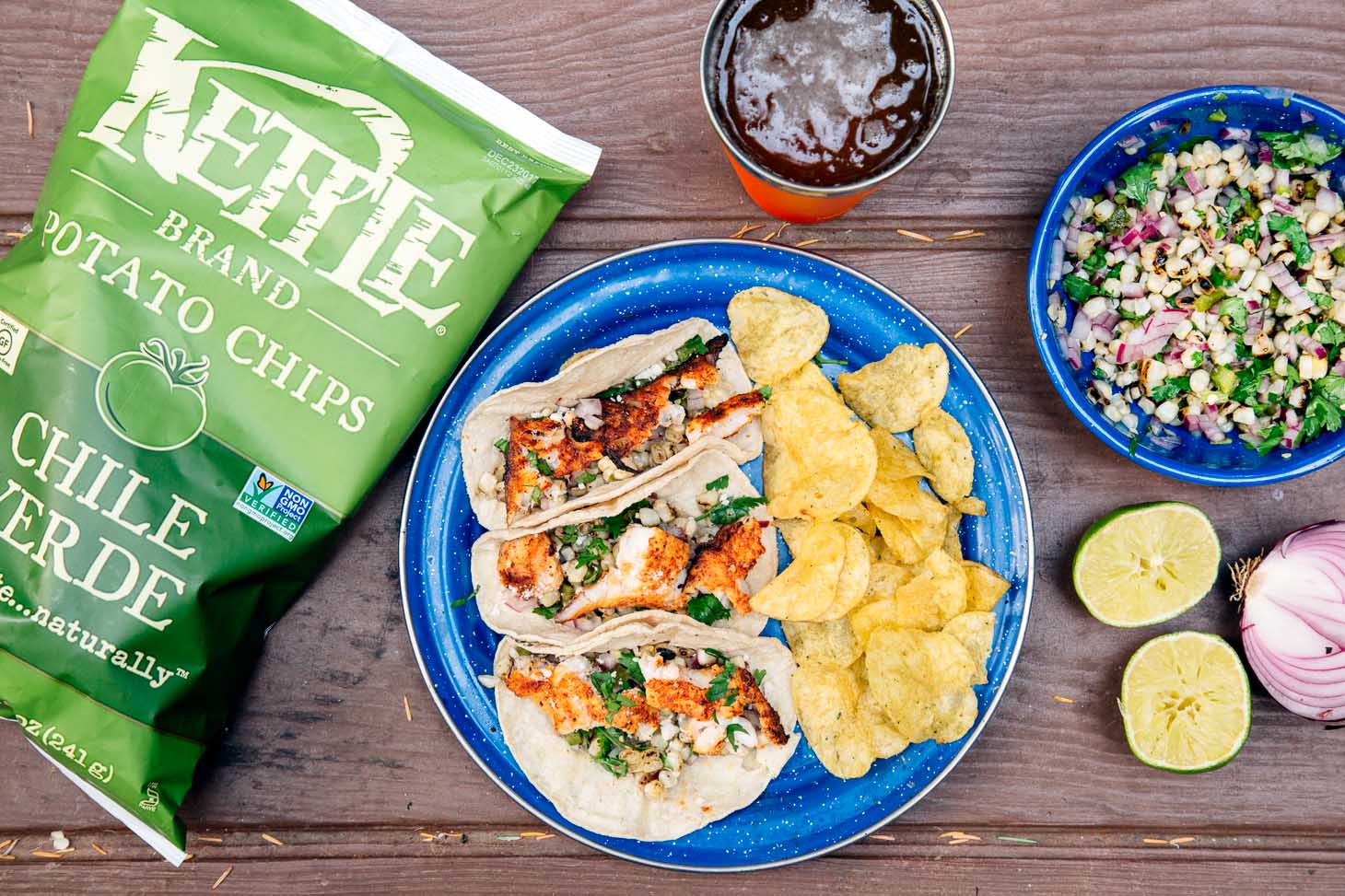 Ingredients
For the Fish
2

snapper fillets

,

or other mild, white fish

½

lime

1

tablespoon

olive oil

½

teaspoon

salt

1

teaspoon

chili powder

½

teaspoon

cumin
For the Spicy Corn Salsa
1-2

ears corn on the cob

1

jalapeno

½

small red onion

½

lime

handful cilantro

salt
To Serve
6

tortillas

,

warmed over the fire

Hot sauce

,

optional

Kettle Chips
Instructions
Start your campfire or grill - you'll be cooking this meal over medium-high heat.

Prep the fish by squeezing half a lime over the fillets, a drizzle of olive oil, and dusting both sides of the fish with the chili powder, cumin, and salt. Set aside.

Once your fire is ready, place the corn and jalapeno on the grill. Grill for about 10 minutes, turning occasionally, until tender. Remove and set aside to cool slightly.

Place the fish in a wire grill basket. Place on the grill and cook for about 3 minutes, then flip and cook 2 minutes more. Remove and let the fish rest for a minute or two.

While the fish is cooking, make the salsa. Cut the corn off the cob, peel the blackened skin off the jalapeno and chop (remove stems & seeds for a milder spice), finely chop the onion, and mince the cilantro. Place everything in a bowl and squeeze in the juice from half a lime. Add salt to taste.

Build your tacos with the warmed tortillas, corn salsa, fish, and avocado. Serve with a side of Kettle chips and enjoy!
Notes
EQUIPMENT NEEDED
Large plate (to marinate fish)
Bowl (for the salsa)
Wire grill basket
Knife + cutting board
Plates & utensils for serving
Nutrition (Per Serving)
*Nutrition is an estimate based on information provided by a third-party nutrition calculator
Tis' the season!
If you're looking for the perfect gift for a camper, hiker, or outdoors-loving person on your list, you've hit the jackpot! We have a gift guide for everyone, so take a look and find the perfect gift.