Cilantro & Lime Grilled Chicken Tacos
This post may contain affiliate links.
Using a quick citrus marinade, these grilled chicken tacos offer a blast of summer flavor. So pick up a couple of limes, invite a few friends over, and get the camping taco party started!
Whether it's summer or you just really really want it to be summer, these grilled chicken tacos are calling your name. Super quick marinade, big bright flavor, grill marks!? Yes, please! (Not to mention the endless topping options!)
So if you're stumped on what to make on your upcoming camping trip or backyard BBQ, relax! This is one of those super-simple, low-stress dinners that everyone is going to love.
We love these grilled cilantro lime chicken tacos because:
↠ The marinade time is super short (30 minutes)
↠ They have a really bright flavor (thanks, lime!)
↠ Easy to scale up for a group
↠ For us, grilled chicken (blackened bits and all) is the essence of summer.
They're grilled chicken tacos, they're delicious, you're going to love them. So let's get started.
How to make grilled chicken tacos
Making these cilantro lime marinated chicken tacos is easy! Watch this (60 second) video to see how it's done.
First up, the marinade.
The easiest way to put some zip into your grilled chicken is by using a citrus-based marinade. It's light, it's bright, and it's ready in less than an hour. Perfect for people, like us, who frequently forget dinner is one of those everyday sorts of things.
You'll need the juice and zest of two limes, olive oil, chili powder, cumin, garlic powder, coriander, and salt (fig 1). You can mix the marinade together ahead of time at home to cut down steps on-site, but do not add the chicken for longer than an hour or two before it's time to grill (the meat will toughen if left in the acidic marinade too long). At a minimum, marinate the chicken for 30 minutes (fig 2).
On to the fun part: the grilling!
If you're cooking over wood, you want it to be burnt down to embers. This means you need to start the fire an hour before cooking. We NEVER remember to do this. That is why we bring hardwood lump charcoal. It can be added to an existing wood fire or lit on its own using a chimney starter.
Place the chicken on the grill grate, over direct heat (fig 3). Try to leave it in position until a light char forms and it naturally "releases" from the grill. Once one side is blackened to your liking, flip, repeat, and then move the thighs to indirect heat to finish cooking. Ideally, until the meat registers 165 F on an instant-read thermometer.
What's that? You don't camp with an instant thermometer? Use other cues: An undercooked chicken thigh will feel slightly squishy when pressed with a tong. Once the meat firms up, your best bet is to take it off the grill and slice it in half to ensure it's cooked through.
When the meat is finished cooking, pull it from the grill, and let it rest for 5 minutes. Don't skip this step! Plus this is the perfect time to start toasting tortillas.
Flour tortillas vs Corn tortillas: Get whichever you like. But warm them up on the grill first!
Assemble your tacos!
Thinly slice the chicken. If you can identify the grain, slice against it. If not, don't worry about it. Sprinkle a little bit of salt over the slices.
Taco assembly can be a deeply personal decision. And here at Fresh Off The Grid, we respect that – feel free to go to town with your favorite toppings. So we'll just tell you what we did for ours:
Toasted tortilla
Sliced chicken
Pico de Gallo (or fire-roasted salsa fresca)
Cilantro
Crumbled cotija cheese
Lime
So there you have it, super summer grilled chicken tacos. Enjoy!
Essential Equipment
↠ Foldable Grill Grate: Most campground grill grates are in less than ideal condition. (Tacos with a side of tetanus, anyone?) So make sure you always have a clean grate by bringing your own.
↠ Collapsible Charcoal Chimney: Using a chimney + hardwood charcoal at a campsite allows us to go from no fire to cookable embers in 15 minutes.
↠ Metal Tongs: Flipping chicken, crisping tortillas, moving coals around. If it's hot and you need to move it, you'll be thankful you're not trying to do it with a fork.
→ Learn everything you need to know about how to pack a cooler!
Other taco recipes you'll love
↠ Campfire Grilled Fish Tacos
↠ Grilled Halloumi Tacos
↠ Sweet Potato & Black Bean Campfire Tacos
↠ Cauliflower Tacos with Quick Pickled Onions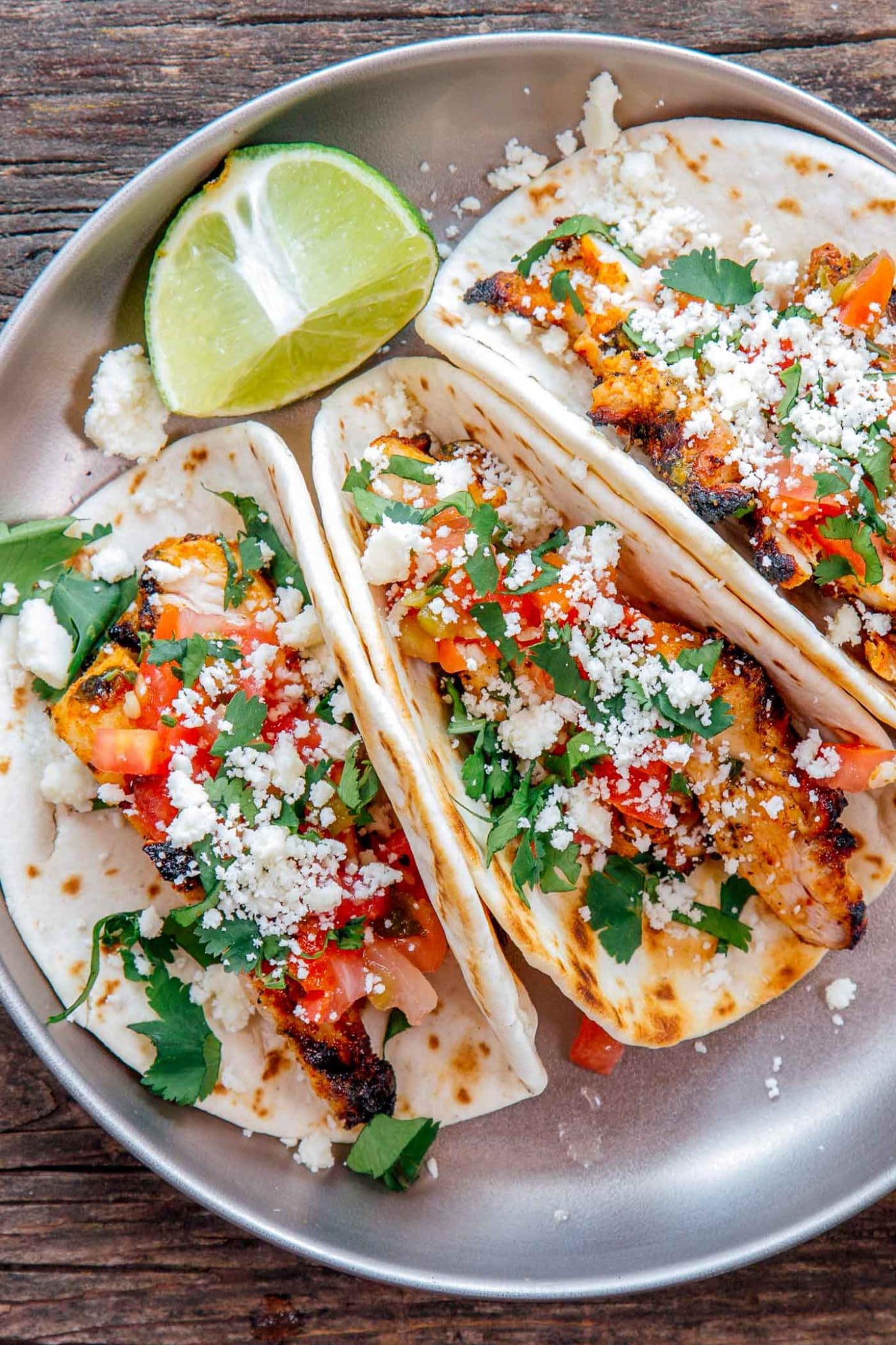 Cilantro Lime Grilled Chicken Tacos
Using a quick citrus marinade, these grilled chicken tacos offer a blast of summer flavor. To make campsite prep easier, you can make the cilantro lime marinade ahead of time and store in a small container in your cooler.
Print
Pin
Rate
Save
Saved!
Ingredients
Cilantro Lime Marinade:
4

boneless skinless chicken thighs

,

about 1 lb

2

tablespoons

chopped cilantro

2

limes

,

juice + zest

1

teaspoon

salt

1

teaspoon

chili powder

1

teaspoon

cumin

½

teaspoon

garlic powder

½

teaspoon

ground coriander

1

tablespoon

oil
Taco Assembly:
tortillas

pico de gallo

cheese

cilantro
Instructions
Prepare the marinade: Mix the oil, lime juice + zest, cilantro, and spices together in a small bowl (this can be done at home). Place the chicken into an airtight container or sealable bag and pour the marinade over, shaking to ensure that the chicken is coated evenly. Marinate for at least 30 minutes (an hour is better), or up to two hours.

Prepare a grill or campfire for grilling.

Remove the chicken from the marinade and place it on the grill. Cook until the internal temperature reaches 165F, turning as needed to ensure even cooking (approx 5-8 minutes on each side). Remove from the heat and chop into bite-sized pieces.

To assemble the tacos, layer chicken, pico de gallo, cheese, and fresh cilantro into tortillas (warmed over the grill if you'd prefer!) and enjoy.
Notes
Serving Size: This will serve 4 with a side. For hungrier campers plan on this recipe feeding 2.
Nutrition (Per Serving)
Calories:
275
kcal
|
Carbohydrates:
24
g
|
Protein:
21
g
|
Fat:
11
g
*Nutrition is an estimate based on information provided by a third-party nutrition calculator