How to Hike the Narrows Using Gear You Already Own
This post may contain affiliate links.
In the summer and early fall, when the water is warm, you can hike the Narrows with the basic hiking equipment you probably already own.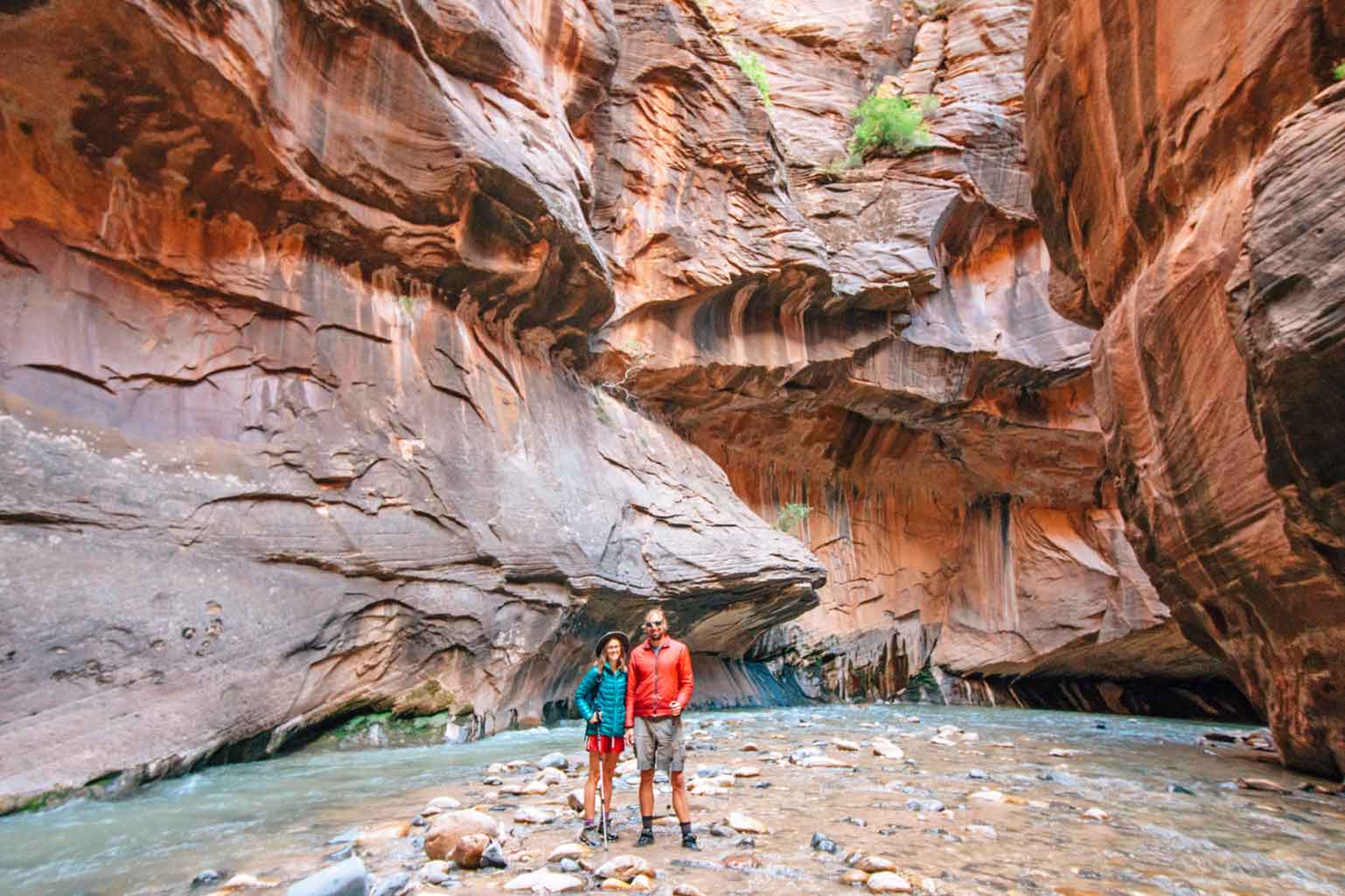 The Narrows is by far the most popular hike in Zion National Park. It begins towards the back of Zion's main canyon, where the Virgin River emerges between the towering canyon walls. There's no room for an actual trail, so hikers must ford their own path through the Virgin River. While the water levels changes throughout the year, it typically ranges from ankle to waist deep.
In preparation for this hike, many people decide to rent specialized gear, such as canyoneering shoes, neoprene socks, walking-sticks, waterproof pants, and even full zip-up dry suits. While this gear can be absolutely essential during winter and early-spring, it can be a little overkill during the warmer summer months. We looked into renting gear and ultimately decided against it. Not only was it going to be expensive, but it was going to cost us critical time as well.
We wanted to get an early start, so we could enjoy the hike without the crowds. The first shuttle into Zion leaves at 6am in the summer, but the two main gear rental places in town, Zion Outfitters and Zion Adventure Company, don't open until 7am. We could have rented gear the day prior, but we would have had to pay for an extra day. So instead, we consulted a variety of online sources, and decided to hike The Narrows with our own gear. And we're so glad we did!

We were among the first people to arrive at The Narrows, and while we were definitely joined by a couple fellow hikers, it wasn't nearly the Disneyland scene we had experienced the day previous. A quick glance around confirmed our suspicions as well: none of the other earlier risers had rented gear either. It wasn't until later in the day that we saw people strutting around with tell-tale neon yellow canyoneering shoes and waterproof waders.
Our first step into the cold water was a bit of a shock, but we soon acclimated to the temperature. We crossed from one bank to the next, slowly finding our groove. It took some practice to get used to walking through such a fast flowing water. The ripples obscured our view of the bottom and the current pulled on our feet, and we were grateful that we had brought hiking poles to help us with our balance. But we learned to face upriver and crab-walk sideways when crossing, which made things a lot easier.
After more than a dozen bends, we started to really soak up the experience. Many people turn back after just a couple of turns, but some of the most interesting rock formations, overhangs, and waterfalls are not until later in the canyon. The deeper you get, the deeper you get. We could have wandered down the canyon for the rest of the day, but we decided to turn back for lunch.
The walk back was twice as fast. Not only was the current with us, but now we knew what we were doing. As we neared the start, we passed waves and waves of people coming up. We emerged from the river just as another shuttle load of people arrived. While it's wonderful that so many people are getting outside and experiencing the outdoors, we were happy to have gotten the jump on most of them!
If you're thinking of hiking The Narrows this summer, then consider hiking using your own gear. If the water temperature is warm, you should have no problem hiking with just some basic hiking equipment. Here's what we took with us and how we felt it faired.

Our Narrows Hike Gear List
(Some of these are affiliate links, meaning if you make a purchase, we'll earn a small commission, which helps us keep this site running. All links are for items we use & love!)
Patagonia Capilene Baselayer (Men's) – This baselayer is quick drying, breathable, and adds a layer of warmth. It has been Michael's go-to shirt for most hikes.
Quick Drying Shorts – These were perfect for hiking the narrows because the fabric is extremely quick drying, so even if they got splashed, it didn't take long before they were dry again.
Synthetic Insulated Jacket – Even on a very hot day, it can be chilly in The Narrows. Especially if you plan to do the hike early in the morning, your should bring a synthetic insulated jacket. The reason we suggest synthetic is because if you happen to take a tumble and get wet, the jacket will still keep you warm. (Down insulation, on the other hand, is virtually useless when wet.)

Waterproof Backpack – We hiked the Narrows with a Topo Designs backpack, which has since been discontinued. But if we were to do it again, we would go with this Sea to Summit day bag
Moab Ventilators by Merrell – We used our go-to multi-purpose hiking boots. They offered excellent traction, ankle support, closed-toe protection, and much welcomed thermal insulation. Also, because we have the high ventilation non-Gortex version, the boots dried out quickly once we were done and didn't become overly waterlogged and heavy during the hike.
Wool Socks – Even in the summer, the water in the Virgin River can be quite cold, so you want a way to keep your feet warm. Ankle-high hiking boots combined with a nice pair of wool socks function sort of like a wet suit – trapping water near your feet and allowing your body to warm it up. Wool is great for this because it retains its thermal properties even when wet and dries quickly afterwards.
Sea to Summit Dry Bag – Just in case you take an accidental stumble, a good dry bag can keep your valuables safe. If you can't afford to replace your electronics, then you can't afford NOT to have a dry bag!

TMBR Sunglasses – We were recently sent these wood trimmed sunglasses by TMBR. While the narrows was fairly shaded early in the morning, towards the end of the hike we were happy to have these polarized anti-glare glasses.
Enerplex Battery – Cell phones and GoPros have a bad habit of running out of juice just when you need them most. We charge up this portable battery stack before we go on a hike in order to give our devices extended life.
GoPro Hero – We wouldn't ford a rushing river with any other camera. Smaller than a cellphone and about a thousand times more durable, the GoPro Hero is our go-to watersport camera. Find it on Amazon or REI (if you're an REI member, you'll get 10% back as part of your yearly dividend!)
Black Diamond Trekking Poles – The most common rental you'll see when hiking The Narrows is a classic wooden walking stick. The fast current and uneven riverbed makes it nice to have some way to support yourself, but we used our trekking poles and they worked just fine. You only need one pole per person, so we just brought one pair with us.
Barnana – When we're getting an early start, it can be difficult to find time to make a proper breakfast. We ate a bag of these coffee infused banana bites while walking to the entrance of The Narrows. Coffee + Bananas = breakfast in a bag!

Clif Bars – We have eaten our fair share of Cliff bars over the course of our trip. They're just the perfect mid-hike snack to hold us over until we stop for a meal. Our favorite flavors: Megan loves Toffee Buzz and Michael can't get enough Sierra Mix.

Insulated Water Bottle – On a hot day, we carry our insulated water bottle so our water stays cool. This particular one has a Cotopaxi llama badge on it, but it's essentially the same as a Hydroflask 24 which you can pick up from REI.

Know Before You Go
Planning a trip to The Narrows? Make sure you double check the conditions before you go. If the Virgin River's flow rate is too high (above 150 cubic ft/second) or there is a potential of flash flooding, the park will close the trail. Check here to see if there are any alerts in effect, and here to find the river's current flow rate.
Also, if the water temperature is too cold, then hiking The Narrows can present a real risk of hypothermia. The air temperature in the canyon can be 10-30 F degrees cooler than outside, which increases your risk as well. Check with park officials before planning your trip, and consider renting gear if appropriate for the current conditions.
Tis' the season!
If you're looking for the perfect gift for a camper, hiker, or outdoors-loving person on your list, you've hit the jackpot! We have a gift guide for everyone, so take a look and find the perfect gift.