Grilled Beer Brats
This post may contain affiliate links.
Nothing captures the spirit of fall like an Oktoberfest-inspired campfire dinner. A beer in one hand, a sauerkraut-laden bratwurst in the other. Life doesn't get much better than that.
We've made campfire brats plenty of times before and never thought they needed a "recipe." How hard can it be to place bratwurst on a grill? But we've started using a new technique thanks to Serious Eats that we think really improves the whole system.
How to grill bratwurst over a campfire
The main issue we've had with brats is overcooking on the outside and undercooking on the inside. This is usually caused by too high of heat and results in burst skin that releases all the delicious juices.
The way to avoid this? Poach first, grill second.
In a cast-iron skillet, we dump the entire container of sauerkraut, pour in half a beer, mix in some mustard, and then nestle in our bratwurst.
We place the skillet over the hot part of the fire until it starts to bubble and then move it over to lower heat to simmer.
This poaches the sausages in the flavorful liquid, ensuring they're fully cooked.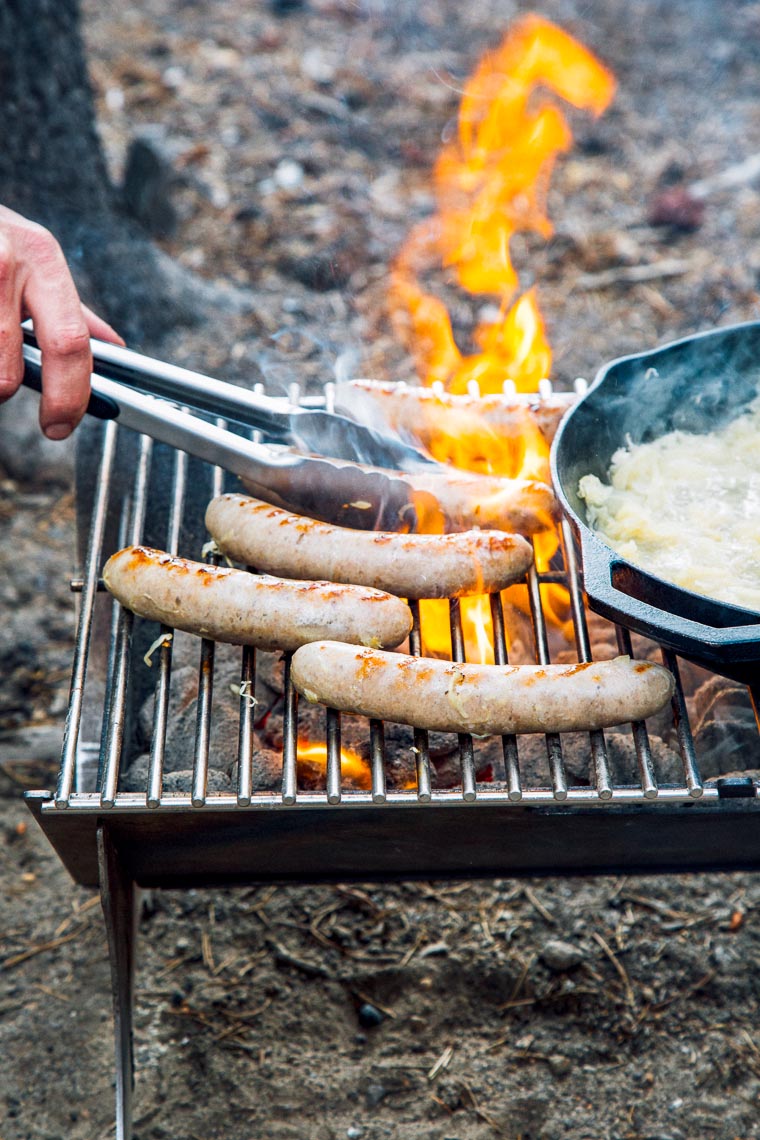 When we're getting close to mealtime, we toss the sausages on the hot side of the grill just long enough to char the outside. Then we can pop them back into the skillet to keep them warm until everyone is ready.
This process takes all the guesswork out of cooking sausage over an open fire, so we can spend less time poking and prodding and more time relaxing. Which, after all, is the whole point!
Ingredients for beer brats
Bratwurst: The best bratwursts will always come from your local butcher (or even grocery store butcher). So take a moment to chat with the guy or gal behind the meat counter.
Sauerkraut: Since it takes up to 6 weeks to make sauerkraut yourself, it's a safe bet that you'll probably be using one of the many store-bought brands. However, not all store-bought sauerkrauts are created equally. Specifically, you want to avoid refrigerated sauerkraut that comes in a plastic bag. The bags actually allow small amounts of oxygen to pass through, so manufacturers use preservatives to extend the product's shelf-life. Turns out that the best-tasting sauerkraut actually comes in a shelf-stable glass jar or can and will contain only two ingredients: cabbage and salt.
Beer: Light or dark, just not an IPA. When reduced, the bitter notes of an IPA become more and more pronounced, which will render your sauerkraut not only sour but bitter as well.
Buns: New England style top-sliced buns are a structurally superior bratwurst conveyance system than the more widely available side sliced buns. Top sliced buns (most commonly used for lobster rolls) have a flat base, so they can be placed on a plate and not roll over. They also have a much slimmer profile, so you won't ever end up with a disappointing mouthful of just bread. If you can find them, get top-sliced buns! They're worth it!