Our Iceland Ring Road Itinerary
This post may contain affiliate links.
If you're planning an Iceland road trip, chances are you're thinking about exploring the Ring Road. It's an epic trip, and in this post, we're sharing everything you need to know about planning your trip.
Iceland's Ring Road has been on our bucket lists for years, and we were so excited to finally get to experience the country this summer by driving the Ring Road!
About the Ring Road
The Ring Road, otherwise known as Route 1 (Þjóðvegur 1), circles the entire island and connects most of the inhabited sections of the country.
For most of its 828-mile length, the Ring Road is two lanes wide with one lane going in each direction. However, there are many sections that reduce down to a single-lane bridge, requiring drivers to take turns crossing one at a time. While the Ring Road is almost entirely paved, there is still a small section in the east that remains compacted gravel. The speed limit for the vast majority of the road is 90 k/h (56 mph) on pavement and 80 k/h (50 mph) on gravel.
When is the best time to drive the Ring Road?
Spring, summer, and fall are generally considered the best times to drive the Ring Road. There is little chance of snow, the extended daylight increases visibility, and more services are open along the route. From May to September, traveling along the Ring Road should be the most pleasant.
While the Icelandic government strives to keep the Ring Road open throughout the winter, unpredictable conditions sometimes force sections to close. An unexpected road closure can mean an indefinite delay (days or even weeks) or turning back and retracing your steps. Even if the road remains open during the winter, the driving conditions can be treacherous: high winds, driving in snow, and extremely limited daylight. While it is possible, we would not suggest tackling the Ring Road from November thru April.
Which direction should you drive?
Being a circular road, you have a choice whether you want to drive clockwise or counterclockwise. Most of the Iceland Ring Road itineraries suggest you depart from Reykjavik and drive counterclockwise (essentially starting in the south). This is what we did on our trip and generally speaking, we think it makes the most sense. Here is our reasoning:
The south of Iceland is by far the most popular section for tourists. So by going from the airport, to Reykjavik, to the south, you are slowly thinning out the crowds. Once you get to the eastern and northern part of the country, crowds will be virtually non-existent. By going counterclockwise, your exposure to crowds will steadily decrease over the course of the trip.
Conversely, if you go clockwise (essentially starting in the west and heading north), there will be fewer tourists at the start of your trip, but their numbers will increase towards the end.
*The Weather Exception* While we prefer the counterclockwise direction to mitigate crowd levels, there is a strong argument to go clockwise if the weather looks dramatically better in the north. Weather in Iceland often follows a similar pattern: if the weather is bad in the south, it is usually better in the north, and vice versa.
So if you arrive in Iceland and the weather looks crummy to the south but good to the north, then why not head there first? The bad weather in the south might linger and still be there when you get down there. Or you might get lucky and have it clear out while you're touring the north.
How long does it take to drive the Ring Road?
If the road conditions were good and you drove non-stop, you could theoretically drive the entire Ring Road in about 15 hours. Why would anyone do that? We have no idea. But it's possible.
The reality is it will take most people much longer because there is SO MUCH to do and see along the way. Iceland is unbelievably photogenic and we were stopping the vehicle constantly to take photos. It depends on how much you want to see along the way, but we wouldn't recommend doing the Ring Road in anything less than 6 days. We did it in 6 days and we felt it was really fast. In hindsight, we would have liked to have more time, ideally 8-10 days.
Thankfully, it was late-May and we had daylight into the late evening so we were able to fit a lot into each day. If you are visiting Iceland off-season (not in the summer), you will probably need even more time since you will have less daylight to work with.
If you only have 3-4 days in Iceland, we would encourage you to look into a shorter, more manageable route like our guide to the Snaefellsnes Peninsula, or just touring the southern coast.
Be prepared
Here are some other helpful articles to get you set up for your Ring Road adventure!
Ultimate Guide to an Iceland Camper Van Trip: Everything you need to know about road tripping in a rented camper van in Iceland. What van to pick, where to buy gas, navigating Icelandic roads: we break it all down for you.
Camping in Iceland: Everything you need to know about camping in Iceland along the Ring Road. Where you can camp, what campgrounds are open, and what are the facilities like.
What to Eat on an Iceland Road Trip: See our tips for cooking in a camper van, learn the best places to buy groceries, and get some meal inspiration for your Iceland road trip!
How to use this itinerary
While many travel sites offer detailed day-by-day itineraries, we have always found them to be too restricting. We feel the whole point of renting a camper van is to give you the freedom to explore on your own timeline, not so you can diligently retrace somebody else's steps.
So instead, we've broken down our itinerary down into regional sections. This way you can see what's out there, be informed, and follow the open road to wherever it takes you. Maybe you have only 6 days to explore or maybe you have two weeks. You can adjust this itinerary to fit your travel time.
Southern Iceland
Þingvellir National Park
This national park is located 40 km outside of Reykjavik and holds great geological and cultural significance for the people of Iceland.
Located within a rift valley between the North American and Eurasian tectonic plates, Þingvellir is constantly expanding as the two plates pull away from each other. (Averaging 2 cm each year!) Evidence of this continental drift can be seen in the many cracks and fissures that are present throughout the park. To its south lies Þingvallavatn, the largest natural lake in Iceland.
Þingvellir was also the location of Iceland's first parliament in 930 AD. This general assembly brought together the feuding chieftains who originally settled Iceland and laid the foundation for a common cultural heritage and national identity. Today, there is a Visitor Center on-site that documents the historical significance Þingvellir has played throughout Iceland's history.
Silfra (at Þingvellir)
Filled with crystal clear water, this fissure is caused by the North American and Eurasian tectonic plates pulling themselves apart. Meltwater from a nearby glacier is filtered through underground lava rocks before feeding into Silfra, resulting in unbelievably clear water. Scuba diving and snorkeling in Silfra have become very popular through outfits like Dive IS.
Öxarárfoss (at Þingvellir)
In terms of Iceland's waterfalls, this one is on the small side (which is why it's a good one to start with). It has recently been suggested that Öxarárfoss was artificially created thousands of years ago by redirecting the river Öxará into the Almannagjá gorge to provide drinking water for the early Icelandic lawmakers.
Reykjadalur Hot Spring Thermal River
This was the first "official" stop of our Ring Road trip. A short 1-mile hike from the trailhead brings you to the thermal river at Reykjadalur. Along the way, you will see a few geothermal pools and steam spouts. The bathing area is well-developed with a wooden boardwalk and small changing blinds. You can walk along the river for quite a way, but it's advised to do your soaking near the boardwalk (as water temperatures can be scalding hot further up and down the river.)
Geysir & Strokkur
These are two large water spouts in a broader field of geothermal activity. Geysir is actually where the English word "geyser" comes from. It is the larger of the two water spouts and has been known to send water over 230 feet into the air. However, it has become fairly inactive in recent years. Strokkur is far more regular, erupting every 6-10 minutes. There are also many other smaller geysers and hot pots located in this area.
Gullfoss
One of the most popular waterfalls in Iceland, Gullfoss is the result of the wide flowing Hvita river plummeting down into a narrowed walled canyon. It's a multi-staged cataract that from certain angles seems to disappear into a cloud of mist.
Secret Lagoon Hot Spring
While it's not really a secret, it's definitely less trafficked than the far more popular Blue Lagoon. If you want to get your soak on in a quieter, more natural surrounding, than the Secret Lagoon is the spot for you.
Urriðafoss
The most voluminous waterfall in all of Iceland, Urriðafoss is not very tall but it is extremely broad. There's ongoing talk about building a hydro-electric plant in its place, so you should check it out before it's gone.
Seljalandsfoss + Gljúfrafoss
These two A-list waterfalls are located right next to Hamragarðar campground (where we spent our first night!).
At Seljalandsfoss there is a path that allows you to walk behind the falls. On a clear day, this a great spot to snag a photo of the sunset through the streaming veils of water. Gljúfrafoss appears to be encircled by cliffs, but the base can be accessed via wet and slippery path that puts you inside a moss-covered rock chamber. You will definitely want to bring your waterproof shoes and rain jacket when you visit these waterfalls!
Seljavellir Thermal Pool
Nestled in the mountains, Seljavellirl is the oldest heated pools in Iceland (and one of the most photographed). The hike is short and there is no entry fee, but it does come with a few caveats. The pool water is fed by natural springs, which are warm at best. So while you won't freeze, you won't get warm either. The bottom is covered in slippery algae that can get stirred up if there are a lot of people using the pool. Also, most accounts we've read are in alignment with our first-hand observations: the changing rooms are disgusting.
Skógafoss
Perhaps one of the most iconic waterfalls in Iceland, Skógafoss has an impressive mixture of height, width, and volume. You can walk right up to the base or traverse the staircase to view it from above. It is also a very popular location for tour buses. So if you want to experience it without a lot of people, we suggest going early in the morning.
Kvernufoss waterfall
If the crowds at Skógafoss are bumming you out, you can pop just next door to the far less trafficked Kvernufoss. These falls will require a little skillful navigation over a fence (which is currently permitted by the landowner) and short scenic hike along a river. Don't tell Skógafoss, but I think we liked Kvernufoss better.
Reynisfjara Beach & Reynisdrangar Sea Stacks
The black sand beaches and basalt columns at Reynisfjara were absolutely otherworldly. We arrived on a foggy overcast day and the world appeared to be in black and white. No color at all. Grey skies above, black sand below, and an ever-churning dark ocean. Very strange. Unfortunately, the heavy fog meant we couldn't see the sea stacks that are just off the coast.
Eldhraun Lava Field
The largest lava field in the world, the Eldhraun field was created by one of the largest volcano eruptions in recorded history. Lasting from 1783 to 1784, the eruption was a calamitous event for the island and much of Europe. Today the resulting lava field covers 218 square miles and is roughly 40 feet deep. The volcanic rock is covered with an extremely fragile moss, which should not be stepped on.
Eastern Iceland
Vatnajökull National Park
Founded in 2008, Vatnajökull is the largest national park in Iceland and incorporates Skaftafell, Jökulsárgljúfur, and Vatnajökull glacier (Iceland's largest glacier). There is an abundance of hiking opportunities here and one could easily spend a few days exploring it. If you are interested in doing a glacier walk, this is the spot to do it!
Svartifoss
Known as "The Black Falls", Svartifoss is named after the impressive black basalt columns that flank it. The hike to the falls from the trailhead is roughly 2 miles RT. There is a year-round visitor center here and a nearby campground (where we spent our second night!)
Sjónarnípa
After visiting Svartifoss – if you have the time – you can continue on to Sjónarnípa. This is an incredible vista point that offers unbelievable views of the surrounding mountains and glacier fields. A round trip up to Svartifoss and then on to Sjónarnípa is about 4.5 miles and takes about 3 hours.
Skaftafell Glacier
Behind the Skaftafell Campground is where many of the glacier walks and ice cave trips depart from. Vatnajökull is by far the largest glacier in Iceland and contains many sub-glaciers such as Falljökull, Svínafellsjökull, Virkisjökull. If you are interested in doing a glacier hike or exploring one of the many ice caves, this is the area to do it!
Jökulsárlón Iceberg Lagoon
Perhaps the most famous iceberg lagoon in Iceland, Jökulsárlón is located immediately off of Route 1, so you can't miss it! This is where the glacier tongue breaks apart, creating a lagoon filled with mini-icebergs. The main viewing area can found right next to the bridge. However, if you want a more intimate experience, we suggest pulling off at one of the two parking lots before you reach the bridge (to the west). A ridgeline prevents you from seeing the lagoon from the road (which is why not many cars stop there), but a short hike up and over and you can see everything!
Diamond Beach
As the icebergs break apart in Jökulsárlón Lagoon, they are washed out into the ocean. Due to the way the currents flow, many of them wash back up on shore. This area is known as Diamond Beach because the ice can appear crystal clear and sparkle like diamonds. The amount of ice on Diamond Beach can vary. There was some, but not much, when we visited.
Stokksnes
Located in the far southeastern corner of Iceland, the Stokksnes peninsula is home to some of the country's most breathtaking scenery. Behind the windswept black sand beaches and headland lagoon, rises the steep cliffs of Vestrahorn mountain. It also has historical significance as one of the first settlements in Iceland, dating back to the 9th century. There is a fee to enter the peninsula which can be paid at the cafe, located directly across from the main parking lot.
Side trips in Eastern Iceland
These are additional locations we visited, but they are not technically located right on the Ring Road.
Hengifoss & Litlanesfoss
These two impressive waterfalls are connected along a single hike. Hengifoss is the third tallest waterfall in Iceland, while Litlanesfoss features a multi-tiered drop that is rimmed with basalt columns.
Hallormsstadhaskogur Forest
Before Norse settlers arrived in Iceland, the countryside was covered in trees. But centuries of timber harvesting and sheep grazing resulted in widespread deforestation. Hallormsstadhaskogur is the largest remaining forest in Iceland.
Seyðisfjörður
This quaint little town is tucked away at the back end of a long fjord. It is considered to be one of Iceland's most picturesque villages, due to the number of intact wooden homes. There are a few shops, street art, and nice hiking trails in the surrounding hills. There is also a campground in the middle of the town (which is where we spent our third night)
Seyðisfjarðarkirkja
The Blue Lutheran church in the town of Seyðisfjörður has become a cultural icon of Iceland due to its distinctive color. An rainbow-colored alleyway leads you to its front door.
Northeastern Iceland
Dettifoss & Selfoss
The most powerful waterfall in Europe, you can feel the immense force of Dettifoss just by looking at it. Further upriver you can find Selfoss (pictured above), which is surrounded by impressive basalt columns.
Víti (at Krafla)
This explosion crater was formed a massive eruption in the Krafla volcano called Myvatnseldar. The crater is nearly 1,000 feet in diameter and is filled with an aqua blue lake at its bottom. There is a pleasant hour-long hike that can be taken around the rim, with a more expeditious option of descending down the steep embankments to the water's edge.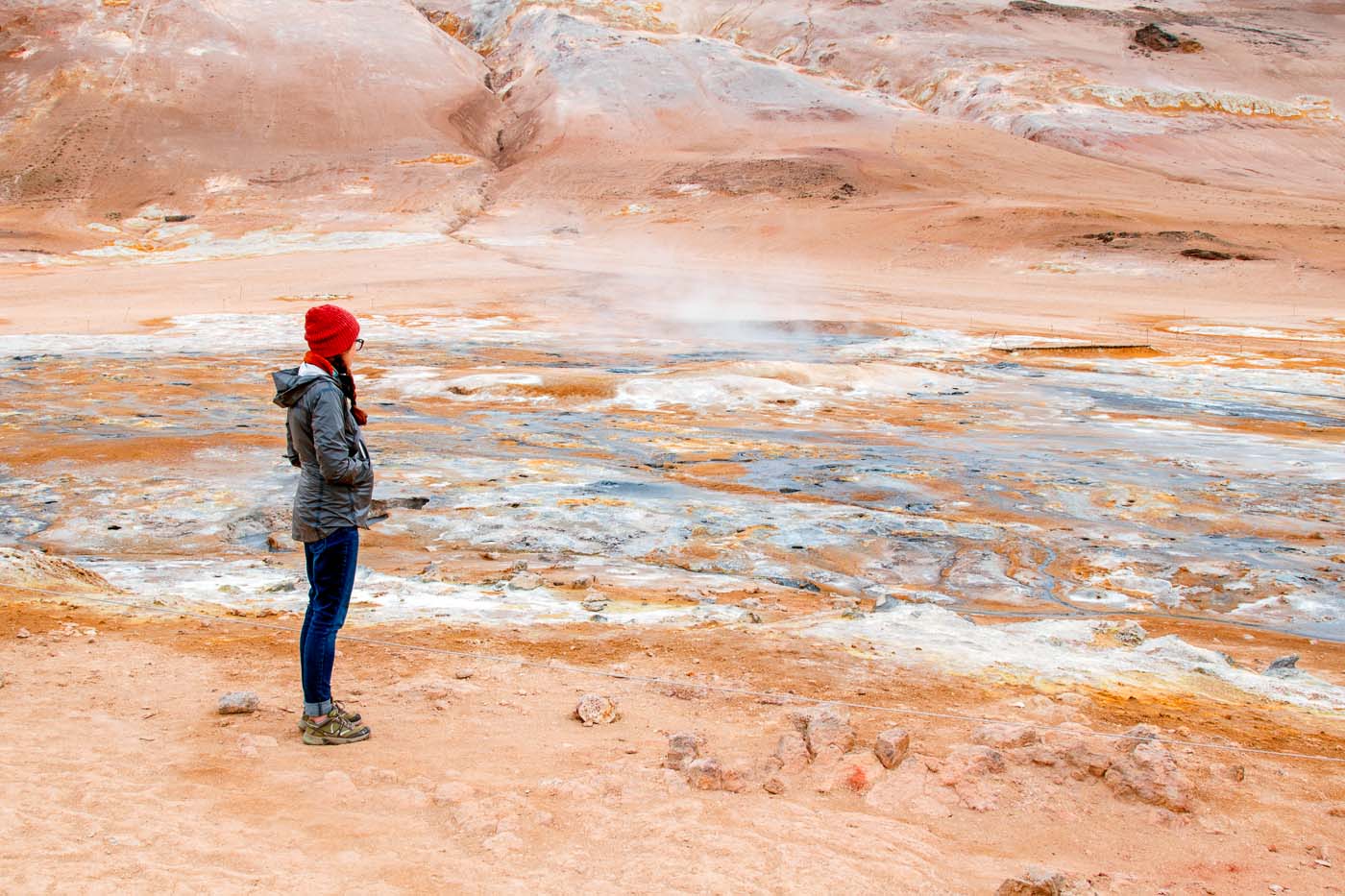 Hverir (Námafjall)
This active geothermal field hosts an array of smoking fumaroles and boiling mud pots. A pungent smell of sulfur perpetually wafts through the air, so be aware of the wind direction.
Myvatn Nature Baths
Cheaper and less crowded than the Blue Lagoon, these thermal baths are a great option if you're feeling like a soak when exploring the North.
Goðafoss
We had seen a lot of different waterfalls by this point, but in our opinion, Goðafoss was the most aesthetically pleasing. Configured in a semi-circle, the falls have a well-balanced mix of height, width, and flow. It also has a fascinating history. The word Goðafoss means "God falls" and when Iceland converted to Christianity in 999 AD, it is said that all the statues of the old Norse gods were thrown into this waterfall.
Akureyri
With a population of 18,000, Akureyri is the second-largest town in all of Iceland (after Reyjavik and its suburbs). If you feel yourself in need of a little civilization (like a coffee shop, restaurant, or bar) after exploring the hinterland of the north, then this is a great place to reconnect. If you find yourself in Akureyri on a sunny summer day, check out the outdoor botanical gardens (with free admission!), which houses nearly 7,000 species of plants, including 430 native to Iceland.
While there is a campground in the middle of town, we opted to stay at a campsite out just outside of town which was much nicer. (This where we spent the fourth night of our trip.)
Side Trip: Hvítserkur
Otherwise known as the Troll of Northwest Iceland, Hvítserkur is a 50-foot basalt rock stack that rises up from the water. The local myth claims the rock was a troll who was caught off guard by the light of the sun and subsequently turned to stone. This location is best visited at low tide during twilight when the light reflects off the relatively flat water. (We arrived at high tide during the middle of the day and were underwhelmed). *This location is a bit of a detour off the Ring Road. We'd recommend it only if you're interested in taking photos and you think the light & tide will be good when you're there!
Western Iceland
Deildartunguhver
If you haven't quite gotten your hot spring fix yet, you can stop off at Deildartunguhver – Europe's most powerful hot spring. The spa Krauma offers guests the ability to soak in natural hot springs in a luxury spa setting.
Hraunfoss
Meaning "Lava Falls", Hraunfoss is more accurately a collection of dozens of rivulets cascading over volcanic rock. Unlike other waterfalls we visited along the Ring Road, Hraunfoss has a more delicate aesthetic beauty.
Side trip: Snaefellsnes Peninsula
If you have an extra day or two on your trip, you should consider detouring off of the Ring Road and exploring the Snaefellsnes Peninsula. This section of the country can best be described as "mini-Iceland". It has many of Iceland's most notable features (waterfalls, lava fields, sea cliffs, glaciers) condensed down into a single peninsula. It was such a cool location we did an entire guide about it – check out our Snaefellsnes Peninsula itinerary here!
Final thoughts
The biggest advice we'd give to anyone thinking about traveling the Iceland Ring Road would be to remain flexible and keep an open mind. Traveling through such an incredible country, it is so easy to feel FOMO (fear of missing out) all the time. There is just so much to do that you'll never get to all of it in a single trip. And that is perfectly okay!
Show up with a list of places you'd like to see and see where the open road takes you. Maybe you get to them all, maybe not. But it's all the moments in between that matter the most.
Tis' the season!
If you're looking for the perfect gift for a camper, hiker, or outdoors-loving person on your list, you've hit the jackpot! We have a gift guide for everyone, so take a look and find the perfect gift.
Tis' the season!
If you're looking for the perfect gift for a camper, hiker, or outdoors-loving person on your list, you've hit the jackpot! We have a gift guide for everyone, so take a look and find the perfect gift.