Getting Out There: Backpacking to Russell Lake in Oregon's Jefferson Wilderness
This post may contain affiliate links.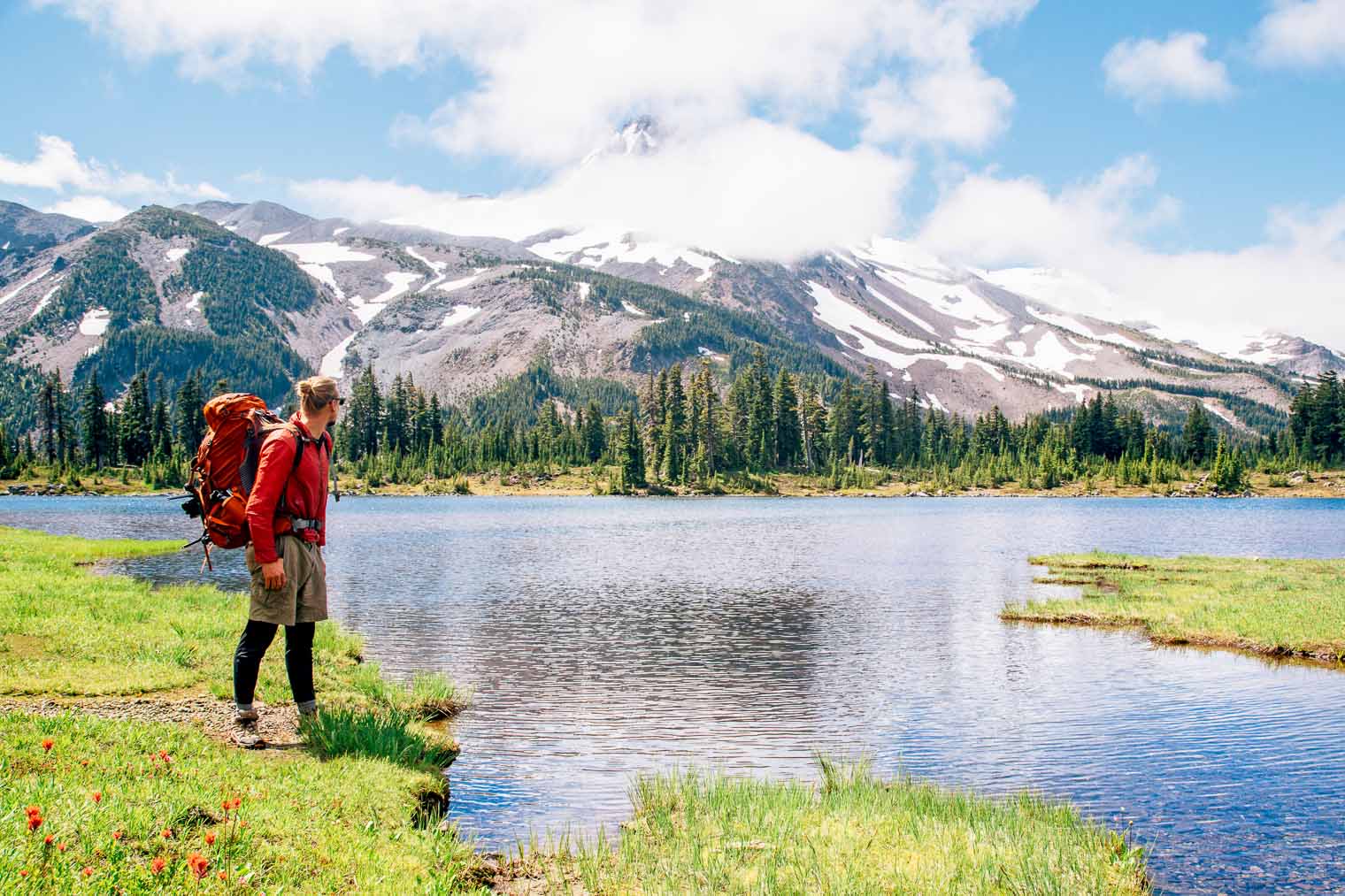 Trail Closure: This area of the Mt Jefferson Wilderness is currently CLOSED due to the impacts of the Lionshead Fire. More information and updates can be found on the Willamette National Forest website.
Nestled in a sprawling alpine meadow in the shadow of Mt. Jefferson is the picturesque Russell Lake. We made an overnight backpacking trip up to this beautiful mountain lake, which is situated inside the expansive Mt Jefferson Wilderness. Many consider this area be one of the most scenic hiking destinations in Oregon, and while haven't been everywhere in state, we'd happily go back here anytime!

Planning Our Trip To Russell Lake
We had been hanging out in Bend, OR for almost three weeks, when we got the itch to go backpacking. While we love car camping, there's some wonderfully therapeutic about having to hike out to your campsite. It also allows us to access scenery that we would be unable to experience from a car. So at least once a month, we make a point of loading up our packs and making a trek out into the wild.

We did a little research of nearby hikes and settled on Russell Lake. It is one of the five major lakes inside a section of the Mt. Jefferson Wilderness known as Jefferson Park. Unlike a traditional park, Jefferson Park is really just an sprawling alpine meadow that contains hundreds of clear water tarns, beautiful fields of grass, and colorful patches of wildflowers.



There are a lot of trails that led into this area – including the famous Pacific Crest Trail – but we chose to take a route out of the Whitewater Creek trailhead. From here, the trail is about 12 mile round trip and covers about 1800 of elevation. While this is considered to be the easiest way to access Russell Lake, it's still a fairly substantial hike.
As of 2016, a new permitting system has been put in place to limit the number of people camping near the lakes. We had to reserve our campsite online and print out a permit that we had to carry with us. While permitting systems like this can be a hassle, they are necessary to protect fragile areas like this from overuse. Thankfully we were able to snag a night.

Hiking into The Jefferson Wilderness
The hike up from the trailhead was gradual yet relentless. In typical Fresh Off the Grid fashion, we were carrying a ton of extra camera equipment, which increased our pack weights significantly. Even still, the hike was thoroughly enjoyable with tons of panoramic views.
Once we got on top of the ridge, the trail connected with a segment of the Pacific Crest Trail, which led us into Jefferson Park. To our right stood Mt. Jefferson, with clouds swirling around its peak and patchy sections of snow along its slopes. In front of us lay the idyllic alpine meadow of Jefferson Park. Narrow trails crisscrossed the open grassy area and connected the various lakes. With the setting sun casting rays of golden light on the fields, the entire scene looked like something out of an 18th century oil landscape painting. We took a very pleasant stroll through the meadow until we arrived at Russell Lake.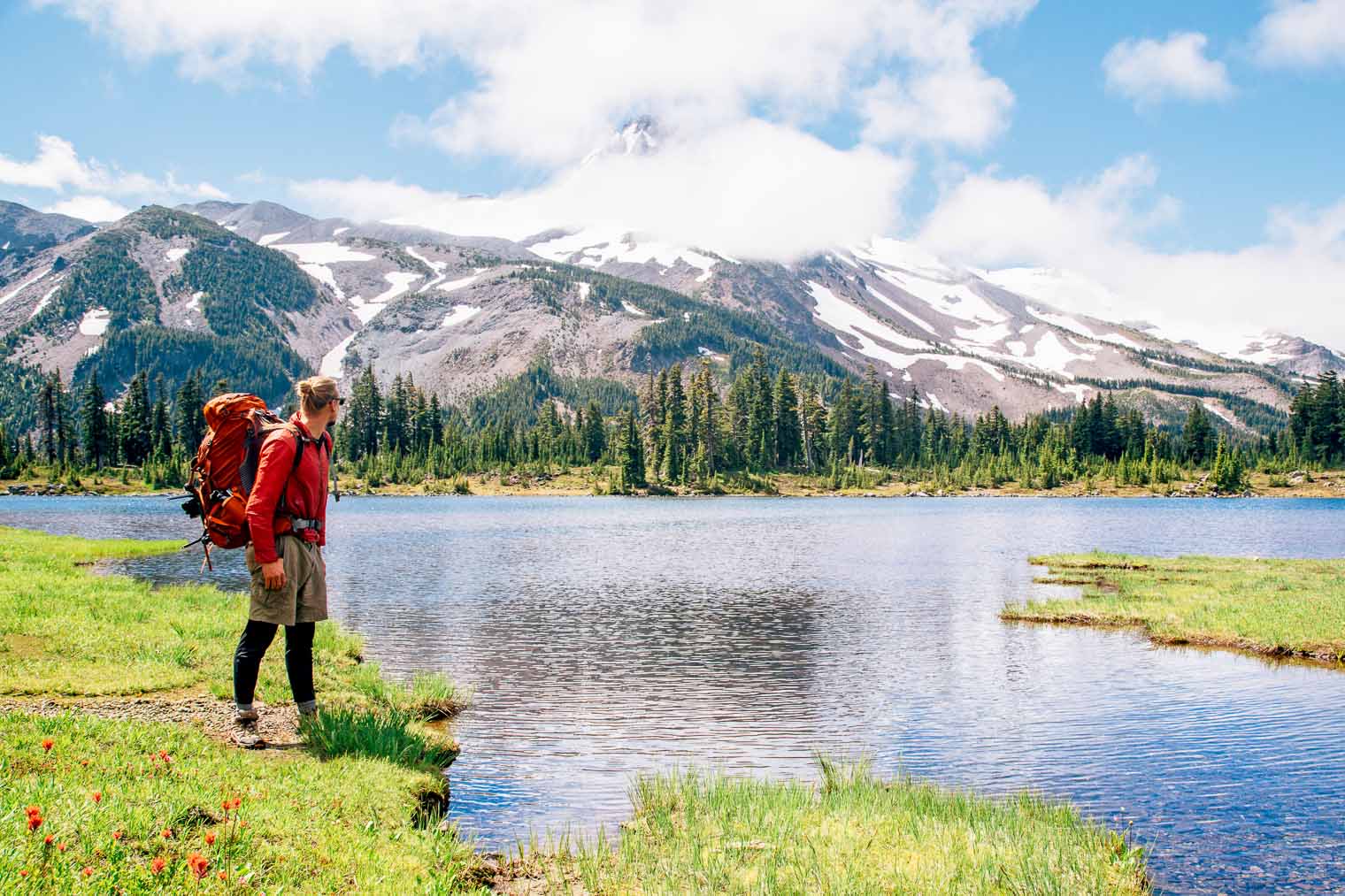 As it turned out, there are only four spots around Russell Lake to that have been specifically developed for camping. And while it might seem enticing to just camp in the meadow, pitching a tent on top of the alpine vegetation can have long-lasting, damaging effects. Since the permitting system is relatively new, not everyone we encountered seemed to be up to speed on it. We saw a couple of groups camping without a permit on top of the meadows. We also had somebody without a permit camping in our designated spot. Needless to say, if you're planning on doing any sort of overnight backpacking, make sure you're up to date on the current rules and conditions.
For this particular hike, all the information you need is listed on the Forest Service website here.

Cold Snap, Thunder, and Killer Mosquitos
Weather in the mountains can be anything but consistent, and our trip was no exception. It was hot and sunny at the trailhead, dark and foreboding on the way up, cool and clear in the meadow, and then rapidly changed from partly cloudy, to cloudy, to completely socked in as the evening progressed. We were able to set up camp wearing only our shorts and t-shirts, but once the sun went down, the temperature plummeted and we found ourselves racing to put on our long johns and jackets. If you're planning on venturing up into the mountain, make sure you bring along proper gear.
We were warm in our sleeping bags overnight, but we did experience some pretty intense thunderstorms. Despite claiming to be a light sleeper, Michael managed to sleep through the bulk of the storm. But Megan can attest that the whole thing was pretty intense. Booming thunder and blinding lightning, nothing forces you to appreciate the raw awesome power of a thunderstorm like being on the top of a mountain with only a nylon tent to take cover in.

In the morning, we got an early start making breakfast. Shortly after we got up, so did the mosquitos – any they were hungry. Thankfully, we had packed some bug repellent wipes, which did a pretty good job of keeping the bloodsuckers at bay. However, these high mountain mosquitos seemed to be more tenacious than usual, and we both got zapped pretty good. Nothing can ruin an otherwise beautiful morning, like ten thousand voracious mosquitos. So if you're backpacking to any sort of water destination in the summer, pack some protection.
What We Cooked
While this backpacking trip was mostly for our own personal enjoyment, it also allowed us the opportunity to field test a few backpacking recipes we have been developing.
For dinner, we cooked up a one pot version of Chicken Marbella with couscous. This is one of our all time favorite recipes and we spent a lot of time streamlining for backpacking. The goal was to pack as much flavor as possible while keeping it lightweight and calorie dense. We know we say this about a lot of our recipes, but you've got to believe us, this is seriously one of the best backpacking meals we've ever had period.



Check out the full recipe here: Backpacking Chicken Marbella
For breakfast, we made breakfast burritos using egg crystals, dehydrated hash browns, and sun dried peppers. It's basically just an egg scramble that you put in a tortilla wrap. However, on this test run, we made one critical error: we forgot to bring hot sauce. Regardless, these burritos were definitely a welcome change of pace for the typical instant oatmeal.
What We Brought With Us
Here's some of the gear that we brought with us up to Russell Lake. While everyone's pack list will look different based on personal preferences, hopefully, this should give you some ideas. Do we own the best hiking equipment money can buy? Absolutely not. But we make it work. We are, however, constantly looking to upgrade our kit, so if you have any suggestion or "must pack" items that you take backpacking with you, let us know in the comments below.
Some of these are affiliate links, which means we earn a small commission should you make a purchase. These are all items we use & love. Thanks for your support!
Our Packing List for this Trip
Our trip up to Russell Lake and Jefferson Park was one of the absolute highlights of our time in Oregon. In terms of scenery it was spectacular. As for weather, it was highly dynamic. While our permit only allowed us to stay out there for a single night, we could have easily spend a whole weekend exploring the area. If you're planning on doing any amount of hiking Oregon, we'd definitely suggest checking this place out.

Planning Your Trip to Russell Lake via Whitewater Creek Trail #3429
Permits: From Memorial Day weekend through October 31st, you must have a camping permit to camp within 250' of any lake in Jefferson Park, which can be purchased online on a first come first served basis for $6 beginning May 1. There are five lakes that have campsites: Bays Lake, Scout Lake, Rock Lake, Park Lake, and Russell Lake. A map of the campsites at each lake can be found here. In addition to the camping permit, you will need to complete a self-issued Wilderness Permit at the trailhead, and display a Northwest Forest Pass in order to park at the trailhead. These need to be purchased ahead of time. If you have a America the Beautiful Interagency Annual Pass, you may display that instead.
Best Time of Year: While Russell Lake and Jefferson Park are open year round, there is significant snow cover for much of the year. If you have four season gear and some snowshoes, Jefferson Park would make for an epic winter backcountry destination. However, if you're a three-season backpacker like we are, late July through early October will probably be your best bet. Wildflowers bloom shortly after the snow melts, making late July to early August the prime time for wildflower viewing. However, that also means that mosquitos are out in full force. If wildflowers aren't enough of a trade-off for putting up with bugs, late August through early October would be your best bet for a more comfortable, bug-free camping experience.
Check with the Willamette NF Detroit Ranger Station for current conditions: 503-854-3366
Getting to the Trailhead: This hike leaves from the Whitewater Creek Trailhead on NF Development Road 2243 (Whitewater Road) off of Highway 22, between mileposts 60 and 61. Much of the road is an unpaved gravel road, but we were able to drive it in our 2WD hatchback. There is ample parking and a vault toilet at the trailhead. You must display a Northwest Forest Pass in order to park at the trailhead. These need to be purchased ahead of time. If you have a America the Beautiful Interagency Annual Pass, you may display that instead.

The Hike: The hike to Russell Lake is 6 miles one way with an elevation gain of 1,800 feet. From the parking lot, head up Whitewater Creek Trail #3429. The trail will lead you up through the old-growth forest along a series of switchbacks. After a mile and a half or so, you'll encounter the first junction – turn right here and continue along Whitewater Creek Trail. At 4 miles, there is a creek crossing. There is no bridge but we found a path of rocks that made crossing easy (I imagine this crossing would be more difficult earlier in the season when the snow runoff is higher). Shortly after the creek crossing, the trail intersects with the PCT. Head north (the left fork) at the junction and follow the PCT into Jefferson Park. From this point, the spur trails to the various lakes are well marked with wooden signposts.
Maps: Always carry a paper map (and know how to use it!) when traveling in the backcountry. National Geographic's Mt. Jefferson/Mt. Washington Map covers this area and can be purchased on Amazon or at REI. You can also find the Topo map for this area online here. In addition to paper maps, we use the Topo Maps app (download the Mt. Jefferson section).
Water Sources: There is no water at the trailhead or for the first several miles of the trail, so be sure to bring enough water to last you until the first water source at Whitewater Creek, about 4 miles in. After Whitewater Creek, your next water source will be up at the lakes. Be sure to filter any water before drinking it (we love our Steripen for this, and carry a LifeStraw as a backup).
Campfires: Campfires are prohibited in Jefferson Park and carry a hefty fine.
Alternative Trailheads: Jefferson Park, Russell Lake, and the other lakes in the area can also be accessed via South Breitenbush Trail #3375 (2,500 feet gain, 6 miles one way) and via the PCT Trailhead at Breitenbush Lake (1,500 feet gain + 1,000 descent, 5.5 miles one way).