How to Make Fruit Leathers
This post may contain affiliate links.
In this post, we're showing you how to make fruit leathers using a dehydrator, plus recipes for three different flavors!
Want to incorporate more fruits (and veggies) into your active lifestyle? Learn how to make your own fruit leathers! Fresh Off the Grid contributors Kira & Brendon Hak of Adventure Haks show us how to make these healthy lightweight snacks at home.
I used to feel really guilty at our lack of fruit whenever we packed our meals for a motorcycle tour or a multi-day backpacking trip. Fruit is heavy, takes up a lot of space and doesn't last very long, so it rarely makes the cut. But then fruit leathers came along and we started feeling a lot better about what we were packing, and eating!
Fruit leathers are delicious and easy! You can take any fruit you have laying around, puree and sweeten (or not) and dehydrate it into a nutritious, chewy, and high-energy snack.
You will want to pick fruit that is ripe or even slightly overripe. To sweeten, we like to use either honey or pitted dates. Sometimes, if the fruit chosen isn't tart, we even skip the sweetener altogether. The amount of sweetener is a personal preference so be sure to adjust it to your liking.
To fill all four of our dehydrator trays we need about 6-8 cups of pureed fruit; depending on your dehydrator this could vary. Line the trays with parchment paper, as sometimes the puree can leak through. We start with the wrap and remove it after a few hours when it has started to dry.
I've shared three of our favourites but the flavour combinations are endless. We tend to choose flavours based on what is on sale or by what we have around the kitchen that needs to be used up. Fortunately, we live in a region of Canada called the Okanagan, which is a fruit orchard heaven. The recipes we have included are what we need to fill only two trays in our dehydrator. We like to do two kinds at a time and vacuum seal variety packs for the trail.
Using the recipes we have given as a guide, try these other flavours: Apricot (apricots & sweetener), Strawberry Lemonade (strawberries, lemons, honey), Apple Cinnamon (apples, honey, cinnamon), PB and Jam (strawberries and 1 cup PB)

 Have fun with it, you really can't go wrong!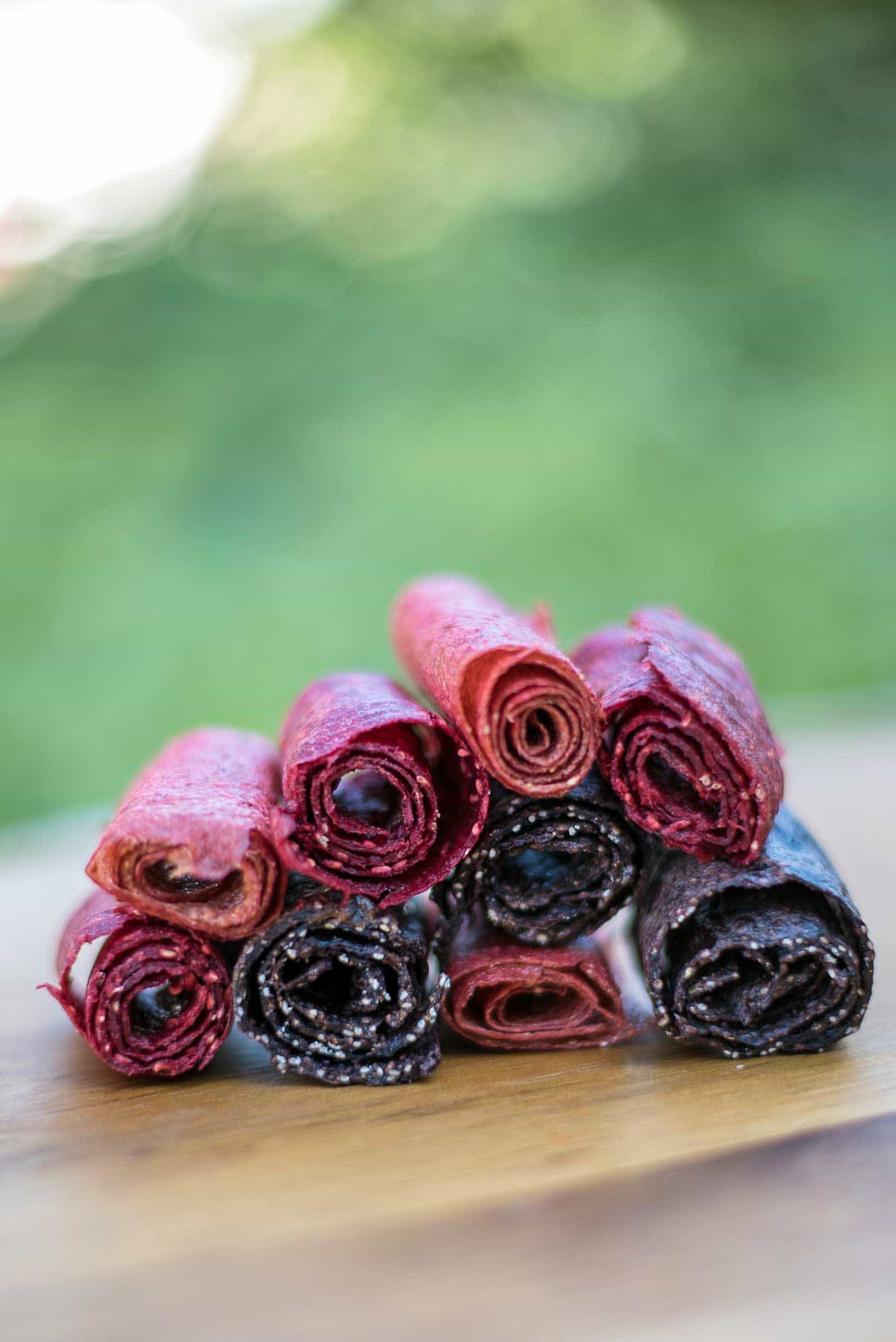 GEAR SPOTLIGHT: Choosing a Dehydrator
From making fruit leathers and jerky, drying fresh fruits and vegetables for longer term storage, or even creating dehydrated just-add-boiling-water for backpacking trips or emergencies, there are dozens of ways to use a dehydrator.
As with most kitchen appliances, there are a number of options to choose from. There are two that we see over and over again. If you're budget conscious (????) the Nesco Snackmaster Pro is probably your best bet. If you will be doing a lot of dehydrating, you'll likely be able to recoup the cost of one of the Excalibur model dehydrators, which has long held the position of best-of-the-best in the dehydrating community.
DIY Fruit Leathers
Using this basic technique, you can make any number of flavor combinations! Here we share our three favorite fruit leather flavors to get you started.
Print
Pin
Rate
Save
Saved!
Ingredients
STRAWBERRY RHUBARB
2

cups

rhubarb

,

diced & cooked*

3

cups

strawberries

,

diced

¼

cup

honey
BLUEBERRY CHIA BANANA
2

cups

blueberries

2

small

ripe bananas

,

peeled

¼

cup

chia seeds

5-10

dates

,

pitted
RASPBERRY PEACH

2

cups

raspberries

3

peaches

,

pitted & diced

¼

cup

honey
Instructions
Wash, peel and remove any stems or pits, if needed. The skin of the fruit is highly nutritious so we always use the peel as well (exception: bananas, pineapples, oranges, etc).

Put all the produce into a blender or food processor, with your sweetener of choice, and blend until smooth.* If making the Strawberry Rhubarb variation: The rhubarb needs to be softened so after dicing put into a pot with just enough water to cover them and cook on medium until soft, we pour everything from the pot, water and all, into the processor so we don't lose the nutrients


Optional Step: We have found if your preheat the mixture in a pot before putting it in the dehydrator it speeds up the drying time. Just dump the blended mixture into a pot and heat on medium for 10-15 minutes, stirring occasionally

Line trays with parchment paper. Spread onto dehydrated trays. Since the sides dry quicker, make the puree thicker around the edges - approx 1/4" inch and 1/8" at the center.

Dry at 145F/63C for 6-8 hours. Another way to speed up drying time is to check after a few hours and remove the wrap/paper. When the leathers are dried, they will be a little bit shiny and non-sticky to the touch. Allow them to cool before removing them from the trays.

Roll the leather into a tight roll and with a sharp knife, cut into a lengths of your choice. Wrap pieces with saran wrap, put in air-tight containers (like ziplock bags) or vacuum seal. Store in a cool, dark & dry place.
*Nutrition is an estimate based on information provided by a third-party nutrition calculator
---
Tis' the season!
If you're looking for the perfect gift for a camper, hiker, or outdoors-loving person on your list, you've hit the jackpot! We have a gift guide for everyone, so take a look and find the perfect gift.