34 Clever Gifts for Backpackers
This post may contain affiliate links.
If you're looking great gift for a backpacker, this list is for you! As enthusiastic backpackers ourselves, we've pulled together some of the best backpacking gifts for this season.
There can be a lot of gear that goes into backpacking—which means there's always something fun you can help add to someone's pack! In this gift guide, we're sharing over 30 different backpacking gift ideas to help you find something perfect.
We've included a bit of everything, from our own tried-and-true favorites, to clever and practical items, to things that are just plain fun! We hope this giving guide helps you find something unexpected!
Looking for ideas geared more towards day hikers? Check out the best gifts for hikers here!
The Best Backpacking Gifts for 2022
Cascade Mountain Tech Carbon Fiber Trekking Poles
Trekking poles make a great gift for backpackers of all abilities. They help you be a more efficient hiker while taking pressure off the joints. These carbon fiber Cascade Mountain Tech Trekking Poles are lightweight (less than a pound for the set), adjustable from 64-137cm, and have natural cork handles, which can feel a lot nicer to hold than foam or plastic grips and will begin to mold to the shape of your hand over time.
Helinox Chair Zero
This compact, collapsible chair will make the end of a day of hiking so much more comfortable! Weighing only a pound, the Helinox Chair Zero is lightweight enough that it's worth the weight (ultralight backpackers need not apply) to have a comfy place to sit, kick off your shoes, and enjoy the surroundings or dig into your meal without worrying about pokey sticks and rocks or sitting with your back against a sappy tree.
Compare prices:
Titanium Flask
For backpackers who appreciate a little nightcap at the end of a tiring day, this lightweight Titanium Hip Flask is a classy, useful gift idea. It's made of corrosion resistant, grade 1 titanium and comes with a lifetime warranty, so it's a piece of gear they will be able to count on for a long time!
Jetboil Stash Cooking System
The Jetboil Stash is the lightest integrated cooking system on the market (meaning you don't need a separate stove and pot), weighing less than half a pound. The whole system nests inside itself for easy packing. This would be an awesome gift for backpackers who want a fast, light, no frills stove that will boil water quickly and efficiently.
Compare prices: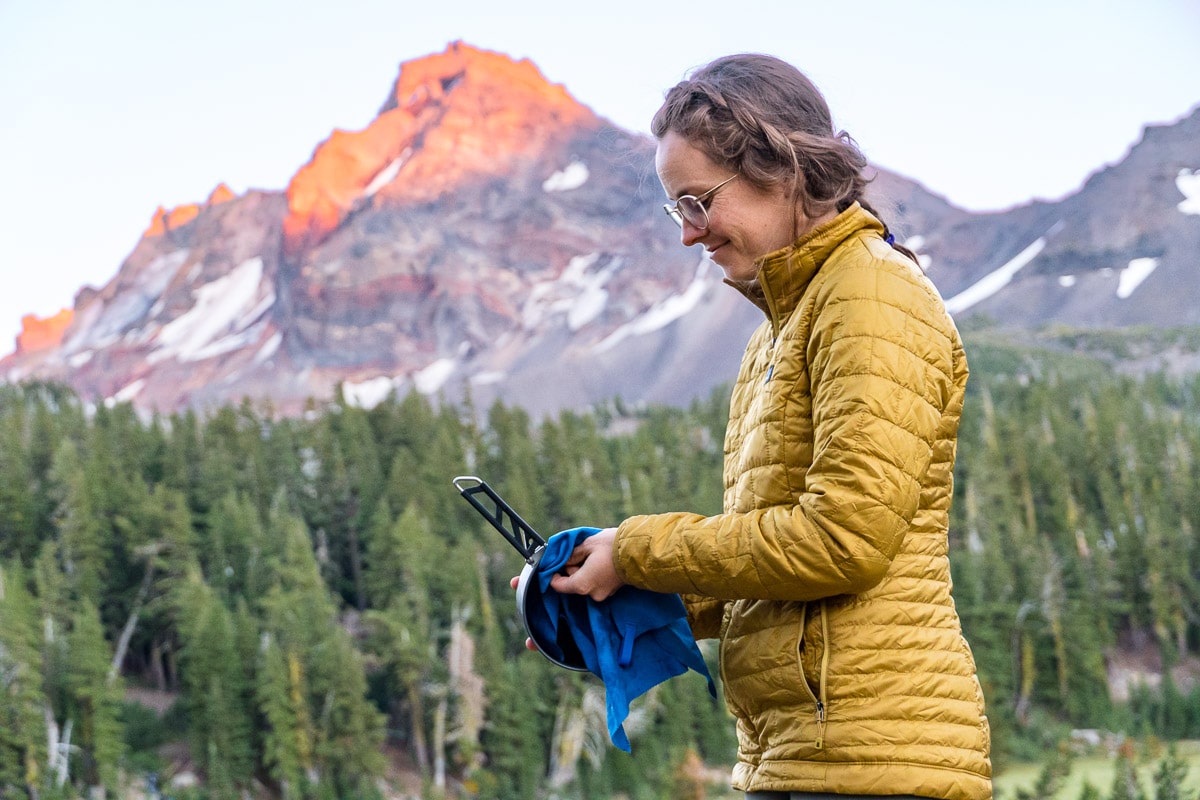 Packable Towel
There's a dozen uses for a packable, quick drying towel, which makes this a great stocking stuffer idea. Use it to wipe down at the end of the day, dry off after a dip in a lake, clean dishes or gear, dunk in water and drape over your neck to cool down in the middle of the day… the list goes on. We find the "Medium" sized REI Co-op Multi Towel Lite to be the most versatile size on our trips.
Dehydrated Sriracha
Yes, this exists! And it would be a super fun stocking stuffer for backpackers who like to add heat to just about anything. We'll be the first to admit that there are a lot of hit-or-miss backpacking meals on the market… but there's few that a little Sriracha won't fix.
Compression Dry Sacks
These Sea to Summit Compression Dry Sacks are super handy! Soft items like sleeping bags and clothes can be compressed much smaller, so they take up less space in a pack, and the roll top silicone-coated nylon helps keep those important items dry in the event of rain. The 10L size is great for puffy jackets and other clothes, the 14L is a good size for most down sleeping bags, and the 20L is best for synthetic sleeping bags.
Quick Drying/Sun Protective Shirt
A quick drying and sun protective shirt is a great way to manage sun exposure on the trail without having to apply and reapply buckets of sunscreen. There are a number of options on the market—our favorites are the REI Sahara Shade and the Mountain Hardware Crater Lake Hoodie (pictured).
Garmin inReach Mini
Do you have a loved one that enjoys spending time in the backcountry? Then this is a perfect gift for both of you! They get access to GPS navigation, route tracking, and satellite 2-way texting, and you get the peace of mind of knowing where they are! If there are any problems they will be able to communicate via message or immediately call for SOS help.
See it on:
BearVault Bear Canister
Not every backpacker needs their own bear canister, but every backpacker who frequently treks in bear country should have one. Bear canisters are hard sided, bear-resistant containers that help protect you, your food, and the bear population. There are a number of canisters on the market, but our favorite brand is BearVault. They are transparent so the contents are visible from all sides, and they do a great job balancing value with weight. They come in four different sizes—the smallest size is great for one person for a day or two, and the largest size is perfect for one person for about a week or a couple for 3-4 days.
BioLite HeadLamp 325
This is our headlamp of choice when we're out backpacking. BioLite's HeadLamp 325 offers 325 lumens which will light up 200+ft, has up to 40 run time, and is rechargeable. Our favorite feature is that there's no battery pack hanging off the back of the strap, so there's no bouncing—the band and light just sit flush and comfortable on your head. It's also super lightweight at only 1.8oz (50g)!
Compare prices:
GAIA GPS Subscription
This is our go-to GPS navigation app for backcountry hikes. The app uses the GPS function that is built into your smartphone to allow you to navigate even when you have zero service.
GAIA makes it easy to create and share routes (or upload GPX files of a route) using their topographic mapping system, and you can either download the tracks & map to your phone for offline use or print out paper topo maps of your route. The app also gives you access to a ton of layers that can be toggled on and off which can show you contour lines, precipitation and smoke forecasts, snow depth, and more.
There is a yearly subscription for the service, which would make a great gift for backpackers who enjoy route planning (and you can save 20% by using our link!)
Anker PowerCore 10000 Portable Charger
Between cameras, phones, and GPS or navigational devices, backpackers can accumulate quite a few batteries to keep charged! A small battery bank like this Anker PowerCore 10000mAh would be a great gift for backpackers who like carrying tech on the trail. The Anker is less than $30, but if you have a slightly larger budget, this Nitecore 10000mAh Quick Charge is a little lighter and more compact.
Compare:
Dehydrator Machine
For gourmet backpackers who put a lot of thought into the food they will take on their trips, a food dehydrator would be a great gift. With a little time and creativity, they will be able to make their own backpacking food customized with the ingredients and flavors of their choice!
Our favorite mid-range dehydrator is this stainless steel Cosori with 6 trays. If you have a larger gifting budget and your recipient would appreciate something that takes up less space, this folding dehydrator from Brod & Taylor has a great space saving design and is one of our top picks.
Compare:
Ultralight Backpacking Pillow
If your favorite backpacker is still stuffing their spare, dirty hiking clothes into a stuff sack and calling it a pillow, gifting them a lightweight, inflatable backpacking pillow could be a real treat. We've personally used the Sea to Summit Aeros Ultralight Pillow and would recommend it!
See current prices:
Soto Windmaster Backpacking Stove
This is our favorite canister stove! Weighing just a hair over 3oz, the Soto Windmaster super light and its design makes it incredibly efficient at boiling water. It also has excellent simmer control for cooking meals in a pot. You can check out our full review of the best backpacking stoves for other options, but this is the stove we recommend above all the others!
See current prices:
Katadyn BeFree Water Filter
With the Katadyn BeFree Water filter bottle, nearly any natural water source can be turned into clean drinking water. The lightweight and easy-to-use filter never needs to be backflushed and the soft side pouch takes up minimal space when not in use. This is our personal go-to water filter for backpacking trips and it tops our list of best backpacking water filters.
Compare Prices:
Kammok Ultralight Hammock & Straps
A lightweight hammock is the ultimate luxury item on a backpacking trip. String it up and enjoy a relaxing afternoon taking in the views. The Kammok Roo Single Ultralight Hammock and Kammok ultralight straps together weigh just 8.8 oz and would make a great gift set for backpackers who like to slow down and relax in the backcountry.
Camp Shoes
One of the keys to happy feet when multi-day backpacking: camp shoes! Changing into a pair of sandals after a long day of hiking is such a treat, and letting feet air out and dry can help prevent blisters, too. These Z-Trail EV sandals from Xero shoes are a great choice—they are very lightweight while still having enough cushion and support to be comfortable walking around camp to do chores.
See them on:
Honey Stinger Rapid Hydration
Honey Stinger already makes our favorite energy chews (also a great stocking stuffer!), and now they have developed a line of instant hydration mixes to help balance and replenish electrolytes and optimize hydration. This Rapid Hydration Mix Sampler Pack has a few of everything—all their flavors as well as different mixes for each part of the day (Prepare, Preform, Recover).
Kula Cloth
It might seem weird to gift someone what is colloquially referred to as a "pee cloth" but let me tell ya… I would be stoked to receive one! The Kula Cloth is an antimicrobial, rinsable pee cloth that eliminates the need for TP or drip drying (after #1). It discreetly folds and clips on the back of a pack to dry between uses or rinses, and when used correctly, doesn't hold onto odor and is totally sanitary. Every gal I've talked to on trail that uses one loves it!
Dog Pack AlphaPak EZ Latch Dog Pack
If you know someone who backpacks with a dog, help them make sure their pup is carrying its own weight! This EZ Latch Dog Pack comes with a leash harness (that can be used on its own) and an attachable set of water resistant saddle bags that will comfortably carry all the gear a dog could need.
See it on:
GSI Infinity Backpacker Mug
This GSI Infinity Mug along with a pack of high quality instant coffee would be a thoughtful gift idea for backpackers who enjoy starting their morning with a hot cup of coffee. The mug is lightweight, durable, and comes with liquid measurements printed on the side of the cup, which comes in handy when preparing meals, too!
Matador Flatpack Toiletry Bottles
These Flatpack Toiletry Bottles help reduce weight and bulk by letting you store trip-sized portions of things like sunscreen, lotion, and biodegradable soaps. These are great to have for airplane travel, too!
Nocs Provisions Binoculars
A pair of compact binoculars are a fun "luxury" item that would be a fun backpacking gift. Bird and animal watching are infinitely better with binoculars, and they can be helpful when scouting out trail features ahead.
The Nocs Provisions Binoculars have a durable rubber coating, are waterproof, and are covered by a "No-Matter-What" lifetime warranty, so they are perfect for bringing out into the backcountry.
Mosquito Head Net
Sometimes, the only difference between an epic backpacking trip and a terrible one is the number of mosquitos present. This Mosquito Head Net is a great stocking stuffer for backpackers who frequent buggy areas, like lakes and alpine meadows. It'll make them look goofy but at least they'll come home without mosquito bites on their face!
Rawlogy Ultralight Cork Massage Balls
Perfect for at-home or on-trail use, these ultra-lightweight cork massage balls can really help to roll out and relax tensed-up muscle groups. We wish we had one of these things with us when we backpacked the JMT!
Compare prices:
Body Glide Anti Blister Balm
One of the nicest things we started doing for our feet was applying Body Glide Anti Blister Balm before hiking. Michael has very blister-prone feet and this has been a total game-changer for him. This would be a great stocking stuffer for any backpacker who has had a trip ruined by blisters or hotspots.
Wool Hiking Socks
Every backpacker LOVES a new pair of wool socks! We are particularly fond of Darn Tough socks and their rock-solid lifetime warranty, and these Hiker Micro Crew Cushion Socks are perfect for nearly all types of hiking.
See all colors & patterns:
MSR Ceramic 1.3L Backpacking Pot
The MSR Ceramic 1.3L Pot is the perfect size for one or two backpackers to cook in. The ceramic coating makes it virtually non-stick, so clean up is always a breeze. This is a great option for backpackers who like to make their own food in addition to using bagged, just-add-water meals.
"Gotta Go" Kit
Yep, we're going there—how about gifting a "Gotta Go" kit?! Start with a fun ditty bag like this "Poop-moji" Zipper Bag, which will fit all the essentials: a Deuce ultralight cathole trowel, a Culo Bidet (if your recipient would be into that), and a small bottle of hand sanitizer. All that needs to be supplied before a trip is some TP and a small trash bag to pack it all out. This is a bit of an unconventional but very practical backpacking gift for the right person!
Lightweight Toiletries Ditty Kit
Here's another DIY gift kit idea—a lightweight Toiletries Ditty Kit. There are tons of little useful knicknacks you can add to a small stuff sack: Insect repellent lotion packets, wipes, SPF lip balm, pill bottles, squeeze bottles (for sunscreen, etc), mini spray bottles (for insect repellant), a lightweight toothbrush (here's a compact 21g bamboo one, or a hilariously sized ultralight one), and travel sized toothpaste.
America the Beautiful Annual Pass
Avid backpackers are also likely to be public lands enthusiasts, so an America the Beautiful Annual Pass would be a perfect gift! This pass gives a full year access to all of the US National Parks & Monuments, National Forests, BLM land, plenty of other recreation sites across the country.
Gift Card
If you're not 100% sure about what the backpacker in your life needs, we promise that a gift card to their favorite outdoor retailer is not a cop-out! It means that you'll be helping them get exactly what they want—down to the right color and tech specs.
Here are some favorite retailers: